Dusa, fully on-chain DeFi
Disclosure: Crypto is a high-risk asset class. This article is provided for informational purposes and does not constitute investment advice. By using this website, you agree to our terms and conditions. We may utilise affiliate links within our content, and receive commission.
Disclaimer: The text below is a press release that is not part of Cryptonews.com editorial content.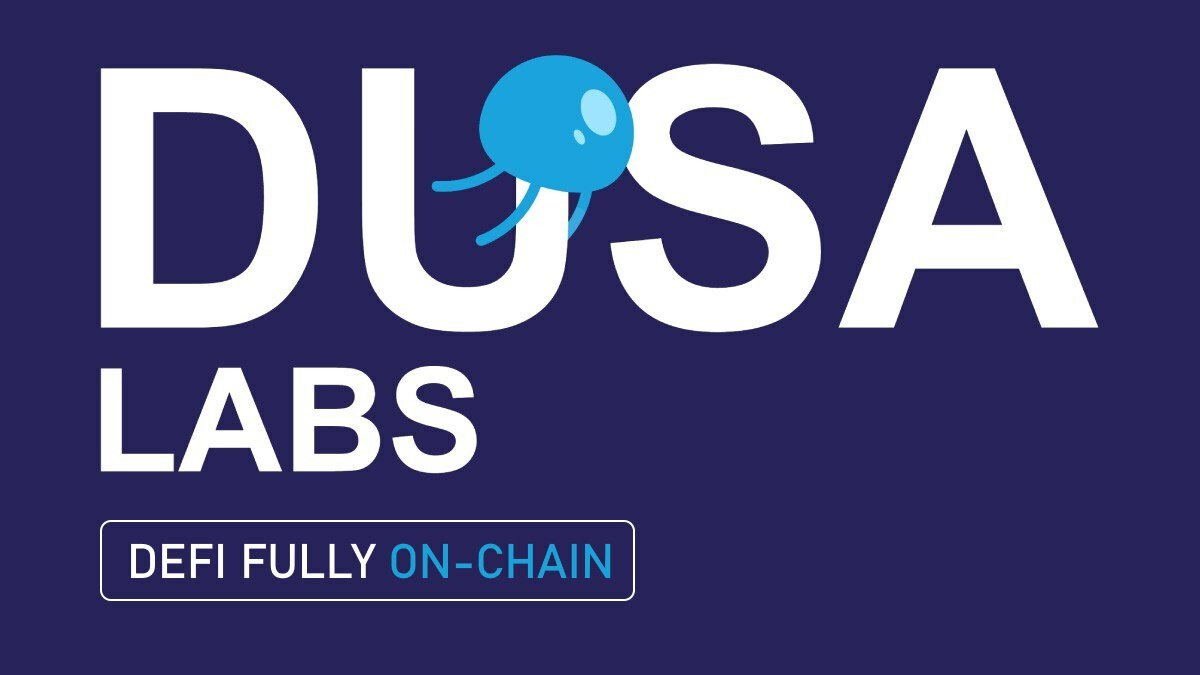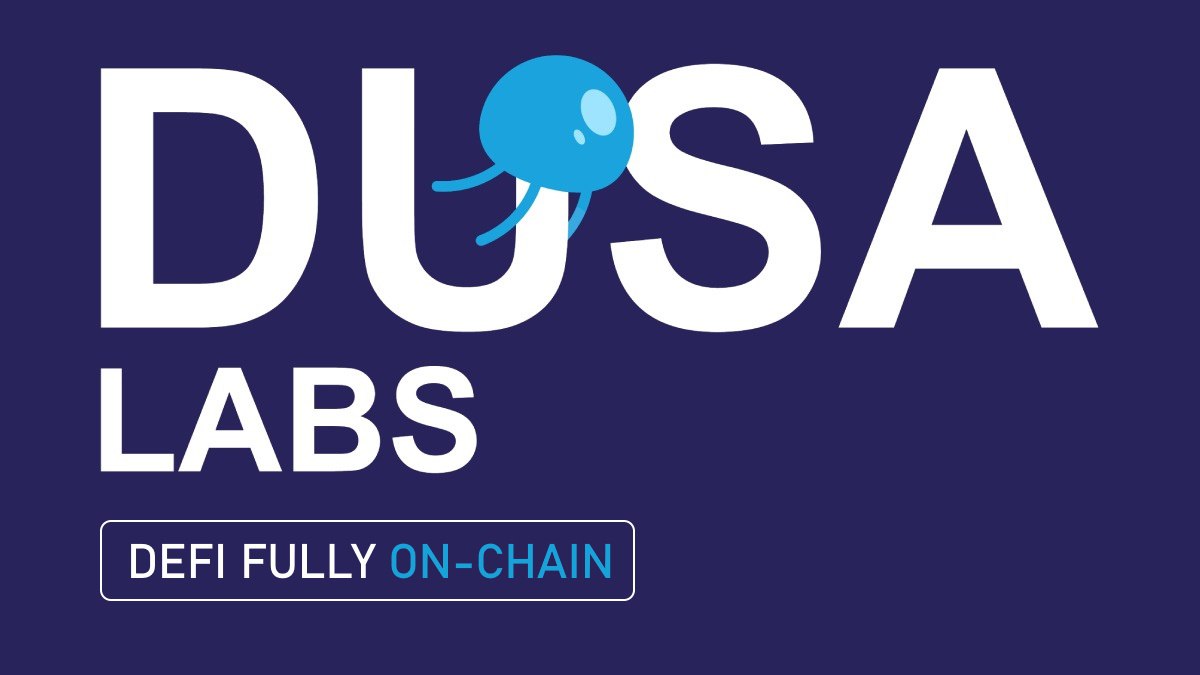 Dusa Labs comes from an initiative led by six blockchain enthusiasts and their desire to rediscover the values ​​of decentralization. After winning different hackathons in Paris, Lyon, Miami and San Francisco, they came to the conclusion that the DeFi ecosystem is not truly decentralized.
DeFi is not truly decentralized
The founders of Dusa had the opportunity to meet various players in the Web3 ecosystem through several events and to compare their opinions on the current DeFi. One of the most shared observations is that decentralization in DeFi projects is only in its infancy, and that the need for security – already present – will continue to grow. Indeed, the interaction with a decentralized application (dApp) or a DeFi protocol is still done through highly centralized elements and is open to censorship and attacks:
The hosting of decentralized applications is almost entirely dependent on Web2 solutions, which are centralized entities. This implies that the decentralized application does not have optimal resistance to cyberattacks since the front-end is not hosted on the blockchain (on-chain). Thus, the user can see his user interface evolve with the appearance of malicious content at any time, as was recently the case with the Curve protocol. In addition, the dApp is exposed to censorship, as well as potential data hosting and infrastructure failures.
Decentralized applications use initiators who are outside the blockchain (off-chain). When you make a transaction, some Smart Contracts use oracles – databases that are not located directly on the blockchain – and do not take advantage of the security provided by blockchain technology. Thus, off-chain initiators represent targets of malicious attacks and can generate latency in operations (sale, liquidation, etc.) sometimes costing users dearly.
A DeFi protocol is originally based on a model of decentralization, unlike centralized finance (CeFi). However, this decentralization is incomplete since the protocols are not entirely based on-chain.
Their added value in the DeFi environment
Currently, Dusa is the first dApp to build DeFi on the Massa blockchain. This represents the opportunity to capture an entire community aware of decentralization and then to build the foundations of an innovative DeFi ecosystem on Massa. This is the first time that a DeFi application has been able to claim that it is 100% on-chain. This experience is made possible thanks to two innovations: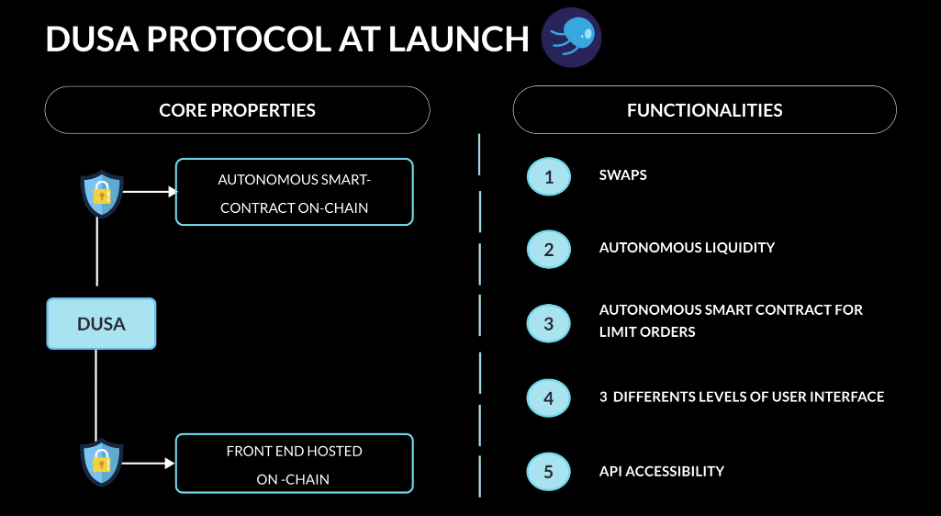 The front-end hosted on-chain
Dusa's decentralized application is directly hosted on the blockchain, here Massa. Concretely, as soon as he arrives on the application interface, the user already has access to the security offered by the blockchain. It also means that the dApp is censorship resistant. This is an essential element in a context where the war of access to information persists. For example, Massa recently signed an agreement with a Ukrainian newspaper so that their content would not be censored following the context of the war in Ukraine.
Thus, the front-end is hosted on the Blockchain and more precisely on a Smart Contract instead of being on an external server. It is therefore accessible from anywhere, by anyone and at any time in its original version.
Autonomous on-chain Smart Contracts
The Dusa protocol works through the use of autonomous Smart Contracts that allow events to be triggered successively according to pre-established conditions. This implementation meets two needs in the world of DeFi:
The removal of off-chain initiators
As mentioned above, today Smart Contracts use initiators who are not on the blockchain and therefore they do not benefit from the security offered by it. Dusa now offers this security by implementing autonomous Smart Contracts to carry out your transactions, whether they are simple exchanges, stop-losses or even loans.
Optimization of the mechanisms of the main DeFi products
At its launch, Dusa offers a decentralized exchange (DEX) where limit orders and stop limit orders are executed automatically in order to increase security and limit errors instead of using an oracle.
Their roadmap
For their roadmap, Dusa also wants to work on bringing autonomous Smart Contracts to other DeFi products such as:
Lending borrowing products
Management of cascading liquidations
The governance launchpad framework (DAO)
Options trading
Dusa is currently conducting private beta testing and plans to expand it to the general public soon. To stay tuned to all of their progress, we invite you to join their community on Twitter and Discord.
The launch of the dApp is planned for 2023, starting with the deployment of a decentralized exchange (DEX). Over one year, the objective is to build all the foundations of DeFi (lending borrowing, launchpad, DAO, etc.) by offering a fully decentralized infrastructure. For this, Dusa is carrying out its first round of fundraising in order to finance the security audit of smart contracts, the research and development of its new products as well as the deployment of its community.
Their team
The Dusa team is currently made up of four developers (including a CTO), a COO and a CEO who each have their nest of expertise. They had the opportunity to work together on various DeFi projects during several hackathons. It turns out that it is a very complementary and close-knit team. This complementarity leads to a creativity that is now sought after in the DeFi environment.
Their vision
The Dusa team attaches great importance to education and interoperability.
Education
Dusa understands that it is important to put yourself in the shoes of someone who has never interacted with a DeFi protocol and then to accompany them in this transition. Today, only 2% of crypto-asset holders have made the move to decentralized finance. Indeed, many holders would like to take this step but do not dare, in particular for lack of education on this subject. This is why Dusa wishes to offer several interfaces in order to adapt to the different levels of user experience, like the actors of centralized finance.
Interoperability
Dusa wants to assert itself as the foundation of DeFi on Massa, by facilitating the use of its contracts and its community to other applications.
Thus Dusa joins the movement of security and decentralization led by actors such as Ledger!
The Decentralization of DeFi.
ABOUT DUSA
Dusa Labs is a decentralized application offering a 100% on-chain experience to users thanks to a unique infrastructure. Dusa comes to optimize the main mechanisms of DeFi with the use of autonomous Smart Contracts and a front-end hosted directly on the blockchain. Thus, initially Dusa is able to offer an optimized and secure decentralized exchange.
Twitter: https://twitter.com/DusaLabs
Discord: https://discord.gg/Dk72qgGPMz
Lens: https://lenster.xyz/u/dusalabs.lens
LinkedIn: https://www.linkedin.com/company/dusa-lab
Lite paper & apply for beta testing: https://linktr.ee/dusalabs
Website: https://dusa.io
---