Dogecoin Price Prediction as Rumors Emerge of Elon's X Platform Adding Trading Features – Will DOGE Be Included?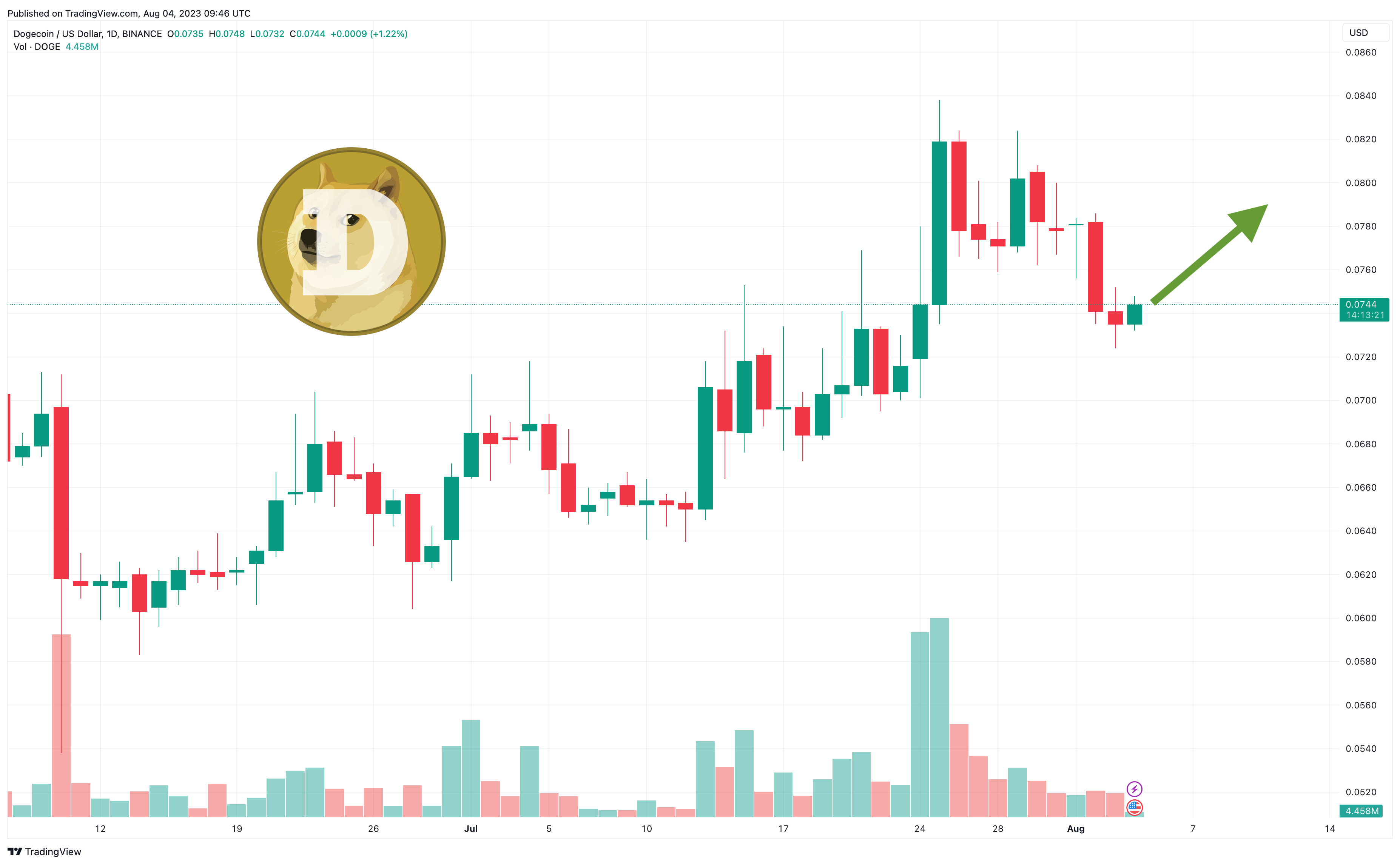 The Dogecoin price has risen by 1% in the past 24 hours, rising to $0.074070 amid reports that Twitter (now 'X') is working on the addition of trading features to its platform.
As bullish as this news may have been for DOGE's price, Elon Musk himself has quickly moved to deny such reporting, with the Twitter owner tweeting that "No work is being done on this to the best of my knowledge."
This denial from Musk himself has nixed any potential for a short-term DOGE rally, with the meme token remaining down by 3% in the past week, but also being up by 8% in the last 30 days.
But given that it still does seem credible that Twitter/X will add some kind of financial or payment features in not-too-distant future, DOGE could be set for a big rally soon enough.
Dogecoin Price Prediction as Rumors Emerge of Elon's X Platform Adding Trading Features – Will DOGE Be Included?
Much like the rest of the market, DOGE has seen a downturn in the past few days that looks as though it's leading up to a recovery, as the coin becomes attractively discounted as a result of overselling.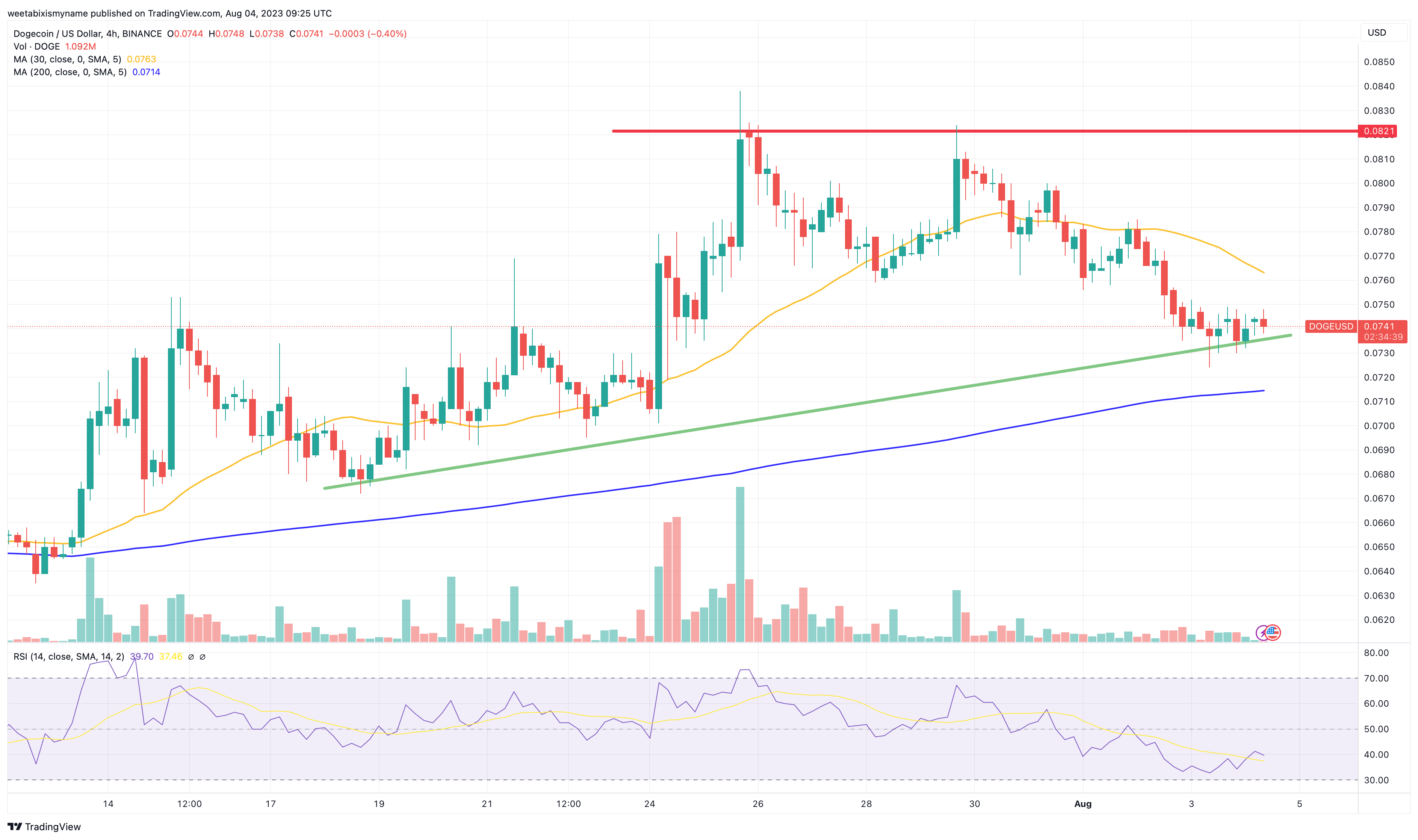 DOGE's 30-day moving average (yellow) is falling rapidly towards its 200-day average (blue), and when it drops below the longer-term metric the altcoin will be due to rebound.
Looking at its relative strength index (purple), it's arguable that DOGE is already close to the point of rebound, given that the RSI has begun rising again after falling close to 30.
However, it would be premature to conclude that DOGE has finished its recent slide, seeing as how it fell through the $0.0750 support yesterday and looks like it could also test its current support level (green).
DOGE's price will also receive no help from yesterday's speculation that Twitter is in the process of building trading features, with a report in Semafor citing "people familiar with the matter."
This reporting set Twitter aflutter with optimism that crypto – and DOGE – would soon receive a big boost, yet Elon Musk himself wasted no time in denying the reports.
Because of this, DOGE hasn't really done much today, and doesn't look like it will do much in the near future.
However, there has been more credible reporting this year that Twitter is indeed working on digital payments, which may eventually expand at some point in the more distant future to include crypto and Dogecoin.
But this really seems like it's somewhere way down the line, meaning that DOGE may make only modest gains in the meantime.
From its current level of $0.074070, it could return to $0.080 in the next few weeks, before reaching $0.10 in the next couple of months.
Fresh Altcoins, Fresh Rallies
Because DOGE is almost wholly dependent on Elon Musk and Twitter for its rallies, it may not do all that much for the rest of the year.
Because of this, many traders may be inclined to look elsewhere for big, market-beating gains, with presale tokens being one potentially lucrative source of profit.
And one of the biggest presales happening right now is that of Wall Street Memes (WSM), a new ERC-20 token that has raised in excess of $20.5 million since kicking off its token offering in June.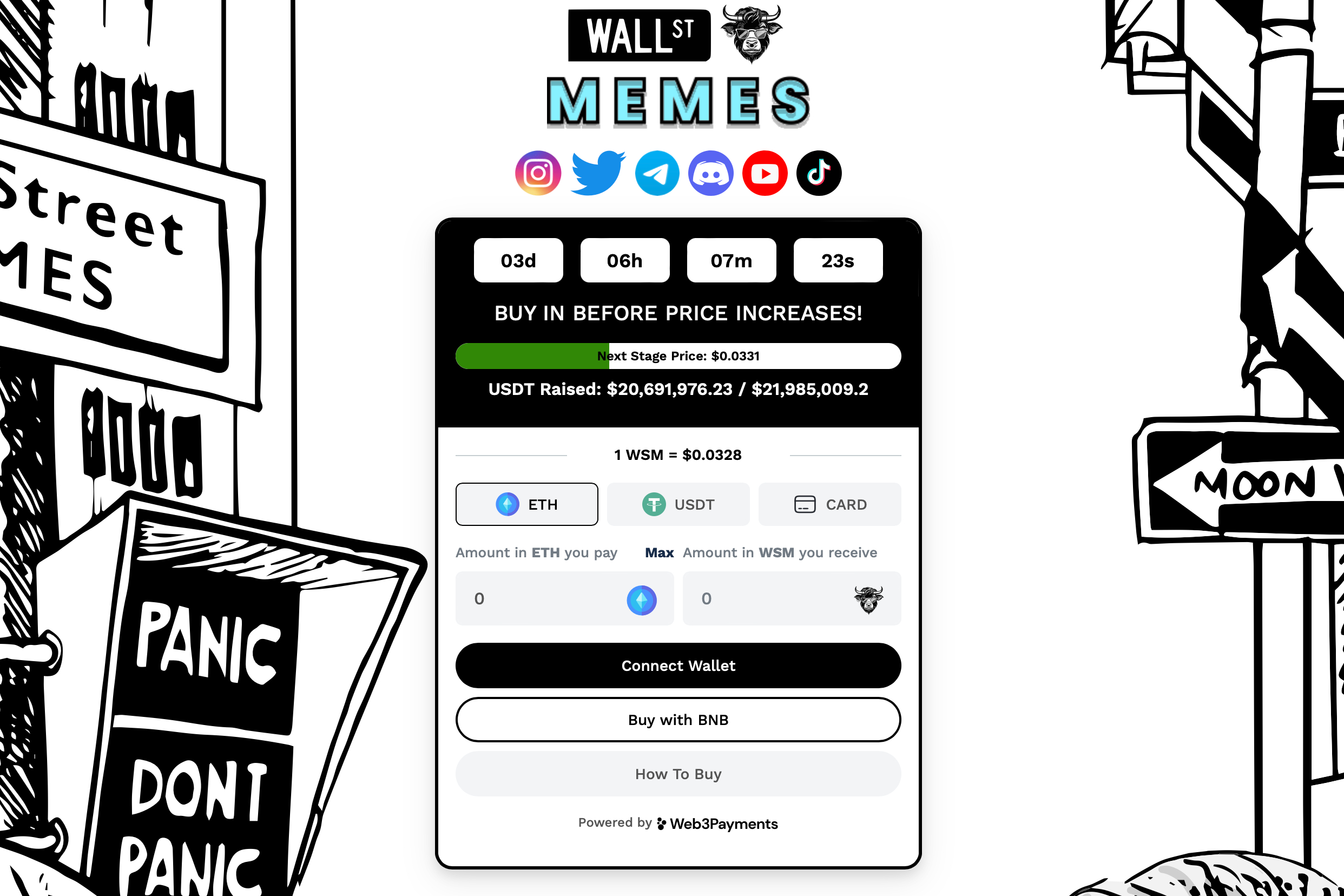 Wall Street Memes is linked with the meme stocks movement that famously instigated the 2021 GameStop rally, providing it with a ready-made online community that has clearly helped it outperform pretty much every other presale this year.
Impressively, its Twitter profile now counts more than 255,000 followers, an indication of the number of holders ready to support the price of WSM when it lists on exchanges in the next few weeks.
Helping to incentivize greater community involvement is WSM's decentralized tokenomics, with the coin having a maximum total supply of 2 billion, of which 50% has been reserved for the sale and 30% has been allocated to community rewards.
Buyers can join the sale – and get some WSM before it rallies on exchanges – by going to the official Wall Street Memes website and connecting their crypto wallets, with 1 WSM currently priced at $0.0328.
The presale will end with WSM priced at $0.0337, although even this price may end up seeming cheap once the coin lists on exchanges.
Disclaimer: Crypto is a high-risk asset class. This article is provided for informational purposes and does not constitute investment advice. You could lose all of your capital.
---