Dogecoin Price Prediction as Robinhood Adds DOGE Swaps – Adoption on the Rise?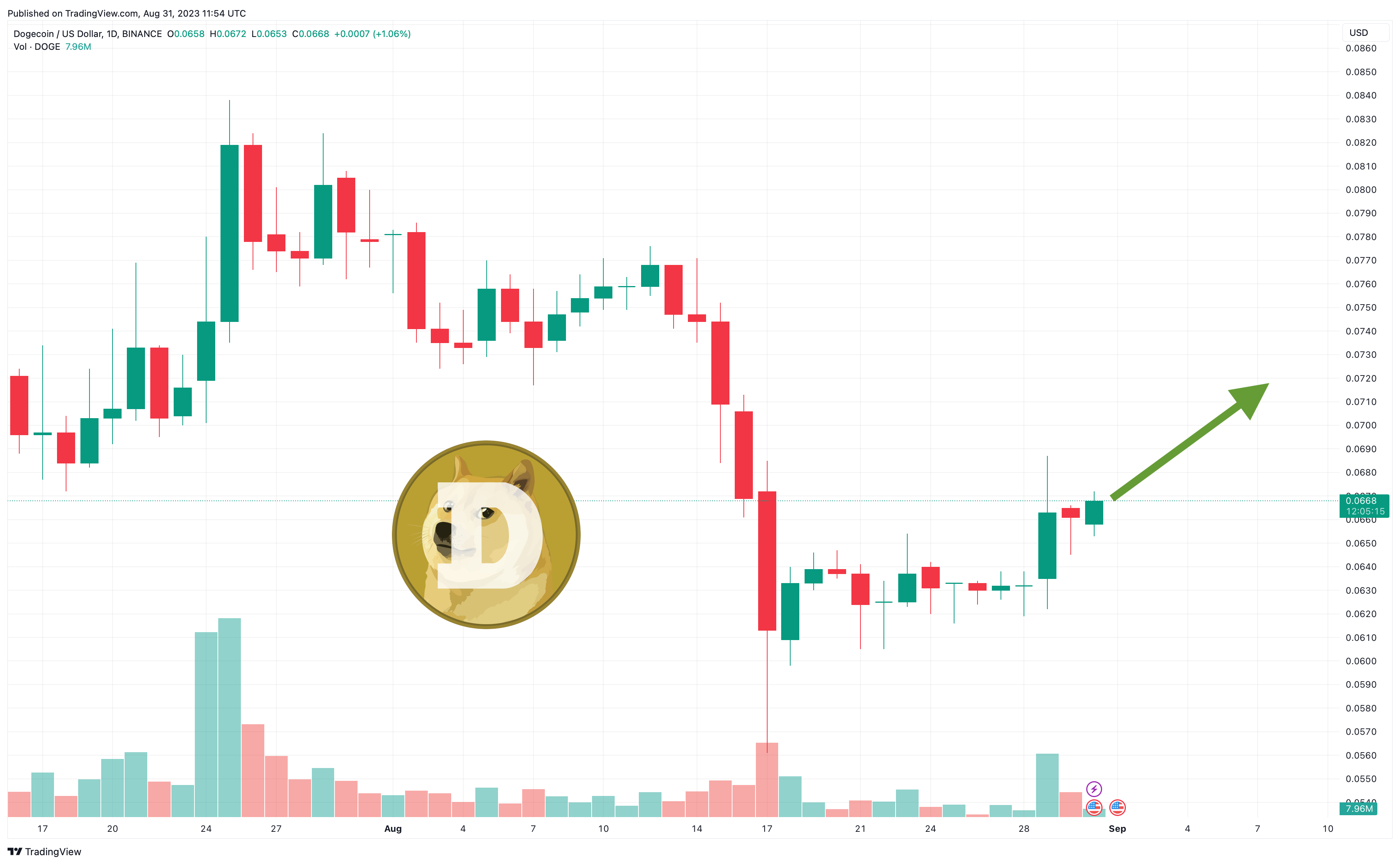 The Dogecoin price has gained by 2% in the past 24 hours, rising to $0.066622 after Robinhood added DOGE support to its custodial cryptocurrency wallet.
The news, which also brings DOGE-based swaps to Robinhood, has helped the meme token rise by 5% in the past week, yet it remains down by 12% in the last 30 days, as well as by 5% since the beginning of the year.
But Robinhood's embrace of Dogecoin functionality is a significant win for the meme token, one which could help it regain momentum after a long period of overselling and undervaluation.
Dogecoin Price Prediction as Robinhood Adds DOGE Swaps – Adoption on the Rise?
DOGE's indicators are in a promising position, with its relative strength index (purple) rising towards 50 after more than a week near 30, providing a clear sign that it's beginning to benefit from growing momentum.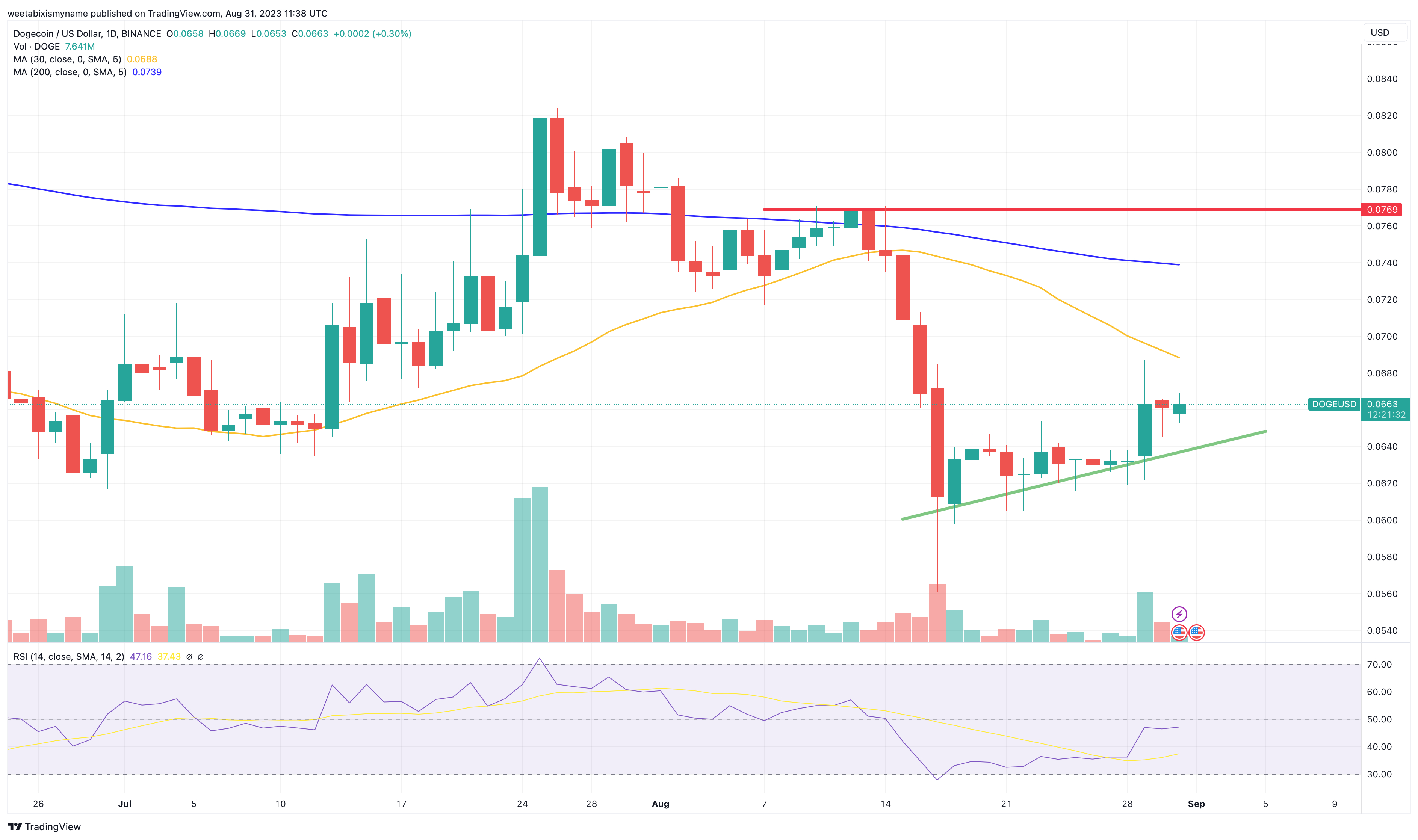 Given that DOGE's 30-day moving average (yellow) has fallen steeply below its 200-day average (blue), it has become increasingly likely that a sustained recovery is getting very close.
This is especially the case when DOGE's support level (green) has rising consistently since the middle of August, following a very big dump for the meme token.
In other words, all signs point to an incoming recovery rally for the cryptocurrency, and it seems as though the news about Robinhood adding Dogecoin support to its custodial wallet could be the catalyst for such a rally.
By including Dogecoin support along with support for Bitcoin and Ethereum, Robinhood is likely to increase overall demand for and trading of DOGE, which should point to a steadily rising price in the medium- and long-term.
And this news is also encouraging in the sense that, with Robinhood supporting DOGE, it suggests that other big platforms and/or institutions could potentially do something similar in the future, rolling out features related to Dogecoin rather than to its rivals.
Looking at the longer term picture, DOGE's community is still holding out for the distant possibility that Twitter (now X) will eventually integrate Dogecoin payments in some shape or form.
This is probably still a long way off, but given Elon Musk's regularly avowed support for DOGE, and given that he has been busy reshaping Twitter since buying it, it certainly can't be discounted.
In fact, Twitter/X recently acquired a license for transmitting currency, something which is a necessary precondition if it wishes to roll out cryptocurrency-related features.
As such, DOGE may end up rallying very big in the more distant future.
As for the next few months, it could be expected to return to $0.0750 by the final few months of the year.
High-Potential Altcoins for Now
Of course, DOGE's integration into X may still be a long way off, so traders looking to book above-average returns in the shorter term should probably look elsewhere.
One promising area releates to presale tokens, with the best of these likely to rally big once they get added to trading platforms.
For instance, Launchpad.xyz (LPX) is a new all-in-one Web3 trading platform that has raised an impressive $1.5 million since beginning its presale a month ago.
Due for launch in Q3 of this year, Launchpad.xyz will provide investors with a comprehensive array of tools, including a Web3 wallet, a play-to-earn gaming hub, trading signals, collaborative trading rooms, and automated trading bots.
Ambitiously, Launchpad's platform will also incorporate a decentralized exchange and NFT marketplace also planned, along with the ability to create and trade fractionalized assets.
This makes it one of the most promising new platforms of the year, and helps to account for why LPX's presale has already done so well.
Making LPX even more attractive is the fact that it will be used for paying platform fees and subs, and that it can also be used for staking, thereby earning its holders a steady income stream.
Investors can join its presale by going to the official Launchpad.xyz website and connecting their software wallets.
1 LPX is being sold at $0.0445, a sum which could very easily seem too cheap when the token lists on exchanges in the next few weeks.
Disclaimer: Crypto is a high-risk asset class. This article is provided for informational purposes and does not constitute investment advice. You could lose all of your capital.
---