Dogecoin Price Prediction as DOGE Shoots Up After Elon Changes Twitter Name to X – Will DOGE Become Official Payment Option?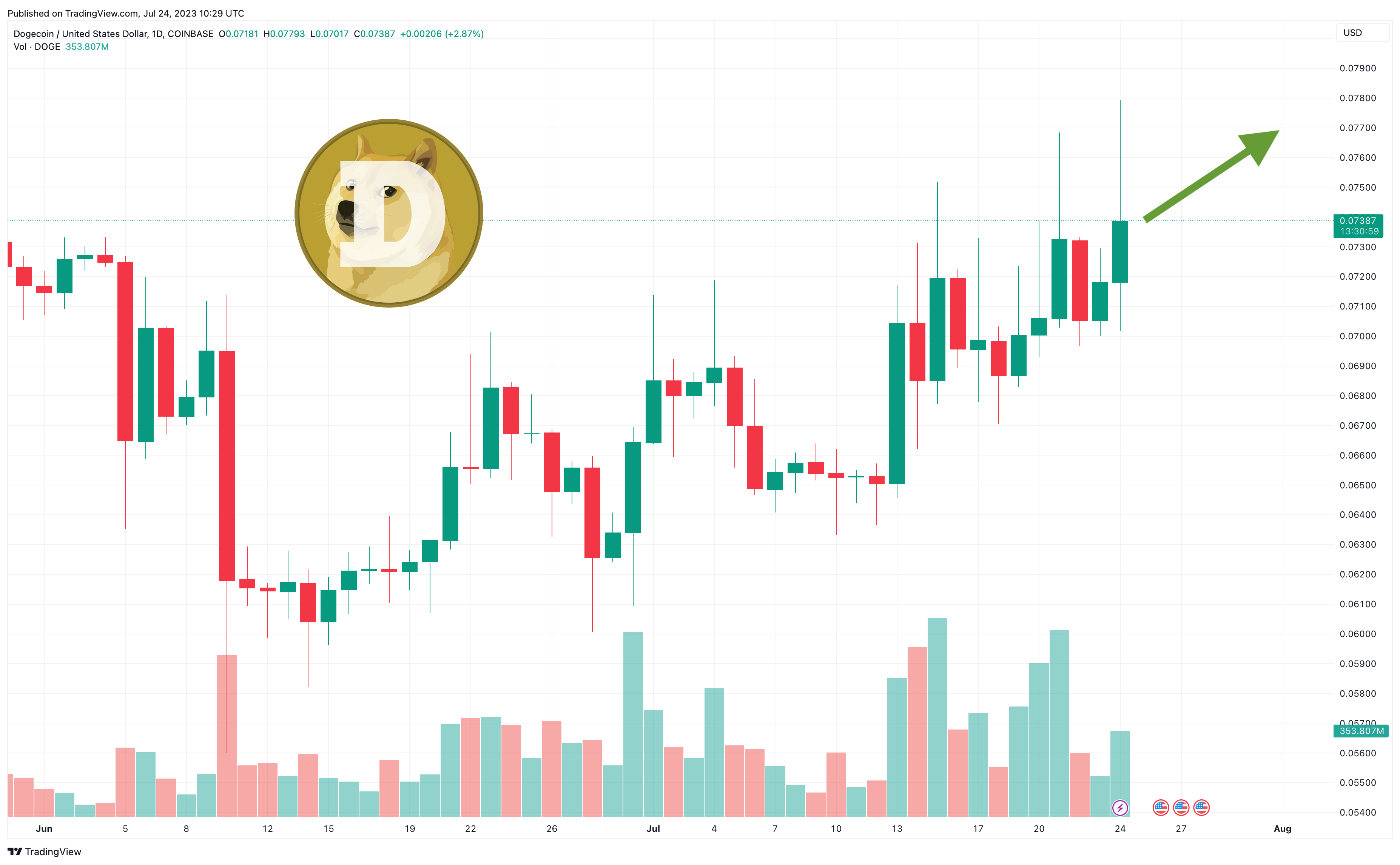 The Dogecoin price has risen by 5% in the past 24 hours, rallying to $0.075537 after Twitter rebranded itself to 'X'.
DOGE holders have interpreted the change as a sign that Elon Musk wants to push ahead with his vision for Twitter, which for some means that he will bring cryptocurrency – and Dogecoin – payments to the social network.
The rekindling of this expectation has caused DOGE to shoot up by 2% in the past hour, while the meme token is also up by 6% in a week and by 12% in the last 30 days,
However, it would be premature to assume that Twitter's rebranding means that it will integrate DOGE payments anytime soon, with no one at the social media company mentioning such a possibility since Elon Musk bought it in October 2022.
Dogecoin Price Prediction as DOGE Shoots Up After Elon Changes Twitter Name to X – Will DOGE Become Official Payment Option?
DOGE's indicators have shot up in the past few hours, following Twitter's rebranding, although it's not clear how long the current momentum will last.
For example, DOGE's relative strength index (purple) shot up to 70 a few hours ago, in a sign of strong incoming momentum.
However, it has since dipped back down to 60, implying that DOGE's rally may already be calming down.
On the other hand, the altcoin's 30-day moving average (yellow) continues to rise further above its 200-day average (blue), so it's still possible that it could gain more in the next few hours or days.
This possibility is also suggested by DOGE's support level (green), which has risen steadily in the past couple of weeks, providing the altcoin with a higher base from which to pursue new peaks.
As stated above, the cause of Dogecoin's strength today is, once again, Elon Musk and Twitter, the latter of which has rebranded to 'X' and changed its famous bird logo.
This has led people to believe that the introduction of cryptocurrency and/or DOGE payments isn't very far, with some observers noting that Elon Musk has changed his location on his Twitter/X profile to "𝕏Ð" (the latter being Dogecoin's symbol).
While Musk flirted with the idea of Dogecoin payments on Twitter when he first proposed buying the social network (back in 2022), he hasn't explicit outlined plans to introduce such payments since becoming the network's owner.
Instead, he has continued dropping 'hints' like the one above, which a cynic would probably argue are just attempts to boost the price of a cryptocurrency he self-confessedly owns.
Still, there have been reliable reports that Twitter/X does plan to bring payments of some form to its platform, even if it's likely to begin with fiat-based transfers.
As such, we cannot rule out the possibility that DOGE will one day come to Twitter/X, and that when it does it will will rally massively.
But for now, it may rise as high as $0.078 in the next few days before possibly reaching $0.080 in the next few weeks.
Presale Tokens Look Set to Rise Fast
It's likely that it may be some time before DOGE enjoys a really substantial rally, leaving traders who want more immediate or short-term gains having to look elsewhere.
Many may do well to look at presale, with some of the biggest and best presale tokens often proceeding to rise strongly once they list on exchanges.
Possibly the one presale coin with the best chance of doing this is Wall Street Memes (WSM), a new ERC-20 token that has already raised more than $17.4 million in its presale.
Emerging out of the online stocks movement responsible for the 2021 GameStop and AMC rallies, Wall Street Memes has quickly been able to cultivate a strong online community, with its Twitter account now boasting more than 255,000 followers.
The fact that it has such numbers behind it is a big part of the reason why it has been able to raise so much money so quickly, with its decentralized tokenomics also helping to attract supporters to its project.
Indeed, 50% of its supply has been allocated to its presale, with another 30% going towards community rewards, something which should incentivize greater involvement in its community.
While there isn't much time left, new buyers can join the WSM presale by going to the official Wall Street Memes website, with 1 WSM now selling at $0.0322.
This will rise up to $0.0337 by the time the sale ends, at which point WSM could make some big profits once the token lists on trading platforms.
Disclaimer: Crypto is a high-risk asset class. This article is provided for informational purposes and does not constitute investment advice. You could lose all of your capital.
---