Dogecoin Price Prediction as DOGE Overtakes Cardano in Market Capitalization Rankings – Time to Buy?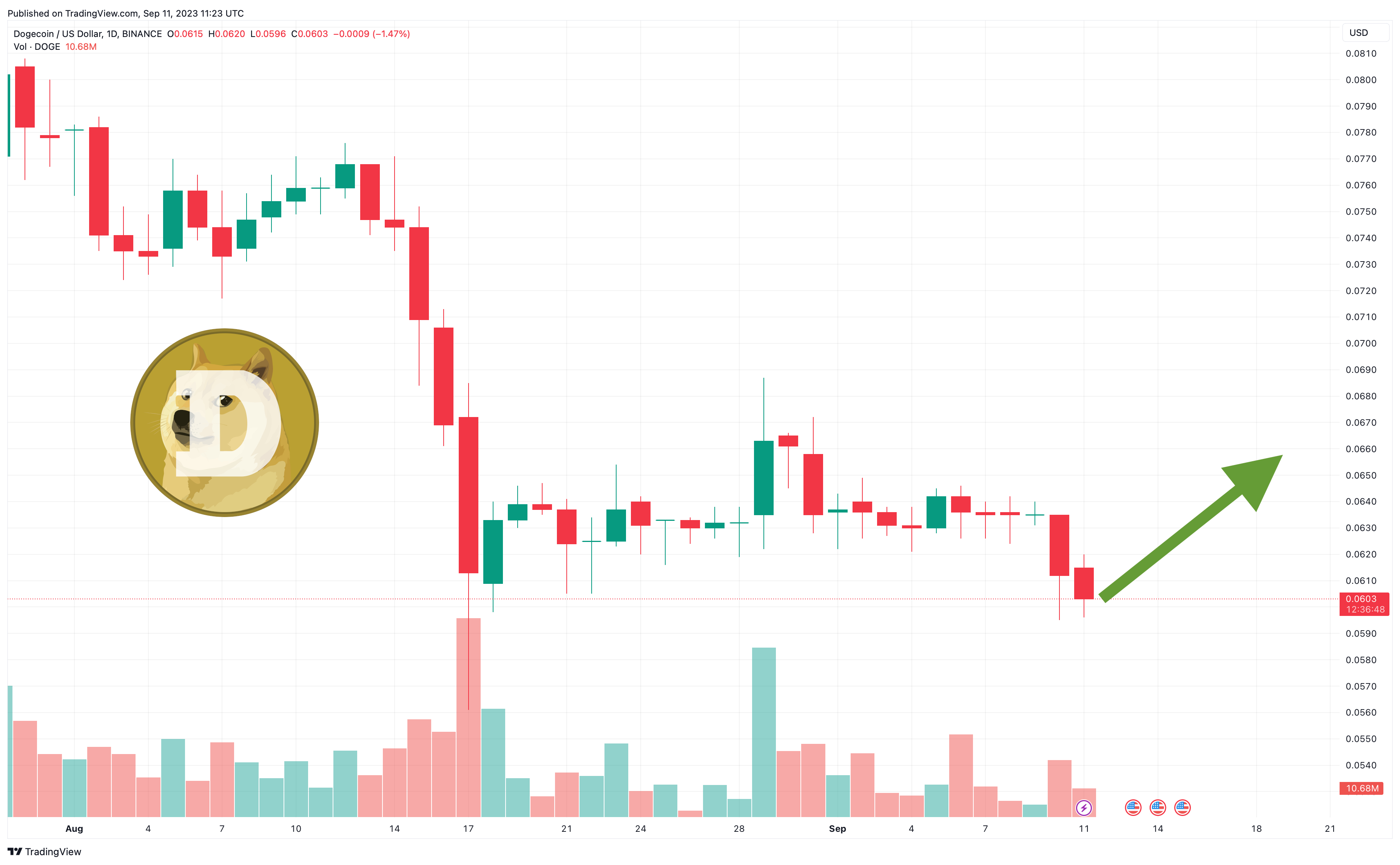 The Dogecoin price has slipped by 2% in the past 24 hours, yet its fall to $0.060437 hasn't prevented it from overtaking Cardano (ADA) in the cryptocurrency market's capitalization rankings.
DOGE is now down by 4% in the past week, yet ADA's even bigger drop over this time (at around 5%) means that the latter has fallen one place below the meme token, which now sits in eighth place overall.
Of course, with DOGE also down by 21% in a month, its rise to eighth has hardly come from a show of strength, with the token also down by 14% since the beginning of the year (even though many major tokens have actually risen since January).
However, the distant possibility of Twitter introducing DOGE payments continues to provide hope to the Dogecoin community, which may potentially see big gains before too long.
Dogecoin Price Prediction as DOGE Overtakes Cardano in Market Capitalization Rankings – Time to Buy?
DOGE's indicators are all looking pretty week and oversold right now, with its 30-day moving average (yellow) reaching a new low in relation to its 200-day average (yellow) today.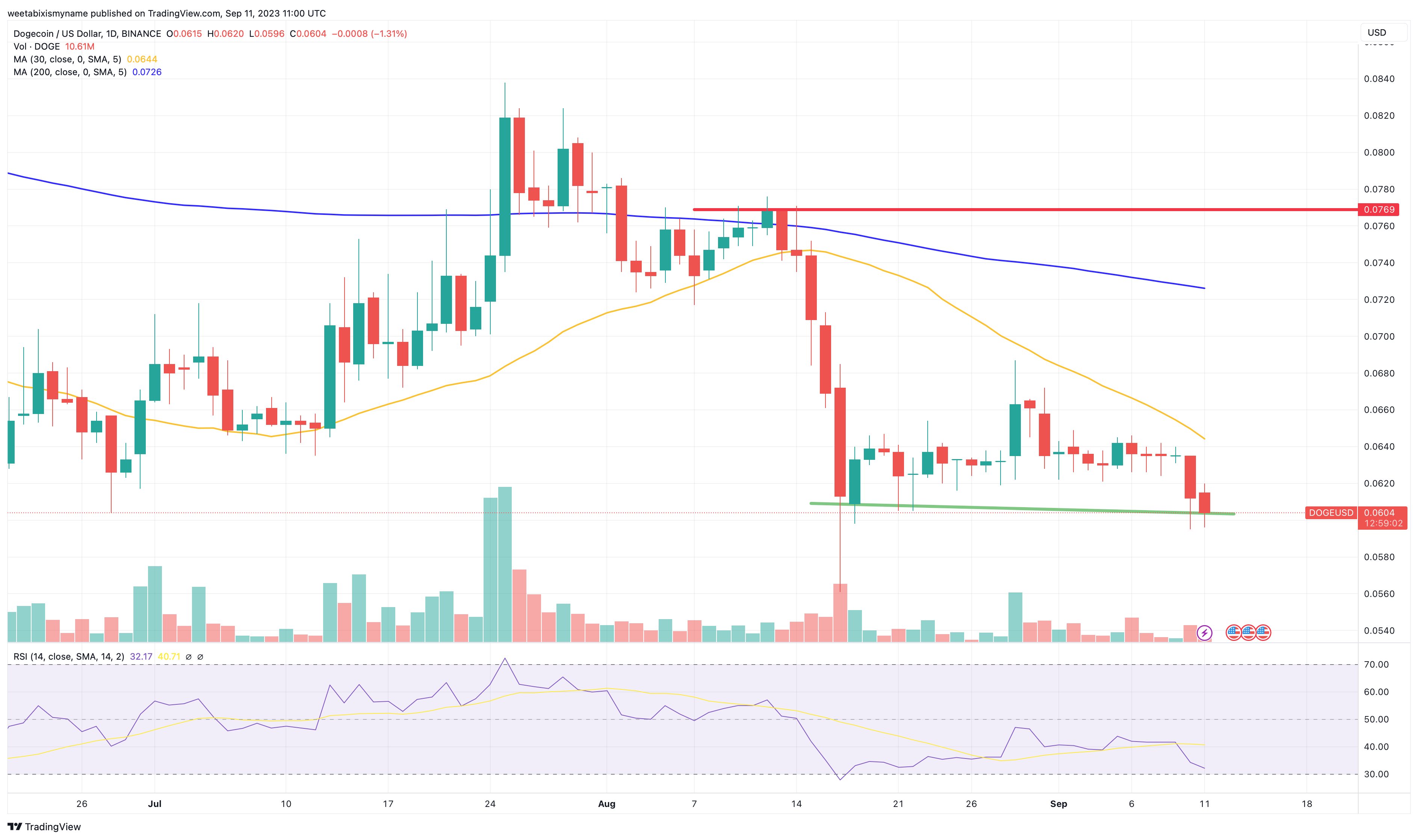 At the same time, the meme token's relative strength index (purple) is about to touch 30, which again suggests that it's majorly oversold and undervalued.
While this looks as though DOGE has bottomed out, the coin's support level (green) continues to decline, meaning that its price could fall a little further across the next few days.
Such uninspiring signals come despite the news that Dogecoin has overtaken Cardano in the capitalization rankings, although as noted above this more to do with ADA's weakness than DOGE's strength.
Indeed, DOGE has already flipped ADA on a number of occasions in the past few weeks, and it's likely that ADA could flip DOGE back if it recovers sooner than the meme token.
Regardless, the sustained weakness of DOGE's indicators would suggest that the meme token is overdue a recovery rally, which could arrive in the next few weeks.
There isn't much in the way of fundamentals that will make DOGE recover, even if the past month saw it added to Robinhood's cryptocurrency wallet.
Having said that, the more distant future may potentially bring DOGE payments to Twitter, which has been busy obtaining a money transmitter license in recent weeks.
And if Dogecoin integration ever does come to Twitter/X, DOGE could rally massively, potentially doubling its price overnight.
For now, it can be expected to return to $0.070 in the next month or so, before potentially reaching $0.080 by the end of the year, assuming that the market becomes more bullish.
Newer Altcoins With Utility
Given DOGE's overreliance on Elon Musk and Twitter, many traders may feel more comfortable expanding their portfolios into newer tokens that offer some kind of actual utility.
In a year of new meme tokens and junk coins, such cryptocurrencies can be hard to find, but they do often appear in the market.
A very good example of this is Launchpad.xyz (LPX), an all-in-one Web3 trading platform that has raised in excess of $1.6 million since opening its presale.
Aimed at traders of all skill levels, Launchpad.xyz's platform will offer a wide assortment of tools and resources, all of which can be harnessed by investors looking to remain one step ahead of the cryptocurrency market.
This will include a Web3 wallet, a play-to-earn gaming hub, AI-based analytics, trading signals, fractionalized assets, collaborative trading rooms, and also automated trading bots, with Launchpad set to launch its platform in the next few months.
And even after the main core of the platform is launched, Launchpad will work on adding more to its ecosystem, including its own decentralized exchange and an NFT marketplace.
This is likely to make the platform the only place most traders need to go for their cryptocurrency investment needs, something which could help Launchpad create powerful network effects early in its life.
Within its ecosystem, the native LPX token will be used for paying fees and subscriptions, and also for staking, meaning that investors can earn a passive income just by holding the token.
Anyone interested in buying LPX early can do so by going to the official Launchpad.xyz website, with 1 LPX selling at $0.0445.
This is a very low price for what is promising to be such a strong new altcoin, with early investors potentially in line to make considerable profits once the token lists on exchanges later in the year.
Disclaimer: Crypto is a high-risk asset class. This article is provided for informational purposes and does not constitute investment advice. You could lose all of your capital.
---