Dogecoin Price Prediction as DOGE Falls 5% in 24 Hours – Time to Buy the Dip?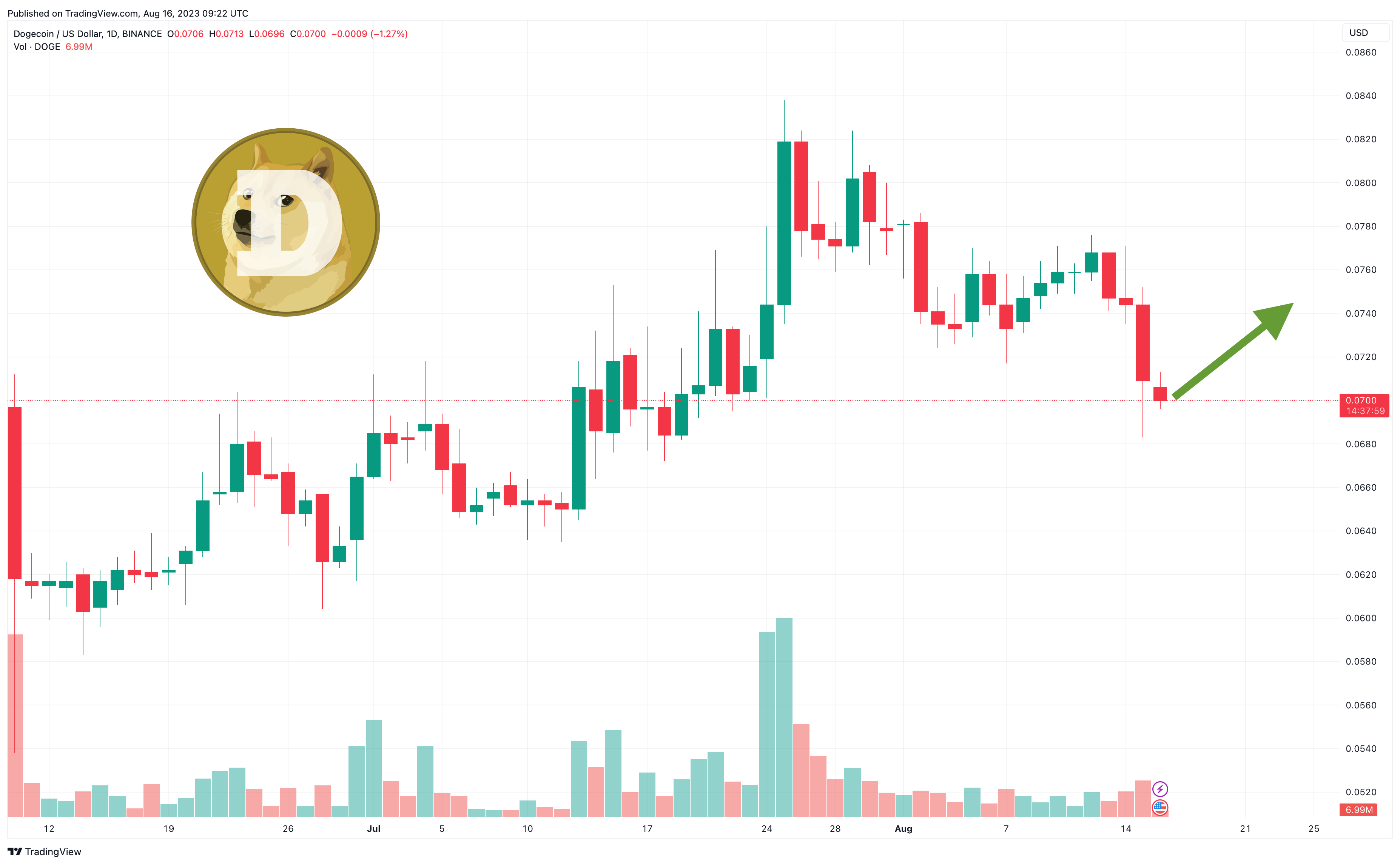 The Dogecoin price has dropped by 5% in the past 24 hours, falling to $0.070500 as the cryptocurrency market reacts badly to speculation that the SEC has delayed all decisions on recent Bitcoin ETF applications.
DOGE is now down by 7% in a week and by 8% in a fortnight, with the meme token basically flat since the beginning of the year, in contrast to many major cryptocurrencies (e.g. Bitcoin, Ethereum, XRP) which have gained substantially since January 1.
However, DOGE's underperformance arguably puts it in an undervalued position from which it may rally massively in the not-too distant future, especially if real progress is made on expected plans to bring cryptocurrency payments to Twitter.
Dogecoin Price Prediction as DOGE Falls 5% in 24 Hours – Time to Buy the Dip?
There's no doubt that DOGE is in the middle of a significant selloff, which means pain for anyone who has bought the meme token near recent tops, but which also provides a nice profit opportunity for newcomers looking to buy the dip.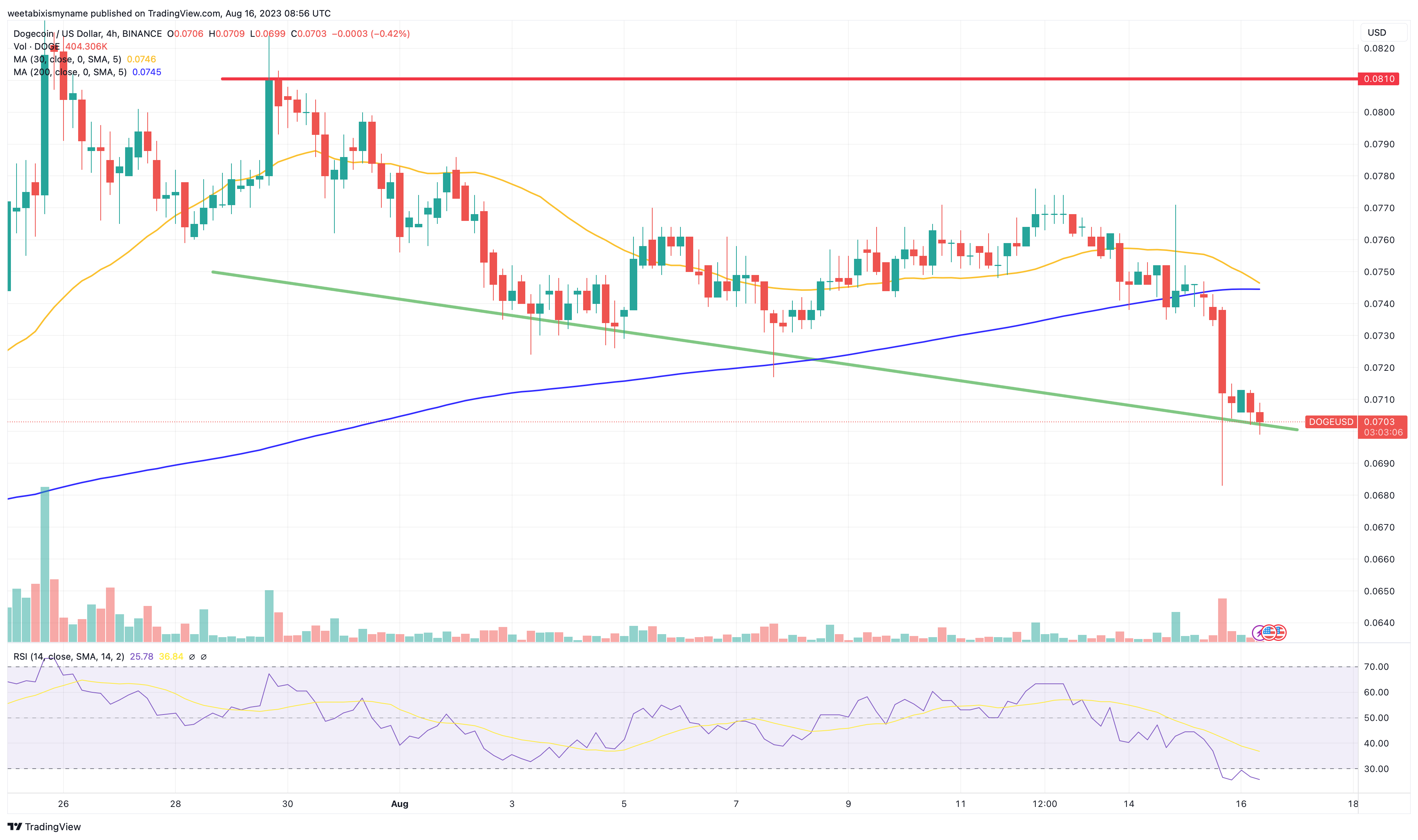 DOGE's relative strength index (purple) has now dropped below 30, a clear sign that the token is being oversold and may correct upwards soon.
At the same time, the cryptocurrency's 30-day moving average (yellow) is just about to sink below its 200-day average (blue), which again signals that it's not too far away from hitting a bottom.
However, DOGE's price crashed through its previous support level (green) yesterday, sending this level even lower as a result, something which could mean that a few more drops are in order before the meme token manages to mount a recovery.
To be fair, DOGE isn't the only token to have fallen in the past 24 hours, with the wider market having been negatively affected by yesterday's news that the SEC will be delaying its decisions on Bitcoin ETFs.
While there is actually no reliable source for news, it has nonetheless spread widely through social media, causing the market to decline as a result.
And it seems to have affected DOGE more than many other major cryptocurrencies, with Bitcoin (BTC) down by 0.8%, by contrast.
One of the main weaknesses of Dogecoin at the moment is that it has nothing on its horizon apart from the distant possibility that, one day, Twitter may introduce cryptocurrency – and DOGE – payments.
Because it doesn't have updates or launches to look forwards to, it seems as though its price has been locked in a kind of semi-death spiral, with nothing stopping it from falling further, at least for now.
Still, it's not entirely out of the question that Twitter will eventually come through with DOGE payments, given Elon Musk's long-held support for the meme token, and given his plans to turn the social network into some kind of 'everything app'.
However, such plans may not come to fruition for one or two years, leaving DOGE looking fairly weak in the meantime.
It could even sink a little further in the next few weeks, perhaps to $0.0650 or $0.060.
Stronger Meme Tokens
Given that DOGE may be in hibernation for quite some time, traders may prefer to look at other meme tokens for quicker and bigger gains at the moment.
And one of the most promising new meme tokens at the moment is Wall Street Memes (WSM), a new ERC-20 cryptocurrency that has raised more than $24 million since beginning its presale in June.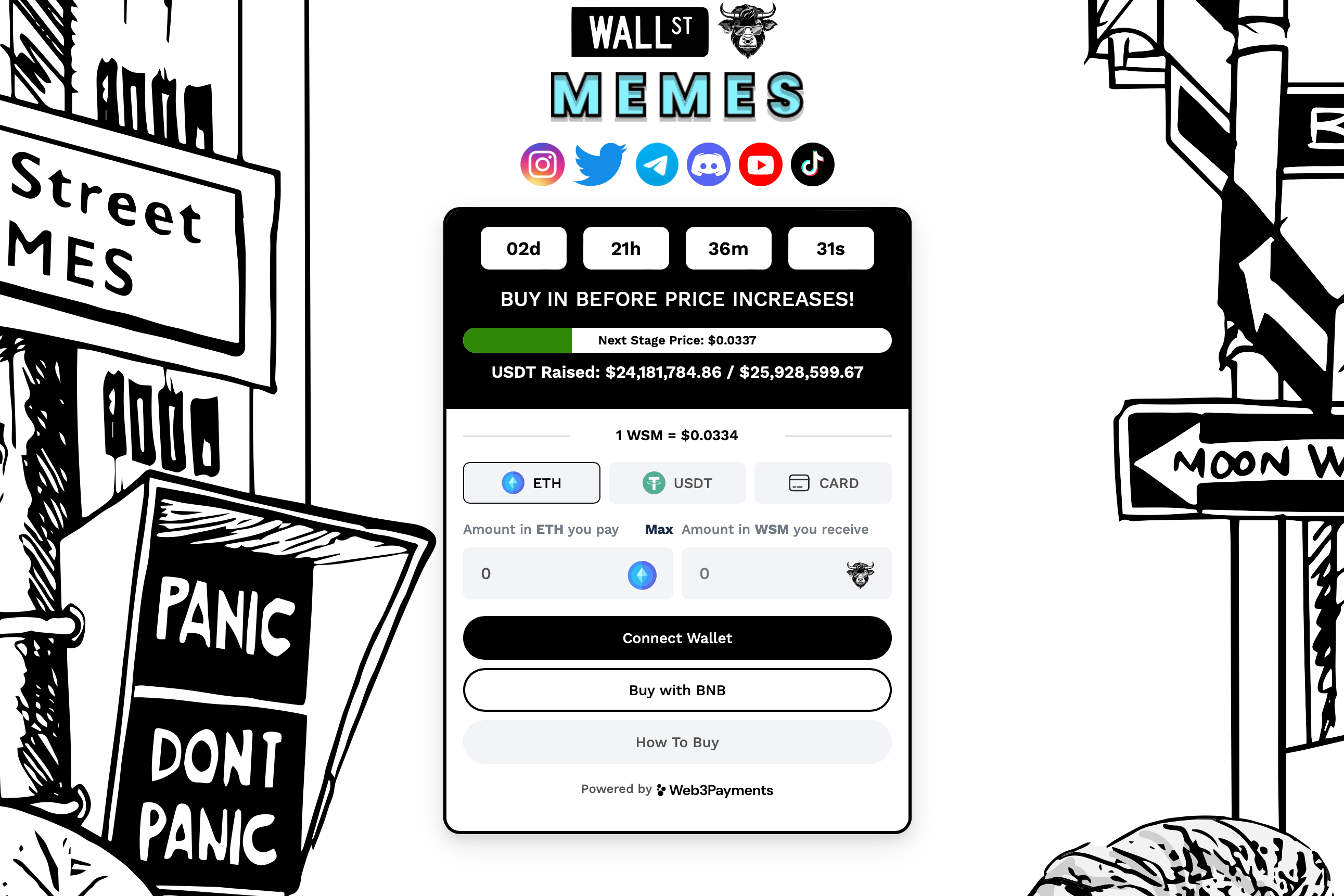 Probably the biggest single factor in Wall Street Memes' successful presale is that the cryptocurrency has emerged out of the meme stocks movement that was responsible for AMC and GameStop rallies in 2021.
This means that it already has a strong community around it, with its Twitter account now boasting over 260,000 followers, many of whom have possibly already bought some WSM during the presale.
Such a community will prove vitally important when WSM lists on exchanges, providing the token with a network of supporters and promoters who will help maintain its price while also attracting new investors.
This is why it arguably has better short- and medium-term prospects than DOGE, as well as most of the new meme tokens that have appeared this year.
New investors can participate in the presale by visiting the official Wall Street Memes website and connecting their software wallets.
1 WSM is currently priced at $0.0334, yet this will rise to $0.0337 for the sale's final stage, at which point the coin will soon be added to trading platforms.
Disclaimer: Crypto is a high-risk asset class. This article is provided for informational purposes and does not constitute investment advice. You could lose all of your capital.
---