Dogecoin is Going to Zero as Crypto Experts Shift Their Attention to This New Meme Coin – $250,000 Raised Already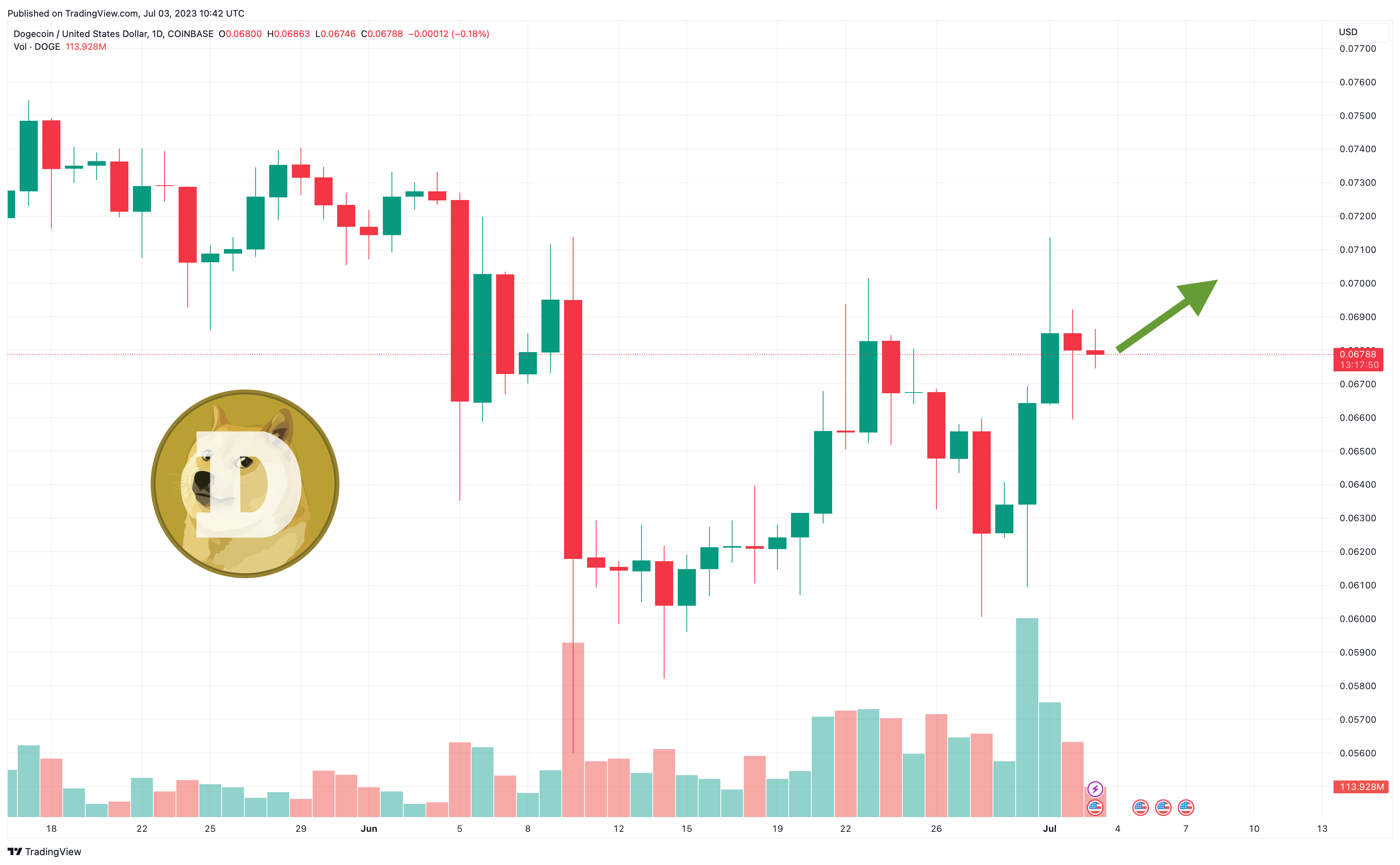 The Dogecoin price has risen by 0.5% in the past 24 hours, reaching $0.067791 as the cryptocurrency market as a whole gains by 1% today.
DOGE is now up by 2.5% in a week and by 9% in the past fortnight, although the meme token remains down by 6.5% in the last 30 days.
It's also down by 3.5% since the beginning of the year, underlining what a poor 2023 it has had in comparison to many other major cryptocurrencies, with Bitcoin (BTC) up by 85% since January 1.
However, newer meme tokens continue to emerge this year and enjoy above-average gains, with Thug Life Token (THUG) already raising $250,000 in its presale and setting itself up for a big rally once it lists.
Dogecoin is Going to Zero as Crypto Experts Shift Their Attention to This New Meme Coin – $250,000 Raised Already
DOGE's chart has actually hit a promising position, with its 30-day moving average (yellow) rising above its 200-day (blue), thereby forming a 'golden cross' that can often signal breakouts.
At the same time, DOGE's relative strength index (purple) continues to hover above 50, suggesting that momentum is leaning more towards further gains, as opposed to further losses.
It's also encouraging to note that the meme token's support level (green) has held up well over the past few weeks, indicating that it's not going to fall much further below its current price, at least in the short-to-medium term.
That said, DOGE continues to suffer from a lack of positive adoption or development news, with the once-strong hope of Twitter integration remaining very remote at this point in time.
Because there's no clear or reliable indication that DOGE payments will be brought to Twitter in the foreseeable future, it seems unlikely that DOGE will experience a big rally this year.
However, one meme token that does look like it's set for a big surge in 2023 is Thug Life Token (THUG), a new ERC-20 coin that has aligned itself with the gangsta rap and hip-hop communities.
It launched its presale only last week but has already brought in more than $250,000, offering some indication of how popular it could become in the next couple of months.
In a nod to 4/20 culture, Thug Life Token has a maximum total supply of 4.2 billion, with 70% of this being reserved for the presale.
This is a big percentage, and means that THUG will be an appreciably decentralized token, one in which its community will have a big stake.
The fact that its supply is relatively well distributed is probably one of the main reasons for the early success of its presale, which will have only one stage and which is selling THUG at a price of $0.0007.
It will come to an end after it reaches its hard cap of $2,058,000, a total that could be met in only a few more weeks.
This means that traders have a limited window of opportunity in which to buy THUG, which may sell out soon.
However, it's an opportunity worth taking, given how successful meme tokens have been this year, as traders look for profitable coins in a market that remains fairly bearish.
Investors can join the presale by visiting the official Thug Life Token website, where THUG can be bought using ETH, USDT or fiat currency.
Because it has already raised a healthy amount and already seems to have attracted a significant following, THUG could really rally strongly when it lists on exchanges in the next few weeks, potentially making it one of the most successful meme tokens of the year.
Disclaimer: Crypto is a high-risk asset class. This article is provided for informational purposes and does not constitute investment advice. You could lose all of your capital.
---