Digital Yuan Will Revolutionize Chinese Retail Payments – Central Bank Exec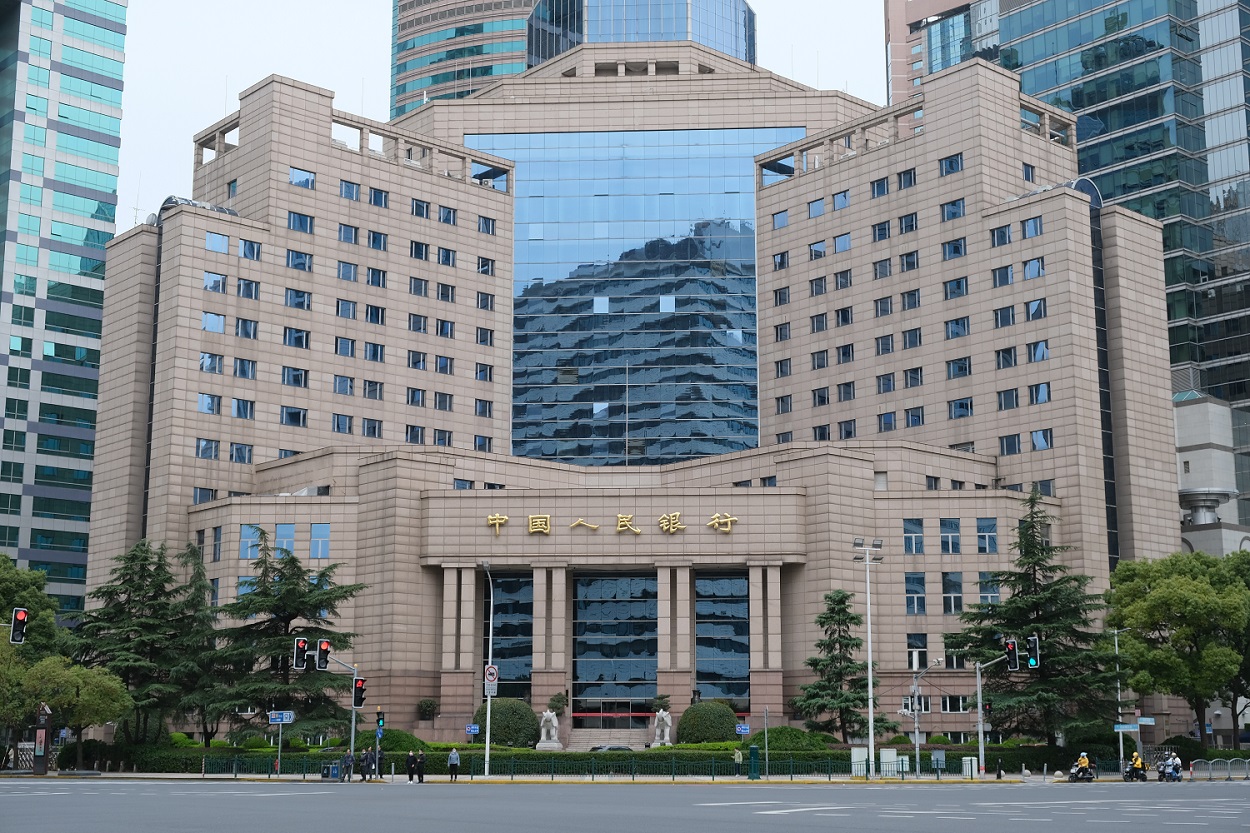 A Chinese central bank chief has claimed the digital yuan will revolutionize the way the nation makes retail payments, and suggested the CBDC could one day "completely replace" cash.
Per Yicai, Mu Changchun, Head of the Digital Currency Research Institute at the People's Bank of China (PBoC), made the comments at the China International Financial Annual Forum this week.
Mu said it would be important to ensure that the digital yuan was accepted "in all retail payment scenarios" in Mainland China.
He also called on the PBoC's banking and e-pay provider partners to streamline their QR code technical protocols.
At present, wallets are hosted by the PBoC or a number of mainly state-run banks.
The private-sector e-pay powerhouses WeChat Pay and Alipay have also added e-CNY functionality to their apps.
But all of these partners have thus far sought to integrate e-CNY payment options with their own conventional pay interfaces – rather than with one another's offerings.
This fact, Mu suggested, means that merchants can face IT-related adoption issues with their POS devices.
The South China Morning Post quoted Andrew Fei, a partner at the Hong Kong law firm King & Wood Mallesons, as explaining:
"A single, unified, and standardized QR code that supports e-CNY payments as well as Alipay, WeChat Pay, and existing electronic payment methods can incentivize more widespread use of e-CNY by making it more convenient for consumers to use, and for merchants to accept, e-CNY in the retail context."
China's Digital Yuan: New Adoption Drive?
Mu added that banking and e-pay partners also needed to perform a series of upgrades to help drive further CBDC adoption efforts in the retail payments sector.
But analysts have claimed that Mu's comments were actually aimed at retailers, not partner financial institutions.
Jie Hu, a Professor at the Shanghai Jiao Tong University's Advanced Institute of Finance, opined:
"[Mu] is saying that all merchants should get ready, both in terms of their willingness and their tools, so that if customers want to pay with e-CNY, they must accept it."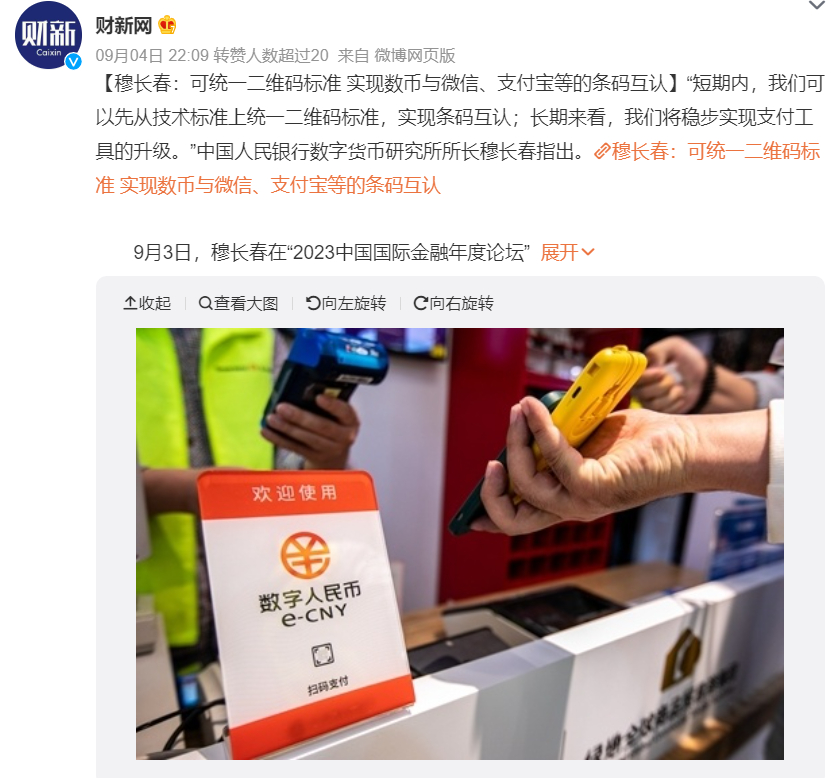 Toward a 'Cashless Society?'
But Mu's wider goal is likely a radical reduction in China's dependence on cash, or even a total elimination of analog forms of currency.
He said:
"In the future, commercial electronic payment tools may fully meet the needs of the digital economy and society and completely replace cash."
The "digital economy" has become a buzzword in Chinese political circles in recent years, and the PBoC is determined to lead the world in CBDC and "cashless society" drives.
Other Asian nations, such as nearby South Korea, have also launched IT-powered "cashless society" drives of their own.
The state-run media outlet Xinhua last month published an interview with Kent Matthews, a Professor of Banking and Finance at the UK's Cardiff University.
In the interview, Matthews stated that the proportion of cash in terms of the total amount of yuan in circulation had "dropped to 3.7%" and "is continuing to fall."
Matthews said that China was "on track to becoming the world's top country for cash-free transactions," although he claimed it would "be impossible for any government to legislate cash away."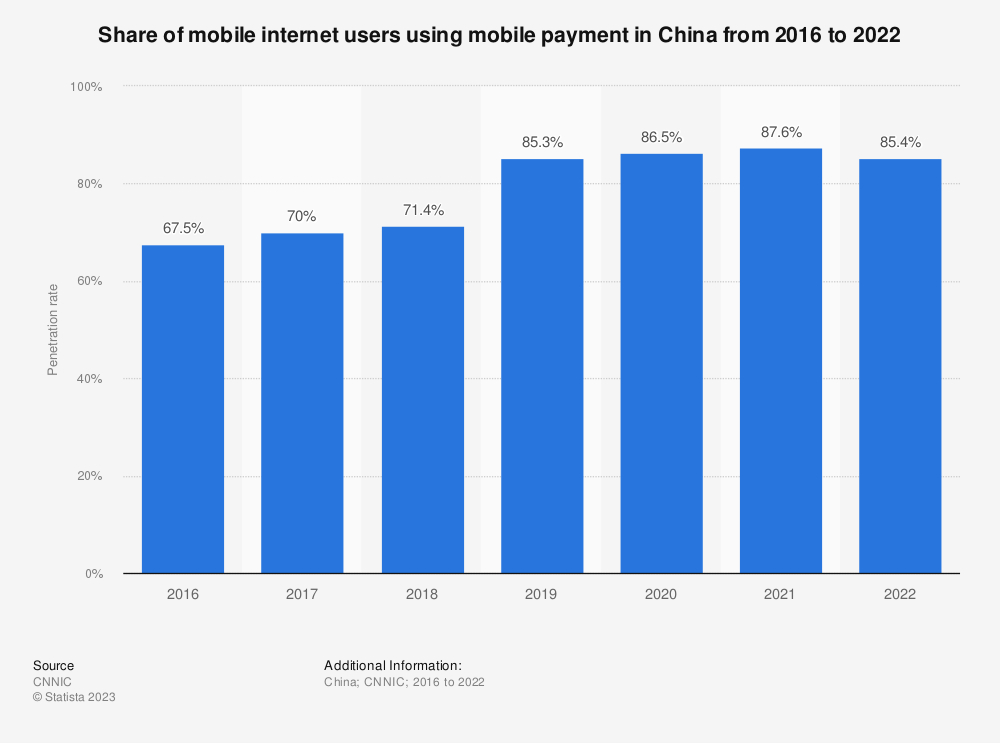 The academic noted:
"People are using cash much less today than they were 10 or 20 years ago. The trend toward a cashless society is inexorable."
Mu further claimed that existing inter-bank payment and clearing systems can still "meet the needs of China's economic development."
He said that there was "no need to replace" existing networks with the central bank's digital currency system.
The PBoC chief claimed that conventional and CBDC networks "can be fully interoperable and seamlessly connected."
Mu concluded that CBDC smart contracts could be used to boost the efficiency of Chinese wholesale payments.
---