DeeLance Presale Overtakes $600,000 Benchmark as Buyers Rush to Grab Tokens Before 90% Price Increase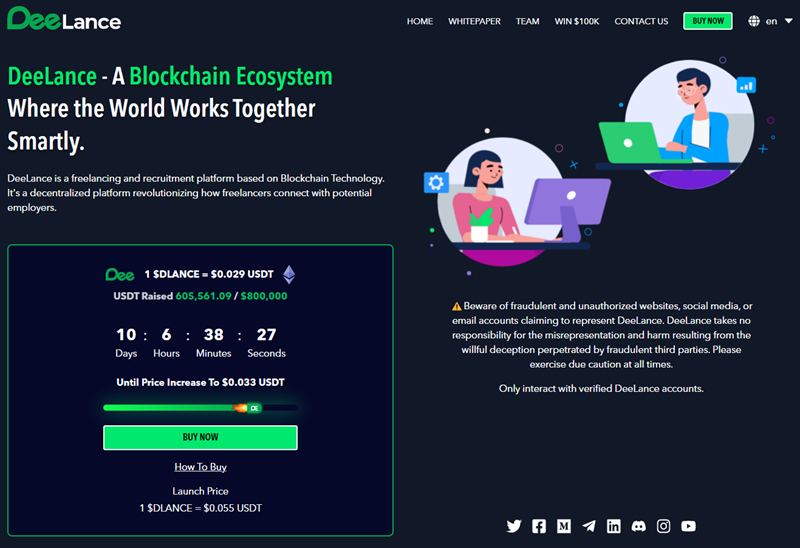 The cutting-edge web3 recruitment platform, DeeLance, has recently celebrated a major achievement in its ongoing and increasingly popular crypto presale.
Having only launched its fund-raising efforts just over one month ago, the promising crypto project has now raised more than $606,000.
The price of $DLANCE is set to rise from $0.029 to $0.033 in just over ten days, or when the presale hits $845,500.
Given the current pace at which $DLANCE tokens have been flying off of the shelves, investors should move quickly.
Those who get in now will be sat on a paper gain of around 90% when $DLANCE lists across major cryptocurrency exchanges at $0.055 in Q3 this year.
DeeLance's Secure and Transparent Platform: A Dream Come True for Freelance Workers
"At the core of DeeLance's groundbreaking approach is the tokenization of freelance work products into NFTs, allowing a secure and reliable transfer of work ownership," explained the project's Community Head Alekh and Community Manager Ivan in a recent interview with ICO speaks.
"This innovative solution directly addresses long-standing challenges in the digital freelancing space, such as copyright infringement and payment fraud, and provides an unprecedented level of security and peace of mind to all stakeholders."
Unlike many existing freelance platforms that are difficult to sign up to and take a large cut, DeeLance is accessible and features low fees.
"On the DeeLance Freelancing platform, the signup process is simple... No browser plugins, third-party apps, or credit card details are required… The fees are low, the payments are fast, done with crypto, everything is transparent & secure with the escrow system, and the smart contracts," Alekh and Ivan remarked.
Redefining Freelance and Remote Work Standards with DeeLance
DeeLance, a decentralized blockchain-powered freelancing and recruitment metaverse platform, is set to revolutionize remote and contract working in 2023.
The web3 start-up is building a first-of-its-kind metaverse that is specifically focused on creating a seamless working environment.
"DeeLance Metaverse is all about Socialize, Work and Earn," Alekh and Ivan explained to ICO speaks.
"In DeeLance Metaverse we want to build a community where users can have customizable avatars with 300+ options, socialize with others, make genuine connections, get exclusive access to Metaverse VIP Experience, buy commercial land or office space, lease office space, do Billboard advertisements for brand awareness, and gain access to unique tools & services with $DLANCE token".
Beyond just the tokenization of freelance work products, DeeLance will also feature a generalized NFT marketplace for popular assets such as art, photography, trading cards, tickets and music.
The Versatile and Practical $DLANCE Token
DeeLance's native $DLANCE token provides the economic backbone for the project's revolutionary metaverse freelance/remote working platform.
Users will be able to use $DLANCE to engage in NFT trading activity on the platform.
Another major advantage of holding $DLANCE is that "holders are automatically qualified for NFT drops and collabs", explained Alekh and Ivan.
"Presale ($DLANCE) holders will be able to unlock the Metaverse VIP Experience, which allows them to purchase premium virtual land and office space in the metaverse, lease office space, and advertise their brand on billboards for increased brand awareness in the Metaverse," the duo added.
DeeLance Creating a Buzz in the Industry
Alekh and Ivan explained to ICO speaks that DeeLance is already "using a variety of effective methods, including affiliate programs, social media, influencer, and content marketing".
The duo added that "we are also conducting AMA sessions, getting buzz with press releases and collaborations, and we launched a 100k giveaway".
And the project's efforts are already paying dividends.
DeeLance features prominently across a number of major crypto news websites including Cryptonews.com, Business2Community.com, Be[In]Crypto, CoinTelegraph, as well as on traditional news websites like Yahoo! Finance and Business Insider.
The project's Twitter account has amassed an impressive more than 25,000 followers, while its Telegram and Discord channels have over 11,000 and 4,000 members each.
As the word spreads and the DeeLance community rapidly grows, it's no wonder that crypto analysts are predicting big gains for $DLANCE in the year ahead.
According to popular British presale crypto project analyst Jacob Crypto Bury, Deelance as "massive potential".
Meanwhile, $DLANCE could have 18x potential, according to popular German crypto analyst Smallcap DE.
Secure Your DeeLance Tokens Now to Avoid Price Hikes
DeeLance is offering 30% of the total 1 billion supply $DLANCE tokens over the course of the presale.
$DLANCE, an ERC-20 token issued on the Ethereum blockchain, can be easily bought using Ether (ETH) or Tether (USDT) on deelance.com.
Those who don't already own those cryptocurrencies can also purchase $DLANCE using their card via DeeLance's fiat payments partner Transak.
10% of $DLANCE tokens will be used for liquidity pools, up to 2% will be allocated for rewards and airdrops and 16% are being held in reserve for Centralized Exchange (CEX) listings.
DeeLance is working with highly respected crypto auditing firms Solid Proof and Coinsult and its team is fully doxxed.
As the post-Covid-19 pandemic trend towards remote work continues, decentralized freelancing metaverse platforms like DeeLance look set to gain significant traction this year.
Investors should move quickly to secure their $DLANCE tokens ahead of the next 14% price rise.
---