DeeLance: The Upstart Recruitment Platform That's Poised to Take on the Big Players in Web3 and Beyond – How to Buy Early?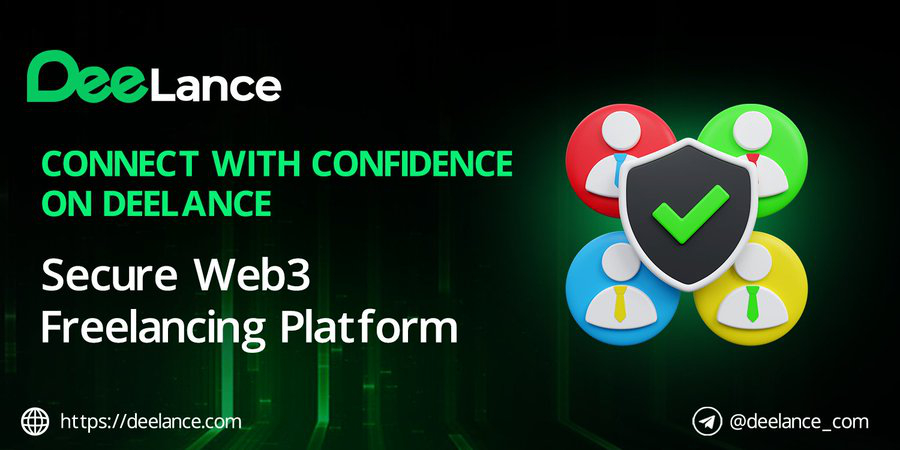 The freelance sector has attracted many career adoptions in recent years. While it has proven to be lucrative for some individuals, it has left many groups stranded due to the complexities of finding employment.
DeeLance ($DLANCE), a revolutionary crypto project, aims to change the narrative.
The platform leverages blockchain technology, non-fungible tokens (NFTs), and the metaverse to provide a seamless hub where freelancers and recruiters can connect and trade services.
The metaverse token, now on presale, has raised over $38,000 in less than one week.
DeeLance – A Versatile Web3 Space Set to Disrupt Traditional Workspaces
DeeLance is a novel Web3-powered recruiting platform set to revolutionalize the potential of the $761 billion-dollar recruitment sector.
The platform launched its native token, $DLANCE, on presale recently and has garnered lots of interest from investors.
The recruitment project aims to eliminate issues in traditional workspaces ranging from inconsistent employment, lack of payment transparency, and transfer of contract ownership.
To tackle these challenges, DeeLance leverages its advanced Ethereum blockchain to create an escrow, non-fungible token (NFT) marketplace, and the metaverse.
The escrow provides a secure method of payment and tracking transactions.
Payments are locked in escrow and are automatically disbursed to freelancers after tasks are submitted and approved by clients.
Unlike traditional digital workspaces like Upwork and Fiverr, DeeLance allows employers to have full ownership of purchased services, ranging from content software development programming code, and many more.
When a recruiter hires a freelancer and pays for services such as written content, designed graphics, programming, or software development, they automatically receive an NFT to represent full ownership of purchased services.
This feature enables employers to have full ownership of purchased services with no complexities and use these services without any restriction.
Additionally, employers and freelancers will receive unique NFT avatars to interact in the DeeLance metaverse.
These avatars can be used to conduct interviews and meetings, showcase previously delivered services to clients, and allow employers to search through a myriad of portfolios to find the best candidate for specific tasks.
The crypto project also aims to eliminate the role of middlemen in the recruitment industry.
Outsourcing agencies will be obsolete because freelancers can connect directly to recruiters, negotiate task and payment fees, and interact via their avatars in the DeeLance metaverse world.
Furthermore, the metaverse-based freelance and recruitment platform will facilitate swift, transparent, and secured payments.
The platform accepts fiat and cryptocurrency as a form of payment to avoid the high costs of foreign exchange rates.
The DeeLance concept is set to build a holistic hub that proffers solutions currently present in the conventional recruitment industry, enabling experts to adopt freelancing in a heartbeat.
$DLANCE Presale Is Fast-Selling – Over $38,000 Raised in Less Than a Week
DeeLance has launched the presale of its native token, $DLANCE, and has already raised over $38,000 in less than a week
As of press time, the metaverse token is priced at $0.025 per token in its first presale stage. The crypto token price will increase to $0.027 USDT in its second presale stage and $0.030 in its third stage.
Investors ready to lock into the thriving $761 billion recruitment industry and metaverse workspace must leverage the current discounted price of $DLANCE before the price increases.
How to Buy $DLANCE
For investors seeking to buy the $DLANCE coin, here are the steps to follow:
Step 1 – Set Up Crypto Wallet
Investors must first set up a crypto wallet to access DeeLance's fast-selling presale. The platform supports various popular and reputable wallets, including MetaMask, Trust Wallet, and Ledger.
Step 2 – Purchase ETH OR USDT
To buy $DLANCE tokens, users will need a Credit Card via Transak, ETH, or USDT. Users who opt for crypto payment must buy the stated token on an exchange and transfer it to their wallet.
Step 3 – Connect Wallet
After funding the preferred wallet with ETH or USDT, investors should navigate to DeeLance's official presale page and select "CONNECT."
Step 4 – Buy $DLANCE
Once the wallet is successfully connected, an order page will appear on the screen. Investors should then select whether to buy $DLANCE with a credit card, USDT, or ETH, enter the number of tokens to be purchased, and tap "Convert."
Disclaimer: The Industry Talk section features insights by crypto industry players and is not a part of the editorial content of Cryptonews.com
---