Decentralized Fiverr and Upwork Platform Raise $1.4 Million – Time to Buy?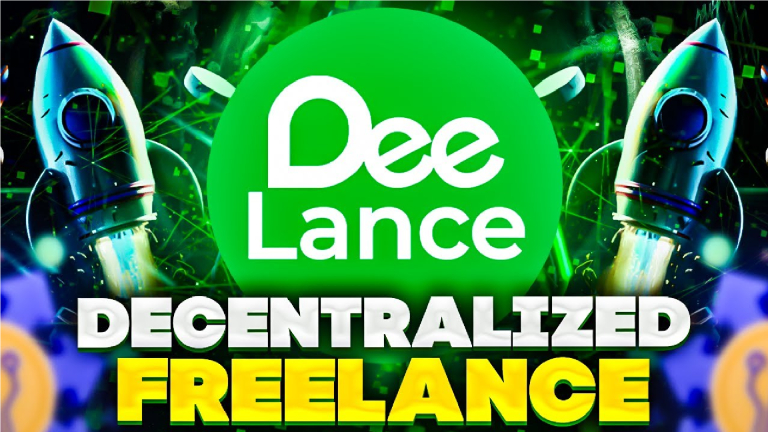 DeeLance has recently achieved a remarkable milestone in its ongoing presale.
The platform, designed to revolutionize the recruitment industry, has successfully raised an impressive $1.46 million in the presale of its native token, $DLANCE.
This outstanding achievement has garnered significant attention from crypto analysts, who predict a tremendous growth trajectory for the Web3-powered token in the coming days.
DeeLance Intrinsic Web3 Capabilities
Freelancing has become a preferred mode of work due to the desire for freedom, flexibility, and technological advancements.
This shift has disrupted the traditional 9-to-5 workforce paradigm.
Introducing DeeLance, a decentralized platform poised to revolutionize the recruitment sector by offering a digitally-driven freelance platform that fosters collaboration and connectivity.
One of the major fundamentals of DeeLance is that it eliminates the need for third parties and high fees. This empowers freelancers and members to interact and access high-quality job opportunities.
By cutting off intermediaries, the platform provides a cost-effective and seamless solution for all creatives in the recruitment industry.
Members can exchange services for payments in $DLANCE or fiat currency without delay. The platform also features smart contract-powered escrows that verify every transaction to prevent fraud.
While platforms like Fiverr and Upwork may share similarities, DeeLance distinguishes itself through its Web3 capabilities.
These include non-fungible technology (NFT), metaverse, and artificial intelligence (AI) algorithms to enhance the freelancing experience.
In addition to its versatile and efficient Web3 tools, DeeLance prioritizes an intuitive user experience, removing barriers to entry for individuals from all regions.
The registration process is secure, transparent, and straightforward, ensuring a seamless onboarding experience for all users.
Come Alive in the Metaverse and Earn Commercial Ventures
On the DeeLance platform, members can access an NFT marketplace to purchase digital collectibles.
These collectibles can be used as avatars to access, interact, and collaborate in the metaverse environment.
In the 3D environment, freelancers can advertise their portfolios on billboards, show off their experience, and apply for jobs.
The employers, on the other hand, can also rent virtual offices, host meetings and interviews, and interact with skilled creatives to select the most qualified candidates.
An AI algorithm also connects freelancers to employers' job vacancies that align with their advertised skill set portfolio.
Once a task is completed and the agreed-upon payment is disbursed, freelancers can conveniently process cryptocurrency withdrawals.
This eliminates the complexities associated with minimum withdrawal amounts, ensuring ease and convenience in accessing and moving funds.
DeeLance Stellar Partnerships Is on the Rise
The success of many crypto projects can be attributed to their value-driven utilities and collaborations with reputable industries.
DeeLance encompasses both factors, as it recently received a significant donation of $1.12 million from Bitgert Ventures, a respected decentralized company.
This investment will fuel the expansion of the freelance platform, offering enhanced earning opportunities for creatives worldwide.
The platform also announced a collaboration with Mises Browser to establish a decentralized finance (DeFi) marketplace where everyone can work smartly.
In another strategic move, DeeLance has expanded its community and resource-sharing capabilities through a partnership with KingdomStarter.
While specific details of the partnership are yet to be revealed, investors are excited over the growing spate of partnerships that will propel the growth of the platform and its native token, $DLANCE.
Join the Bullish Train: Buy $DLANCE Today Before Price Increases
$DLANCE is in its fifth presale stage, with over $1.46 million raised so far. This phase is set to continue for another 12 days, after which the token price will rise to $0.043.
Stage six marks the final presale phase for $DLANCE as it moves closer to its funding goal of $1.7 million.
Once this target is achieved, the presale will conclude, paving the way for the token's debut on public exchanges for $0.057.
Don't miss the opportunity to acquire the $DLANCE token now!
Disclaimer: Crypto is a high-risk asset class. This article is provided for informational purposes and does not constitute investment advice. You could lose all of your capital.
---