Curve Price Prediction as Traders Fret About Possible Curve Finance Founder Liquidation – Where Next for CRV?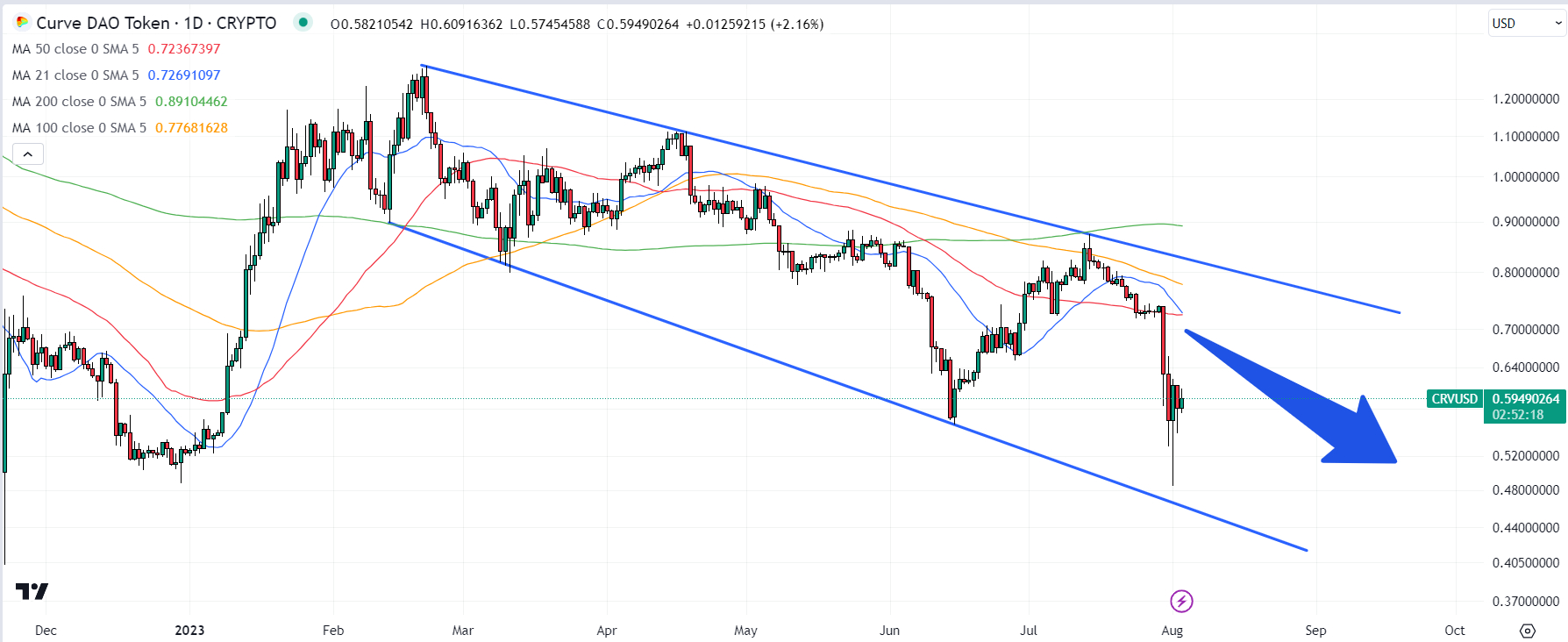 Curve (CRV), the native token that powers the CurveDAO (a decentralized autonomous organization) and decentralized exchange (DEX) Curve Finance, is hovering about 3% higher on Thursday near $0.60, still down about 18.5% from its pre-Curve Finance hack highs in the $0.74 area.
Over the weekend, hackers exploited a vulnerability in the Vyper programming language that led to as much as $52 million in funds being drained from a number of decentralized finance projects, with Curve Finance the worst hit.
The hack dealt a devasting blow to confidence in the protocol, which is one of the oldest DEXs, and had been viewed as one of the most "secure" and "battle-tested" decentralized applications (dApps).
Between the 30th of July and 1st of August, total value locked (TVL) in Curve Finance smart contracts dropped as much as $1.7 billion from around $3.77 billion to just above $2.0 billion, as per DeFi Llama.
The capital flight coincided with a sharp drop in the value of Curve's native CRV token, which fell as much as 35% from its pre-hack levels to hit lows under $0.49 on Tuesday.
Curve Offers 10% Bounty to Hacker
In an on-chain message that can be viewed using Etherscan, Curve Finance made an offer to its hacker.
The protocol told the hacker that, if they return the funds, they will let the hacker keep 10% with "no risk of us pursuing this further, no risk of law enforcement issues, etc".
The protocol set a deadline for the funds to be returned by 0800 UTC on the 6th of August.
After that time, that 10% will become a bounty that can be paid out to any vigilante who provides information that results in the hacker getting caught.
"We will pursue you from all angles with the full extent of the law," Curve Finance said in the message, prompting Liam Neeson memes – In the Taken film series, Neeson's character is known for issuing similarly ominous warnings to the kidnappers of his daughter.
A white hack hacker was able to recover and return $5.4 million to the protocol.
Will Curve Founder Get Liquidated? And Will This Cause CRV Turmoil?
One theme that CRV traders have been paying close attention to is the risk that Curve Finance's founder Michael Egorov gets liquidated out of his long-CRV position.
Egorov is a CRV whale and is thought to have borrowed as much as $80 million against his CRV holdings across different decentralized finance lending/borrowing protocols like Aave.
Reports citing on-chain data reveal that Egorov managed to claw back nearly $29 million via over-the-counter sales of some of his CRV stash – reportedly, he sold 72 million tokens at a price of $0.40 each.
Of course, that's concerning for the CRV market.
If you were one of the counterparties in that trade who managed to bag CRV tokens for $0.40 each, you could theoretically start offloading them onto the market for a 50% profit right now.
Traders have marked up $0.368 as a potential level that could trigger a liquidation of Egorov's CRV collateral that he has used to borrow $50 million in stablecoins on Aave.
As the liquidation is triggered, Aave would be forced to sell Egorov CRV collateral and some are questioning whether the CRV would be able to absorb this sell pressure.
Where Next for Curve (CRV)?
Not only are things looking bad for CRV from a fundamental standpoint in wake of the hack, but the cryptocurrency's technicals are also ugly.
At current levels, it is currently trading substantially below all of its major moving averages and is in a well-defined long-term downtrend.
A test of 2022 lows in the $0.40 area is a strong possibility.
Crypto Alternatives to Consider
Things are looking ugly for CRV.
For those looking for a better possibility of near-term gains, one high-risk-high-reward investment strategy to consider is getting involved in crypto presales.
This is where investors buy the tokens of up-start crypto projects to help fund their development.
These tokens are nearly always sold very cheap and there is a long history of presales delivering huge exponential gains to early investors.
Many of these projects have fantastic teams behind them and a great vision to deliver a revolutionary crypto application/platform.
If an investor can identify such projects, the risk/reward of their presale investment is very good.
The team at Cryptonews spends a lot of time combing through presale projects to help investors out.
Here is a list of 15 of what the project deems as the best crypto presales of 2023.
Disclaimer: Crypto is a high-risk asset class. This article is provided for informational purposes and does not constitute investment advice. You could lose all of your capital.
---