Crypto Whale Invests $1 Million in Wall Street Memes Presale, $20 Million Milestone Hit – $WSM the Next Meme Coin to Explode?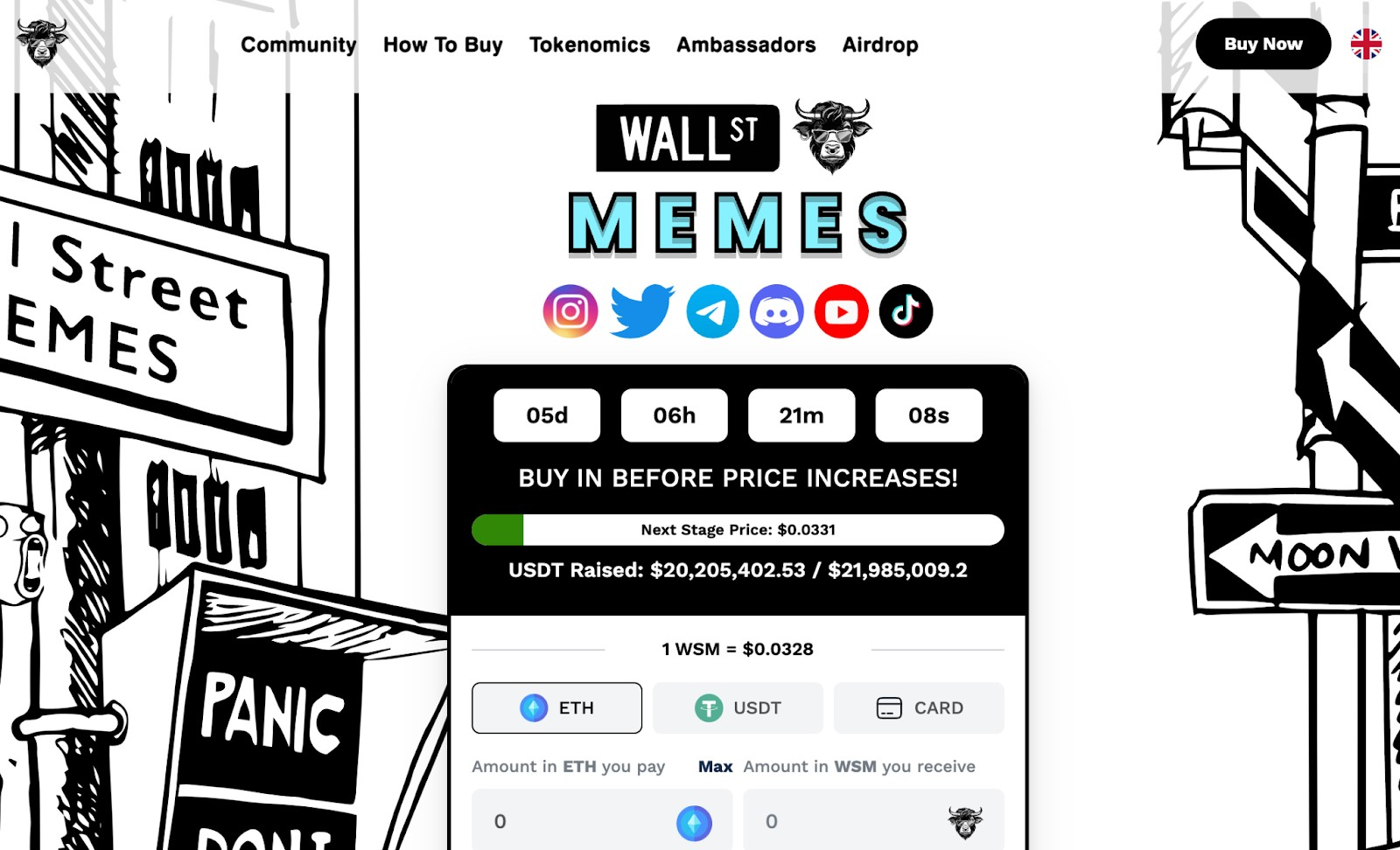 Wednesday, August 2, 2023 – A crypto whale has invested $1 million in the Wall Street Memes $WSM presale, powering the new meme coin past its $20 million fundraising milestone.
The mystery whale address purchased $WSM in a series of five transactions amounting to 460 ETH valued at $840,000 executed over a six-minute period.
A further 93 ETH were made from the same wallet two weeks earlier. In total, $1 million has been invested in $WSM by the mystery crypto whale.
$WSM tokens are currently priced at $0.0328; you can buy them in the presale now. In the next stage of the presale, coming soon, the price rises to $0.0331.
The crypto whale purchases are a resounding vote of confidence in the Wall Street Memes and its return on investment prospects.

The five whale purchases on Tuesday (August 1) helped push the presale past the $20 million threshold, propelling it toward its $30 million target.
Wall Street Meme's mission is to bring the meme stocks revolution to crypto and help the little guy take on Wall Street and legacy finance.
That's a big mission, which is why the Wall Street Memes presale is one of the largest of 2023. With millionaire backers on board, the $WSM presale looks like it will be racing to a sell-out.
A $1 million vote of confidence in $WSM – don't miss your chance to profit
Could Elon Musk – who has interacted with Wall Street Memes on Twitter (now rebranded as X) several times – be the owner of the $1 million $WSM stake?
The $WSM crypto whale's token purchases can be verified on Etherscan.
The same address also bought 93 ETH worth of $WSM two weeks ago.
Million-strong community Could Pump $WSM to 100x Gains
Wall Street Memes is one of the internet's most influential retail investing communities.
Its Wall Street Bets Instagram account, for example, has 534k followers. Wall Street Memes can draw on a one million-strong community across various social media channels.
The community, born out of the movement in 2021 where the little investors teamed up to rebel against Wall Street, has recently been expanding its relevance in the crypto space with a highly sought-after presale of its $WSM meme coin.
Very few projects even attempt to raise $20 million in a presale, let alone achieve it like Wall Street Memes just has.
And Wall Street Memes is far from done.
Wall Street Memes Token is Heading for Sell Out
The project is still looking to raise a few million more via $WSM token sales in three final presale stages that will see the price rise from the current $0.0331 per token to a final price of $0.0337, which is the price the token will launch at across exchanges.
Now that the $20 million milestone has been hit, Tuesday's big crypto whale purchase is unlikely to be the last, so expect the presale to sell out entirely very quickly.
Given the strength of the Wall Street Memes community and the strong performance of the project's presale, analysts and observers are billing $WSM to be the next viral meme coin.
Prominent YouTube crypto analysts, such as CryptoDexWorld with 108k subscribers, predict that $WSM could go on to match the likes of Pepe, Shiba Inu, or even Dogecoin.
The king of stonks is fast becoming the king of meme coins. Don't miss out.
Wall Street Memes Focuses on Empowering the Little Guy – Sign up for $50k Airdrop
In fitting with its focus on empowering the little guy, 100% of the $WSM token supply is being dedicated to the Wall Street Memes community – there is no behind-the-scenes private sale and no team allocation largesse.
That means Wall Street Memes is one of this year's fairest presales.
Fifty percent of the token supply is available in the presale, and the raise will be allocated to high-level marketing campaigns, 30% as community rewards, 10% for CEX liquidity, and 10% for DEX liquidity.
With 30% of the supply allocated to community rewards, it can reasonably be expected that airdrops to holders will be a big part of the ecosystem.
Wall Street Memes is already running a competition where five lucky degens will benefit from a generous $50,000 $WSM airdrop.
Investors who have already purchased $WSM can click on the button at the Wall Street Memes Linktree page to complete the steps to qualify for the airdrop.
$WSM Even Reaches as Far as Elon Musk's Radar
The clout of the Wall Street Memes investing community is such that even the world's richest man and most followed person on Twitter (no surprises, since he owns it!) Elon Musk has taken note.
The precocious billionaire has replied twice to Wall Street Memes tweets.
Meanwhile, Musk has also responded to a tweet by the SHIB founder after Wall Street Memes had retweeted it – this suggests that someone out of the 311 people Musk follows on Twitter follows Wall Street Memes.
In that sense, $WSM is likely to, at some point, reach Musk's radar.
And remember, this is a man who is a big fan of memes (just look at his feed) and meme coins (his love for Dogecoin).
Why, then, should he not love $WSM?
$WSM buyers should note that however small, there is a chance that Musk ends up interacting with the token in some way.
And we all know what would happen to its price then – algo bots would send $WSM to the moon!
Is $WSM the Next Crypto to Explode?
The success of any meme coin relies on the power of its community and social media presence.
Given that Wall Street Memes already has a solid and engaged community around its project, $WSM seems already to have all the critical ingredients for meme coin success.
It's not surprising, then, that numerous analysts are already predicting big things for $WSM when it lists on exchanges.
Popular crypto presale analysts Jacob Crypto Bury and Crypto Dose predict 10x gains for $WSM.
And the coin is also being hyped up by crypto influencers like Michael Wrubel, CryptoWendyO, and Cilinix Crypto.
Gains of 10x or even 100x from $WSM's exchange listing price of $0.0337 would see the token reach a fully diluted market cap of $674 million.
The most aggressive forecasters believe $WSM could even match the size of major established meme coins like Dogecoin and Shiba Inu, which have respective market caps of around $8.5 billion and $4 billion.
Wall Street Memes has stated its goal of reaching a market cap of $1 billion, which it hopes to achieve through big partnerships, top-tier CEX listings, and awareness campaigns.
But some analysts are arguing that $WSM stands a chance of becoming one of the most significant meme coins.
If that is the case, we could look at gains in the region of 100x, giving $WSM a market cap of over $6 billion to rival Dogecoin and Shiba Inu.
Anything is possible in crypto markets, especially when over a million committed degens back your coin.
Amid the prospect of big potential gains, $WSM could well be the best crypto to buy right now.
Investors wanting to get ahead of significant potential future price rises should consider getting in on the meme coin's presale as soon as possible to secure their $WSM at the best possible discount.
$WSM can be bought on the Ethereum blockchain and BNB Smart Chain using ETH, BNB, or USDT (ERC-20 or BEP-20).
All users need to do is connect their crypto wallet on the wallstmemes.com website to make their purchase.
---