Clown Token Takes Off Overnight with 25,750% Gains But Crypto Whales Say It's a Scam – Here's the Coin They're Accumulating Instead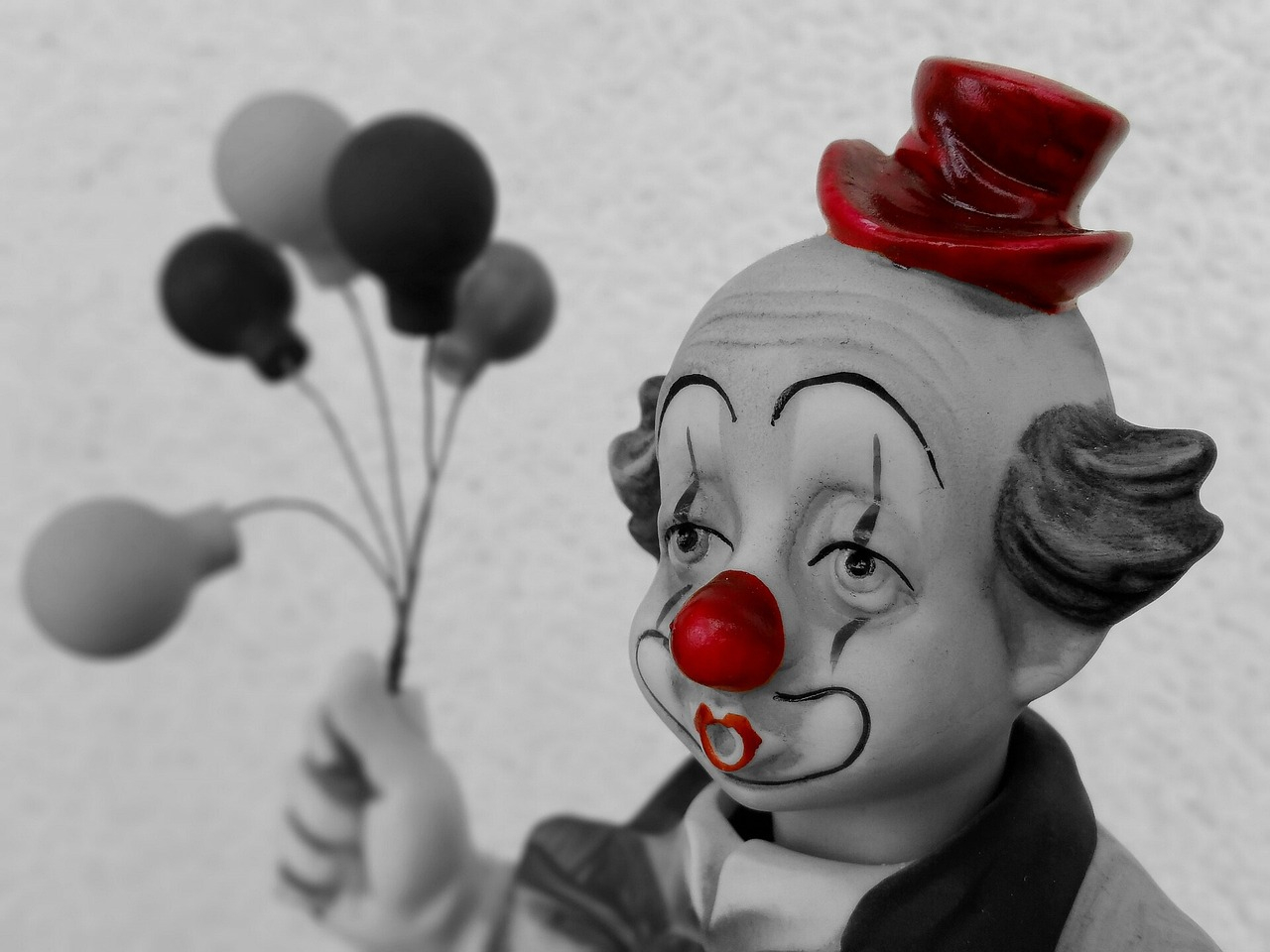 As decentralized exchange (DEX) tokens continue to dominate big market moves, ClownCoin (CLOWN) has become the latest entrant to undertake a skyrocket pump after a magnificent +25,750% launch last night.
The impressive move comes following a huge surge of almost $800,000 in volume, as DEX traders show no sign of relenting in their hunt for the next supercharged rally.
ClownCoin Price Analysis: Can CLOWN Sustain Magnetic Price Action?
At 2 am on August 10, a trickle of volume began to pour into an inactive DEX token called ClownCoin, driving an initial +1,000% move.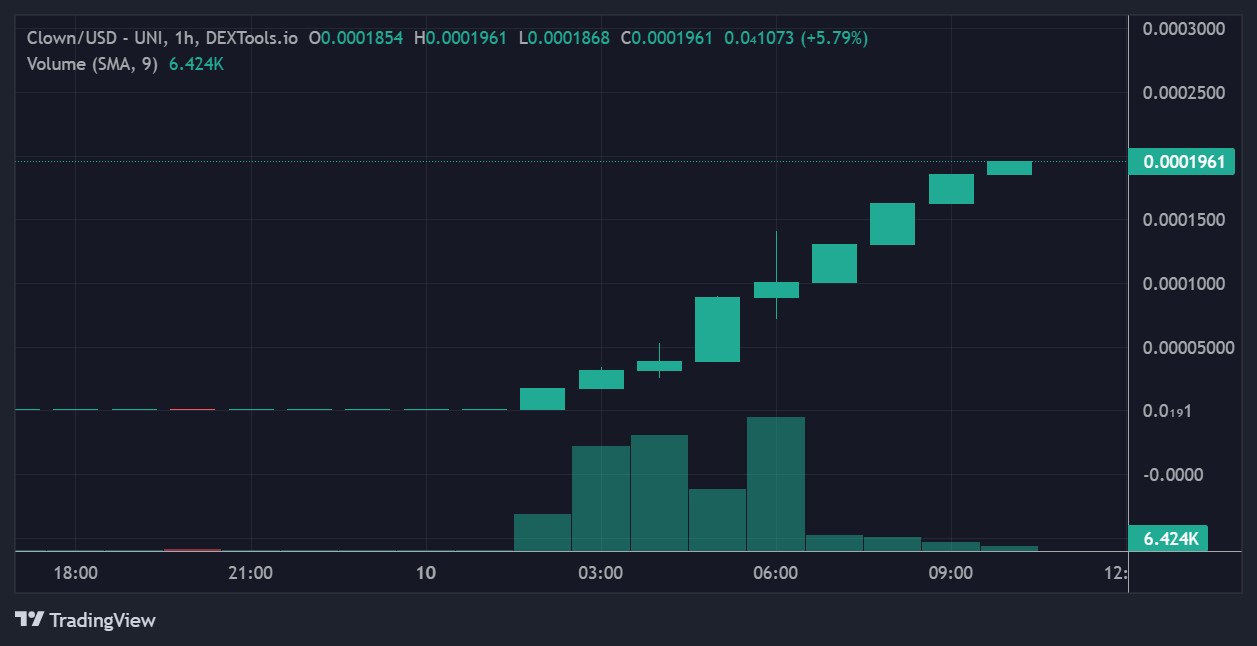 The seismic candle caught the attention of DEX markets, and traders rushed to take a position in an emerging moon-shot, this caused volume to snowball, and in just 10 hours volume had flooded to $794k.
With a huge influx of more than 350 holders, a whopping 2.44k transactions caused the price to explode, from a launch price of $0.0191 to a current trading price of $0.0001916.
ClownCoin's market cap is now stood at an impressive $1.84m, bringing on paper gains for early backers to a jaw-dropping +25,750%.
Yet, despite the dream-come-true price action, experts are now warning that CLOWN could be a scam coin.
When ClownCoin's token address is checked by Honeypot.is - an Ethereum honeypot detector - it emerged that countless unsuspecting bag holder's wallets have been siphoned following their interaction with ClownCoin.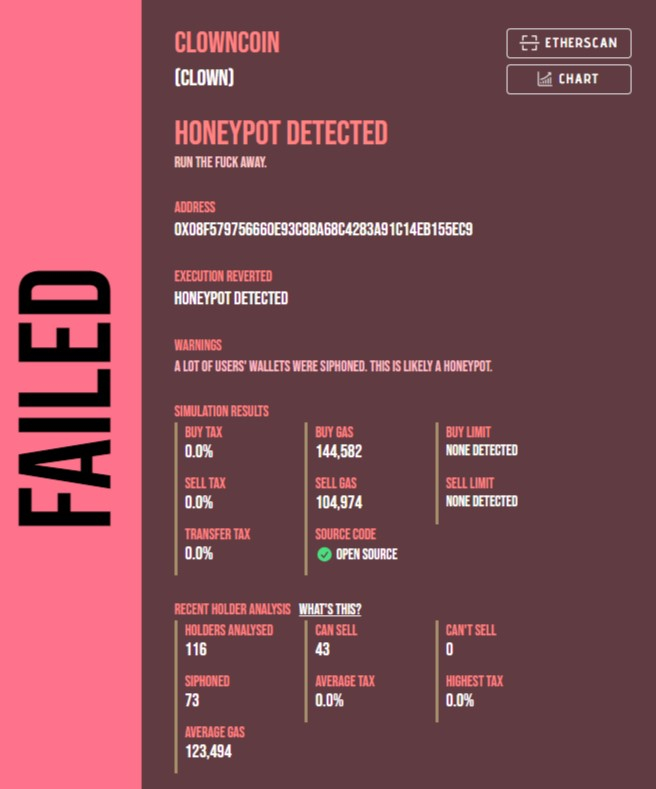 This leaves 356 bag holders vulnerable, despite their seemingly alluring gains, but while ClownCoin holders are left feeling like the butt of the joke - smart money have already moved onto a meme coin presale competing to become the biggest of 2023.
Wall Street Memes Goes Viral As One Million Strong Community Fuel +$20m Presale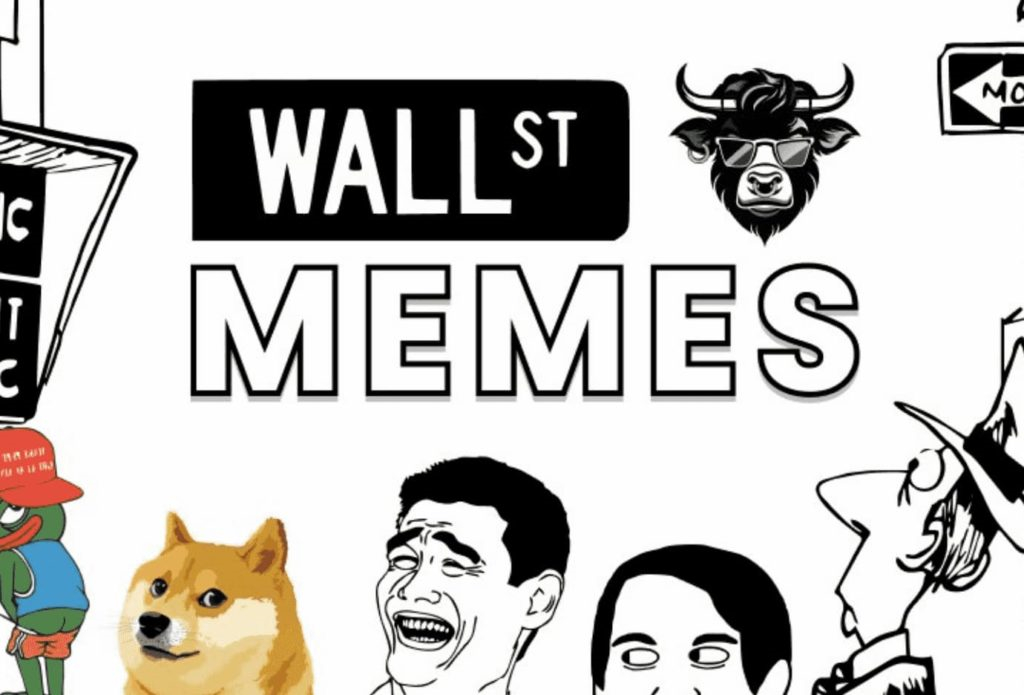 As the meme coin vertical makes a resurgence, there is one project on everyone's watchlists and it's not Dogecoin or JIM, the latest market entrant making waves on Crypto Twitter is Wall Street Memes.
In a testament to the skyrocketing growth, the $WSM token community now stands one million strong, with the presale exceeding all expectations to amass +$22.8m in presale funding.
The humungous feat is almost unprecedented for new meme coin projects that are yet to even hit the DEX markets, and investors are taking notice as the project emerges as a top choice for the biggest coin launch of Q3 2023.
In a meme coin homage to the anti-bank investors that took on Wall Street, $WSM is aiming to transform powerful Wall Street Bets community sentiment into a tangible asset - seeking not only to tokenize the anti-bank movement but also to redefine our perception of digital value.
But what really has investors flocking in, is its democratic price point at just $0.0328, the WSM presale has surged with $22.8m raised. and with the speed of the presale growing faster by the day, there is a clear signal that investors could unlock lucrative gains with $WSM, not least because of the built-in +30% for presale investors in the initial listing.
What's more? With 30% of the supply allocated to community rewards, it can reasonably be expected that airdrops to holders will be a big part of the ecosystem.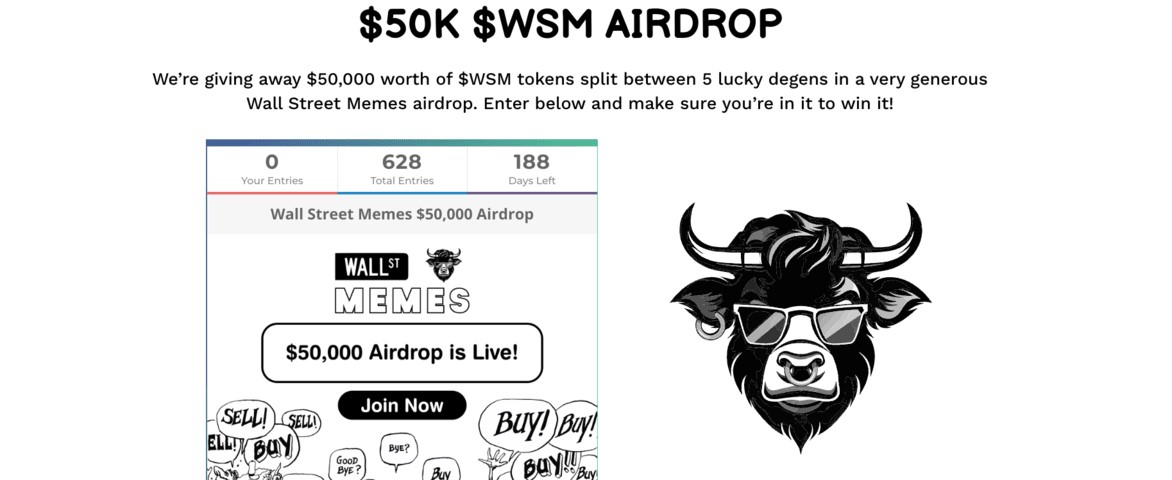 Wall Street Memes is already running a competition where five lucky degens will benefit from a generous $50,000 $WSM airdrop.
Investors who have already purchased $WSM can click on the button at the Wall Street Memes Linktree page to complete the steps to qualify for the airdrop.
Wall Street Meme's Unhinged Growth Fuelled By CEX Listing Expectations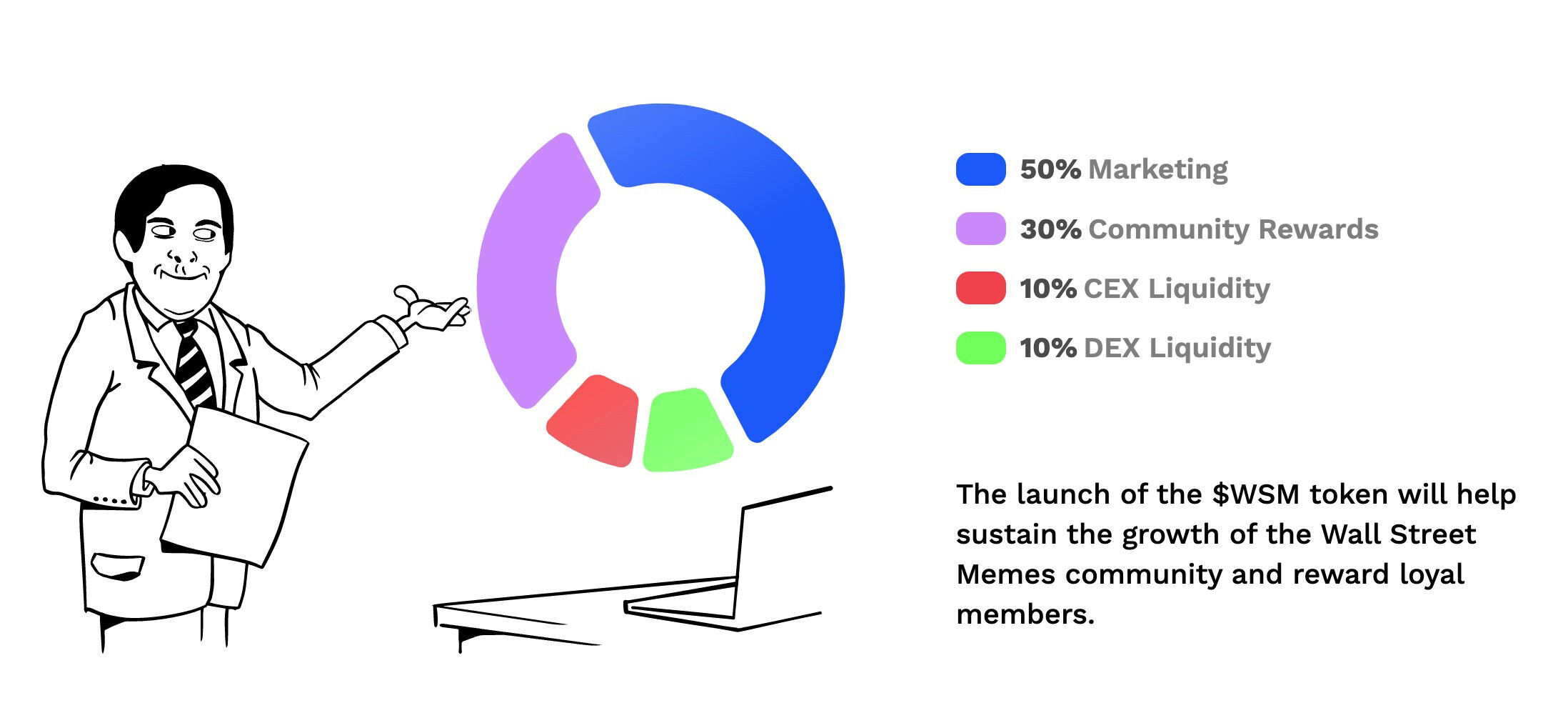 In keeping with the original anti-bank philosophy, $WSM will be allocating 30% of the token supply to community rewards, with an additional 20% going towards liquidity, and 50% up for grabs in the presale - this is a democratic project for the masses.
And this no-team split has fuelled the project's explosive growth on social media, with the Wall Street Memes community now amassing an impressive +1m followers in the community.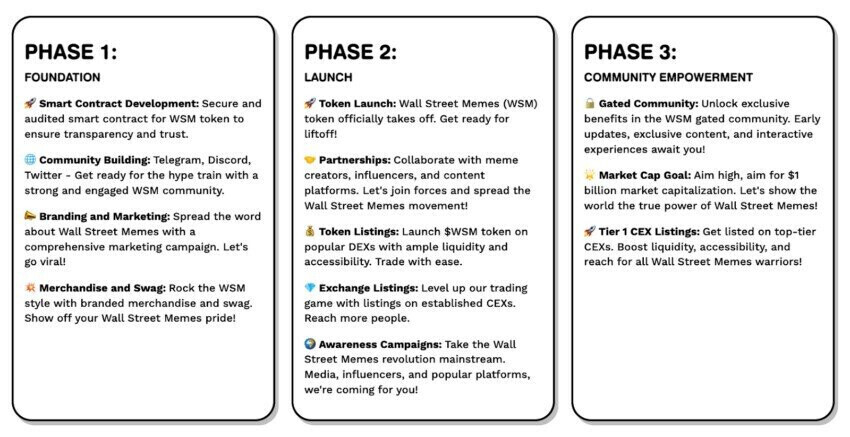 This explosive community growth is likely to incentive major CEX listings such as Gate.Io, which could propel the $WSM token on an incredible moon-shot.
With a proven track record stemming from the success of the Wall Street Bets NFT collection, this project continues to thrive off the original moment in history when $WSM exploded onto the scene.
Join the Wall Street Memes Telegram and Twitter here to stay tuned for the latest updates.
Don't miss your chance to secure a slice of the next skyrocketing meme token.
Disclaimer: Crypto is a high-risk asset class. This article is provided for informational purposes and does not constitute investment advice. You could lose all of your capital.
---