Chimpzee, The Thrilling Web3 Charity Project, Introduces New NFTs and Donates $20,000 as Presale Approaches $900,000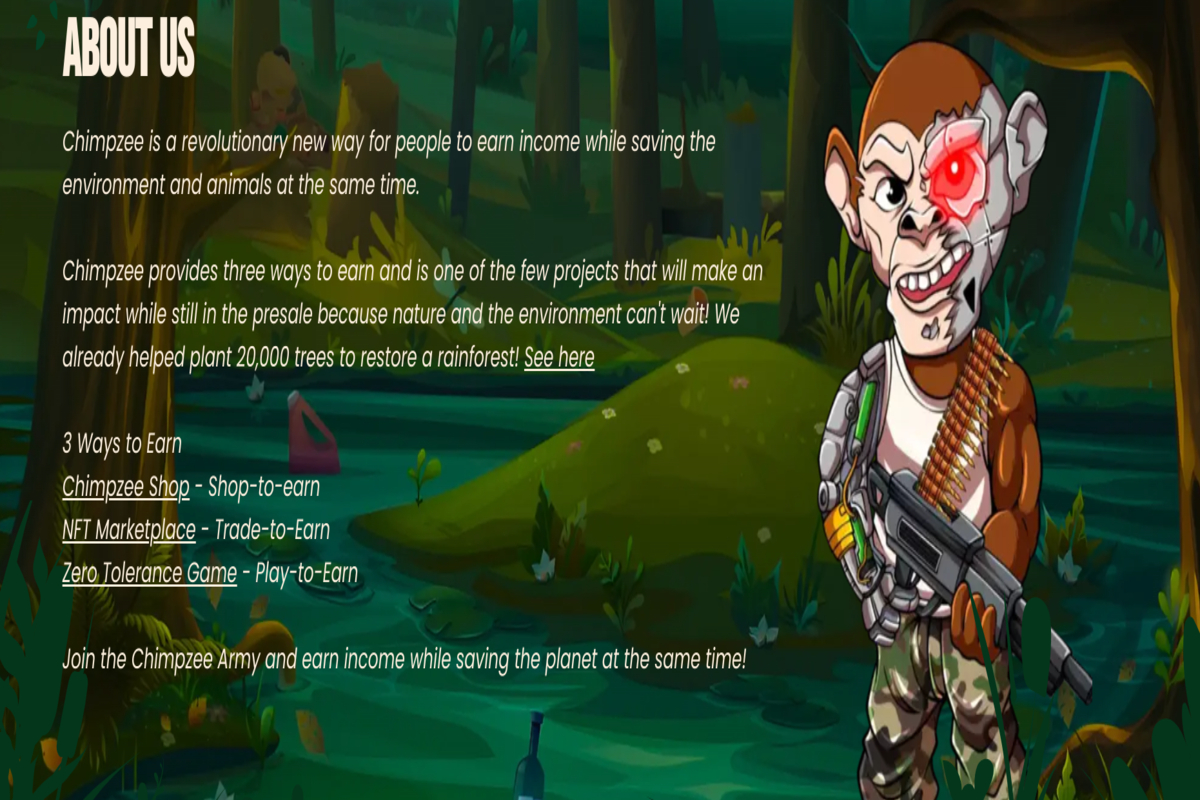 As 2023's top charity-focused crypto project presale Chimpzee hurtles towards $900,000 in funds raised, the project continues to make great progress on delivering on its roadmap commitment.
Chimpzee recently revealed the Chimpzee Gold Passport Non-fungible Token (NFT), which is going to have eight different designs.
Environmentally conscious crypto investors who get involved in the Chimpzee presale during the current "gold stage" will win the right to mint one of these Chimpzee Gold Passport Non-Fungible Tokens (NFTs) for 750,000 $CHMPZ tokens once the presale is over.
These Gold Passport NFTs, besides offering their holders a host of Chimpzee ecosystem perks, will be stakable for an impressive yield of 18%.
The project has also made more progress recently in its number one goal, donating to charities that protect the environment.
Chimpzee recent donated $20,000 to the WILD Foundation to support their efforts in saving the black jaguar.
Prior to this, the charity-focused project had already planted 1,200 trees in Brazil and 20,000 trees in Guatemala, as well as donated $15,000 to save elephants.
Chimpzee has an extensive list of organizations that it plans on donating to which can be found here.
Chimpzee is currently in the seventh stage of its presale, the first of three so-called "gold" stages, with potential buyers recommended to move quickly as the presale will enter its eighth stage in under two days, which will see the $CHMPZ price rise to $0.000775.
Buyers should also note they can also secure a massive 125% token bonus if they get in quickly.
Chimpzee is a disruptive crypto platform that allows its users and supporters to earn a passive income whilst simultaneously saving animals and fighting climate change, and is set to feature a shop-to-earn Chimpzee merchandise store, a trade-to-earn NTF marketplace and a play-to-earn game called "Zero Tolerance".
Shop-to-Donate With Chimpzee
Listed charities will also benefit from a percentage of the profits generated via merchandise sales from the Chimpzee shop, meaning the shop is not only a shop-to-earn experience, with users being rewarded with $CHMPZ tokens for every purchase, but it is also a shop-to-donate experience.
Chimpzee is currently in the second phase of its roadmap.
Once the presale concludes and $CHMPZ launches, the project team's focus will shift to launching the Chimpzee shop and developing the NFT minting platform and staking engine.
The NFT marketplace and play-to-earn game will then be developed in later roadmap phases, with Chimpzee intent on continuing with charitable donations through the duration of its roadmap delivery.
Deflationary $CHMPZ a Great Addition to Any Crypto Portfolio
Buying $CHMPZ and getting involved in Chimpzee's project will clearly do wonders for the environment.
But $CHMPZ could also prove to be a fantastic addition to a crypto investor's portfolio.
Firstly, investors who get in now will be sitting on big paper gains by the time $CHMPZ launches across exchanges.
That's because Chimpzee plans to debut its token across major exchanges later this year at a price of $0.00185, 160% up from its current price of $0.0007.
Meanwhile, the token's supply is also deflationary, which means each individual token's value should rise over time.
Here's how Chimpzee has achieved deflationary tokenomics.
Firstly, $CHMPZ tokens used to purchase Chimpzee Passport NFTs will be burnt from circulation.
Secondly, Chimpzee is also burning leftover tokens from each presale stage, with the next major burn coming up on Wednesday the 19th of July.
Given, at this stage, we don't know how many leftover $CHMPZ tokens will be burnt, it's tough to make exact forecasts about the token's future price.
What we can say for sure is that the more tokens get burnt, the better this will be for the token's price in the long run.
With big crypto influencers like Michael Wrubel (who has over 300,000 YouTube subscribers) already touting the project, who knows how high $CHMPZ can go.
Don't Miss Out on 2023's Top Charity Crypto Presale
As new heatwave records across the world highlight the ongoing risks that climate change poses to humanity, environmentally conscious crypto investors who want to help the planet whilst also turning a profit should consider getting involved in the Chimpzee presale as soon as possible.
With only a few days until the $CHMPZ price rises, investors should get in now to join a movement that empowers users to earn while protecting nature and tackling climate change.
45% of the $CHMPZ supply is available to the public during the presale.
10% is allocated to exchanges and liquidity, 15% to marketing, 10% to development, 5% to community rewards, 5% for the team (locked for 2 years) and, as noted, 10% for charity.
There are no taxes on selling or buying $CHMPZ tokens, or any additional trading fees.
Chimpzee's team is fully verified by Cyberscope and the project is fully security audited by Solidity Finance.
---