Is Chimpzee a Good Investment as the Presale Hype Suggests? Here's What You Need to Know
Disclaimer: The text below is a press release that is not part of Cryptonews.com editorial content.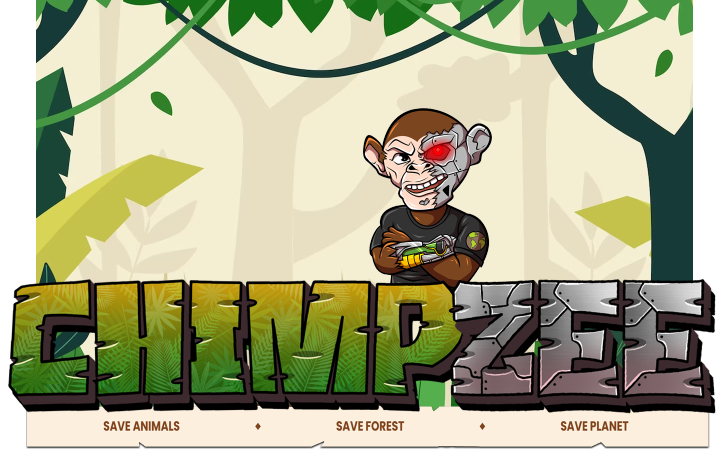 The overwhelming traffic to the Chimpzee presale is showing no signs of a slow-down, hinting at a massive explosion in the pipeline. It goes without saying that the hype around cryptocurrencies can spread like wildfire, garnering more interest along the way.
Is that what's going on with Chimpzee?
Or, does the underlying wildlife conservation project justify the meteoric CHMPZ presale? Here is a closer look at the Chimpzee ecosystem and whether it is a good investment this summer.
How tangible is Chimpzee's green crypto project?
The cryptocurrency market has been witnessing a constant influx of new projects, despite the ups and downs in the market. Upon closer examination, it becomes apparent that many of these projects lack substantial use cases to nourish their value. The flimsy foundation renders them unsustainable shortly after their decentralized exchange (DEX) launch.
Although the crowded landscape makes it difficult for emerging cryptocurrencies to distinguish themselves, those underpinned by market-relevant use cases always find a way forward. Chimpzee is a good example. It has successfully set itself apart and captured significant attention through its novel approach to crypto wildlife conservation, making use of blockchain technology, cryptocurrencies, and NFTs.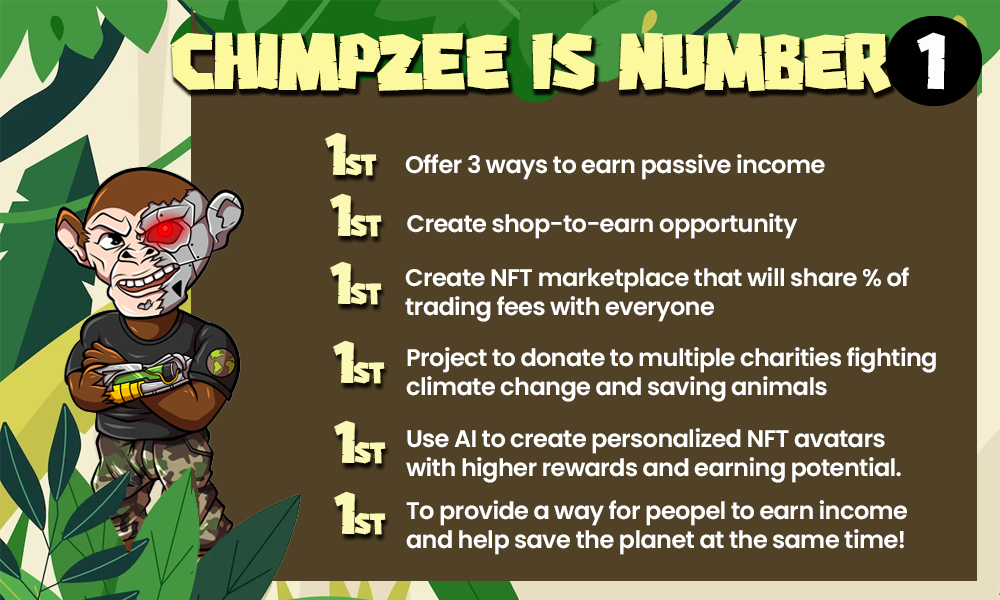 The robust ecosystem is specifically designed to address the pressing issues of climate change and wildlife destruction. Despite widespread initiatives aimed at raising awareness around the severe climate crisis we face, we have failed at converting awareness into tangible solutions. Human beings continue to engage in destructive practices without a meaningful shift in their behavior.
Why? Because our daily struggles and challenges demand our immediate attention, overshadowing the importance of climate action. Chimpzee recognizes and tackles this problem head-on.
This is how:
Chimpzee acknowledges the fact that simply raising awareness about climate action is not enough to prompt widespread action. We need tangible incentives, and not just the promise of a distant future abundant with wildlife and nature, to make contributions to climate action. Nothing works better than financial rewards, of course.
It is important to compensate individuals for their time and efforts, regardless of how universal the climate goal may be. Without proper incentives, wildlife initiatives will remain limited to a select few who are already environmentally conscious. As time has proven, that's insufficient to address the magnitude of the challenge.
Chimpzee offers various streams of exciting passive rewards to its community to encourage greater participation in climate action:
Shop to earn with the Chimpzee Store: Every purchase of merchandise from the store earns you exciting rewards in CHMPZ coins, the platform's native cryptocurrency. Additionally, a portion of the store's profits is allocated to organizations that share Chimpzee's conservation goals.
For example, Chimpzee has donated $15,000.00 to the WILD Foundation to help protect one of the last herds of desert-adapted Elephants.
It has also planted over 1000 trees through the One Tree Planted organization.
More initiatives will be launched in the coming weeks and months.
Trade to earn with Chimpzee NFT Marketplace: Chimpzee's NFT marketplace differentiates itself through a unique profit-sharing system. The prioritization of eco-conscious projects and assets is also a key feature of the marketplace. It provides an excellent opportunity for users to earn rewards since NFT is a booming industry.
Play to earn with Chimpzee Zero Tolerance Game: The riveting game subtly inspires young players to combat wildlife destruction. Joining the game, you can earn rewards while contributing to Chimpzee's larger environmental goals.
Chimpzee uses multiple avenues for engagement and attractive passive rewards to motivate more individuals to actively participate in climate action. You need to own a Chimpzee NFT passport to unlock additional advantages and privileges within the ecosystem.
Chimpzee NFT Passports – What Makes them Coveted?
Chimpzee NFT passports are one of the most sought-after digital assets this year, and for the right reasons. They grant holders a range of advantages within the Chimpzee ecosystem. The extent of the perks and privileges increases based on the passport tier.
For example, the Diamond NFT Passport offers the highest rewards, benefits, and advantages, along with a 20% staking Annual Percentage Yield (APY). Only those who participate in the first stage of the presale will gain access to minting the Diamond NFT Passport.
The minting of other categories of NFT passports is also reserved exclusively for participants in different phases of the presale. It will be held via whitelist events (for each passport category) that are organized after the presale of CHMPZ coins.
If any NFTs remain unsold after the whitelist events, the public will have an opportunity to mint them. But the rapidly growing popularity of the Chimpzee project makes that unlikely.
In addition, Chimpzee's native AI generator enables users to create personalized Chimpzee avatars. They are priced similarly to the Diamond NFT Passport. But they do not offer all the associated benefits and rewards. They, too, will go live after the presale of CHMPZ tokens.
Presale Stage 1 is Still Live – Buy CHMPZ Before it's Too Late
The CHMPZ presale is currently live, allowing the public to invest in the project at discounted prices before it becomes available on exchanges and the price takes off. It is conducted in multiple stages. Each stage will be divided into more, with small price increases. This is how it works:

Chimpzee is considered one of the most exciting projects of the year, with the potential for mainstream penetration, kindled by brand and celebrity adoptions. Factoring in that, Industry analysts predict a price rise of 10X to 25X upon its listing on exchanges, depending on the overall market conditions. However, the true potential of the token will be revealed in 2024 as the ecosystem onboards leading partnerships. In fact, a 100X explosion is a realistic target for CHMPZ in 2024.
Note: Presale participants can now receive up to 300% bonus CHMPZ coins and help save the black jaguar!
---