Cardano Price Prediction as ADA Overtakes Dogecoin in Coin Rankings – Can ADA 10x From Here?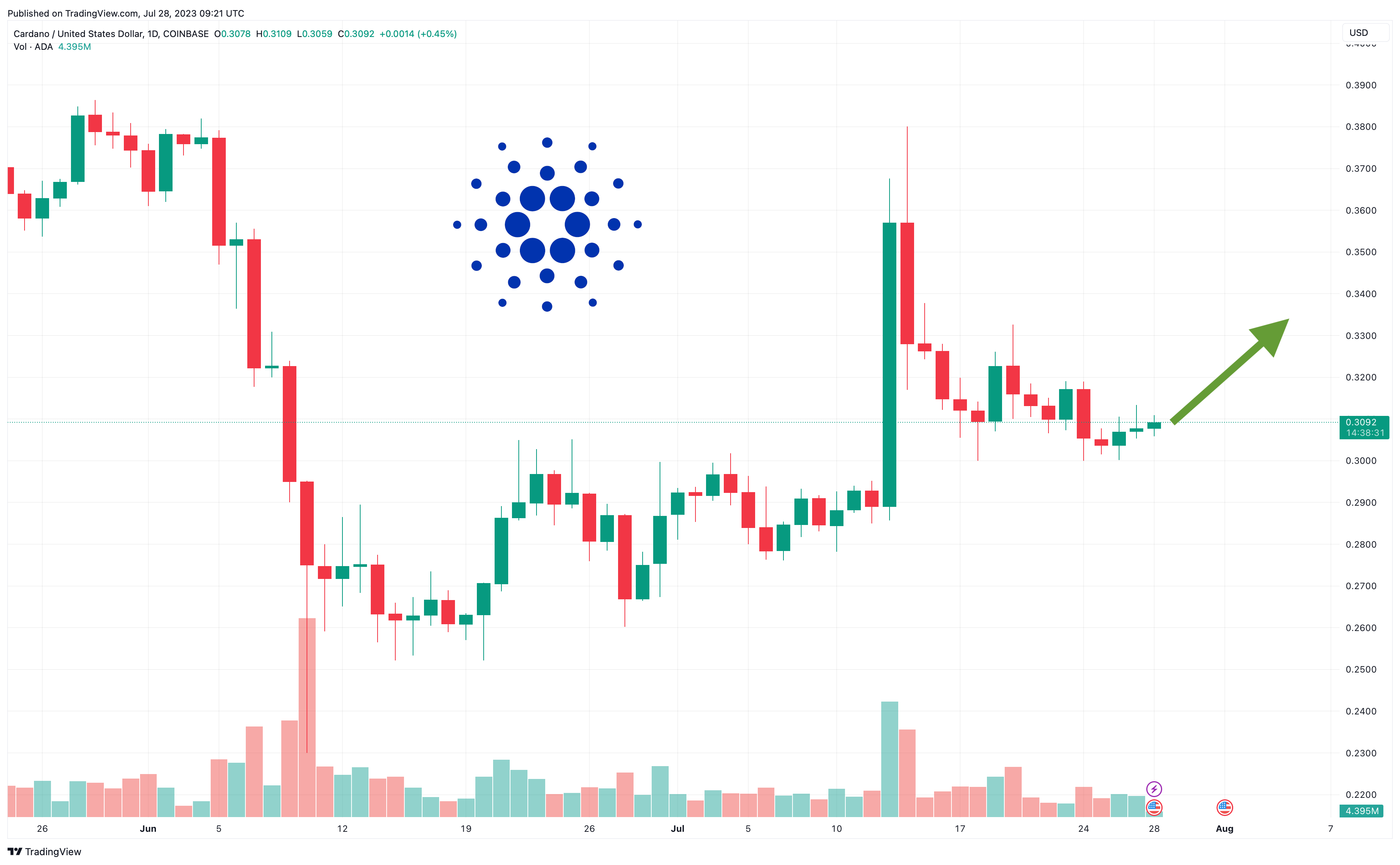 The price of Cardano (ADA) has dipped by 0.5% in the past 24 hours, with its slippage to $0.309603 coming as the wider cryptocurrency market also wobbles by roughly the same percentage today.
ADA is also down by 1% in the past week, yet the altcoin is up by 12% in the last 30 days and by 25% since the beginning of the year.
Such gains have enabled Cardano to overtake Dogecoin (DOGE) in terms of capitalization, with ADA now the eighth-biggest in the market, behind Lido Staked Ether (STETH).
And with Cardano continuing to enjoy steady development as a platform, ADA is likely to witness further gains over the next few months.
Cardano Price Prediction as ADA Overtakes Dogecoin in Coin Rankings – Can ADA 10x From Here?
ADA's chart suggests that the coin may be close to another rally, with its relative strength index (purple) jumping up from 50 and looking set to rise higher.
Complementing this change is ADA's 30-day moving average (yellow), which has stopped its fall from the past few days and has now levelled off, looking as though it too could begin rising again.
This suggests that, after a fairly underwhelming week, ADA is about to witness another bounce, potentially pushing it back up $0.325 in the near future.
That said, the altcoin's support level (green) remains relatively weak, with its failure to rise consistently in the past fortnight implying that we could just as likely see a few falls.
Despite this uncertainty, ADA does remain in a largely positive position overall, with the altcoin now the eighth-biggest in the market, overtaking DOGE.
This flippenning is partly because DOGE itself has had a fairly disappointing 2023, yet there are clear signs that Cardano is growing as a platform, and that ADA's trajectory is upwards.
For example, recently released data has shown that Cardano outperformed all other layer-one networks in terms of DeFi growth metrics, such as stablecoin market caps and DEX volumes.
This is a highly encouraging sign of Cardano's maturation, with the platform now counting over 1,200 projects building on its network, as well as 135 already launched.
What's significant about such a factoid is that Cardano still hasn't reached anywhere near its full potential (given the number of projects still building), implying that when it does it could become a serious competitor to more established blockchains.
If so, ADA is likely to experience sustained price growth, potentially reaching $0.50 in the next few months and rising as high as $1 around the start of 2024.
New Altcoins Offer Big Rally Potential
It needs to be said that, as positive as things are for ADA at the moment, its growth is likely to be gradual rather than dramatic, given that it depends so much on Cardano's development as a platform.
This means that traders aiming for short-term and above-average gains may be better off looking to newer altcoins, particularly those that look set up for big gains in the near future.
A prime example of this is BTC20, a new ERC-20 token that will offer a staking-based version of Bitcoin, enabling its holders to earn a passive income while sitting on a deflationary asset.
BTC20's presale has already raised more than $3.8 million in just over a week, providing a very strong signal that investors like what it's offering.
BTC20's presale makes the coin available at $1, meaning that buyers get the chance to make up for having missed out on Bitcoin itself when it was priced at $1 (back in 2011).
As with the original Bitcon, BTC20's supply is capped at 21 million, with the presale offering 6.05 million BTC20, and with the rest being issued via staking rewards over the course of 120 years,
This makes BTC20 a deflationary asset with a very controlled supply, something which should help push up its price over time, helping its early investors to make a significant profit if they're patient enough.
New investors can get involved in its sale by going to the official BTC20 website and using either USDT, ETH or fiat currency to buy the token.
Its price is set at $1 for the entire presale, but it could easily rise much higher once trading platforms begin listing it.
Disclaimer: Crypto is a high-risk asset class. This article is provided for informational purposes and does not constitute investment advice. You could lose all of your capital.
---