Bitmain Reportedly Lost USD 500m, More Challenges Ahead (UPDATED)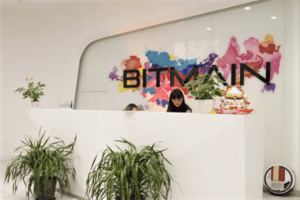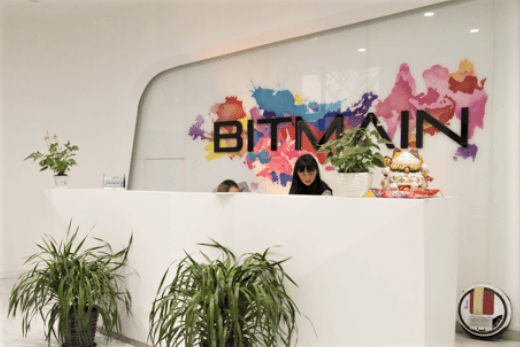 Mining hardware giant Bitmain reportedly lost about USD 500 million in the third quarter of 2018 thanks to the bear market at the time, as well as small miners returning to the game. Moreover, Bitmain's dominance over the Bitcoin network has been steadily falling and some industry players speculate that losses might be even higher. (Updated with a comment from Bitmain - in red.)
Bitmain had applied to the Hong Kong Stock Exchange (HKEx) for an initial public offering (IPO) back in September 2018, and they recently provided an update on their financial results which show that the company earned around USD 500 million in the first nine months of last year, on slightly over USD 3 billion of revenues, CoinDesk reported, citing people familiar with the matter.
However, Bitmain previously disclosed it had grossed profits of USD 1 billion in the first half of 2018 - which would mean that a net profit of USD 500 million at the end of Q3 last year meant that this quarter brought them a loss of half a billion dollars.
The company had also previously reported USD 2.8 billion of revenues for the first half, so the USD 3 billion figure for the first nine months works out to third-quarter revenues of just about USD 200 million.
"The rumor is false," Bitmain spokesperson replied to Cryptonews.com, when asked to comment on Coindesk story. No further comments were provided.
Bitmain, which has recently changed its top executives, only needs to provide the nine-month figures at this stage under HKEx rules, which say that listing applicants can be no more than six months behind on reporting. This means that the public numbers from Q4 2018 could be a long time in coming.
Meanwhile, Alistair Milne, co-founder and CIO of Altana Digital Currency Fund, claims Bitmain's "balance sheet losses are far higher":
They mark their assets to their average purchase price. From memory $BCH avg. price paid for >1 million coins was >$800
Crypto assets are only marked down when sold!
Balance sheet losses are far higher

— Alistair Milne (@alistairmilne) February 19, 2019
Moreover, back in January this year, weekly cryptocurrency publication Diar reported that Bitmain led pools, as well as ViaBTC - in which the hardware company has invested in - controlled 53% of the networks hashpower at the start of 2018. 2019 kicked off with 39%. Even without ViaBTC, which claims to be completely independent, Bitmain's two pools (BTC.com and Antpool) held a combined hashrate of more than 42%. This has now reached a 16-month low at the beginning of this month, when the giant controlled approximately 26% of the network's hashrate.
Meanwhile, small miners are increasing their share in the Bitcoin network, which is said to help boost decentralization. As Cryptonews.com previously reported, unknown miners closed December having solved 22% of the total blocks up from 6% at the start of the year.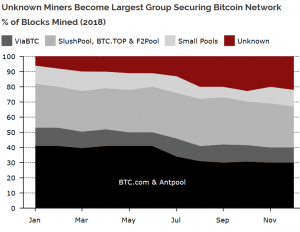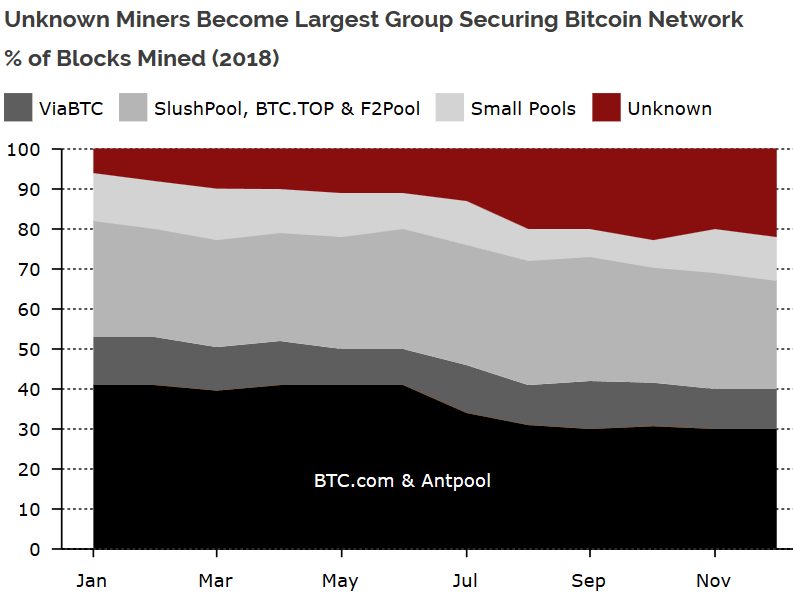 Meanwhile, they have announced a new miner on their official blog. According to the statement, the new BM1397 chip offers faster and cheaper cryptocurrency mining.
Popular cryptocurrency enthusiast WhalePanda took to Twitter to point out that the news of the upcoming miner came only slightly before the news of the Q3 loss: "They desperately released the news about the (again badly performing) new miners since they knew an article on their IPO filing was coming."
They mark their assets to their average purchase price. From memory $BCH avg. price paid for >1 million coins was >$800
Crypto assets are only marked down when sold!
Balance sheet losses are far higher

— Alistair Milne (@alistairmilne) 19 February 2019