Bitcoin Surges To New all-time high, Altcoin Bulls Take Control
Bitcoin price is up almost 15% and traded to a new all-time high above USD 22,000. Ethereum surged and tested the USD 650 resistance, XRP rallied 25%. CHSB, ZEN, EWT, THETA, XLM and LTC are up over 15%.
Finally, bitcoin price broke the main USD 20,000 resistance and started a strong surge. BTC broke many hurdles and gained nearly 15%. The price even spiked above USD 22,000 and it is currently (05:00 UTC) consolidating gains.
Similarly, there was a strong increase in most major altcoins, including ethereum, litecoin, XRP, EOS, XLM, LINK, BNB, TRX, bitcoin cash, and ADA. ETH/USD broke the key USD 600 barrier and rallied towards the USD 650 resistance. XRP/USD gained over 25% and it trimmed all its recent losses to trade above USD 0.550.
Total market capitalization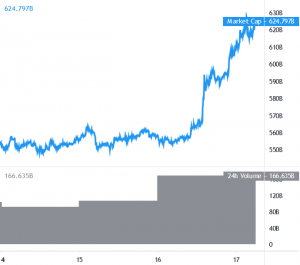 Bitcoin price
There was a nasty upward move in bitcoin price above the USD 20,000 resistance. BTC surged above USD 21,000 and it even spiked above the USD 22,000 level. A new all-time high was formed near USD 22,200 and it is consolidating gains. If there is a downside correction, the bulls might remain active near the USD 21,600 and USD 21,500 levels.
On the upside, the USD 22,200 level is a short-term resistance. A fresh increase above the recent higher may possibly spark another rally and the price might even test USD 22,800 or USD 23,000.
Ethereum price
Ethereum price also started a strong surge after it broke the main USD 600 resistance. ETH is up more than 10% and it even tested the USD 650 resistance. The price is correcting gains, but dips might be limited below the USD 635 and USD 630 levels.
On the upside, the USD 650 level is a key resistance. If ether price breaks the USD 650 barrier, it could climb higher towards the USD 675 and USD 680 levels in the near term.
Bitcoin cash, litecoin and XRP price
Bitcoin cash price is gaining up 10% and it broke the main USD 300 resistance level. BCH is showing a lot of positive signs, but it must break USD 320 to continue higher. In the stated case, the bulls might test the USD 350 level. If there is a downside correction, the USD 300 and USD 295 levels might provide support.
Litecoin (LTC) surged 15% and it broke many important hurdles near USD 85.00 and USD 88.00. LTC even broke USD 90.00 and traded close to the USD 95.00 level. If the current trend remains intact, there are chances of a run towards the main USD 100.00 resistance level in the near term.
XRP price trimmed almost all its losses of this week and it rallied over 25%. There was a sharp increase above the USD 0.485 and USD 0.500 resistance levels. The price even broke the USD 0.550 resistance. The current technical structure suggests that the price might continue to grind higher towards the USD 0.580 and USD 0.588 levels.
Other altcoins market today
In the past few hours, many altcoins gained over 10%, including CHSB, ZEN, EWT, THETA, XLM, RUNE, SNT, CEL, WBTC, RSR, XVG, MAID, YFI, ADA, and NANO. Conversely, BNT and EGLD are down over 10%.
Overall, bitcoin price achieved a new milestone and it seems like it is not done yet. If BTC settles above USD 22,000, it could move towards USD 23,000 or even higher in the coming sessions.
_____
Find the best price to buy/sell cryptocurrency: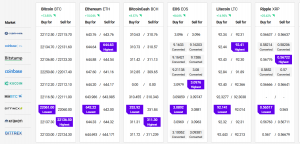 ---