Bitcoin Puzzles: A New Rewarding Pastime
Puzzles have always been a popular pastime with many, in all their different iterations. Now fans of both crypto and puzzles get the best of both worlds with crypto puzzles. Solving the puzzle gives you the key to the wallet with the reward, to be claimed by the fastest brain in the race.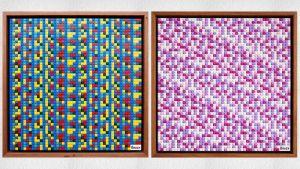 On Friday, Gizmodo reported the story of an artist, Andy Bauch, with his abstract artwork in which he hid the private key to a crypto-wallet with various types and amounts of cryptocurrency. He bought amounts of bitcoin, litecoin, and other altcoins in 2016 and put them in different digital wallets. Each wallet is encrypted with a private key, consisting of letters and numbers, which are visually represented in his works.
Buying a piece of his art does not mean that you own the private key, as anyone who figures out the code will be able to take the money for themselves. However, Bauch told Gizmodo that he will give the purchaser of any painting "a hint." He added, "A lot of the work that I'm doing is trying to span this gap that often exists between new technology and humanity."
As of right now, all of the crypto appears to still be in each wallet, meaning that either no one has cracked any of the codes, or just not taken the money yet.
Another visual puzzle, perhaps the best-known of them, was The Legend of Satoshi Nakamoto, a visual puzzle associated with the Bitcoin address 1FLAMEN6 that was created in 2015 with 5 BTC locked in. It was finally solved three years later, having previously been dubbed "fiendishly difficult", by a programmer who hadn't even heard of it until a month before finally cracking it.
There are still more Bitcoin puzzles for aficionados to solve. For example, a tiny community on Reddit, with only 199 subscribers, offers a place for anyone who wants to share their puzzle with the world, or solve someone else's. The challenges range from trivia games to scavenger hunts, with every title pointing out the difficulty level of the challenge and the reward.
Another example is a video game called MonteCrypto: The Bitcoin Enigma, released in February. Described as "a maze filled with 24 mind-bending puzzles", it promises one Bitcoin for the person who completes it first. It offers the possibility of working either alone or with others, as well as leading others to dead ends to slow them down. The Steam page of this game asks simply, "How much will players be willing to share, how much will they be able to compromise and who will claim access to the final vault of Montecrypto?"
The game's mysterious development team, Gem Rose Accent, hasn't produced any other games, and they have said they wouldn't reveal their identities until the prize is claimed. It would seem that the prize has either still not been claimed or simply not moved yet from the address.
Whichever of these tickles your fancy, go for it - the possibilities are endless. Good luck!
---