Bitcoin Price Prediction – Can BTC Rally to $20,000 This Week?
Disclosure: Crypto is a high-risk asset class. This article is provided for informational purposes and does not constitute investment advice. By using this website, you agree to our terms and conditions. We may utilise affiliate links within our content, and receive commission.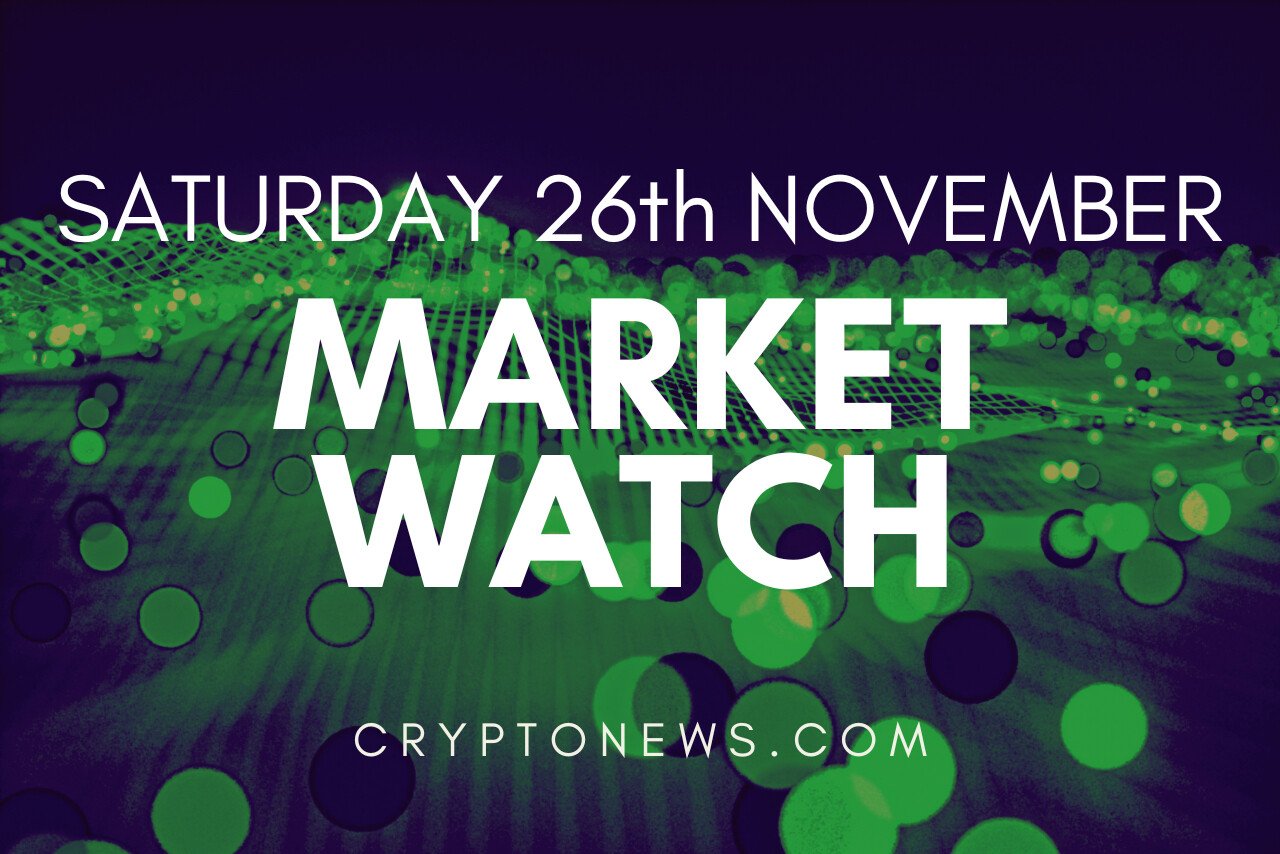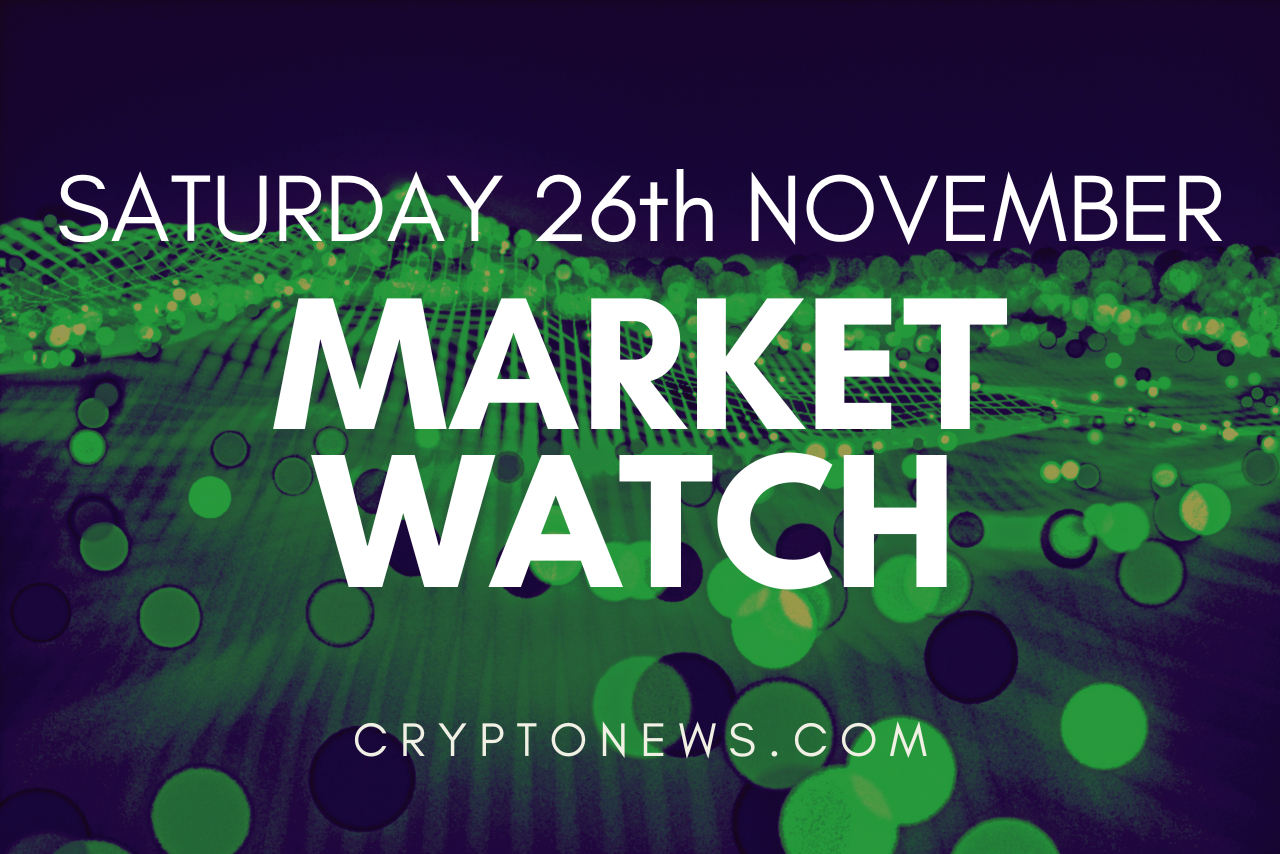 Bitcoin price prediction remains neutral on Saturday, with BTC consolidating from $16,400 to $16,780. The market volatility remains low despite the Thanksgiving holiday and a series of fundamentals driving risk-off sentiment and keeping investors in the dark.
Singapore's Central Bank Warns of Cryptocurrency Risks
The Monetary Authority of Singapore (MAS), Singapore's central bank, issued a press statement this week to clarify several misunderstandings and issues that have arisen in the aftermath of the FTX crisis. The MAS then explained why it chose Binance over FTX.
Singapore's Central Bank Warns that Not All Crypto Activities Are Regulated

👉 https://t.co/dVlHdYd2yV#Solana #bitcoin #ETH #USDINR #Cryptocurency #Crypto #news #nftart #NFT #BTCUSDT #BTCs #SHIB #DOGE #NFTs #ElonMusk #SGXNIFTY #StockMarket #Cryptos pic.twitter.com/fUCmnzyKJW

— Cryptopoint (@Crypptopoint) October 6, 2022
According to MAS, neither Binance nor FTX is licensed in Singapore. FTX did not aggressively recruit users in Singapore, whereas Binance did. The MAS ordered Binance to stop providing payment services to Singaporeans in September of last year. A few months later, the cryptocurrency exchange ceased operations in the city-state.
The regulator stated that there was no proof that FTX was directly targeting Singapore consumers. Furthermore, Singapore dollars could not be used to make trades on FTX. Singaporeans, on the other hand, could use FTX services online. The most important message from the FTX collapse, according to the MAS, is that trading cryptocurrencies on any platform is risky, and investors may lose all of their money.
Singapore's central bank warns against crypto, says retail investors risk 'significant losses' https://t.co/igZoYBgE0l

— CNBC (@CNBC) November 9, 2021
According to the MAS, many cryptocurrencies have lost value and are extremely volatile. Furthermore, the current turmoil in the crypto sector suggests that trading cryptocurrencies are fraught with danger.
The warning from Singapore's central bank that even legal cryptocurrency exchanges may fail had a negative impact on the price of BTC/USD.
Bitcoin Worth $1.5 Billion Left Coinbase
On November 24, 50,000 BTC were withdrawn from Coinbase and It was more than $800 million at the time, making it the second-largest BTC withdrawal from Coinbase in 2022.
The following day, on November 25, another 50,000 BTC withdrawals occurred, worth approximately $825 million. These institutions are taking advantage of the low prices and stockpiling BTC as on-chain data suggests that the bear market cycle's bottom is near.
JUST IN 🔥

A total of 100,000 #Bitcoin were withdrawn from #Coinbase in the past two days – the third-largest BTC withdrawal in @coinbase history.

— Satoshi Club (@esatoshiclub) November 25, 2022
The second 50,000 BTC withdrawal depleted Coinbase reserves by more than $1.5 billion in just two days, making it the third-largest BTC withdrawal in Coinbase history. Statistics show that Coinbase is not the only exchange seeing significant BTC withdrawals.
Bitcoin worth $1.5B withdrawn from Coinbase in 48 hours

On Nov.24, 50,000 BTC were withdrawn from Coinbase. The amount equated to over $800 million at the time, which marked the second-largest BTC withdrawal from Coinbase in 2022. The next day, on Nov. pic.twitter.com/DOlRtaJKDE

— HappyRabbit (@HappyRabbit996) November 26, 2022
Since January 2022, the BTC balance on all exchanges has been steadily declining. According to the data, the balance on decentralized exchanges has fallen below 12% for the first time since January 2018.
Binance Launches $1 Billion, Recovery Fund
Binance, the world's largest cryptocurrency exchange, announced the launch of the Industry Recovery Initiative on November 24. The initiative aims to assist the struggling cryptocurrency sector in the aftermath of the FTX crash.
According to the exchange's blog, Binance has committed $1 billion to IRI, with the option to quickly increase that amount to $2 billion if necessary.
.@jump_, @AptosLabs and Polygon Ventures are among the crypto companies that have put $50 million into a @binance-led $1 billion recovery fund. Reporting by @oknightcrypto.https://t.co/6qQ9xHuVw9

— CoinDesk (@CoinDesk) November 24, 2022
Jump Crypto, Polygon Ventures, Aptos Labs, Animoca Brands, GSR, Kronos, and Brooker Group were among the companies that submitted 150 applications to help the IRI.
The goal of this new initiative is to assist the most unique and high-caliber businesses founded by the best entrepreneurs and engineers that are facing severe, immediate financial difficulties.
Jump Crypto, Aptos Labs Commit to Binance-Led $1B Recovery Fundhttps://t.co/yV2rdswQbA

Several prominent crypto companies including Aptos Labs and Jump Crypto will contribute $50 million to the planned $1 billion Industry Recovery Initiative (IRI).

— 〽️ᄃムt (@mztacat) November 24, 2022
According to a blog post, this initiative is distinguished by its collaborative strategy for regaining trust in Web3. Binance is attempting to revitalize the cryptocurrency market. As a result, the news will boost the value of BTC/USD.
Bitcoin Price
The current Bitcoin price is $16,598, and the 24-hour trading volume is $17 billion. Bitcoin has increased by over 0.50% in the last 24 hours. CoinMarketCap currently ranks first, with a live market cap of $318 billion. It has a maximum supply of 21,000,000 BTC coins and a circulating supply of 19,217,300 BTC coins.


The BTC/USD is trading choppy on Saturday, with a narrow trading range of $16,300 to $16,800. Bitcoin has yet to break through the previously mentioned trading range in order to determine future trends.
The BTC/USD pair is currently holding above the 23.6% Fibonacci retracement level of $16,400 in the 4-hour timeframe, and a breakout of this level can determine the next trading range.
A bearish breakout of the 23.6% Fib level can expose Bitcoin to the 38.2% Fib level of $16,275 and the 61.8% Fib level of $15,900.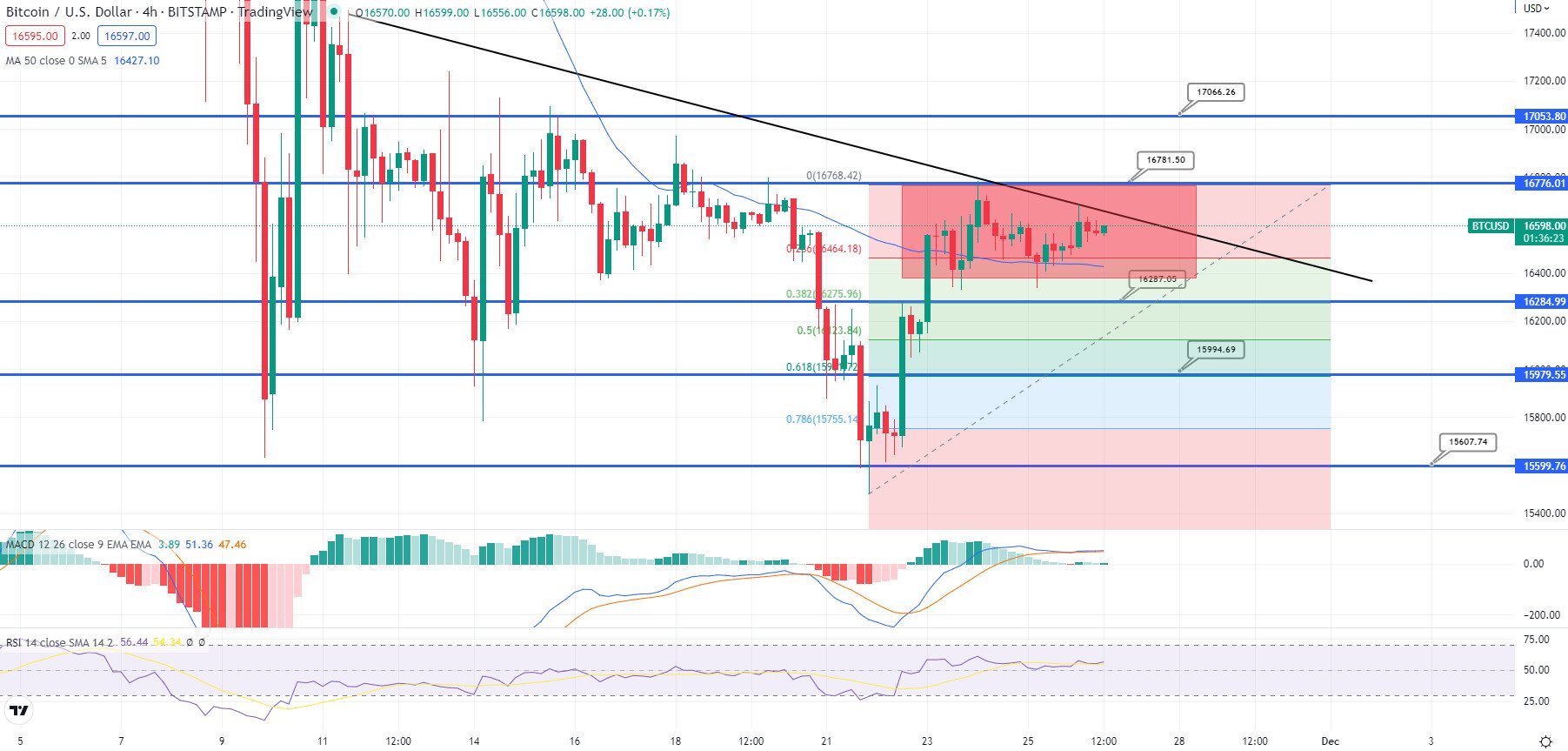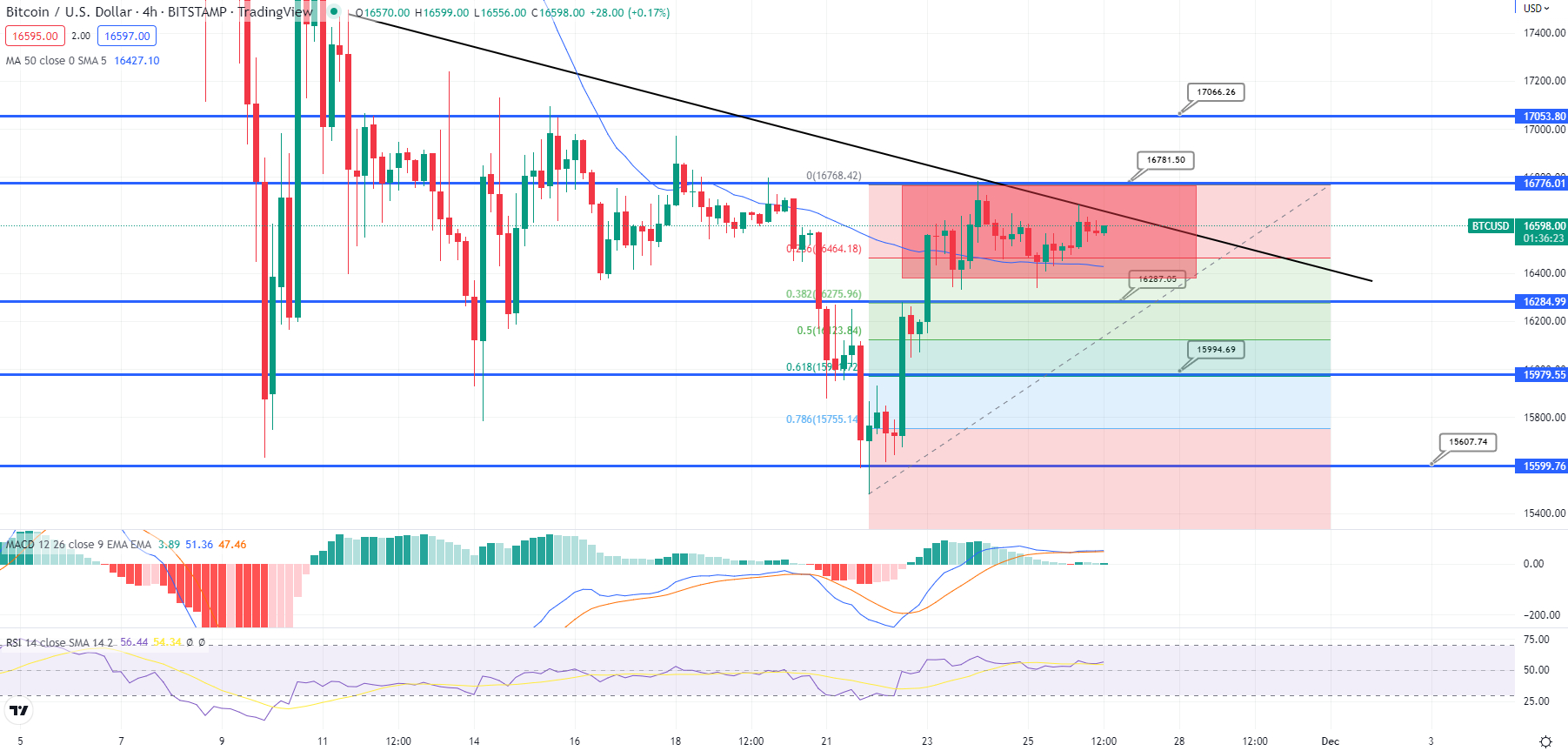 Leading technical indicators, such as the RSI and MACD, are tossing in buying and selling ranges, implying investor indecision. However, the 50-day moving average is keeping the BTC supported near $16,450, indicating a strong likelihood of an uptrend continuation.
If buying pressure enters the market, a bullish breakout of the $16,785 level could send BTC to $17,000 in just a few days.
Cryptocurrency Pre-Sale With Massive Profit
Despite the market's sluggishness, a few coins have enormous upside potential.
Let us take a closer look at them.
Dash 2 Trade (D2T)
Dash 2 Trade is an Ethereum-based trading intelligence platform that provides traders of all skill levels with real-time analytics and social data, allowing them to make better-informed decisions. The platform will go live in the first quarter of 2023, providing information to investors to assist them in making proactive trading decisions.
Dash 2 Trade, a platform for crypto trading intelligence and signals, has attracted the attention of investors after raising $7 million in just a little over a month. As a result, the D2T team is calling it a day at stage 4 and lowering the hard cap aim to $13.4 million.
The team is lowering the hard cap for two key reasons.
To begin with, the primary presale analytics dashboard has been completed ahead of time, allowing for an earlier deployment and the immediate application of investment monies raised in the presale toward marketing efforts.
Second, and related to the first, the market has shifted, making Dash 2 Trade's offerings ideal for retail investors seeking to do thorough due diligence in the wake of the FTX scandal.
Dash 2 Trade has also been successful since two exchanges (LBank and BitMart) have promised to list the D2T token soon once the presale concludes.
1 D2T is currently worth 0.0513 USDT, but this will increase to $0.0533 in the next and final stage of the sale. D2T has raised over $7 million so far, selling over 82% of its tokens.
RobotEra (TARO)
RobotEra (TARO) is a Sandbox-style Metaverse that will launch its alpha version in the first quarter of 2023.
Gamers will be able to play as robots and contribute to the creation of its virtual world, which will include NFT-based land, buildings, and other in-game items, on its platform.
TARO has raised over $240,000 so far, and 1 TARO is currently sold for 0.020 USDT (it can be purchased with either USDT or ETH), but this price will rise to $0.025 during the second stage of its presale, which will begin soon.

Visit RobotEra Now
Calvaria (RIA)
Calvaria is a new bitcoin gaming firm that has the potential to rule the play-to-earn market. Calvaria (RIA) developers have found a significant barrier to widespread Web3 gaming adoption: the requirement for cryptocurrencies in order to play. As a result, the game will have both free-to-play and pay-to-win modes, with the free-to-play mode open to players who do not possess any cryptocurrency.
The presale has raised nearly $2 million since its inception and is currently in its final stages after the developers opted to end it early. The presale was supposed to last ten stages and offer 300 million RIA tokens.
However, the developers have opted to change the presale offering, which means that stage 5 will be the last opportunity for investors to purchase RIA before they hit the open market, where prices are expected to skyrocket.
More information about Calvaria can be found here.
Find The Best Price to Buy/Sell Cryptocurrency


---