Bitcoin Price Prediction as K33 Research Analyst Says 'Multiple Positive Catalysts Ahead' – Can BTC Reach $100,000 This Year?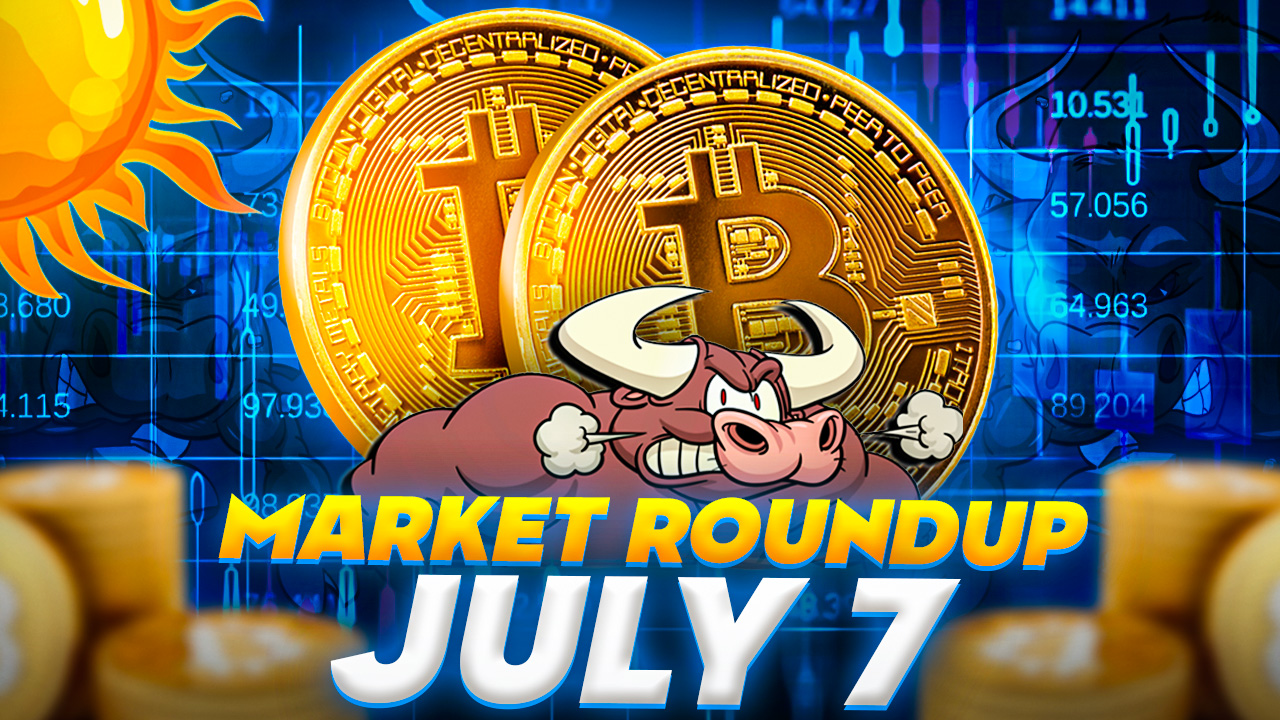 Bitcoin's current trading pattern has been characterized by choppiness, as it maintains a narrow trading range between $29,000 and $31,350.
As the crypto market continues to capture the attention of investors and enthusiasts, the question on everyone's mind is: Can Bitcoin reach $100,000 this year?
According to K33 Research Analyst, multiple positive catalysts lie ahead, fueling optimism and speculation about the potential for a significant surge in Bitcoin's price.
In this Bitcoin price prediction, we delve into the analysis and predictions surrounding Bitcoin's future and explore the factors that could drive it toward the coveted $100,000 milestone.
K33 Research Analyst Bullish on Bitcoin as Summer Season Offers Prime Accumulation Opportunity
Bitcoin's price is expected to benefit from a positive outlook as K33 Research analyst Vetle Lunde highlights the summer as a prime accumulation period.
With Bitcoin currently trading above $30,000, Lunde expresses growing optimism fueled by multiple positive catalysts on the horizon.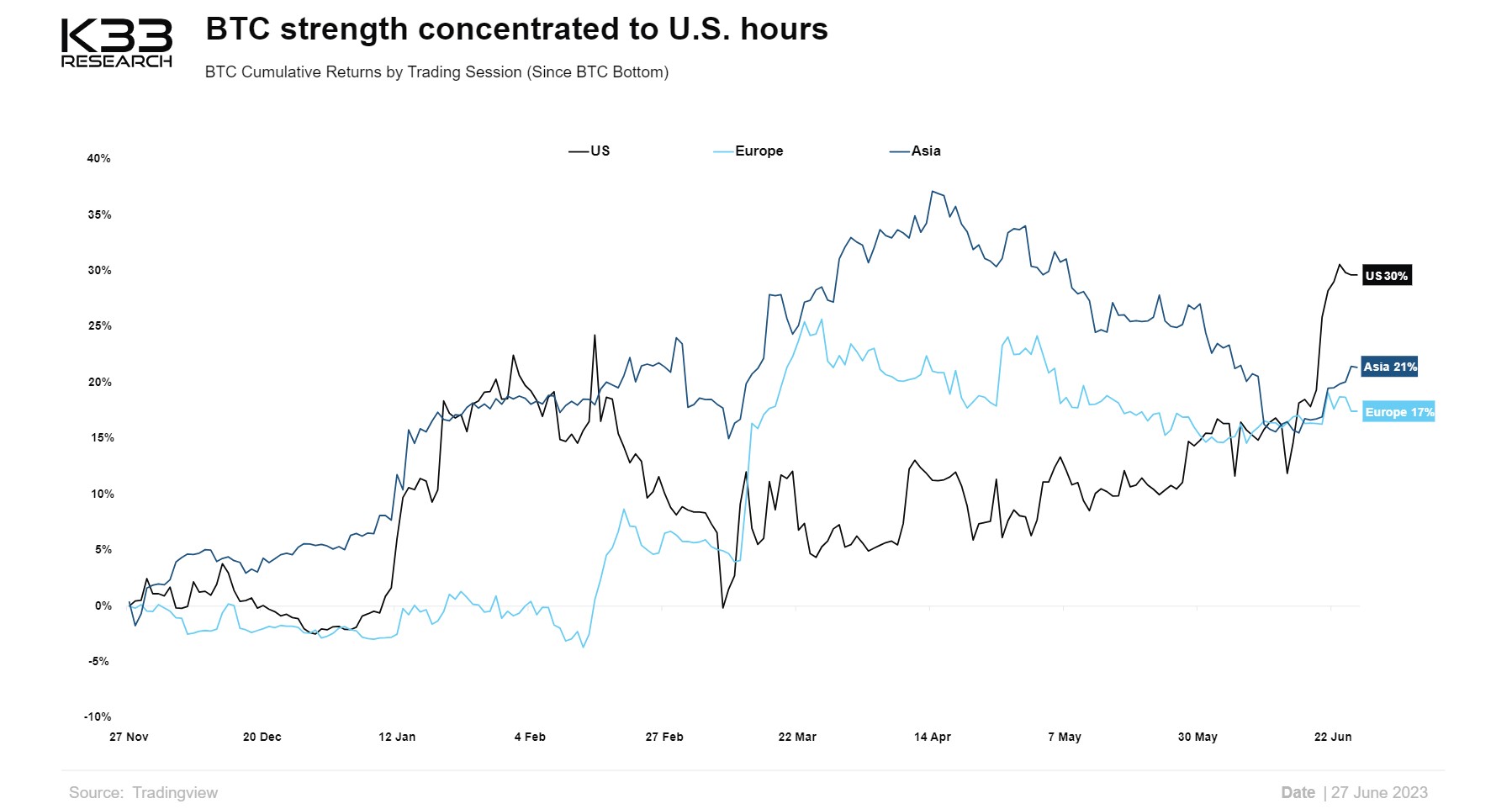 Lunde emphasizes the resurgence of institutional interest in spot Bitcoin ETFs, signaling a validation of Bitcoin as a viable and sound investment alternative.
This institutional support, combined with other factors, sets the stage for an exciting market in the coming nine months, potentially impacting the price of BTC significantly.
Bitcoin Price Prediction
Bitcoin made unsuccessful attempts to surpass the $31,000 resistance level and underwent a downward correction below $30,850.
The breach of a bullish trend line with support at approximately $30,750 resulted in a drop below $30,250, with a low near $30,160.
At present, Bitcoin is consolidating its losses and trading near the 23.6% Fibonacci retracement level. It remains below both $30,800 and the 50-days Simple Moving Average.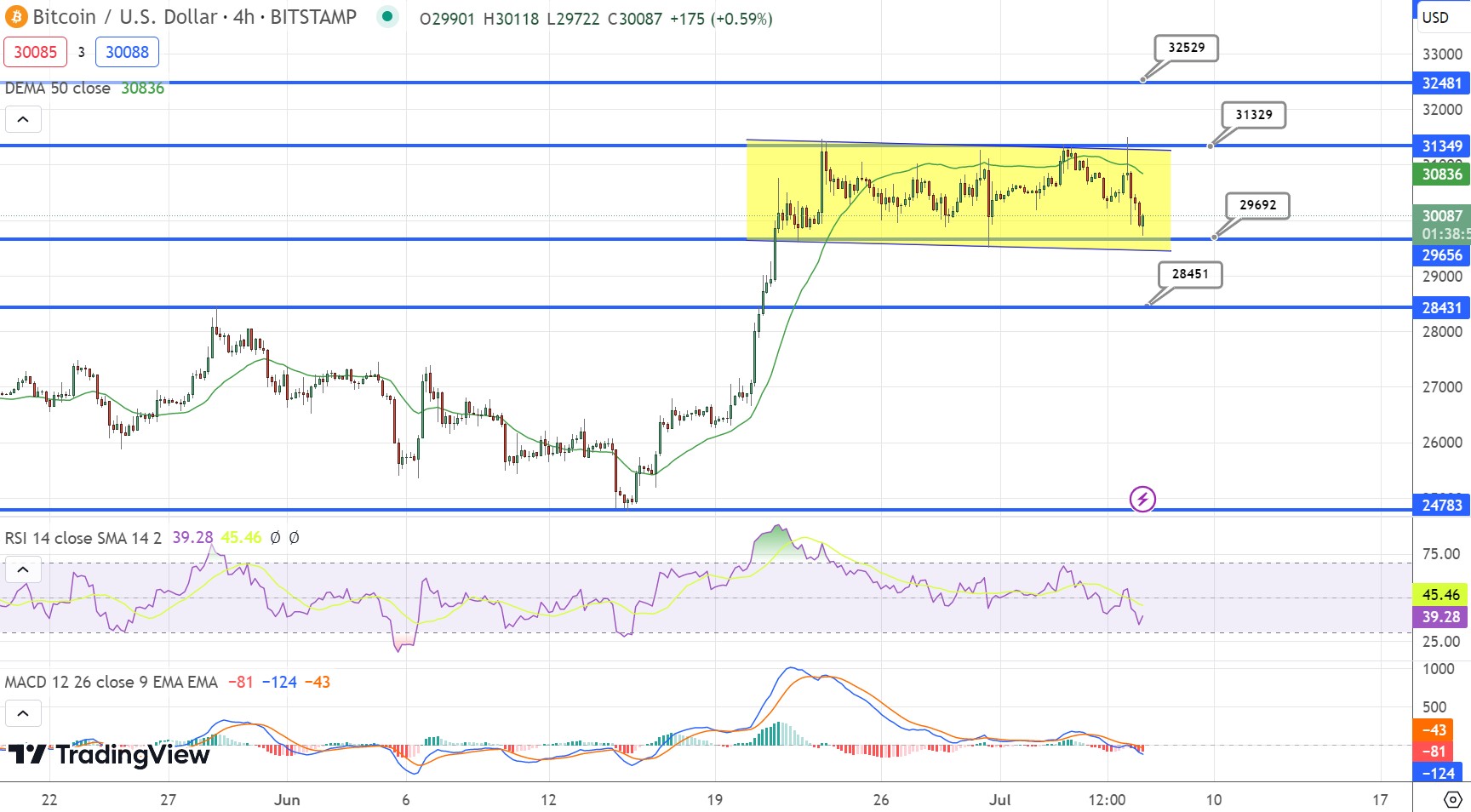 Immediate resistance is evident around $30,600, followed by a significant resistance level near $30,750 and the 50-day Simple Moving Average.
To retest $31,000, the price would need to surpass the 50% Fibonacci retracement level.
Conversely, if the $31,750 resistance level remains unbroken, Bitcoin's downward movement may continue. Immediate support lies around $30,150 and the recent low, while the next major support level is near $30,000.
Further losses could potentially drive the price towards $29,550 or even the $29,200 zone in subsequent sessions.
Top 15 Cryptocurrencies to Watch in 2023
Stay informed about the latest initial coin offering (ICO) projects and alternative cryptocurrencies by regularly exploring our carefully selected collection of the top 15 digital assets to watch in 2023.
This thoughtfully curated list has been compiled by industry experts from Industry Talk and Cryptonews, ensuring that you receive professional recommendations and valuable insights.
Stay ahead of the game and discover the potential of these cryptocurrencies as you navigate the ever-changing world of digital assets.
Find The Best Price to Buy/Sell Cryptocurrency

Disclaimer: Cryptocurrency projects endorsed in this article are not the financial advice of the publishing author or publication - cryptocurrencies are highly volatile investments with considerable risk, always do your own research.
---