Bitcoin Price Prediction as Billionaire Druckenmiller Calls Bitcoin a 'Brand' He Should Own – Can BTC Reach $100,000 in the Next Bull Run?
Disclosure: Crypto is a high-risk asset class. This article is provided for informational purposes and does not constitute investment advice. By using this website, you agree to our terms and conditions. We may utilise affiliate links within our content, and receive commission.


In the volatile world of cryptocurrencies, Bitcoin has once again captured the spotlight, this time bolstered by the unexpected endorsement from a titan of the investment world. Billionaire investor Stanley Druckenmiller, known for his astute market foresight, has expressed a tinge of regret for not owning Bitcoin, lauding it as a formidable "brand" that he should have in his investment portfolio.
This high-profile acknowledgment from Druckenmiller not only cements Bitcoin's reputation as a viable asset class but also propels its market outlook to new heights.
As speculations run rampant, many are left wondering: with such an influential figure's endorsement, could Bitcoin be on the cusp of an unprecedented bull run, possibly reaching the elusive $100,000 mark in the foreseeable future?
Druckenmiller's Regret and Endorsement Boost Bitcoin's Market Outlook

Legendary investor Druckenmiller once remarked, "I don't own Bitcoin, but I should." In an interview alongside hedge fund manager Paul Tudor Jones, billionaire investor Stanley Druckenmiller praised Bitcoin for establishing a strong "brand" over the past 17 years.
Stanley Druckenmiller is one of the most successful hedge fund managers on Wall Street and is worth $6,200,000,000.

He says, "Young people look at #bitcoin as a store of value. It's a brand. I like it. I dont own any, but I should"pic.twitter.com/DXjrnvE1Qc

— Documenting ₿itcoin 📄 (@DocumentingBTC) October 30, 2023
Although the 70-year-old Druckenmiller currently invests in gold, he acknowledged Bitcoin's popularity as a viable store of wealth, especially among younger demographics.
He expressed regret for not owning Bitcoin at present, despite having previously held it until September 2022, when he sold it due to tightening policies by central banks.
The market forecast for Bitcoin appears positive, bolstered by the endorsement of a renowned investor like Druckenmiller, coupled with his positive remarks on cryptocurrencies' potential to prosper amid declining confidence in central banks.
This reflects the growing acceptance of digital assets within traditional financial frameworks.
Bitcoin Price Update

As the world's preeminent digital currency, Bitcoin (BTC/USD) remains a focal point for investors and traders alike. Today, Bitcoin's price hovers at $33,962, marking a nearly 1% decline within the last 24 hours.
Nevertheless, the overall market sentiment, as assessed by the Fear & Greed Index, is signaling "greed" with a score of 72, as reported by CoinMarketCap.
#bitcoin is holding above 34K very strong! Well done Bulls! pic.twitter.com/MjdBteGtuP

— $SHIB KNIGHT (@army_shiba) October 31, 2023
Despite this slight downturn, the cryptocurrency retains its top position with a live market cap of $663.14 billion. Its trading volume in the same period stands at $16.83 billion, showcasing its unwavering liquidity.
Currently, the circulating supply of Bitcoin is approximately 19.53 million BTC out of a maximum of 21 million.
Bitcoin Price Prediction

From a technical standpoint, our analysis unfolds on a 4-hour chart timeframe. Key price levels to watch include an immediate resistance at $35,250, followed by subsequent resistances at $36,100 and $37,010.
On the downside, Bitcoin finds immediate support at $33,138, with further cushions at $32,466 and $31,795. These levels are crucial for traders to monitor for potential breakouts or breakdowns.
Delving into technical indicators, the Relative Strength Index (RSI) stands at 57, indicating a neutral market sentiment. While it's neither overbought nor oversold, the RSI above 50 does lean towards a bullish sentiment. However, traders should remain cautious and watch for any significant movements.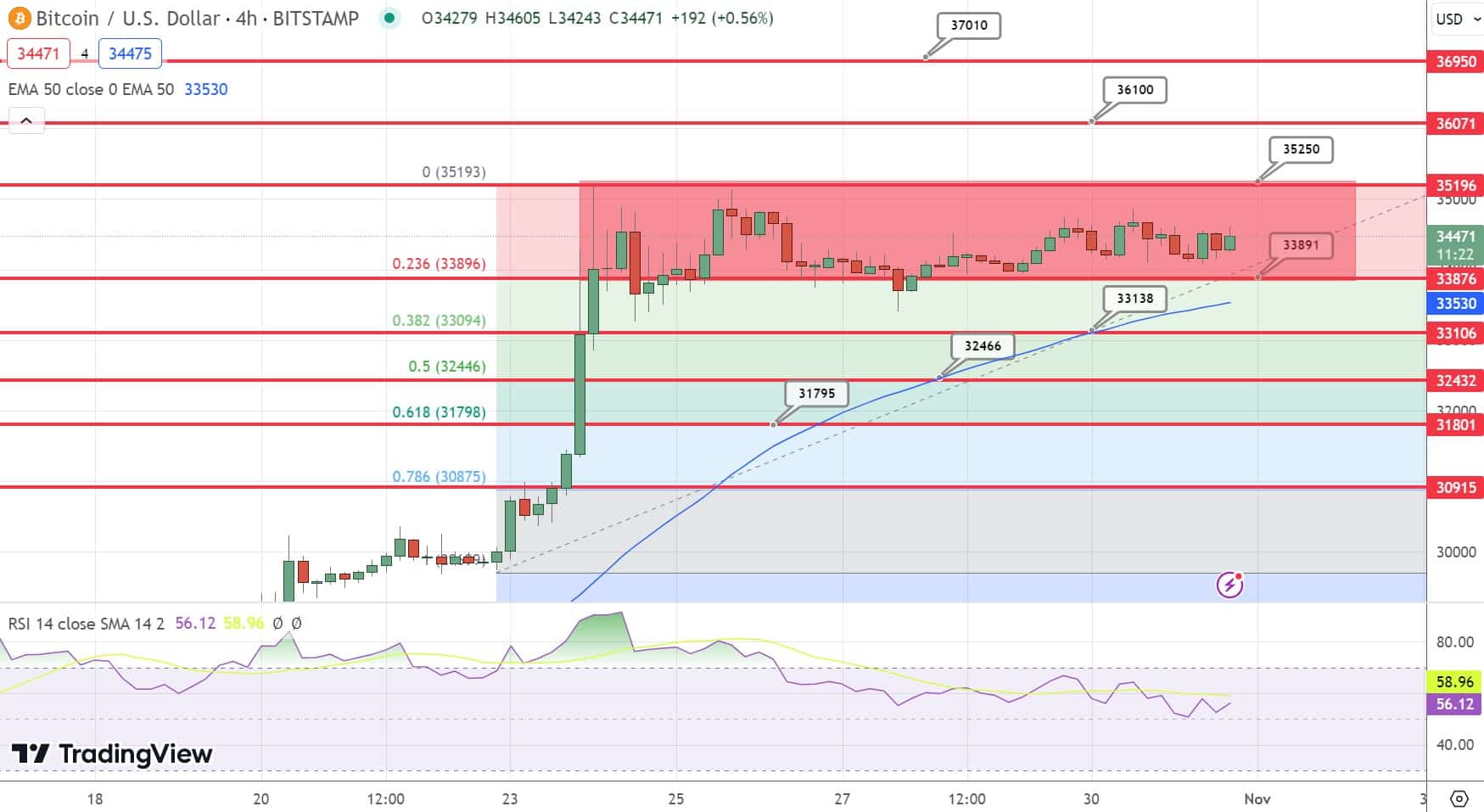 The 50-Day Exponential Moving Average (EMA), another key indicator, is currently at $33,500. Bitcoin's price hovering around the 50 EMA suggests a tentative balance between bullish and bearish forces in the short term. A decisive move above this level could reinforce bullish sentiment, while a drop below could signal bearish trends.
Chart patterns reveal that Bitcoin is currently trading within a sideways channel, oscillating between $33,800 and $35,000. This consolidation indicates indecision in the market, with neither bulls nor bears gaining a definitive upper hand.
Summing Up
In conclusion, the overall trend for Bitcoin remains cautiously bullish as long as it sustains above the $33,500 threshold. The market's indecision is reflected in the sideways channel pattern, which traders should monitor closely.
A breakout above the immediate resistance could pave the way for testing higher levels, whereas a drop below the immediate support might signal a bearish shift.
Top 15 Cryptocurrencies to Watch in 2023

Stay up-to-date with the world of digital assets by exploring our handpicked collection of the best 15 alternative cryptocurrencies and ICO projects to keep an eye on in 2023. Our list has been curated by professionals from Industry Talk and Cryptonews, ensuring expert advice and critical insights for your cryptocurrency investments.
Take advantage of this opportunity to discover the potential of these digital assets and keep yourself informed.
Disclaimer: Cryptocurrency projects endorsed in this article are not the financial advice of the publishing author or publication – cryptocurrencies are highly volatile investments with considerable risk, always do your own research.
---