Bitcoin Price Faces 210,000 BTC US Government Sales Tsunami, Buy Bitcoin BSC ($BTCBSC) After it Raises $5m As The Best Alternative?
Disclosure: Crypto is a high-risk asset class. This article is provided for informational purposes and does not constitute investment advice. By using this website, you agree to our terms and conditions. We may utilise affiliate links within our content, and receive commission.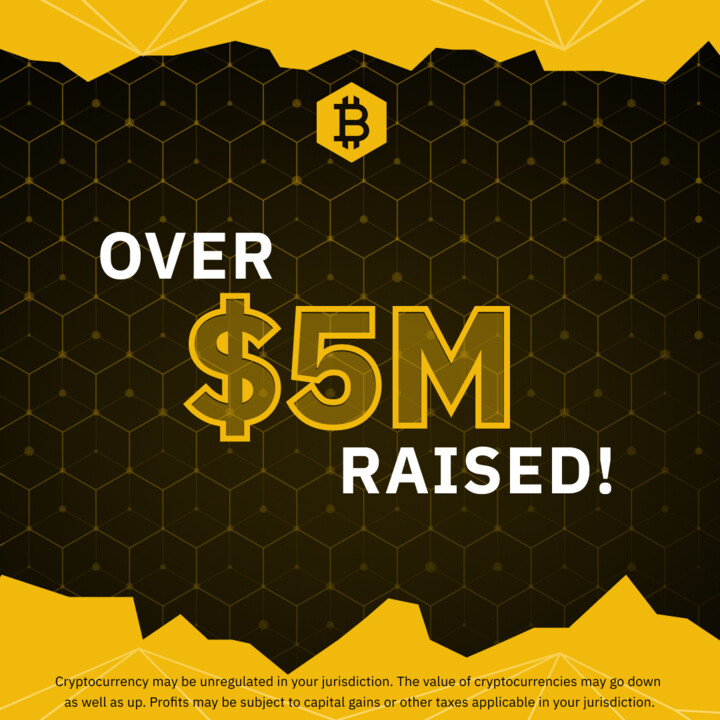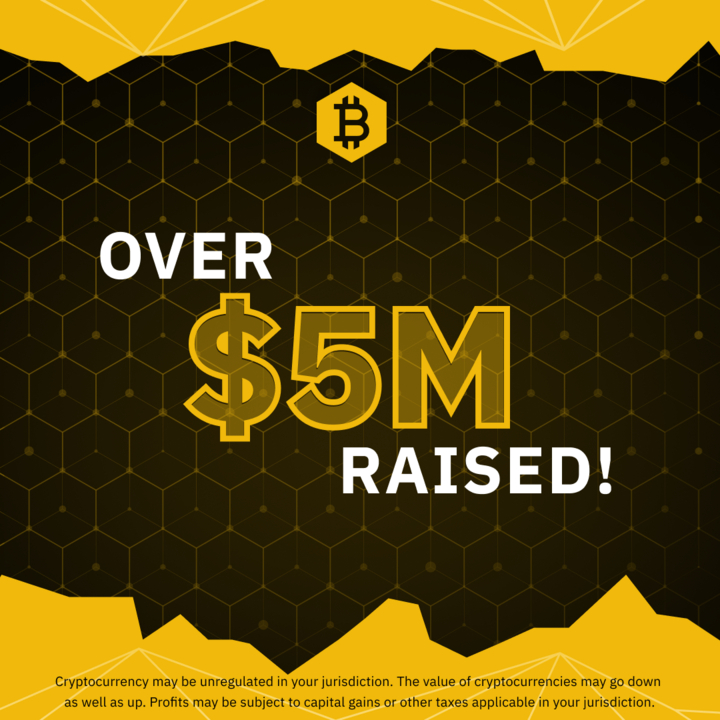 The Bitcoin price funk could be about to get a lot worse if the US government starts selling BTC to run down its balance of 210,000 coins – but Bitcoin alternatives like Bitcoin BSC could be the beneficiaries.
The US government is the largest sovereign holder of Bitcoin globally. According to data and analytics site Glassnode, the US government holds 210,429 BTC.
Put that another way, its balance amounts to nearly 1% of token supply. But given that the circulating supply is 19,495,404, minus the 4 million Bitcoin estimated to have been 'lost', the US government holds 1.35% of the coins available in the marketplace right now.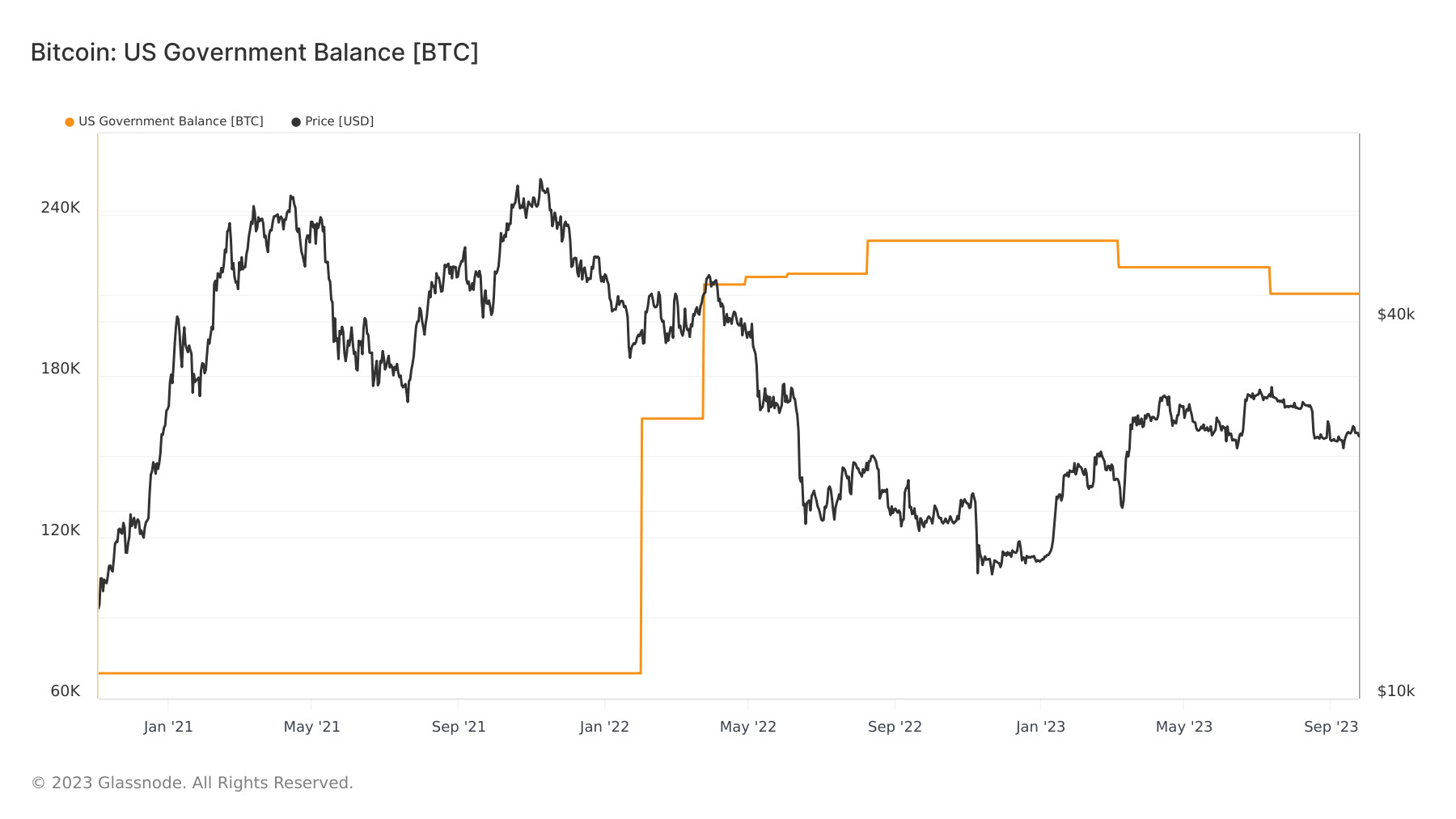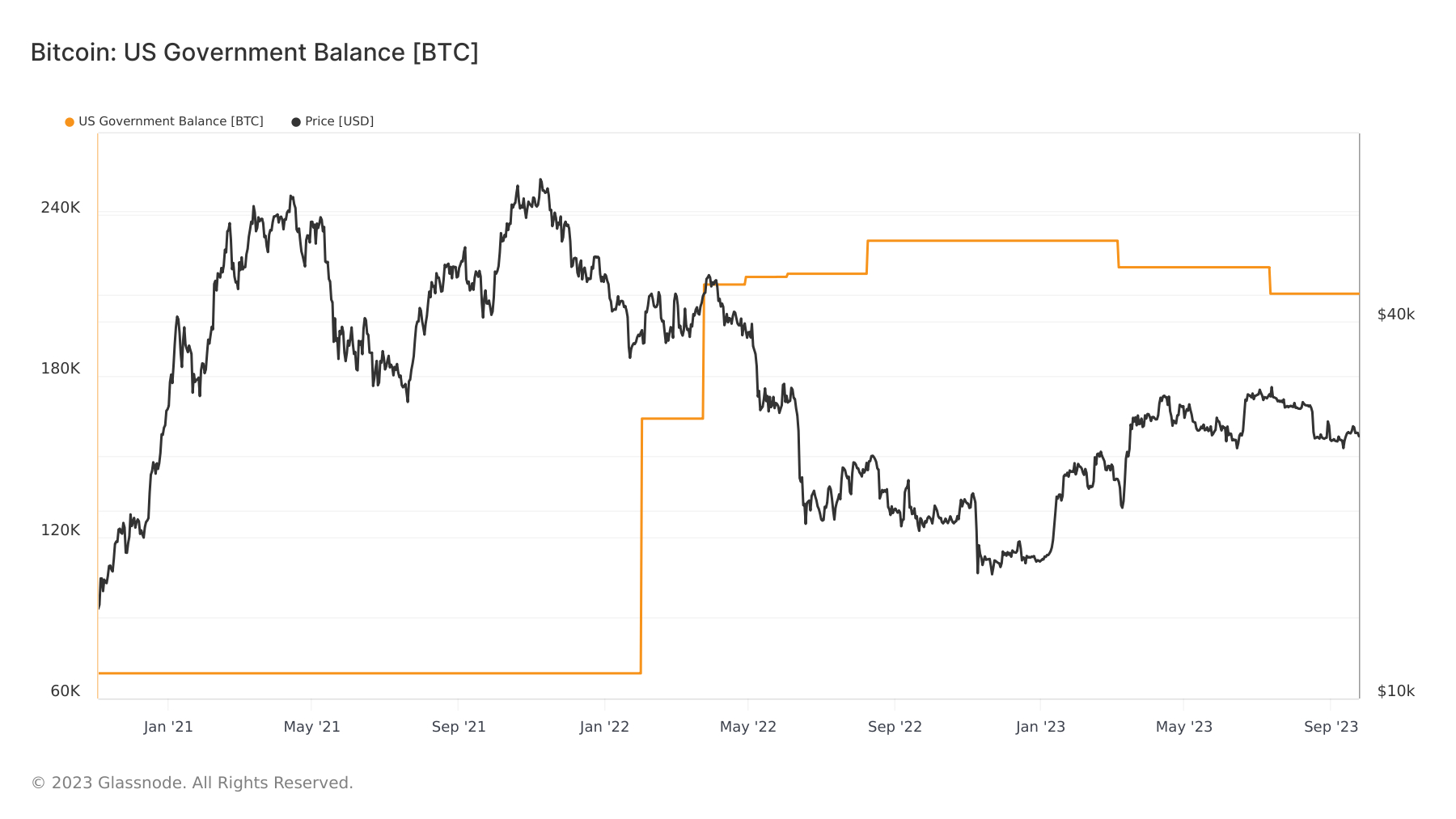 Glassnode estimates that lost and hodled coins together amount to more than 7.87 million BTC, which it calculates by subtracting 'Liveliness' (ratio of coin data stored to coin days created) from 1 and multiplying the result by the circulating supply.
That equates to 11.62 Bitcoin effectively available for trading, raising the US government proportion of total effective circulating supply to 1.8%.
Will the Bitcoin Price fall 10% like it did in March 2023 when the US government sold nearly 10,000 BTC?
Whichever way you look at it, the US government has enough Bitcoin to move the price dramatically if it decides to sell. US sovereign holding has not fallen below 200,000 since April 2022.
The last sales were in March and July. Both groups of transactions were related to the hoard of bitcoin acquired when the Silk Road darkweb marketplace run by Ross Ulbricht was taken down by the FBI.
Bitcoin was priced at $22,216 on 8th March when it was spotted by security firm Peckshield that government bitcoin was on the move, with at least one transaction tracked to a Coinbase wallet. Two days later, on the 10th March the price of Bitcoin had fallen nearly 10% to $20,187.
#PeckShieldAlert 49k $BTC (worth $1 Billion) from wallets related to US Government law enforcement seizures have been transferred to #Coinbase (~9.8k $BTC, worth $217M), bc1qf2…fsv (30k $BTC) & bc1qe7…rdg (9k $BTC) #SilkRoad pic.twitter.com/4MzlvDzkut

— PeckShieldAlert (@PeckShieldAlert) March 8, 2023
For those who are interested – and you probably should be – you can track the US Department of Justice wallet sales here: https://www.blockchain.com/explorer/addresses/btc/bc1qmxjefnuy06v345v6vhwpwt05dztztmx4g3y7wp
Other large sovereign holders of Bitcoin are China, Ukraine, El Salvador, Finland and Georgia, as shown in the table below.
Entity
# of BTC
Value Today
% of 21m
USA

207,189

$5,413,691,106

0.99%

China

194,000

$5,069,072,560

0.92%

Ukraine (govt)

46,351

$1,211,116,403

0.22%

El Salvador

2,381

$62,213,720

0.01%

Finland

1,981

$51,762,024

0.01%

Georgia (govt)

66

$1,724,530

0.00%

Totals

451,968

$11,809,580,344

2.15%

Source: https://buybitcoinworldwide.com/treasuries/
Is the US government hodling Bitcoin as it waits for a price explosion?
There is, of course, a contrary reading of the situation, which could interpret the relative inaction of the US government in running down its stockpile of Bitcoin as a sign it is becoming a hodler.
If that were to be the correct assessment, then it is massively bullish for Bitcoin. Holding Bitcoin for the medium to long term indicates that the hodler expects the price to rise in the future.
However, an investor doing their due diligence must look at all options. Given what we know about the attitude of US government agencies toward Bitcoin, we can probably assume that it is not one where it believes BTC is an asset class the government should be holding.
Indeed, the government probably doesn't even think it is an asset class. If that is the consensus in government, it is more likely than not that the US is waiting for the right time to sell, and that might be sooner rather than later.
With that conclusion in mind, it might be prudent to start looking around for some bitcoin alternatives.
Best Bitcoin Alternative – Bitcoin BSC ($BTCBSC)
Top of the watchlist should be Bitcoin BSC, which styles itself as 'Bitcoin on BNB Smart Chain'. The stake-to-earn project has raised $5 million, and there is only $1 million left to raise in its presale.
Like Bitcoin, $BTCBSC has a total token supply of just 21 million tokens. In fact, Bitcoin BSC takes you back to April 2011 when Bitcoin was priced at $0.99.

Relive the early days of Bitcoin's inception with #BitcoinBSC!

Take a trip back to April 2011, when #Bitcoin was merely 99¢ each. 🚀

Come along with us on this nostalgic journey and encounter market accessibility like never before.💰 pic.twitter.com/afrE9yfDhF

— Bitcoinbsc (@Bitcoinbsctoken) September 22, 2023
In the past 24 hours, approximately $500,000 has been raised as the run rate accelerates. That pace is set to only increase as the presale nears the finish line, which means it could be over in days.
You can earn 103% APY by staking Bitcoin BSC
Helping to drive interest in the token is its staking functionality. Buy and stake today, and you can earn an annual percentage yield (APY) of 103%. So far 2,539,568 $BTCBSC tokens have been staked. You can keep tabs on how many token holders are staking by visiting the real-time Bitcoin BSC staking dashboard.
Doing the math, it means half of the total number of sold $BTCBSC is staked. The beauty of that is when the coin lists, new and existing token owners have the comfort blanket of knowing that any selling pressure that might emerge will be limited by the proportion of staked coins.
Another plus is that the project's smart contracts are audited, and the team guarantees there will be locked liquidity for the trading pair when it lists on decentralized exchanges.
The pre-mined $BTCBSC tokens are released at a rate of 0.25 $BTCBSC per block in an emission schedule that copies Bitcoin by rolling time back to 2011.
Staking rewards are paid out in $BTCBSC every 10 minutes in a similar fashion to the Bitcoin blockchain, but at the rate of 0.25 per Bitcoin BSC block.
To buy and stake during presale you must pay for your tokens with BNB.
To keep up with the latest developments and price milestones, prospective buyers should check in regularly on the website as well as follow Bitcoin BSC's X (formerly Twitter) account and join the Telegram group.
https://www.twitter.com/Bitcoinbsctoken/status/1700902012005629992
Bitcoin BSC leads the charge on staking, 'version 2 coins' and halving – 100x incoming?
Bitcoin BSC is part of a new trend in which derivative clone coins leverage the version 2.0 theme and the utility of staking.
Because BTCBSC runs on the BNB Smart Chain, if you wish to initiate staking while the presale is still in progress, then you must purchase with BNB or USDT BEP-20.
Staked $BTCBSC has a seven-day withdrawal lock, after which tokens can be withdrawn at any time. Those who start staking after $BTCBSC is listed on decentralized exchanges will be able to stake their tokens regardless of whether they have bought with BNB or ETH.
Bitcoin BSC stands out in the crowded 'version 2' space, where meme coin version 2 clones such as Pepe 2.0, Dogecoin 2.0, Shiba Inu 2.0, or even the likes of Bitcoin 2.0, all lack utility value.
A relatively small allocation to Bitcoin BSC could deliver 5x or even 100x gains as we go into the halving cycle, putting life-changing profits in play.
US-based crypto-focused hedge fund Pantera Capital forecasts the next cycle could send Bitcoin to $147,000.
Bitcoin's halving of block rewards comes around every four years and has always heralded a bullish uptrend for the leading cryptocurrency. Bitcoin derivatives coins like Bitcoin BSC are sure to catch a bid as a result.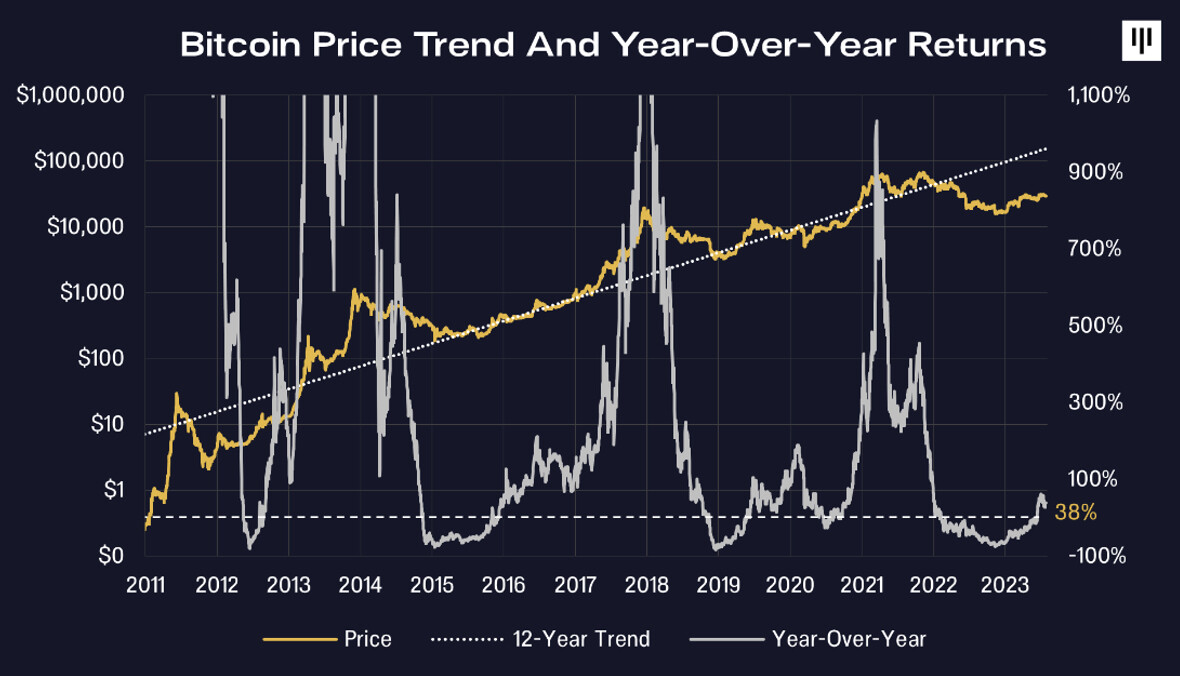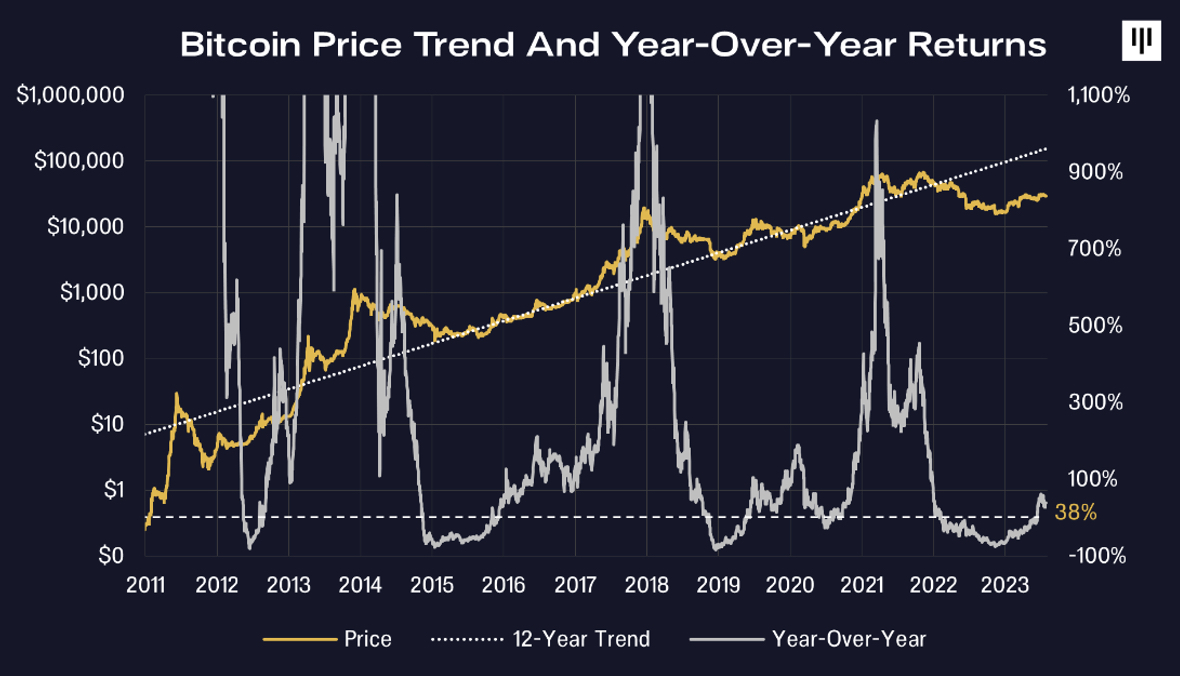 Joe Parys Crypto YouTube channel, with 300k-plus subscribers, is tipping $BTCBSC as one of five Bitcoin alternatives to see a price explosion.
---