Bitcoin Price and Ethereum Trade Sideways, Casper Price Storms 27%
Disclosure: Crypto is a high-risk asset class. This article is provided for informational purposes and does not constitute investment advice. By using this website, you agree to our terms and conditions. We may utilise affiliate links within our content, and receive commission.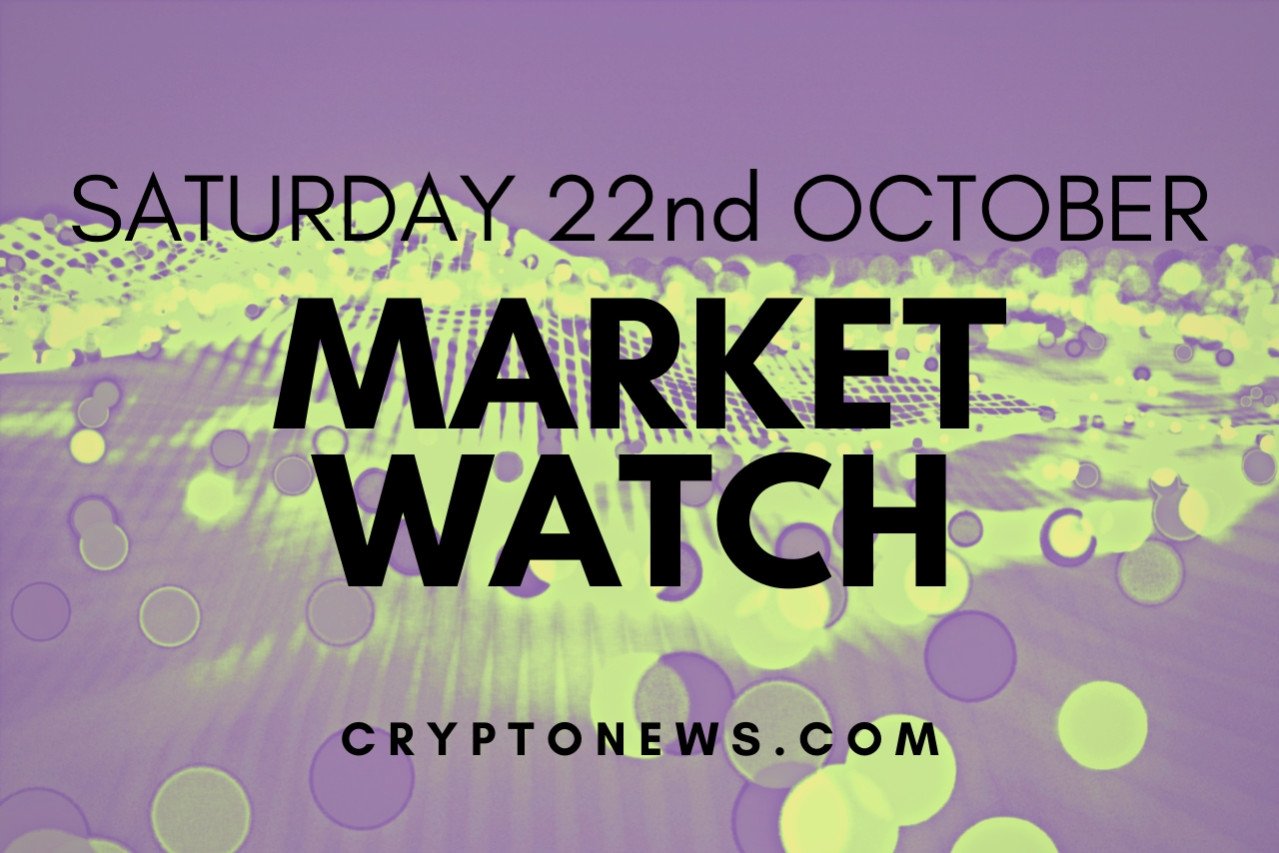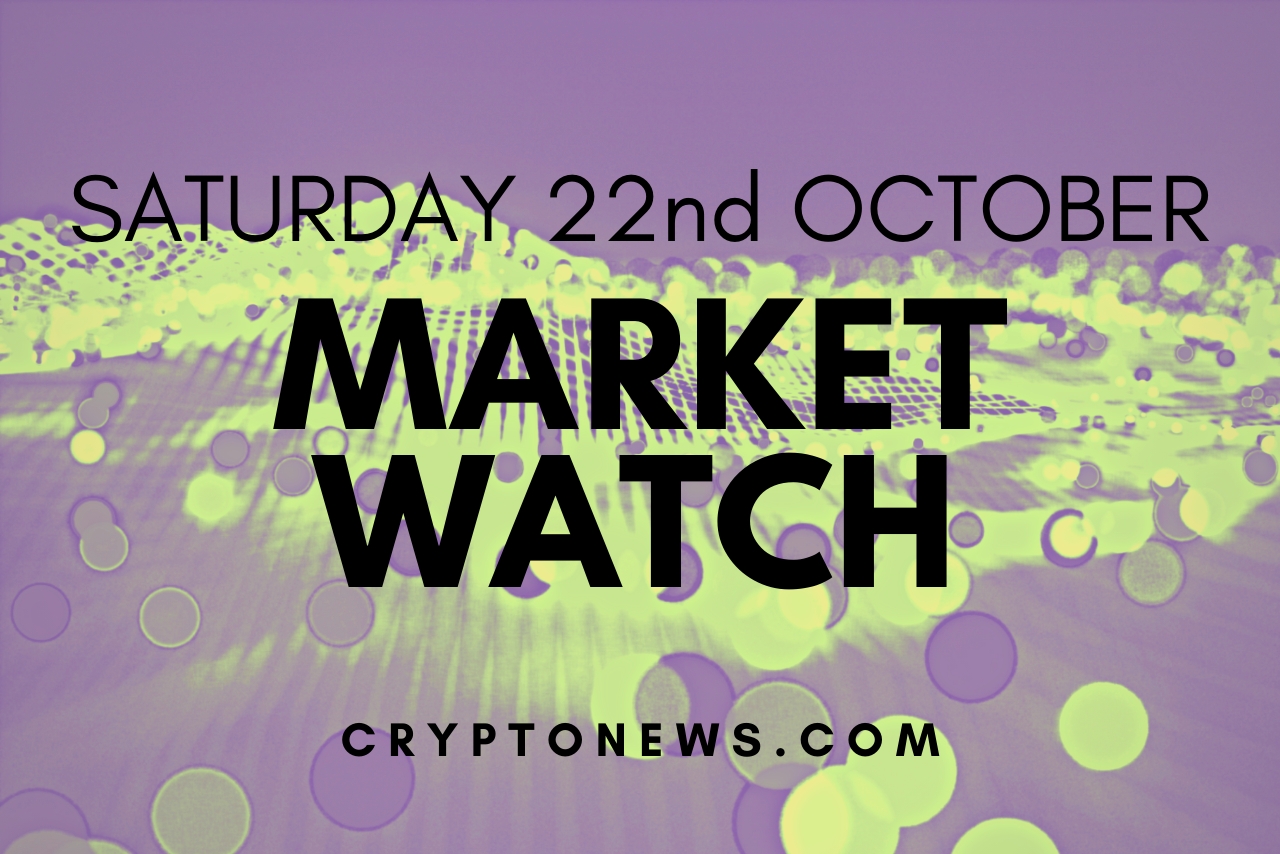 Early on October 22, major cryptocurrencies were trading slightly positive, with the global crypto market cap at $918 billion, up less than 1% from the previous day. The entire cryptocurrency market volume in the last 24 hours was $53 billion, a 21% increase.
Bitcoin, the leading cryptocurrency, is consolidating near $19,145, up less than 1% during the Asian session. BTC has formed a tweezers' top pattern, followed by an uptrend; typically, it indicates the chances of a bearish trend.
Similarly, Ethereum has remained stable under a strong resistance level of $1,300, rising by less than 1%. In contrast, market risk sentiment remains risk-off amid expectations of a Fed rate hike.
Top Altcoin Gainers and Losers
The top performers in the Asian session were Klaytn (KLAY), Chiliz (CHZ), and Casper (CSPR). The Klaytn (KLAY) gained 8% to $0.14, while the price of CHZ has risen by over 6% to $0.18. Moreover, the CSPR price rose over 5% to $0.045.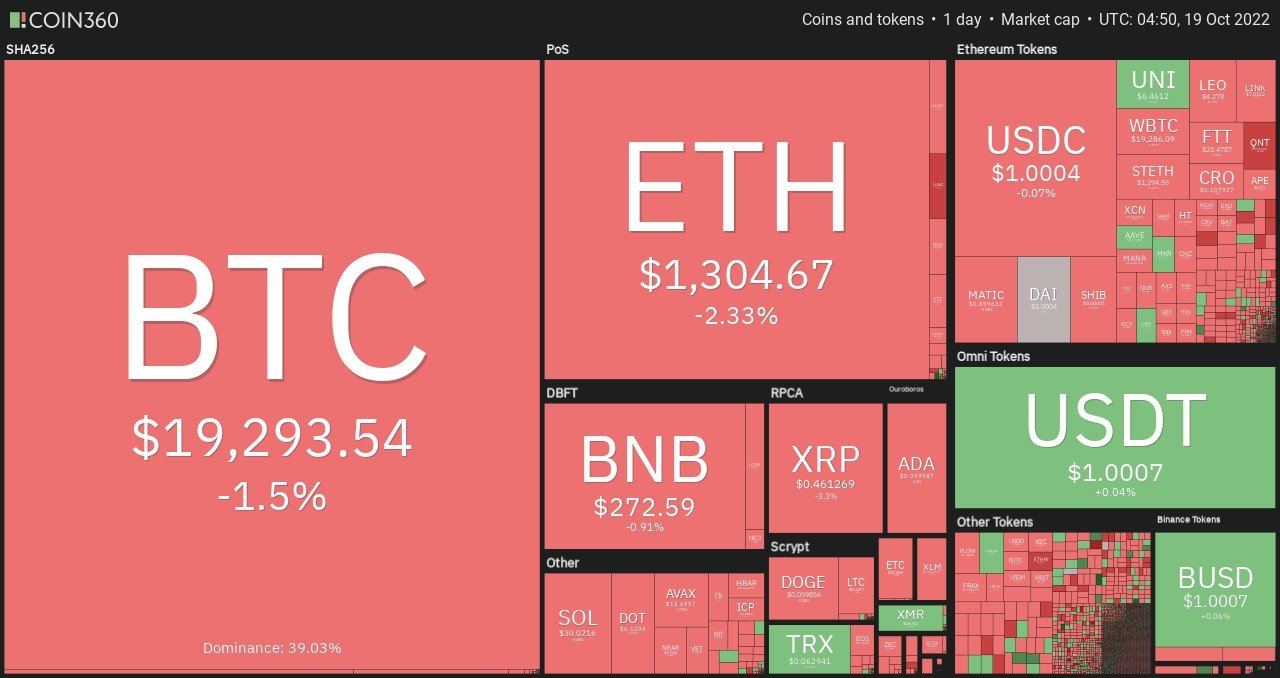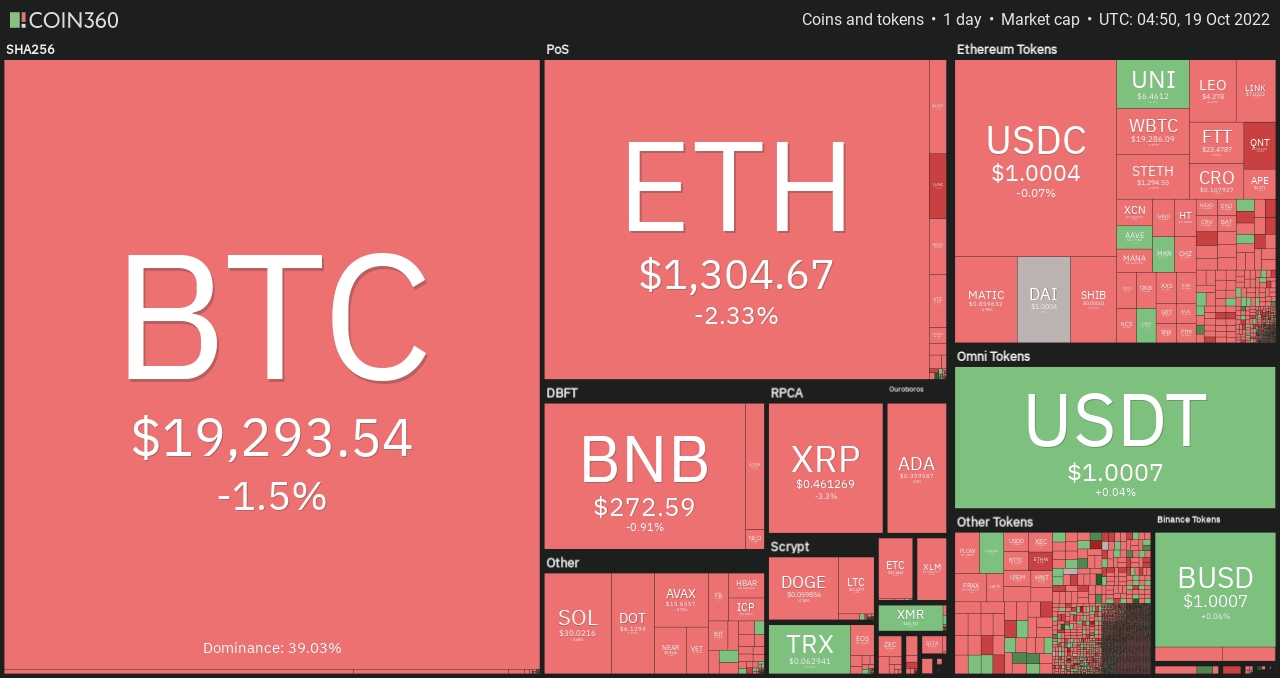 The Chain (XCN) price has fallen by more than 7% in the last 24 hours to $0.06. The price of Elrond has dropped more than 5% to around $54.
Fear & Greed Index Signals Extreme Fear
The market remains risk-averse, with investors choosing safe-haven assets such as gold and the US dollar.
The fear and greed index in the market indicates "Extreme Fear," which could be one of the reasons for the overall cryptocurrency market slowdown.


Investors think "Extreme Fear" is a good moment to get into the market because many cryptocurrencies are currently oversold, making it a potentially profitable opportunity to go long on an oversold coin.
Bitcoin Price Prediction & Technical Outlook
The current Bitcoin price is $19,154, and the 24-hour trading volume is $31 billion. Bitcoin has increased by less than 0.50% in the last 24 hours. CoinMarketCap currently ranks first, with a live market cap of $367billion.


Expert Panel Says BTC Could Reach $270K by 2030
Bitcoin is the most popular cryptocurrency, and its price has been predicted to reach $270,000 by 2030, according to a group of 55 cryptocurrency specialists. This year's estimates still anticipate the price of Bitcoin increasing.
The panel of experts polled by Finder, a price comparison website, estimated that Bitcoin would trade for roughly $21,000 by the end of the year, down from their earlier prediction of $25,400.


This portal's expert panel predicted in April 2022 that the flagship crypto would finish the year at around $65,000 per coin. Even though the panel predicted that BTC would be trading at $420,000 by 2030 in April of this year, its new projection of $270,000 is significantly lower.
In spite of a substantial sell-off in the cryptocurrency market so far this year, the panel's predictions have remained upbeat.
Bitcoin Technical Outlook
On the technical front, Bitcoin is expected to encounter immediate resistance near the $19,300 level, which is accompanied by a symmetrical triangle pattern.
Alongside this, the 50-day moving average (MA) keeps the BTC bearish under $19,250.
On the upside, a bullish breakout of the $19,300 level could expose BTC to the next resistance area of $19,650 or $19,950.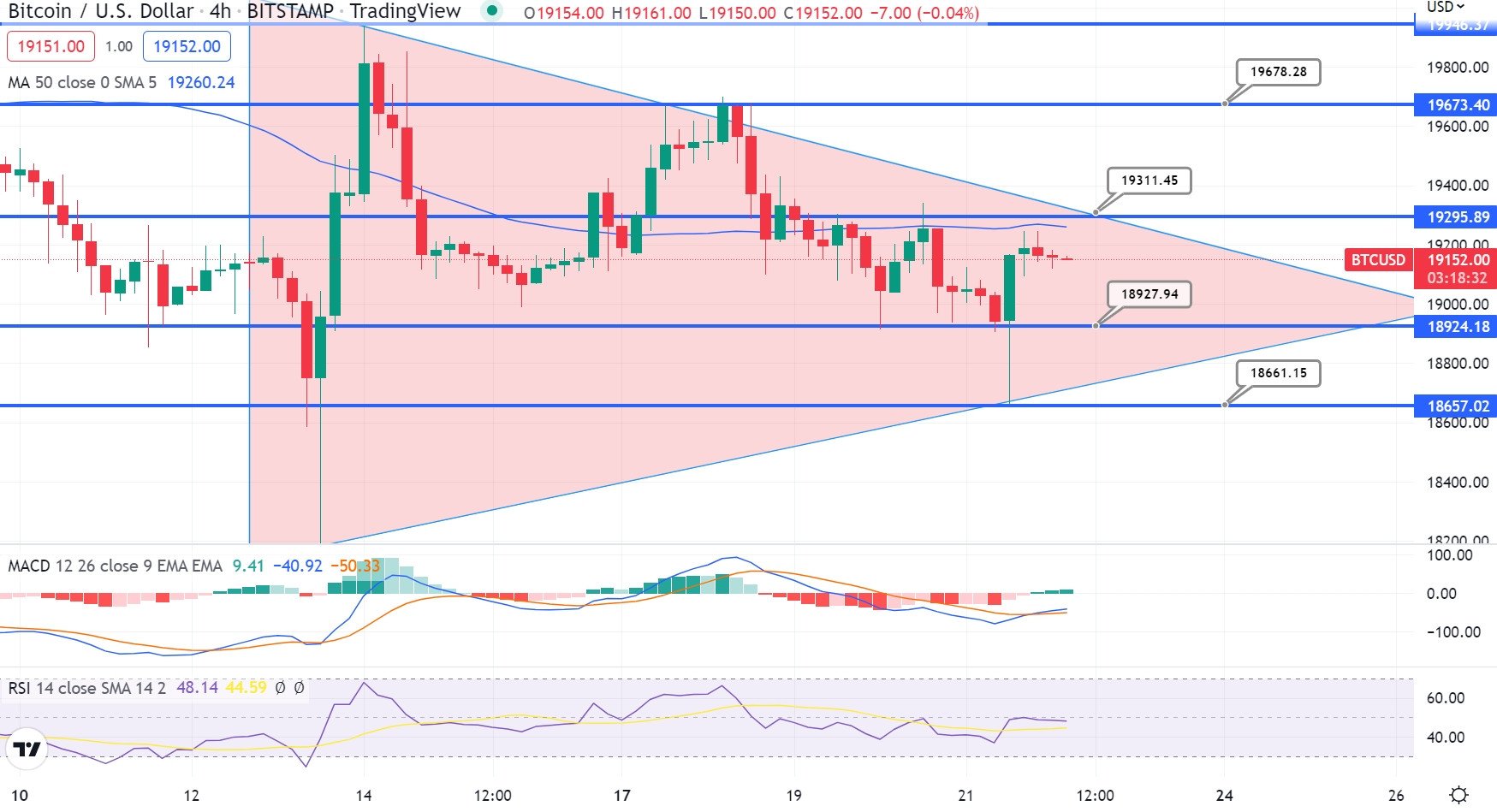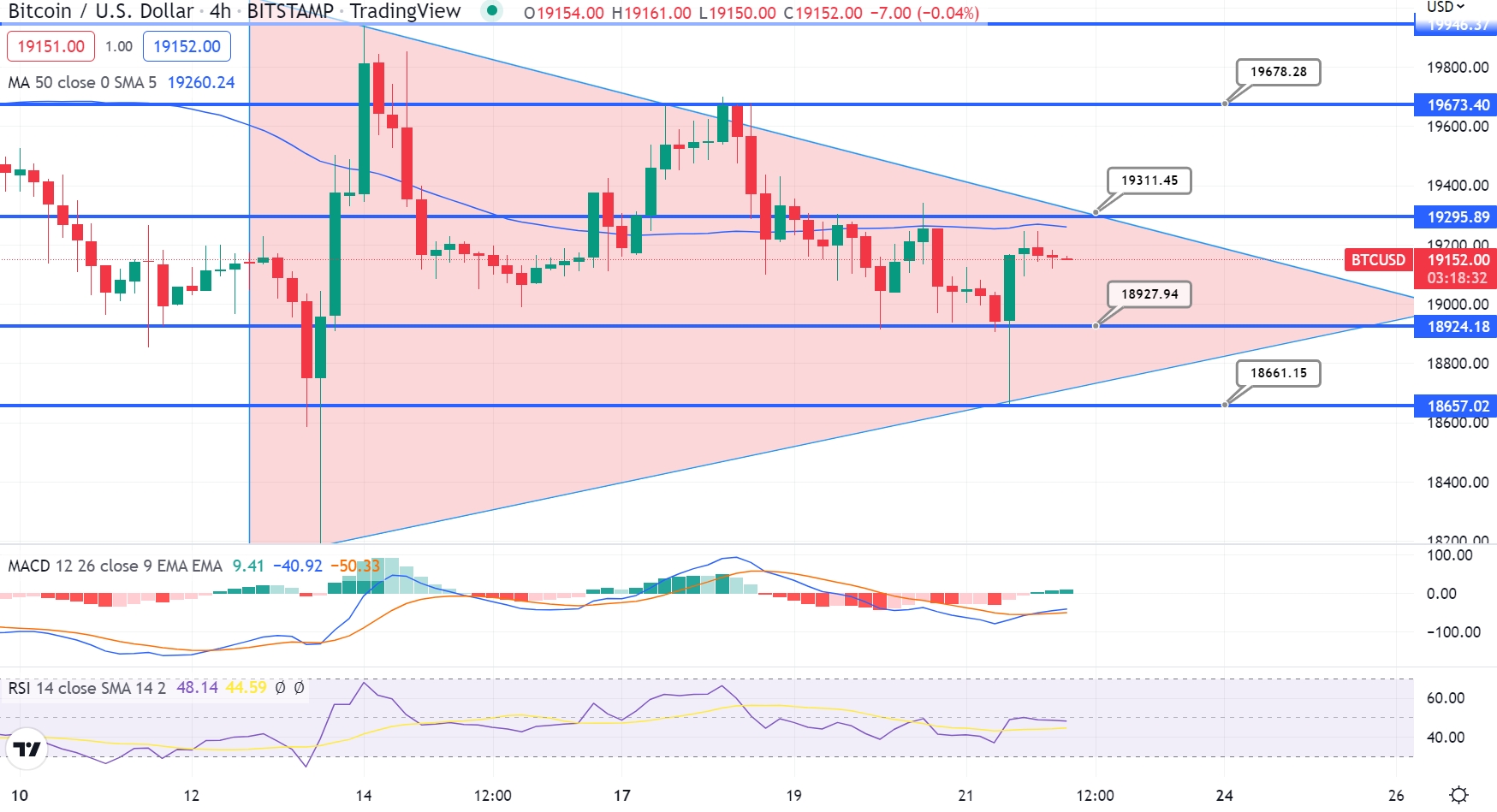 On the other hand, a break below $18,920 support may push BTC towards $18,600 or $18,400 levels.
Ethereum Prediction & Technical Outlook
The current price of Ethereum is $1,298, with a 24-hour trading volume of $9.9 billion. In the previous 24 hours, Ethereum has gained over 0.50%. CoinMarketCap now ranks #2, with a live market cap of $158 billion.


On the technical front, the ETH/USD pair has formed an ascending triangle pattern, which provides immediate support near $1,292. However, the psychological level of $1,300 is acting as immediate resistance.
Furthermore, ETH's bullish bias is supported by the 50-day moving average. On the plus side, the major resistance levels for Ethereum remain at $1,325 and $1,341.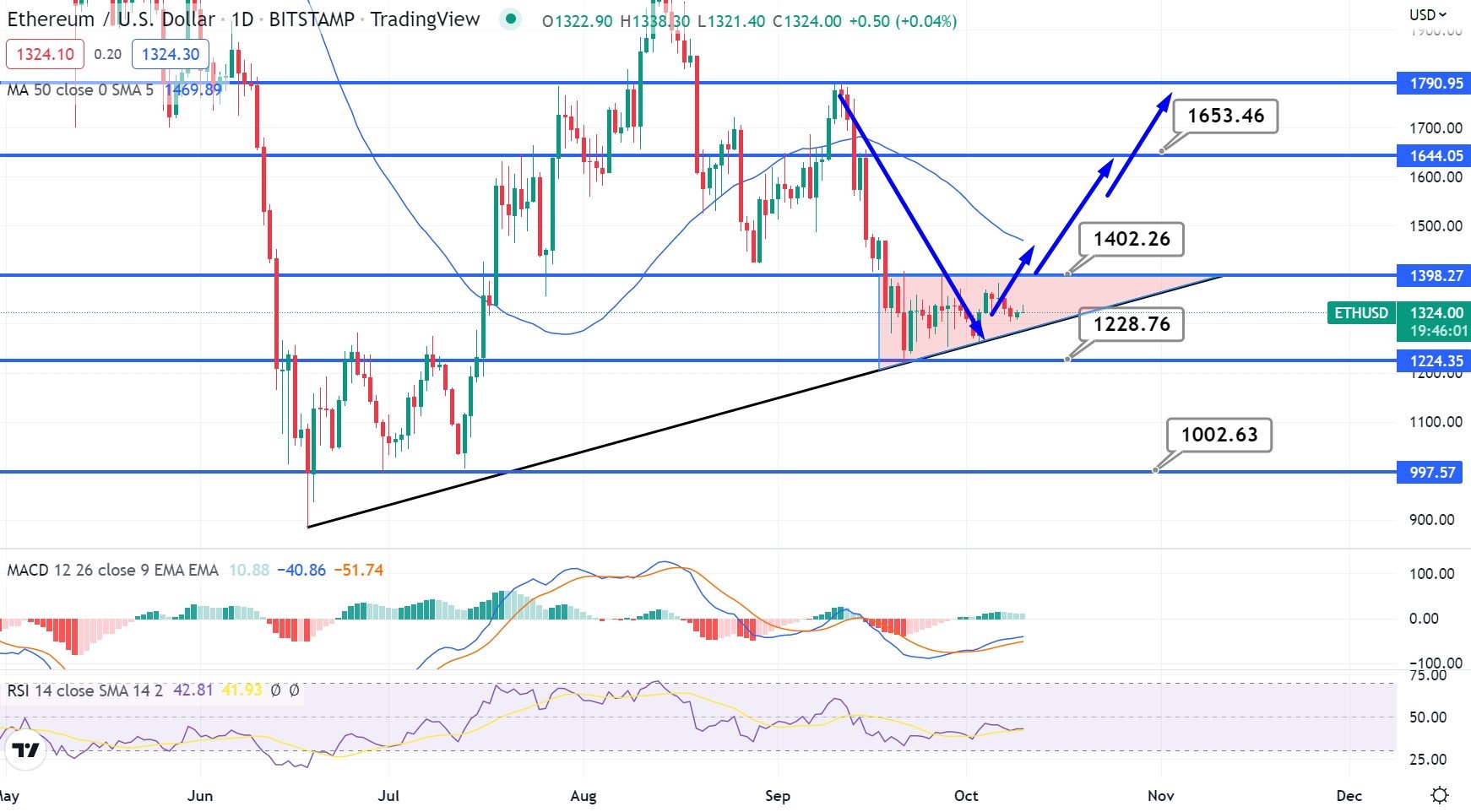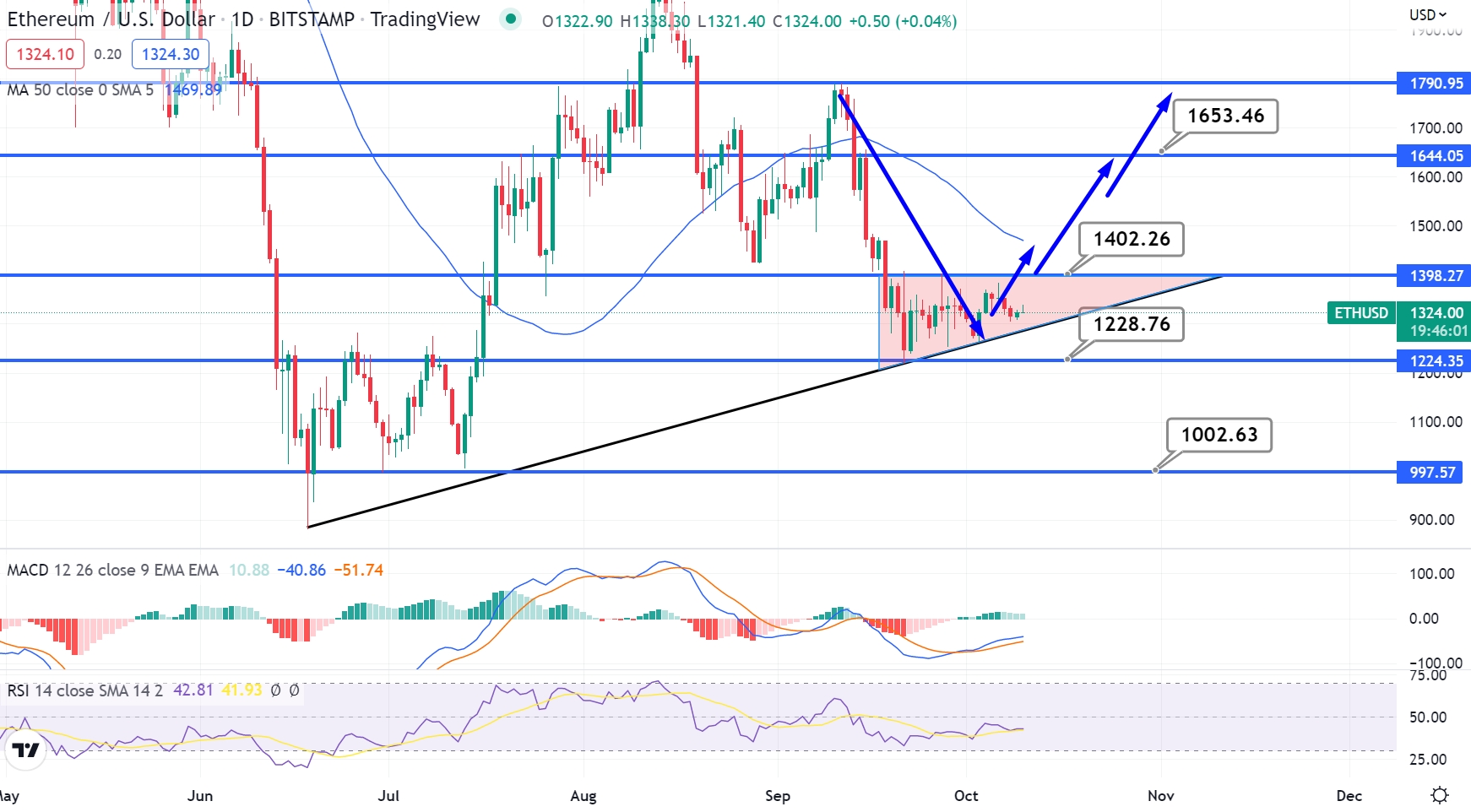 Leading technical indicators such as the RSI and MACD are now diverging, with the RSI indicating a selling trend and the MACD indicating a buying trend.
The 50-day moving average, on the other hand, indicates a selling trend in Ethereum. On the other hand, a bearish breakdown of the $1,292 level could bring ETH down to $1,270 or $1,240.
Casper Price Storms 27%
Despite a slowdown in the crypto market, Casper has increased by more than 27% in the last seven days to trade at $0.046. As a result of its scalability, Casper (CSPR) can process a large volume of transactions with ease. Energy efficiency and scalability make Casper an exciting cryptocurrency to watch.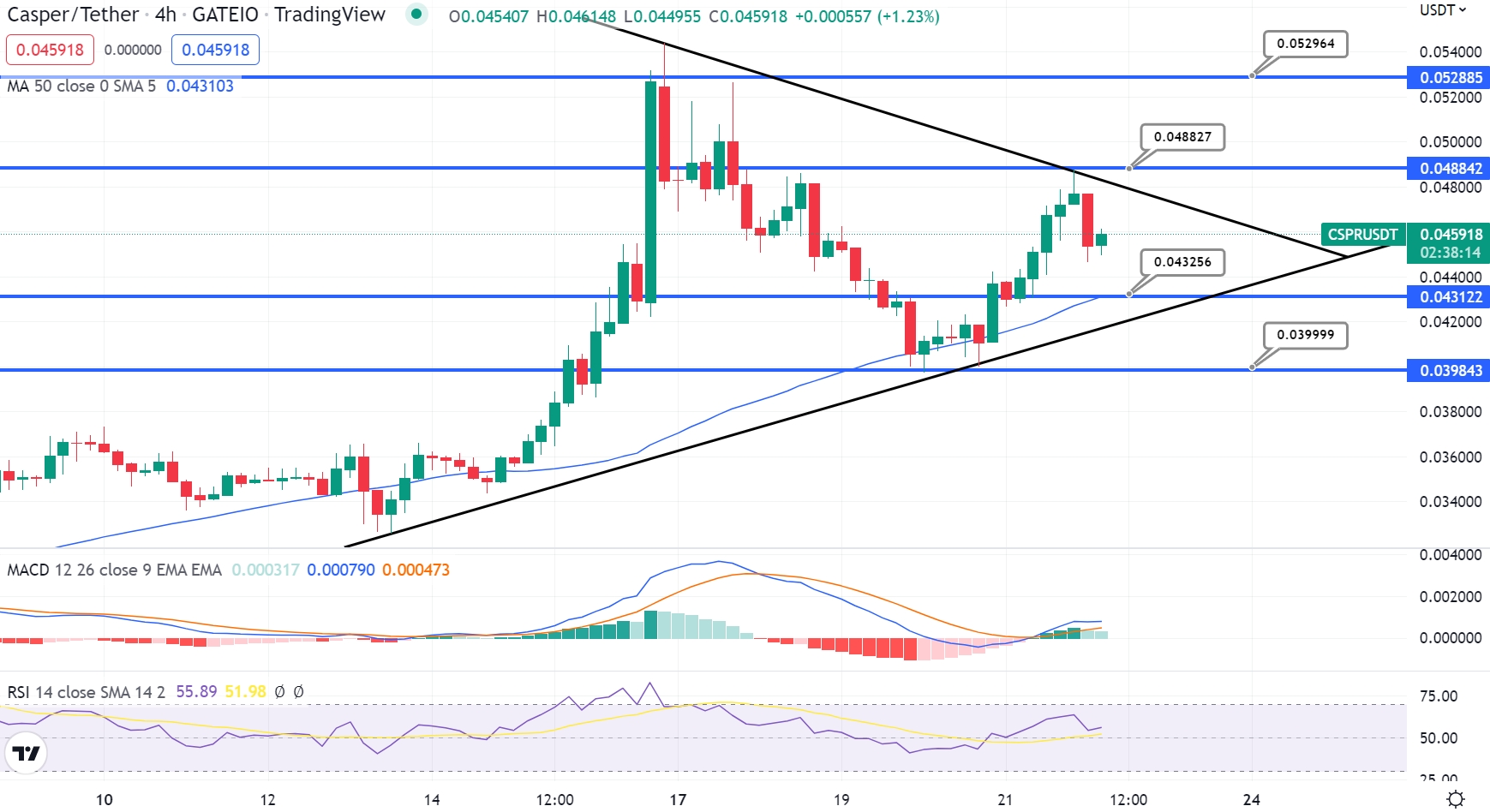 Casper (CSPR) is an innovative cryptocurrency that employs the proof-of-stake consensus algorithm. Casper (CSPR) uses less power than Bitcoin and similar proof-of-work currencies because of this.
The majority of the optimism stems from the anticipation of the upcoming Casper 2.0 update.
The transition from Web 2.0 🔜 Web 3.0 has already begun. We are at the first stage of #Web3 adoption and if you are reading this, you are still in the "early adopters" phase of Web 3.0 💪🏽

— Casper (@Casper_Network) October 15, 2022
There is currently work being done on Casper 2.0, and it will be available to the public soon. An improved user experience is a priority for the Casper team, so they're updating the software with new features.
The team has been working to roll out Casper 2.0 🔜

Once live, you will be able to benefit from:
1️⃣ New, improved consensus mechanism
2️⃣ Unified accounts and contract
3️⃣ Open validator model https://t.co/tBvOJye5rL

— Casper (@Casper_Network) October 14, 2022
Future improvements include:
A more robust consensus mechanism.
Unified ledgers and contracts.
A distributed network of validators.
The new update is scheduled for the first quarter of 2023.
Cardano's Hoskinson on CSPR
The famous blockchain developer and founder of Cardano, Charles Hoskinson, recently tweeted about the positive aspect of the current bear market.
The best part of a bear market is that Charles Derangement Syndrome evolves to its final form. Seeing the comments on /r/cryptocurrency, I'm thinking that I must have created the union of celsius, luna, and casper. Could you guys at least make better memes?

— Charles Hoskinson (@IOHK_Charles) October 21, 2022
According to Charles, this is the pinnacle of Charles's Derangement Syndrome. Hoskinson uses the "not liking something or someone for no reason" syndrome to appeal to his detractors; this is a particularly perverse strategy.
Because of this, investors are bullish on Casper for the foreseeable future.
New Altcoin News
Dash 2 Trade is an Ethereum-based platform that will provide real-time market data, insights, and analysis to cryptocurrency traders. The Dash 2 Trade presale started two days ago and quickly reached significant milestones, surpassing $800,000.
It's now over $859,633 and on track to reach a few more significant milestones in the coming hours. While forecasting the future is difficult, given its strong fundamentals, D2T appears to have a very bright future.
Find The Best Price to Buy/Sell Cryptocurrency: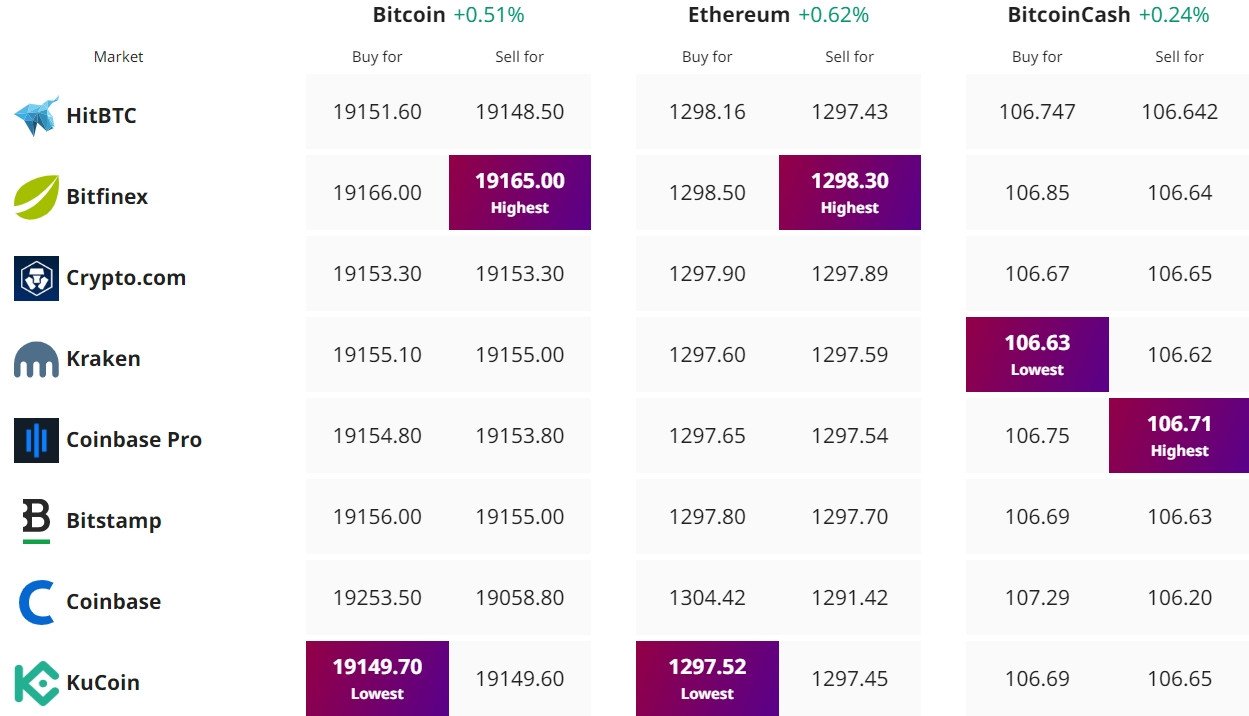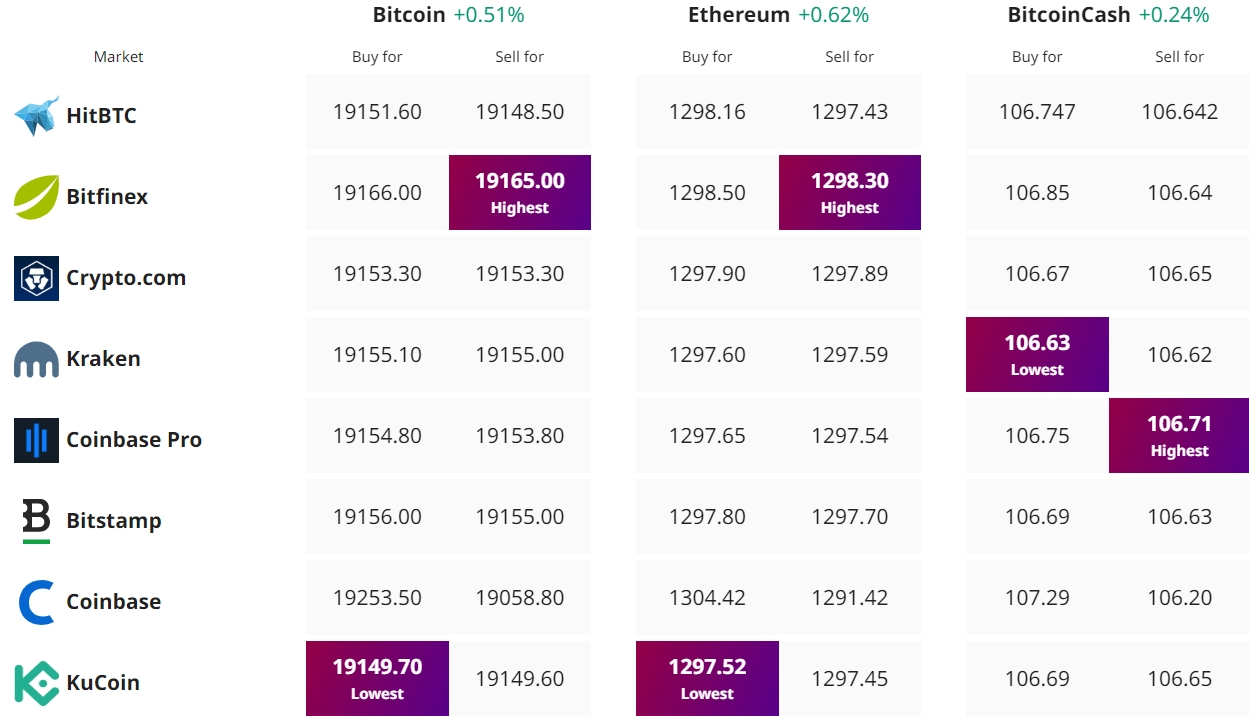 ---