Bitcoin Price and Ethereum Prediction: Will BTC & ETH Bounce Back After 38.2% Fibonacci Retracement?
Disclosure: Crypto is a high-risk asset class. This article is provided for informational purposes and does not constitute investment advice. By using this website, you agree to our terms and conditions. We may utilise affiliate links within our content, and receive commission.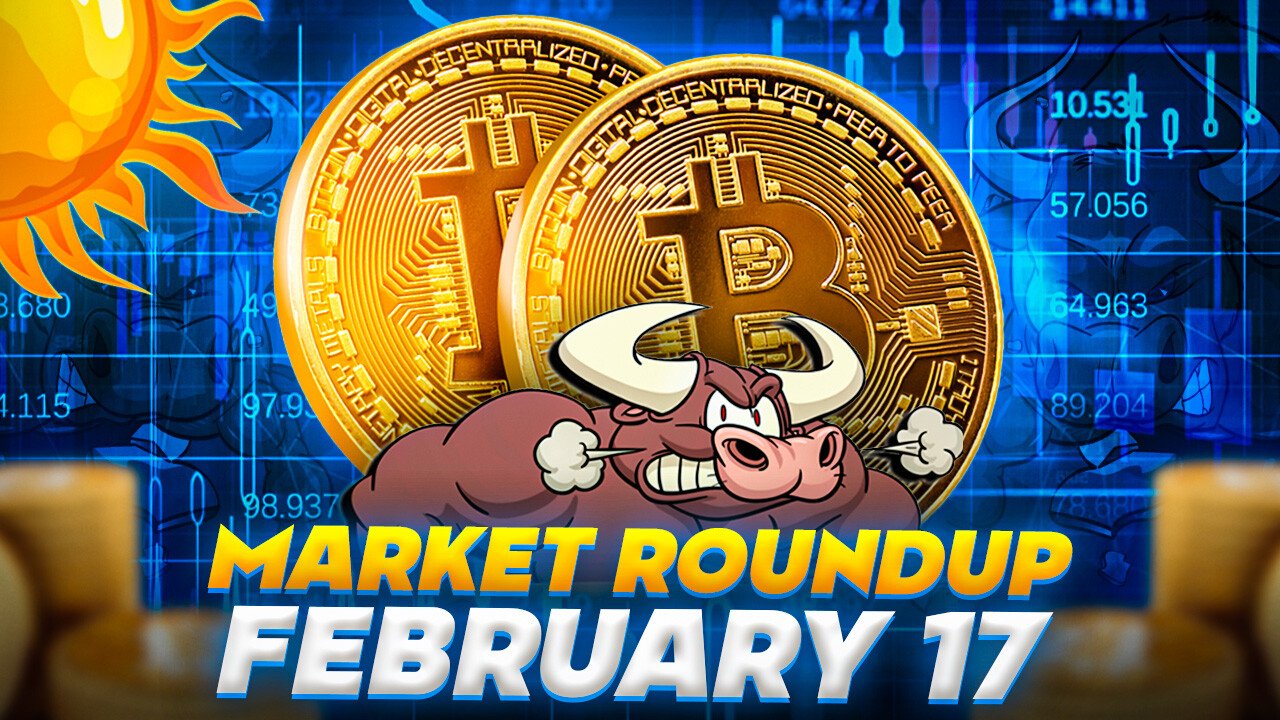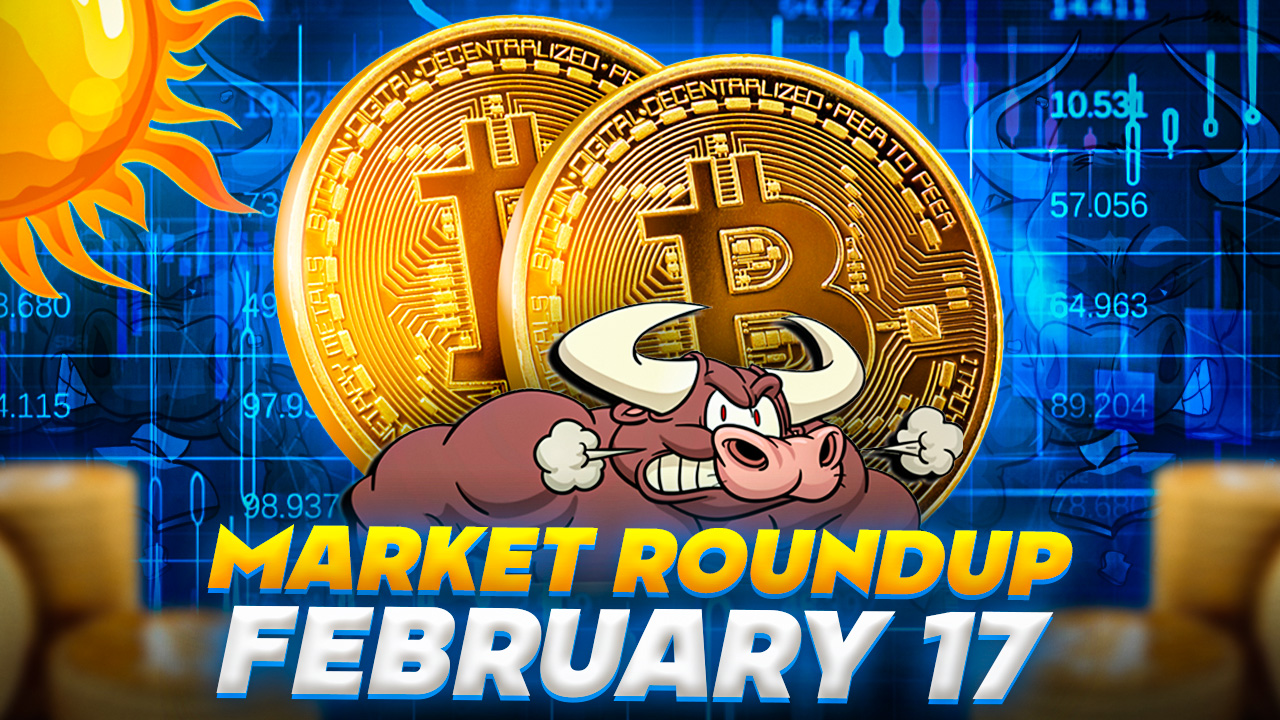 Bitcoin and Ethereum, the two largest cryptocurrencies by market capitalization, experienced a significant bearish correction on Friday, with Bitcoin retracing 38.2% of its recent gains. Ethereum suffered a similar decline. 
As a result, many traders and investors are now questioning whether this drop is a temporary correction or the beginning of a more prolonged bearish trend.
In this analysis, we will assess the technical factors affecting BTC and ETH and make predictions about their future movements.
Congratulations!#BTC breaks 25,000, look for a continued price rise in the near future! 🚀🔥 pic.twitter.com/msEGiwX2Wl

— OpenBlock (@OpenBlockWallet) February 16, 2023
Despite challenging inflation statistics and tighter regulation of stablecoins, the leading cryptocurrency by market capitalization is currently trading at over $24,920, up more than 9% from the previous day.
The reasons behind this price surge can be attributed in part to Dubai's crypto-friendly laws, which have encouraged the growth of the sector by attracting Web3 and crypto firms, as well as established enterprises embracing innovative technologies like cryptocurrencies, NFTs, and the metaverse.
These factors suggest that the demand for cryptocurrencies continues to grow, even in the face of broader economic challenges and regulatory headwinds.
BREAKING: 🇦🇪 Abu Dhabi launched $2 billion initiative to back Web3 and #Crypto startups 🔥 pic.twitter.com/vXccOBU91t

— Keyur Rohit (@CryptoKingKeyur) February 15, 2023
While new regulations are presenting a challenge for the cryptocurrency market, some investors are shifting their capital from altcoins to Bitcoin. This is likely due to the fact that Bitcoin is the only cryptocurrency that the SEC chair has classified as a commodity, providing it with a unique advantage in terms of regulatory clarity and stability.
Despite these regulatory challenges, Bitcoin remains a popular choice for investors seeking exposure to the cryptocurrency market. As the market continues to evolve and new regulations are implemented, it will be interesting to see how Bitcoin and other cryptocurrencies respond to these changes.
Understanding Crypto Fundamentals: Analyzing a Bullish Market
Despite the US government's recent regulatory crackdown on cryptocurrencies, the market has seen a surge in prices, with many cryptocurrencies experiencing strong gains. This was particularly evident in the recent rise of Bitcoin, which unexpectedly regained its footing and sparked a broader rally in the market.
While the US government's regulatory policies may present challenges for the market, the recent surge in prices suggests that investors remain confident in the potential of cryptocurrencies.
"The crypto bear market is over."

Bro you're 16 stfu.

— Michael A. Gayed, CFA (@leadlagreport) February 17, 2023
The recent upward trend in the cryptocurrency market coincides with the launch of the Bitcoin NFT Ordinals protocol and a new record for average block size.
According to the most recent data from Blockchain.com, the average size of a Bitcoin block has surpassed 2.5 gigabytes for the first time since the introduction of the new protocol. This increase in block size suggests a rising demand for Bitcoin and highlights the growing usage of the network.
What's going on with #Bitcoin ?

Despite news of heavy #US regulatory moves and SEC crackdown, bitcoin is flirting with $25k. One reason for this renewed interest is named Ordinals, a protocol which enables #BTC's version of #NFT's

1/4#Crypto #ETH pic.twitter.com/A0Qvekvb64

— *Julius Specht (@specht_julius) February 16, 2023
As the cryptocurrency market continues to evolve, the introduction of new protocols and technologies will play a significant role in shaping its future. The successful launch of the Bitcoin NFT Ordinals protocol and the record-breaking average block size are examples of how innovation and technological advancements are driving the market forward.
#bitcoin wallets filled with #btc reached an ATH for number of Non-zero addresses reached 44,089,657

Conviction that #bitcoin will win has never been higher

Charts by @glassnode pic.twitter.com/i095xRKR07

— A u s t i n | Open Source Fitness (@_AustinHerbert) February 14, 2023
In addition to the recent surge in the cryptocurrency market, Bitcoin has experienced further gains due to a brief spike in network activity that added approximately 44 million non-zero BTC wallets to the user base. This increase in network activity highlights a growing interest in the cryptocurrency, which has contributed to its recent bullish trend.
Moreover, the rise in short liquidations has also played a role in driving BTC's upward price momentum. In the last 24 hours, traders have closed out approximately $85.87 million worth of short BTC positions, significantly contributing to Bitcoin's price surge.
Abu Dhabi Embraces the Crypto Market: A New Era of Adoption
Dubai has supported the growth of the cryptocurrency industry by establishing robust regulations, which have attracted both domestic Web3 and crypto organizations, as well as traditional businesses that are now incorporating novel technologies into their operations, such as NFTs, cryptocurrencies, and the metaverse.
Hub71, Abu Dhabi's tech ecosystem, has started a new $2 billion initiative to back Web3 and blockchain technology startups in the region.@hub71ad pic.twitter.com/p0rWPnYFS1

— Smashi (@smashitv_en) February 15, 2023
Hub71, a tech company located in Abu Dhabi, has announced a new initiative to support the advancement of Web3 technologies by providing Web3 entrepreneurs with access to finance, partnerships, and programs. The "Hub71+ Digital Assets" project includes a $2 billion fund to help eligible entrepreneurs, which has played a significant role in bolstering the cryptocurrency industry.
Partnership Between Chinese Companies
 China Telecom and the Shanghai Tree-Graph Blockchain Research Institute, also known as Conflux Network, have partnered to develop the BSIM, a blockchain-based SIM card. 
Conflux Network, also known as the Shanghai Tree-Graph Blockchain Research Institute, has announced a partnership with China Telecom to collaborate on the development of a blockchain SIM card.

Read more: https://t.co/6r2QzvvToA #Blockchain #Crypto #Innovation #Software #Law pic.twitter.com/BduRLjBTxf

— Hashchain Consulting Group LLC (@HashChainGroup) February 16, 2023
According to the official release, this new device will provide consumers with a secure method of storing private keys and utilizing the SIM's built-in capabilities to verify digital transactions. This development is seen as yet another crucial factor that has positively impacted the cryptocurrency industry.
Bitcoin Price 
As of today, the live Bitcoin price stands at $23,700 with a 24-hour trading volume of $38 billion. Over the last 24 hours, Bitcoin has experienced a 4% decline. It currently holds the top ranking on CoinMarketCap, with a live market cap of $457 billion. 
From a technical perspective, Bitcoin has been unsuccessful in surpassing the $25,300 level and has experienced a sharp decline to reach the 38.2% Fibonacci retracement level at $23,700.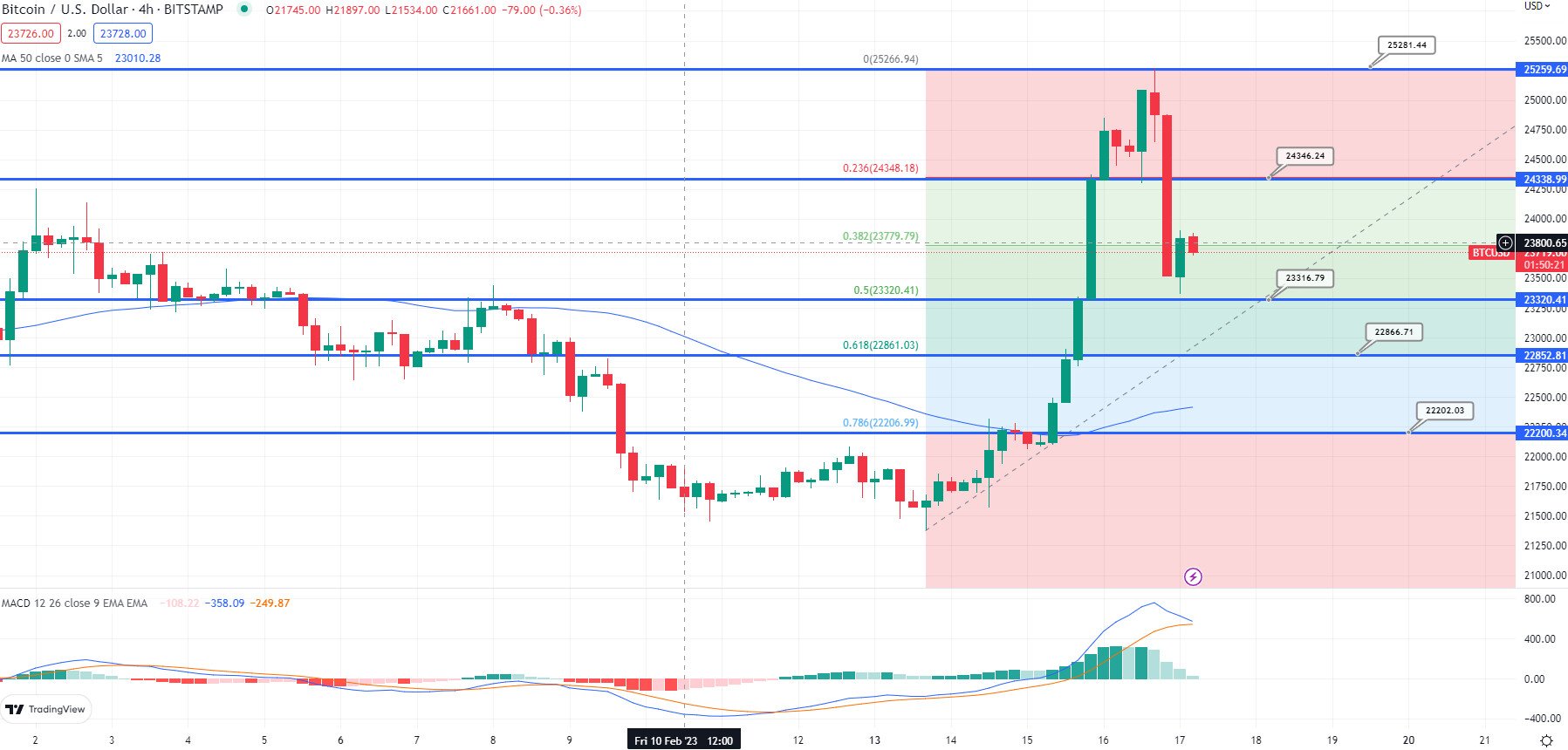 If the price continues to fall below the $23,700 level, it may indicate a bearish breakout and expose Bitcoin to the next support area at the $23,300 mark, which is supported by the 50% Fibonacci retracement level.
Ethereum Price 
As of today, the live Ethereum price is $1,660, and the 24-hour trading volume is $11 billion. Ethereum has decreased by over 2% in the last 24 hours. It currently holds the second position in CoinMarketCap's rankings, with a live market cap of $202 billion. 
Currently, the ETH/USD pair is experiencing a consolidation phase within a narrow trading range of $1,635 to $1,675, after failing to surpass the $1,740 resistance level.
On the lower side, the 38.2% Fibonacci retracement level is providing support at the $1,640 level. However, a break below this level could push the ETH price even lower toward the $1,600 or $1,530 level.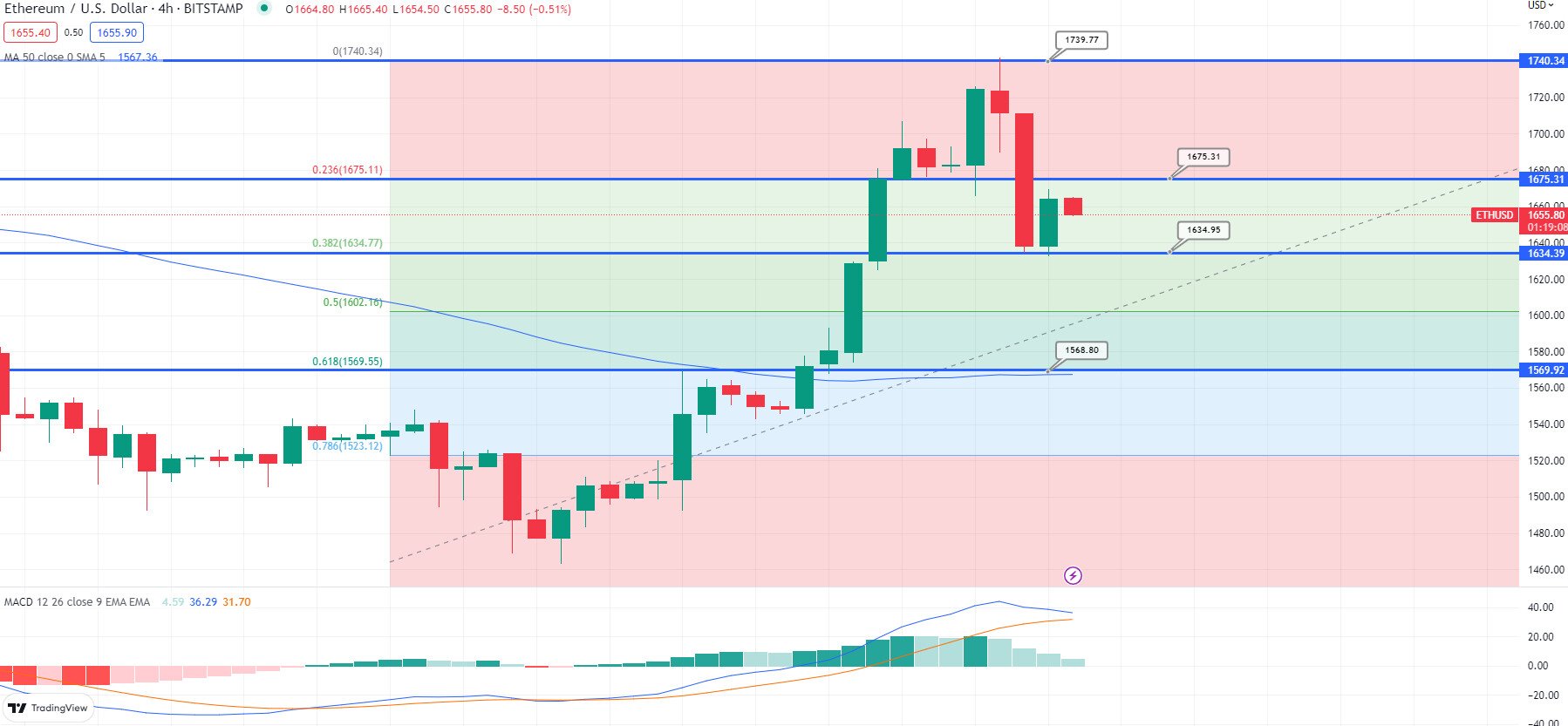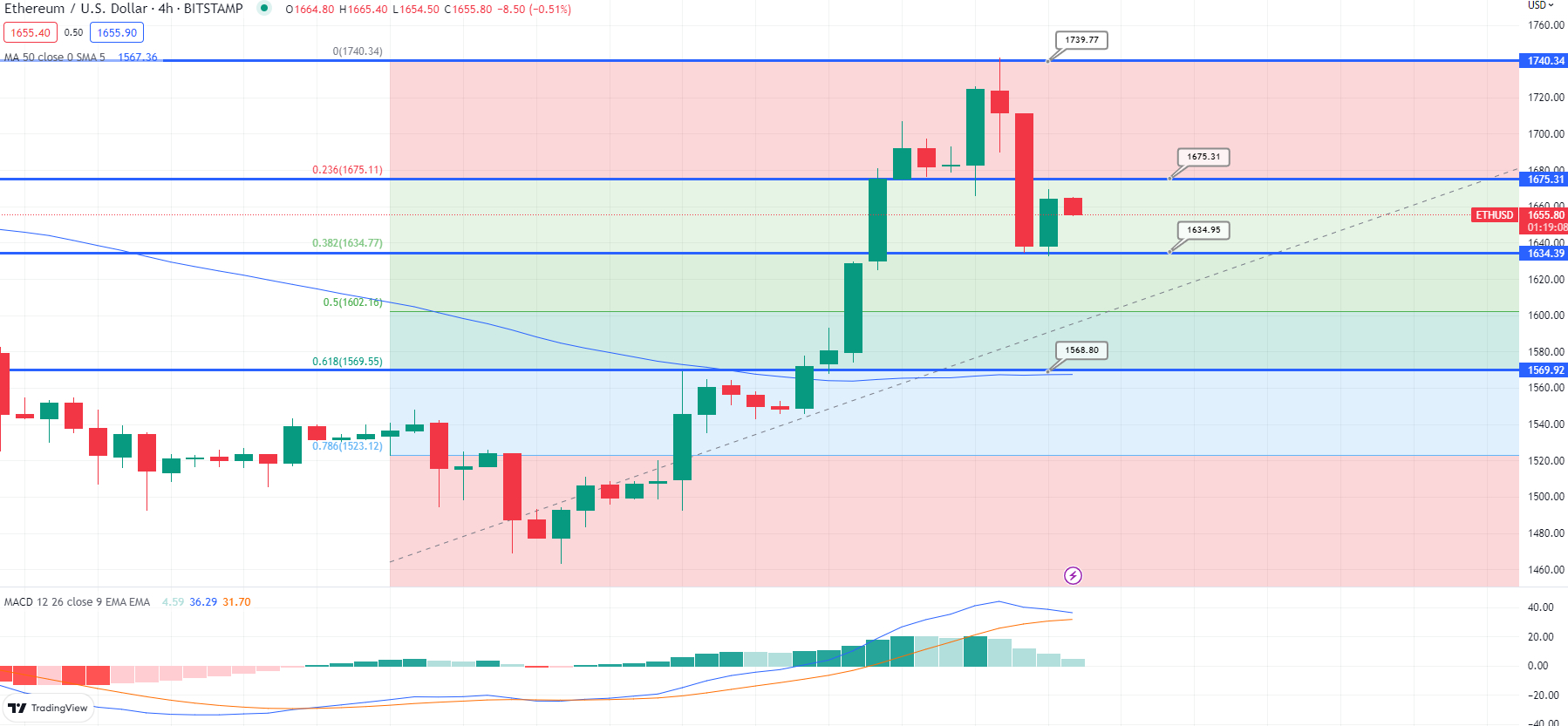 Conversely, a bullish breakout of the $1,675 level may expose the ETH price to the $1,740 level. The 50-day moving average and MACD indicators also indicate a buying trend, so we should only consider buying trades above the $1,630 mark. 
Bitcoin and Ethereum Alternatives
In addition to BTC and ETH, there are several other altcoins in the market with high potential. The CryptoNews Industry Talk team has analyzed and compiled a list of the top 15 cryptocurrencies for 2023. 
The list is updated weekly with new altcoins and ICO projects, so it's advisable to check back frequently for new entries.
Disclaimer: The Industry Talk section features insights by crypto industry players and is not a part of the editorial content of Cryptonews.com.
Find The Best Price to Buy/Sell Cryptocurrency


---