Bitcoin Is Over Like the Flu Season, Says Barclays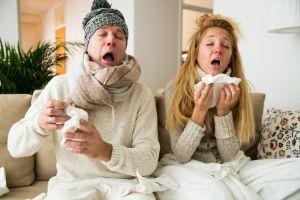 In another attempt to value Bitcoin and predict prices, analysts at Barclays, a British bank, score points for originality, likening it to an infectious disease, and saying that it might be over very soon.
In a note to clients on Tuesday, Barclays analyst Joseph Abate writes, "Like infection, transmission - especially to those with 'fear of missing out' - is by word-of-mouth, via blogs, news reports and personal anecdotes. However, once full adoption is approached, the price decline is sustained and rapid."
This model suggests that crypto awareness is universal at this point, so only a tiny group of the population could catch speculative interest, and current holders are also developing "immunity" to more investment. "We believe the speculative froth phase of cryptocurrency investment – and perhaps peak prices – may have passed," Abate says.
The Barclays model splits the population into three sectors: the susceptible ones, the vulnerable and the immune people. The infected make up 0.1% of the population who first bought crypto with an unknown long-term fundamental value, while the susceptibles make up 25% due to FOMO (fear of missing out), mostly. A number of people are "immune" and not likely to ever buy.
Still, according to the analyst, crypto may see an increase in demand from weaker economies with little to no investment opportunities. Abate explains, "Cryptocurrencies may have a home in low-trust corners of the global economy. Broader adoption of crypto technologies faces critical challenges and strong incumbents."
The total cryptocurrency market capitalization, according to Barclays, has a "generous upper bound" between USD 660 billion and USD 780 billion - an amount near the total at the end of January.