Bitcoin Hashrate Might Double In a Year, Pressing Miners' Margins
Bitcoin (BTC) hashrate, or the computational power of the Bitcoin network, could rise 120% in a year, but the price of the coin needs to follow so that the profitability for miners wouldn't drop, according to a recent research.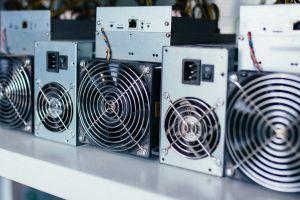 In their latest report, commissioned by Fidelity Center for Applied Technology (the R&D division of major asset manager Fidelity), digital asset advisory firm BitOoda stated that the price of bitcoin is "a key element of sustained hashrate growth."
The firm said:
"The dollar value of mined BTC will fall over time, resulting in declining profitability unless the price of bitcoin increases sufficiently to offset this."
Per the report, the revenue earned by miners per PH/s (petahash per second) each day is a function of the network hashrate and the price of bitcoin. Therefore:
at the current levels, if hashrate is around 124EH/s (exahash per second) and BTC at USD 9,220, daily revenue per PH/s is around USD 70;
if hashrate increases to 260EH/s, as the firm expects to happen over the summer of 2021, then in order to keep that USD 70, the price of BTC would have to be around USD 19,500;
but upon reaching USD 10,000 per BTC, revenue per PH/s would be just USD 36 - in this scenario, at a 4c/kWh power cost, it would cost USD 37 to run 1PH/s per day on the Bitmain's S19 class rigs and USD 133 on S9 class rigs. S9 rigs would need to operate at under 0.5c/kWh to break even at a BTC price of USD 10,000, said the firm.
BitOoda wrote that the network hashrate has the potential to exceed 260EH/s in the next 12–14 months. This could be the result of a "modest increase" in available power capacity, as well as of miners upgrading their machines from older generation S9 to S17 and S19 class rigs.
Actually, with the end of the upgrade cycle to S19 by mid-2022, hashrate might rise to 360EH/s, they suggested.
Bitcoin hashrate (30-day moving average)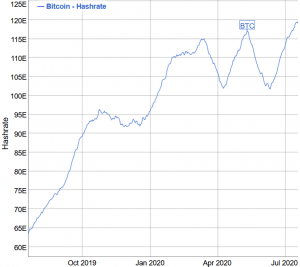 These estimates are "somewhat reliant upon the price of bitcoin appreciating or being expected to appreciate at 25%–35% annualized," said BitOoda.
The report added:
"So if network hashrate increases, a miner's share of the total hashrate and thus of bitcoin flow falls. If the price of bitcoin does not rise to keep up with increasing hashrate, profitability will fall and a new equilibrium could be established at a hashrate that is meaningfully lower than our projections here."
The firm stated that if bitcoin price stayed flat or dropped, then USD revenue per PH/s would continue to drop to the point of marginal cost, and further investment and hashrate growth could be "meaningfully" slowed.
At the time of writing (13:56 UTC), BTC is trading at USD 9,151. It remained unchanged in a day and dropped by 2% in a week.
---