Bitcoin Fees Are Going Down - But Why?
Bitcoin fees are down from USD 26 to USD 3 on average, to a collective sigh of relief from the entire community. It fell on USD 0.79 on Sunday, having peaked at USD 34 on December 23. Once, Bitcoin's very low transaction fees were one of its selling points - until they soared in December 2017, showing that the prices are not the only volatile thing about Bitcoin.
The climb of fees in late 2017 had many shying away from Bitcoin as a payment system; for example, Valve, an American video game developer and digital distribution company, stopped accepting Bitcoin on Steam. Bitpay, a bitcoin payment service provider, set a minimum transaction size to USD 100 - before promptly lowering it to USD 5 due to customer uproar - and Stripe, a payment processor, stopped accepting Bitcoin payments for customers in January due to the fact that thanks to high fees, there were "fewer and fewer use cases" for it. Some other companies switched to other cryptocurrencies, notably Bitcoin Cash, which was mostly created in the first place to keep fees lower.
So the simplest answer to decreasing fees would be the decreasing number of transactions. A handy chart from Bitinfocharts.com shows the average fees: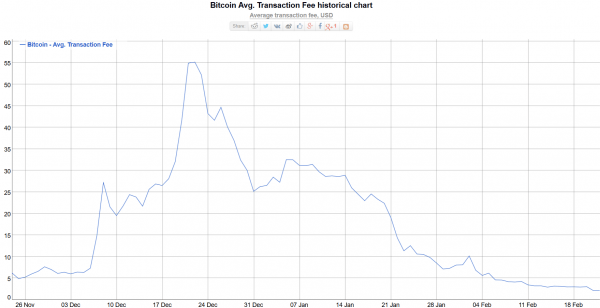 While another from Blockchain.info shows the number of transactions: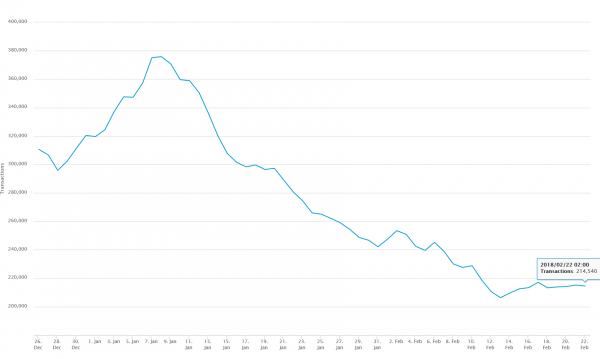 When compared, it seems that the fees and the prices shot up simultaneously, but also fell together. This is easily explained by people being willing to pay top dollar to get their Bitcoins into exchanges to sell them at the high prices of December. As the prices fell, so did people's interest, and transaction fees simply followed suit.
The decrease in transactions, however, is another matter entirely. There is a realistic possibility that exorbitant fee prices have forced large transaction processors to implement a technology called "batching". It means including many payments to many different recipients into a single Bitcoin transaction - thus leaving more space on the blockchain. That is exactly what crypto exchange ShapeShift did, according to their announcement.
Mike Belshe, BitGo, a Blockchain security company, engineer, said to Coindesk that, "even if just one large exchange started batching transactions, it could have a huge impact on the overall transaction load."
Another solution to this problem that has already occurred to some was to simply raise the block size in Bitcoin - which produced Bitcoin Cash after the group did not get their way. Since the forking, what remained behind was the "small block" faction, which will fight tooth and claw to find a way around the problem without raising the block size. So they've focused on a technological upgrade called Segregated Witness (known as SegWit in the industry) that separates cryptographic signatures from the rest of the blockchain data, thus effectively increasing block size.
Rolling out the necessary changes for SegWit takes time, though - six months after the upgrade went into effect, only about 14% of Bitcoin transactions use the new format. There hasn't been much of a recent increase in SegWit use either. For the past several months, only about 10-14% of transactions, according to SegWit tracking site SegWit Party.
Resurgence of Bitcoin fees is a real possibility. If the current trend continues, a new rise in the price might bring higher fees as well - so low prices right now may be a blessing in disguise. But for now, lower fees might set a new standard, thus restricting them from rising to previous heights.
---