Bitcoin ETF Token (BTCETF) Price Prediction 2023 – 2030
Disclosure: Crypto is a high-risk asset class. This article is provided for informational purposes and does not constitute investment advice. By using this website, you agree to our terms and conditions. We may utilise affiliate links within our content, and receive commission.
The Bitcoin ETF Token (BTCETF) is a trending new platform on Ethereum that lets investors benefit from Bitcoin ETFs' performance and regulatory developments.
As the market finally shows signs of a strong recovery after an extended bear market amid the hopes for a likely spot Bitcoin ETF approval, many investors are looking for a Bitcoin ETF Token prediction.
This article explores the token's near and long-term potential through 2030, including views from expert analysts to give a well-informed view on the BTCETF price.
Bitcoin ETF Token Price Prediction 2023 to 2030 – Summary
End of 2023: The Bitcoin ETF Token could reach $0.015, riding on the momentum of its ongoing presale success and the anticipation of Bitcoin ETF approval. If market sentiment stays favorable post-listing on top exchanges, this uptick is possible.
End of 2024: If the market reaction for Bitcoin-related instruments remains positive, the $BTCETF token may surge to $0.033. The expected token burns and milestone achievements are crucial for this surge.
End of 2025: Amidst a recovering crypto market and rising institutional interest, the Bitcoin ETF Token might reach $0.06.
End of 2030: Should the broader blockchain market grow as anticipated, and if key milestones are met, including Bitcoin reaching the $100K benchmark, $BTCETF has the potential to touch $0.21.
| | | | |
| --- | --- | --- | --- |
| Year | Potential Low | Average Price | Potential High |
| 2023 | $0.002 | $0.008 | $0.015 |
| 2024 | $0.013 | $0.021 | $0.033 |
| 2025 | $0.03 | $0.045 | $0.06 |
| 2030 | $0.1 | $0.15 | $0.21 |
Bitcoin ETF Token Price History

The Bitcoin ETF Token is an emerging project catching investor attention in its recently launched presale. The presale is hosted on the official Bitcoin ETF Token website and is structured to reward early participants with more attractive terms.
It has a hard cap target of $4,956,000 in its 'tiered' presale with 10 stages. This tiered pricing approach ensures early investors benefit from lower prices, with the cost of $BTCETF tokens incrementally increasing with each new stage.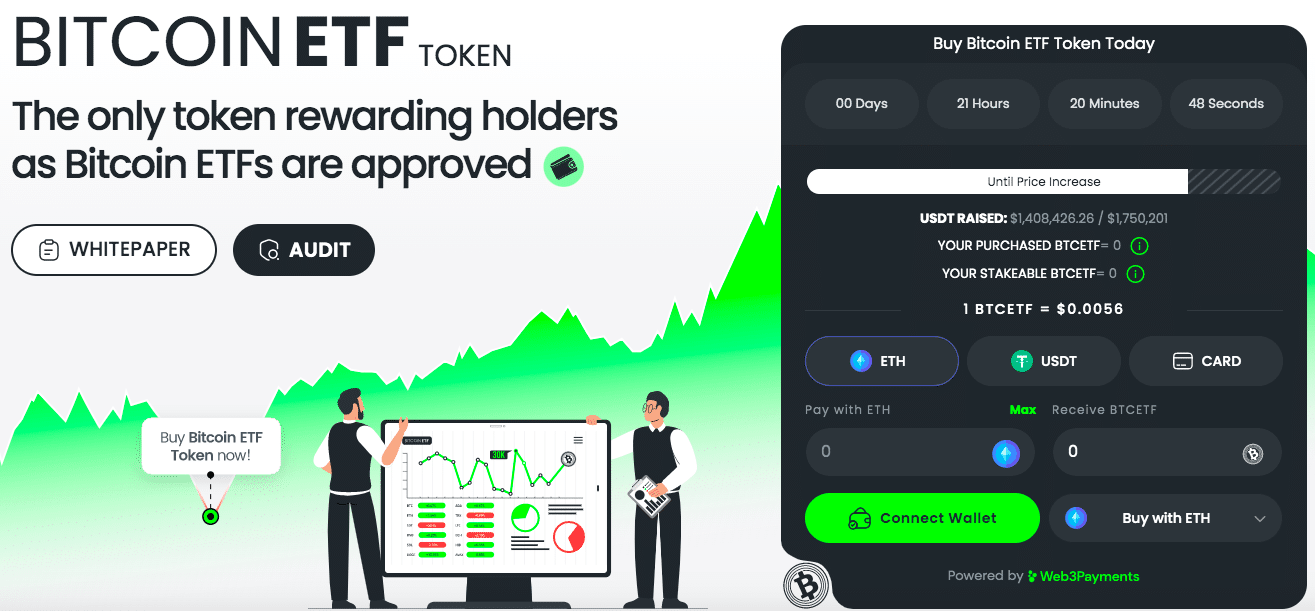 Interested buyers can buy Bitcoin ETF Tokens at a discounted rate of $0.0056 per $BTCETF token at press time. The final stage will see the price rise to $0.0068 per token.
The anticipation for Bitcoin ETFs is high, and the Bitcoin ETF Token aims to offer a new avenue for crypto enthusiasts and investors to become part of this exciting development. This growing popularity of Bitcoin ETFs can help the project gain more traction in the weeks.
Bitcoin ETF Token Price Prediction 2023

Bitcoin ETF Token is set to increase its reach with plans to list on some of the best crypto exchanges in the months ahead. Such a move could significantly improve its market presence and potentially surge its price by the end of 2023.
The ongoing presale phase is crucial, aimed at building a strong community informed about the token's potential ahead of a Bitcoin ETF approval.
Simultaneously, they're rolling out targeted marketing during the presale that explains the importance of owning $BTCETF and BTC, especially before the SEC confirms a Bitcoin ETF.

Soon after its launch, $BTCETF will introduce a 5% burn tax on transactions, a deflationary measure to increase token value by reducing supply. Moreover, with every Bitcoin ETF milestone, the tax will decrease by 1%, incentivizing early participation and investment.
Such strategic steps are designed to make $BTCETF attractive to users who seek to get in before a major market event. If the Bitcoin ETF gets the green light, $BTCETF is poised to benefit from the increased attention.
Moreover, the Bitcoin Fear and Greed Index hinted at an improving overall Bitcoin sentiment after months.
Considering these factors and assuming favorable market conditions, $BTCETF could reach $0.015 by the end of 2023. This forecast depends on roadmap execution and positive investor sentiment toward crypto ETFs.
Bitcoin ETF Token Price Prediction 2024

While the market conditions will likely improve in 2024, many investors are looking for the top cryptos to trade now to capitalize on the potential upside. Over the next year, the overall sentiment toward Bitcoin could mainly influence the price of Bitcoin ETF Token.
BTCETF aims to increase its value by banking on Bitcoin's growth and its anticipated adoption in mainstream finance. Their strategy includes a token burn of 25% in stages to induce scarcity, generally a boost for price increase if demand remains stable or grows.
Moreover, the token's supply will be burned by 5% after it achieves each milestone, reinforcing its commitment to creating a deflationary token and preserving its value. For investors, these burns suggest stability and growth prospects.
A vital milestone for the platform is its goal to reach a trading volume of $100M, reaffirming the token's market presence and liquidity. After achieving this target, a 5% token burn will be implemented, and the transaction tax will be reduced from 5% to 4%.
Considering these factors and a positive Bitcoin adoption trend, BTCETF is projected to hit $0.033 by 2024's end. This forecast depends on the potential impact of supply burns, incentive-driven investor interest, and the platform's milestone achievements.
Bitcoin ETF Token Price Prediction 2025

Looking ahead to 2025, the Bitcoin ETF Token is set to attract more users amid the broader market recovery. Given the optimism of crypto market experts and high-profile figures such as Binance CEO Changpeng "CZ" Zhao, it's anticipated that the next wave of the crypto bull market could start in 2025.
A thriving market will likely attract new investments from institutional and retail sectors, potentially increasing demand for BTCETF.
Moreover, the Bitcoin ETF is built on Ethereum. With concerns over Bitcoin's energy consumption, the Bitcoin ETF Token offers an alternative that aligns with green investment principles. This attribute could particularly attract investors who prioritize environmental impact, thus potentially increasing the token's demand.

As demand grows, the supply of Bitcoin ETF Tokens will also rise due to its staking rewards. However, the demand is projected to outpace supply growth. This is crucial, as increased demand with controlled supply release can help the token sustain its uptrend.
The token's deflationary mechanisms play a significant role here. With a strategy to reduce the token supply through burns at milestone achievements, the token will see more scarcity. This scarcity, combined with increased utility and demand, can significantly drive the price.
Furthermore, staking offers token holders an incentive to hold rather than sell, which should decrease sell pressure and stabilize the token's value. The long-term holders are rewarded, adding to the appeal of the Bitcoin ETF Token as a sustainable investment.
Taking all these factors into account, the Bitcoin ETF Token could reach $0.06 by the end of 2025. This depends on the broader market's performance and the token's ability to achieve its goals and reward users.
Bitcoin ETF Token Price Forecast 2030

The blockchain industry is expected to grow from $11.14 billion in 2022 to $469.49 billion by 2030. This growth can help Bitcoin ETF Token attract more users, especially surrounding the growing market interest in innovative financial products like Bitcoin ETFs.
Here's a breakdown of how specific milestones may affect $BTCETF's price, possibly leading it to reach $0.21.
ETF Launch Date Impact: The launch date of the first Bitcoin ETF will be a historic day for $BTCETF. With the planned burn of 5% of its total supply, the token's scarcity increases, which could lead to a price increase. Reducing transaction tax from 3% to 2% is another incentive that may encourage trading and investment, possibly driving the price further up.
$1 Billion in ETF Assets: The project plans to reach $1 billion in Assets Under Management (AUM). This level of adoption indicates strong trust in crypto ETFs, potentially attracting more users. The subsequent token burn and transaction tax cut to 1% could increase trust and demand in $BTCETF, potentially leading to a price uptick.
First ETF Approval: SEC approval could serve as a stamp of 'legitimacy,' drawing in institutional investors. With another 5% token burn, the reduced supply could contribute to a higher token price.
Bitcoin Reaching $100K: Should Bitcoin hit this price in the coming years, it will show a strong positive sentiment toward digital assets and could reflect positively on $BTCETF. This milestone, coupled with a supply burn and tax cut, may stimulate a bullish market sentiment, pushing $BTCETF's price higher.
Considering the growth of blockchain, strategic token burns, tax reductions, and significant milestones, it's plausible for $BTCETF to reach $0.21 by the end of the 2030s.
Each milestone not only builds on the previous to improve the token's appeal but also aligns with the overall momentum in the crypto space, potentially drawing more users and investors to the token. Nonetheless, when evaluating the best long-term cryptos, it's crucial to factor in the broader sentiment surrounding Bitcoin and various macroeconomic conditions.
Potential Highs & Lows of Bitcoin ETF Token Price

Here's a summary of the Bitcoin ETF Token price forecast from 2023 to 2030:
| | | | |
| --- | --- | --- | --- |
| Year | Potential Low | Average Price | Potential High |
| 2023 | $0.002 | $0.008 | $0.015 |
| 2024 | $0.013 | $0.021 | $0.033 |
| 2025 | $0.03 | $0.045 | $0.06 |
| 2030 | $0.1 | $0.15 | $0.21 |
What Do Other Analysts Predict for Bitcoin ETF Token?

The Bitcoin ETF Token is in its early stages, and not many analysts have offered predictions on its future yet. However, a famous YouTube personality 'Jacob Crypto Bury' has shared his opinion, suggesting that the Bitcoin ETF token could see a 10x increase in value.
Many token price-tracking platforms haven't developed forecasts for Bitcoin ETF Token due to its lack of historical price data on trading platforms.
Investors should monitor the ongoing presale of $BTCETF tokens closely, as this may provide valuable insights into the token's potential post-launch performance.
What is Bitcoin ETF Token?

The Bitcoin ETF Token is an innovative token built on the Ethereum blockchain that leverages the growing interest in Bitcoin ETFs. It provides a speculative investment opportunity tied to the progress and approval of Bitcoin ETFs by regulatory bodies such as the SEC.
It offers a way for token holders to participate in the growth and milestones of the Bitcoin ETF market without directly investing in Bitcoin or Bitcoin ETFs. The project takes advantage of speculative and utility aspects by introducing staking and deflationary mechanics.
The total supply of the tokens is capped at 2.1 billion. Of this total, the largest portion, 40% or 840 million tokens, is allocated for the presale phase.
The project uses a deflationary strategy by initiating a 5% transaction tax that decreases with the achievement of each milestone, ultimately aiming to burn 25% of the total token supply. The remaining 10% of the supply (210 million tokens) is set aside to provide liquidity for exchange trading.
Moreover, staking is central to the platform as it lets token holders earn passive rewards. 25% of the total supply is reserved for this purpose and will be distributed over five years. This encourages long-term holding and investment in the project.

At press time, over 150 million tokens have already been staked in just a few weeks after launch, showing strong community trust. Also, the estimated staking APY exceeds 177%, with 119 BTCETF rewards for each ETH block. However, this staking APY will likely decrease as more people join the staking pool. The presale is structured across multiple stages with incremental pricing, allowing early buyers to benefit before the expected ETF approval.
BTCETF is positioned as a unique asset that provides investors with a chance to capitalize on real-world financial developments. It merges the speculative excitement of cryptos with strong tokenomics, potentially increasing the token's value through scarcity and reward mechanisms.
Key features of Bitcoin ETF Token:
The combination of staking utility with deflationary mechanisms.
A decreasing token supply could result in a long-term value increase.
The opportunity for passive income through staking rewards.
Designed to reduce sell pressure post-presale, aiming to create a stable investment.
Bitcoin ETF Token Overview
| | |
| --- | --- |
| Ticker Symbol | BTCETF |
| Presale Launch | 6 November 2023 |
| Presale Price | $0.005 |
| Tokens Available During Presale | 840 Million |
| Presale Hard Cap | $4,956,000 |
What Factors Influence the Price of Bitcoin ETF Token?

The price of the Bitcoin ETF Token is influenced by several factors, such as:
Regulatory Developments: As BTCETF is dependent on the performance and approval of Bitcoin ETFs, any progress or setback in the regulatory environment, particularly actions by the SEC, can significantly impact its price.
Bitcoin's Market Performance: Since BTCETF is pegged to the events surrounding Bitcoin, the crypto's price volatility directly affects BTCETF's value. If Bitcoin hits key price milestones like $100k, users can particularly expect a positive impact on the Bitcoin ETF Token.
Tokenomics and Presale Performance: Initial demand during the presale phases and the eventual distribution of tokens can set the stage for exponential growth.
Staking Rewards: Offering passive rewards for staking can attract more users. As 25% of the supply is allocated to staking, more tokens locked in staking mean fewer in circulation, potentially driving up the price.
Milestone Achievements: The token's deflationary feature burns 5% of the total token supply for each milestone achieved, reducing supply, which can lead to an increase in price if demand remains steady or grows.
Public Perception and Market Sentiment: General sentiment about the crypto market, and particularly the new concept of a speculative token tied to ETF approvals, can influence investor behavior and, subsequently, BTCETF's price.
Marketing and Community Support: The effectiveness of marketing campaigns to educate people about Bitcoin ETFs and the strength of the community can create trust and drive adoption, leading to price increases.
External Economic Factors: Broader economic conditions affecting the crypto market, such as inflation rates, interest rates, and investment trends in traditional markets, can indirectly influence BTCETF's price.
Best Place to Buy Cryptocurrencies

Bitcoin ETF Token is still in a presale stage, meaning you can only buy it on their presale site. But if you're looking for other coins before they launch and even popular coins like Bitcoin and Ethereum, consider Binance.
Binance is the largest crypto exchange with the highest daily trading volume and it serves over 160 million users. Via its Launchpad, Binance helps new crypto projects launch their coins. This gives Binance users an opportunity to acquire the tokens before they are officially listed.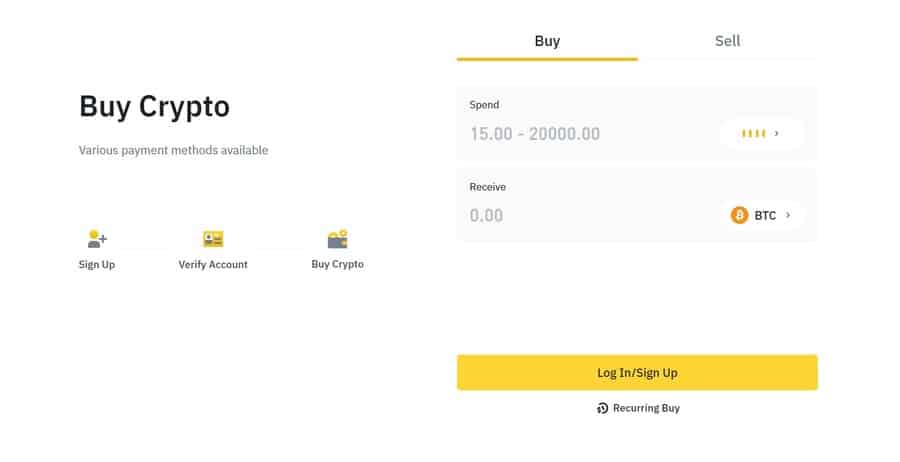 Other benefits of using Binance include:
Low spot trading fees of 0.1%, which you can lower by paying them with BNB coins.
Binance Earn where you can lock your coins for a certain period of time to earn rewards, such as 8.47% APR on USDT and up to 4.5% on MATIC.
Trade crypto futures and options contracts on popular crypto pairs with leverage.
Automate your trading with trading bots and copy trading.
Borrow against your crypto assets as collateral without transaction fees.
Don't invest unless you're prepared to lose all the money you invest. This is a high-risk investment and you should not expect to be protected if something goes wrong.
Conclusion

The Bitcoin ETF Token has launched $BTCETF on Ethereum, designed to benefit from potential SEC approval of spot Bitcoin ETFs. It offers deflationary mechanisms and staking options, incentivizing long-term holding and reducing market sell pressure.
Our forecast suggests that the Bitcoin ETF Token could reach $0.015 by year's end, potentially soaring to $0.21 by decade's close, offering massive gains from the current presale price of $0.0056.
Interested investors should consider buying the tokens at the current price, which will increase to $0.0068 by the 10th presale stage in the coming weeks.
References
FAQs

How much will the Bitcoin ETF Token cost in 2025?
$BTCETF could reach $0.06 by the end of 2025. This projection depends on several variables, such as market conditions, achievement of the token's milestones, investor sentiment, and broader adoption of crypto ETFs.
Is Bitcoin ETF Token a good investment?
Whether the Bitcoin ETF Token is a good investment depends on individual risk tolerance, investment goals, and market dynamics. The token has features designed to increase its scarcity and demand, such as a deflationary supply mechanism and staking rewards, which could drive up its value.
---