Bitcoin.com Aims to Launch BCH Futures Contract and Drive Token to #2
Cryptocurrency investor Roger Ver's Bitcoin.com cryptocurrency venture has announced that it is hoping to launch a Bitcoin Cash (BCH) futures contract on an American Commodity Futures Trading Commission (CFTC)-licensed exchange.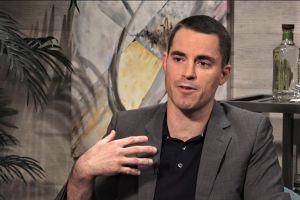 Per a Bloomberg report, Bitcoin.com's David Shin – the head of the company's exchange business – says the company has begun talks with exchanges about its proposed BCH derivatives offering.
Shin said,
"We'll try to list a BCH future on one of these exchanges that's CFTC regulated to have a product that can be traded into the United States with institutional traders."
Shin says that Bitcoin.com's goal is to boost BCH's market capitalization so that it is second only to Bitcoin (BTC).
Currently, BCH lags well behind Ripple (XRP) and Ethereum (ETH), although its capitalization has increased in 2019. A futures offering, Shin believes, would help BCH's cause enormously.
He stated,
"In theory we should see more penetration, more users, more trading and more volume […] Within a year I want to make [BCH] the second or third-largest market cap. To get from Number 4 to No 3 or No 2, we have to see more volume."
And Shin added that he was particularly keen to speak to the CME Group – which already offers Bitcoin futures offerings – about listing a BCH future derivatives product.
The Bitcoin.com man also added that the company hopes to create an e-sports-type trading tournament that will foster cryptocurrency influencers. Shin wants to boost retail investment in the industry, which he believes is distinctly personality-driven.
At pixel time (06:29 UTC), BCH trades at c. USD 297 and is down by almost 2% in the past 24 hours, is up by 1% in the past week, but it lost 10% of its value in the past month. Also, it's 31% cheaper than a year ago.
BCH price chart: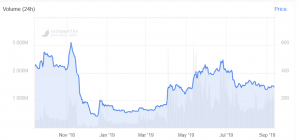 ---