Bitcoin Cash Price Prediction as BCH Rallies 30% in a Week – Can BCH Reach $10,000 in 2023?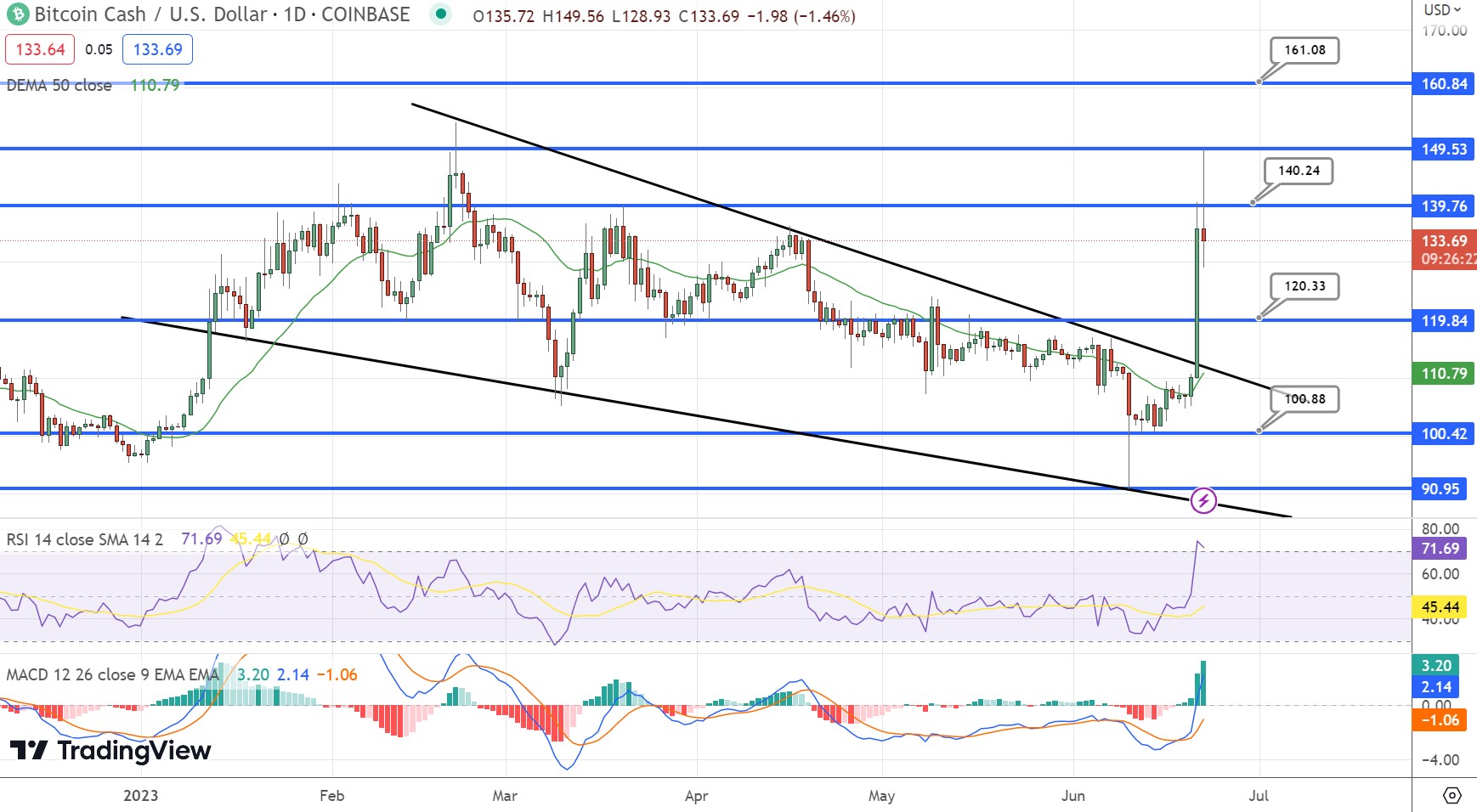 Bitcoin Cash (BCH) has displayed remarkable strength in recent days, surging by 30% within a week.
As the price continues to climb, BCH has entered the overbought zone after testing a significant resistance level at $150.
This development adds an interesting dimension to the question: Can Bitcoin Cash reach the $10,000 mark in 2023?
In this update, we will explore the factors influencing Bitcoin Cash's price prediction and examine the scenarios regarding BCH's potential to reach the $10,000 level.
Bitcoin Cash (BCH) Riding High: New Crypto Exchange and Institutional Interest Fuel Bullish Trend
Bitcoin Cash (BCH) is experiencing a bullish trend, driven by several factors, including the launch of a new crypto exchange and the growing interest from institutional investors.
The newly launched crypto exchange, EDX, backed by prominent Wall Street giants like Fidelity Investments and Charles Schwab, has added support for Bitcoin Cash (BCH) and other major cryptocurrencies.
This development indicates increased adoption and paves the way for more mainstream investors to enter the crypto market.
ETF Optimism Boost Bitcoin Cash (BCH) Bull Run
Bitcoin Cash's bullish sentiment has been reinforced by three leading asset managers' recent applications for spot Bitcoin ETFs.
BlackRock, the world's largest asset manager, filed for a Bitcoin ETF with the US Securities and Exchange Commission (SEC), inspiring WisdomTree Investment and Invesco to follow suit.
The market is optimistic about BlackRock's chances of approval due to its reputation and past success with ETF applications.
If a spot Bitcoin ETF is approved, it would enhance Bitcoin's credibility and attract more institutional investors, leading to a positive outlook for the overall cryptocurrency market.
These developments have contributed to the bullish trend of Bitcoin Cash (BCH) and the broader crypto market, signaling growing institutional interest and improving market sentiment.
Bitcoin Cash Price Prediction
Taking a closer look at the Bitcoin Cash (BCH) price movement, we observe a significant breakthrough of the double top resistance level at $120.
This was preceded by a strong upward trend, surpassing the hurdle at $112. The daily timeframe shows a solid bullish candlestick pattern, indicating a strong buying sentiment among investors.
As a result, BCH has surged toward the key resistance level of $150. Although it hasn't breached this level yet, minor corrections are possible, leading BCH to retrace towards $130 or $120 levels.
Furthermore, on the daily timeframe, the Relative Strength Index (RSI) and Moving Average Convergence Divergence (MACD) indicators are currently in the overbought zone, suggesting a potential exhaustion of the bullish momentum.
This could attract sellers looking to capitalize on a correction below the $150 level, targeting $130 and $120 support levels.
A break below $120 may open up selling opportunities towards $111 or even $100 levels.
Conversely, a decisive break above the $150 level could propel BCH to new highs at $161 or $172 levels.
In addition, it is important to note that Bitcoin Cash is not currently showing indications of reaching the $1,000 level in 2023.
Therefore, monitoring the pivotal level of $150 becomes even more critical as it has the potential to influence Bitcoin Cash's short-term direction significantly.
Exploring Alternative Investment: yPredict
In the ever-changing landscape of meme coins and cryptocurrency tokens, staying informed and capitalizing on emerging trends can feel overwhelming.
However, there's a solution to this challenge: yPredict, an innovative crypto analytics and research platform driven by artificial intelligence (AI).
The main goal of yPredict is to provide traders and investors with valuable insights and practical guidance in this dynamic market.
By leveraging advanced AI and machine learning technologies, yPredict has developed predictive models that empower users to navigate the crypto world with enhanced confidence and precision.
yPredict has successfully raised more than $2.5 million so far, with each $YPRED currently priced at $0.09.
The tokens will have a listing price of $0.12 when added onto exchanges.
By harnessing the power of advanced AI and machine learning technologies, yPredict offers predictive models that empower investors to navigate the crypto world more confidently and accurately.
Disclaimer: The Industry Talk section features insights by crypto industry players and is not a part of the editorial content of Cryptonews.com.
---