Bitcoin & Bitcoin Cash Holders More Profitable Than Ethereum & Litecoin Holders
Judging from a blockchain analysis tool that works across a range of digital assets, the majority of holders of both bitcoin (BTC) and bitcoin cash (BCH) seem to be still "making money." Ethereum (ETH) and litecoin (LTC) users are not so lucky.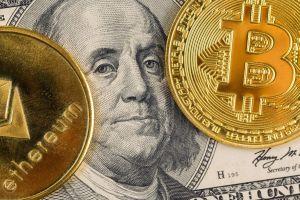 The new set of tools, developed by blockchain analytics firm Into The Block and recently added to the crypto market data provider Coinpaprika, provides several insights, ranging from things like what percentage of holders that have made money, to the share of holders that are defined as "whales," and the composition of holders by time held.
As defined by IntoTheBlock, holders that have a positive difference between purchase price and current price are defined as being "in the money." In the case where there is no difference, the holder is said to be "at the money," while holders at a loss are "out of the money."
Bitcoin
Looking at bitcoin, we can see that nearly half of all wallet addresses on the network are in the green on their fiat balance, and are thus said to be in the money. This is normally seen as a bullish sign for any cryptoasset, as it tends to boost the sentiment surrounding the asset.
Further, 11.5% of bitcoin holders are defined as being "large," meaning they own more than 1% of all circulating coins. As the most widely used cryptoasset that is held by a large number of people, this number is naturally lower for bitcoin than for most other coins in the market. At pixel time (11:48 UTC), BTC trades at c. USD 6,664 and is down by 25% in a month, trimming its annual gains to 33%.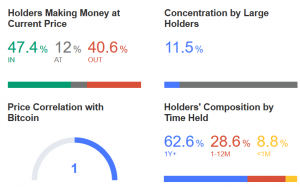 Ethereum
Moving over to the second-most valuable cryptoasset, ethereum (ETH), we can see quite a different picture, with only a minority of holders currently being in the money. In addition, this major blockchain platform also stands out from bitcoin by having a much larger concentration of whales on its network, with more than 40% of holders being defined as "large." ETH trades at c. USD 138 and is down by 40% in a month and 18% in a year.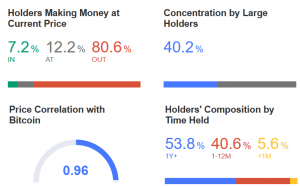 Bitcoin Cash
Similar to ethereum, bitcoin's hard fork bitcoin cash also has a bigger concentration of large holders than the number one digital asset. BCH holders also seem to have done a good job with the timing of their investment, with a whopping 84% of holders currently in the green in fiat terms. BCH price stands at c. USD 228 and is down by 32% in a month and by 13% in a year.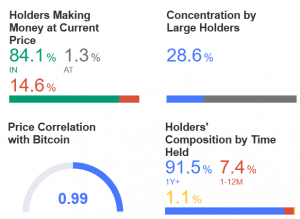 Litecoin
Lastly, litecoin (LTC) is – along with ethereum – seeing a much smaller share of holders that are profiting at the moment, with 13% of them being in the money. Also similar to ETH, litecoin has a relatively high concentration of large holders, with almost half of all holders being defined as whales. LTC trades at c. USD 40 and is down by 36% in a month and by 52% in a year.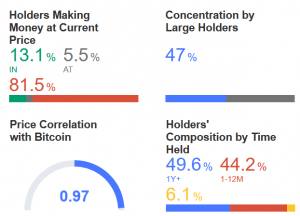 The important thing to know about "large holders," however, is that it's not so much the actual number that matters, but the direction it is moving in. In general, it is considered bullish if the concentration of large holders of a cryptoasset increases, and bearish if the concentration decreases.
Like for the concentration of whales, it is not so much the share of people who are in the money that matters, but the change in that number over time. In the case of all four cryptoassets, the change of "in the money" holders is currently slightly negative.
---