Best Month For Bitcoin Futures on CME in 2020 + More News
Get your daily, bite-sized digest of cryptoasset and blockchain-related news – investigating the stories flying under the radar of today's crypto news.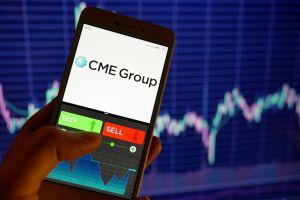 Derivatives news
November has been the best month of trading for bitcoin (BTC) futures in 2020, in terms of average daily volume (ADV), and it has been the second-best month since launch, the Chicago Mercantile Exchange said today. Volume reached 19,700 contracts (98,400 equivalent bitcoin) during the final week of November, helping to lift ADV to 11,400 for the month, a 55% increase over October. Nearly 6,300 unique, active accounts have traded since launch and 2,600+ were added in 2020, 64% more than in 2019, they said. Also, the number of large open interest holders (they hold 25+ contracts, 125 equivalent bitcoin) grew to a record of 108 in the last week of November.

Source: CME

Swiss fintech firm Amun AG said they're shutting down the operations of their leveraged tokens — BTC3L, BTC3S, ETH3L, and ETH3S — as the company is now focusing on "other projects."
CBDCs news
The former head of the People's Bank of China (PBoC), China's central bank, has claimed that Beijing has no plans to eclipse conventional currencies with its forthcoming digital yuan. The ex-PBoC governor, Zhou Xiaochuan, told attendees at the Shanghai Financial Forum that the bank, which he headed until 2018, would look to use the digital yuan to process payments in real-time and execute foreign exchange transactions simultaneously in a bid to "transform" cross-border trade, per a report from the South China Morning Post. In a swipe at Facebook, Zhou added, "We are not like Libra [now - Diem] and we don't have the ambition to replace existing currencies." (Learn more: It's Official: China's Digital Yuan To Target US Dollar Dominance)
In Suzhou, China, the recipients of 100,000 digital "red envelopes" containing a total of USD 3m worth of digital yuan tokens have been putting their tokens to work within hours of receiving them, making 20,000 digital yuan transactions on the e-commerce site JD.com – which opened parts of its platform up to digital yuan-owning Suzhou residents ahead of the handout. Per the Global Times, the first digital yuan transaction on the platform took a customer "only about 0.5 seconds to complete," with JD.com claiming that some 80% of the digital currency transactions on its platform were made by younger users, with the largest online payment exceeding USD 1,528.
Tokenization news
Switzerland-based digital asset bank Sygnum said it tokenized its own shares, meaning that that digital representations of the shares, together with associated legal rights and obligations, have been created and are immutably accounted for on a distributed ledger. Tokenization of its own shares lays the foundation for Sygnum's future public offering, which includes a potential dual listing across Switzerland and Singapore in partnership with SIX Digital Exchange, they added.
Blockchain news
Speakers at a fintech summit in China have explained that next year, blockchain efforts in the country will center on government services, finance, medical care and smart manufacturing. According to SouthCn, attendees at the Future Business EcoLink Conference, held in Shenzhen were told that Huawei and other tech giants will also look to develop and deploy blockchain-powered certificate services, supply chain finance solutions, telemedicine, and comprehensive traceability platforms in 2021.
Sequoia-backed cross-chain data oracle Band Protocol (BAND) said it has joined the OpenAPI Initiative in order to connect blockchain applications to common Application Programming Interfaces (API) and streamline the exchange of data between smart contracts and off-chain data sources. By creating a common API standard, Band Protocol aims to allow blockchain applications to leverage off-chain APIs and data to better engage with centralized data sources and the wider technology community, enabling expansive use cases of smart contracts, they said in an emailed press release.
Lending news
Bitfinex said they have added XRP, litecoin (LTC), EOS and polkadot (DOT) as collateral on Bitfinex Borrow, a peer-to-peer digital token loan portal. Borrowers will be able to obtain loans of up to 80% of the value of their XRP, LTC or EOS holdings or up to 70% of the value of their DOT holdings in either tether (USDT) tokens or US dollars, they added in an emailed press release.
---