Best Crypto Valentine: Eternal Love on Bitcoin and Lightning Pizza
If you'd like to do something nice for Valentine's Day for your partner, yourself, or even crypto as an industry, but roses and chocolates don't seem to quite cut it, worry not: there are many solutions to this problem. Either write a lovey-dovey message into the Bitcoin blockchain for all future generations to see, or order a pizza with Lightning Network (because who wants to go out for a fancy dinner anyway?)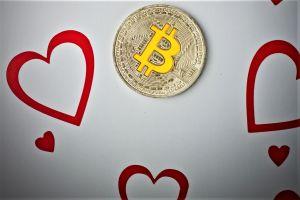 If you're considering writing your loved one (or yourself, we're not judging here) a card that reveals your deepest feelings and also incidentally fits into 80 or less characters, why not make it eternal? That is now made possible through Lovechain.land, a new online service that lets you write a free message of up to 80 characters that is then included in a Bitcoin transaction, promoted all over the network and written into the blockchain forever. The service is free in that the project is covering the transaction cost for the first 1,000 messages. After that, users are encouraged to donate Bitcoin or Ether to keep the service running.
As of the time of writing, 87 messages have been written. A few of them below: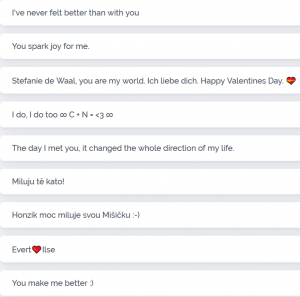 Those who choose to cement their love in the blockchain also get a PDF certificate that shows the text they wrote, as well as the time, date and ID of the message. As Reddit user u/satoshiiiiiiiiii puts it, "Like an internet tattoo that your future spouse will see later on." Or, well, your current spouse. Or whoever you want to devote it to.
And of course, you'd be missing out if you didn't share it with your partner the way the team behind the project proposes: "My love, I have engraved a message for you into Bitcoin blockchain that is distributed over 10,000 nodes all around the world as a symbol of commitment, strength and permanency of our relationship, what's more, one day it might even be examined by a digital archaeologist. So we are part of history. Here's the proof," and then you give them the certificate and you ride off into the sunset. Sweet, right?
Or, if you or your partner or your pet (again, no judging) are the type to enjoy a nice meal, and you incidentally live in the US and have nothing against Domino's pizzas, why not order one or ten and pay for it through Lightning Network? A project called Lightning Pizza, going under the ln.pizza handle, now lets you buy a Domino's pizza for 5% off from anywhere in the US (let's hope other countries will appear on their map soon,) with less than USD 0.01 in fees. The project was launched only yesterday, February 13th, so maybe you can get them to cut the pepperoni into heart shapes for today.
Moreover, it seems that Lightning Network might strike other pizzas, also:
Reddit user u/0xdeadfaced has already ordered one and published the results.
I see your BTC Pizza. Here's my first Lightning Network Pizza! Courtesy of ln.pizza from r/Bitcoin
---