10+ Best Crypto Giveaways in 2023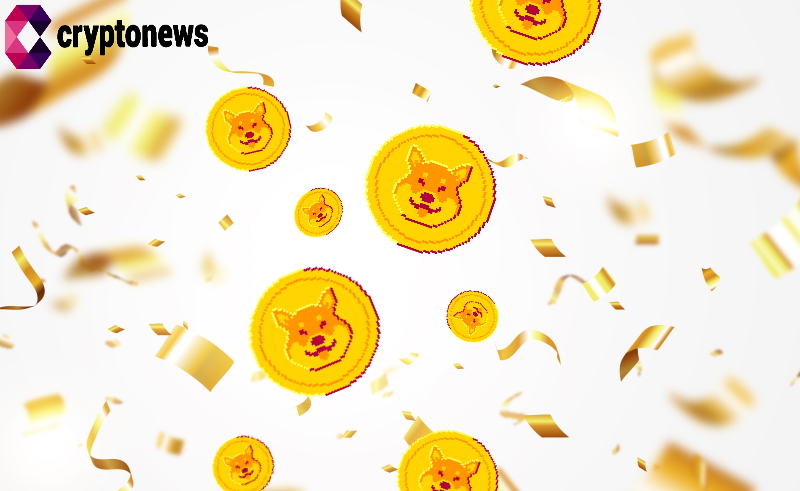 Disclaimer: The Industry Talk section features insights by crypto industry players and is not a part of the editorial content of Cryptonews.com.
There's nothing better than getting something for nothing, as such, everyone loves a good giveaway. However, finding the best crypto giveaways with good prizes can be a rather tall task.
Throughout this guide, we'll be taking a look at eight of the best crypto giveaways, explaining how a crypto giveaway works, and providing guidance on how to enter one of our favorite free crypto giveaways right now.
The Top Crypto Giveaways Available Now
In order to make it easy to compare the top free crypto giveaways, we've included a quick summary of each. However, we've also taken a more in-depth look at each project in the section that follows.
Wall Street Memes - Wall Street Memes - Stand a chance to win $50,000 worth of $WSM tokens by taking part in this token's presale. Wall Street Memes has already raised over $4 million since the presale went live.
AiDoge - Meme-to-Earn Crypto Bringing a Massive 50 Billion $AI Tokens Giveaway
DeeLance - Decentralized recruitment platform with a $100k giveaway.
Tamadoge - Meme coin giving away $1 Million and hosting frequent competitions.
Battle Infinity - Popular P2E DeFi ecosystem rewarding its supporters.
Lucky Block - NFT competition platform hosting both paid and free prize draws.
Binance - Leading exchange hosting a giveaway for Binance card users.
KuCoin - Win crypto by creating KuCoin-related memes.
Crypto.com - $10,000 Ethereum giveaway for anyone trading ETH tokens.
Coinbase - Win crypto by learning and completing a quick quiz.
CEX.io - 100% free Solana giveaway worth $3000.
Reviewing the Top Free Crypto Giveaways
In order to appeal to a wide range of investors and crypto fanatics, we've included a large variety of crypto giveaways with each taking place on a separate platform and featuring different entry requirements.
1. Wall Street Memes - Top Crypto Giveaway offering $50,000 worth of crypto tokens to presale participants
One of the top crypto giveaways is being offered by Wall Street Memes, a new meme cryptocurrency project. This platform has recently launched $WSM, the native token, on presale.
Those take part in the presale have the opportunity to enter Wall Street Memes's giveaway, which is offering lucky entrants the opportunity to win $50,000 worth of $WSM tokens. The giveaway will be awarded to 5 entrants, each winner getting $10,000 worth of tokens. To enter the giveaway, entrants can follow the website and follow Wall Street Memes on social media.
While the $WSM token does not offer much utility, it has the backing of a large meme movement. Wall Street Memes has over 1 million followers, and $WSM will be a 100% community token. Half of the 2 billion token supply will be allocated for the presale, consisting of 30 rounds.
The price of $WSM will rise from $0.025 to $0.0337 by the final presale round. Currently, the token is priced at $0.0271. By the final stage, the price will increase to $0.0337. Another 30% of the token supply will be allocated as community rewards. Thus, members stand a chance to generate wealth by entering this crypto project.
After the presale ends, 20% of the token supply will be allocated for exchange listings. Due to the popularity of this project, it is possible for $WSM to be listed on top-tier exchanges such as Binance and Coinbase.
Wall Street Memes has already raised over $4 million since the presale went live. The project aims to raise a hard cap of over $30.5 million. Join the Wall Street Memes Telegram group for more updates on this cryptocurrency.
| | |
| --- | --- |
| Hard Cap | $30,577,000 |
| Total Tokens | 2 Billion |
| Tokens available in presale | 1 Billion |
| Blockchain | Ethereum |
| Token Type | ERC-20 |
| Minimum Purchase | 100 tokens |
| Purchase Type | USDT, ETH, BNB, Card |
2. AiDoge - Meme-to-Earn Crypto Bringing a Massive 50 Billion $AI Tokens Giveaway
Leading the list of the best crypto giveaways this year is AiDoge. AiDoge is a meme-to-earn platform that automates the process the generating memes by taking cues from the likes of ChatGPT. The project is using AI-driven tech to facilitate this utility, which is why it has been forthright about making more people aware of it.
As part of that marketing measure, AiDoge has organized a 50 billion $AI token airdrop where users can earn a portion of it by referring AiDoge to their friends and followers. The process to earn $AI tokens through this way is simple. Users that have taken part in the presale can share the referral code with their friends. The number of tokens bought through that referral code will determine how many tokens users win.
What is AiDoge?
AiDoge is a meme-to-earn platform where entering a few text prompts will allow users to generate relatable, quirky, and engagement-worthy memes to post on social media or as their marketing content. But the meme-to-earn aspect comes to play in this ecosystem via the Public Wall.
A Public Wall is a meme-posting system implemented by the AiDoge community in which users can post their memes for all the members of the community to see. These members will vote on these memes and, depending on how many votes a meme gets, the winner will be rewarded with $AI Tokens.
What is an $AI Token?
An AI Token is an ERC-20 crypto asset that, in addition to being a reward token, can be used to buy credits to create memes. Other utilities of this token include.
Voting on the various matters within the AiDoge ecosystem;
And, staking, a process through which users can earn APYs and other lucrative perks.
The token has a total supply of 1 trillion, out of which 500 billion were listed for the presale. AiDoge managed to raise nearly $15 million through its presale round. Now, the token will be listed on crypto exchanges on June 19th, 2023.
3. DeeLance - Decentralized Recruitment Platform with a $100k Giveaway
The Web 3 freelancing and job market platform, DeeLance, has initiated the presale of its $DLANCE token. Also, the DeeLance team is conducting a giveaway in which four fortunate participants will receive $100,000 in $DLANCE tokens.
At the time of writing, each $DLANCE token can be bought at a mere $0.038 USDT, but this value is set to increase to $0.057 USDT on the launch day.
Aiming to transform how businesses and freelancers engage in a decentralized environment, this innovative platform grants users full control over their projects and the choice to receive crypto payments.
DeeLance offers a range of resources for self-employed professionals, including an NFT marketplace, a metaverse, and a job posting platform.
The platform imposes minimal transaction fees—only 2% for businesses and 10% for self-employed individuals.
DeeLance's whitepaper highlights the absence of transaction fees, foreign exchange delays, or project size limitations.
What sets DeeLance apart?
DeeLance employs a public blockchain for its automated dispute resolution system, simplifying the job posting and application processes while monitoring the status of buyers and sellers. Numerous benefits come with using DeeLance, such as a secure escrow account that holds payments until project completion and satisfaction for both parties.
By converting freelance projects into NFTs and ensuring employers retain control over the end product, DeeLance safeguards users against payment fraud and intellectual property infringement.
The platform's token, $DLANCE, has multiple use cases, such as purchasing NFTs and leasing virtual office spaces. The token's functionality relies on the Ethereum blockchain.
Furthermore, DeeLance is developing a metaverse complete with virtual meeting rooms, workspaces, and communal areas.
This positions DeeLance as an attractive investment opportunity, addressing long-standing issues in the freelancing economy.
Users should join the DeeLance Telegram channel to get up-to-date information about the company.
| | |
| --- | --- |
| Presale Started | 30 March 2023 |
| Purchase Methods | ETH, USDT, Credit Card |
| Chain | Ethereum |
| Min Investment | $10 |
| Max Investment | None |
4. Tamadoge - Meme Coin Giving Away $1 Million and Hosting Frequent Competitions
Meme coin Tamadoge (TAMA) is a play-to-earn (P2E) crypto project and one of the best NFT games out right now. It tokenizes in-game assets to make them easily tradable and verifiable. Many crypto enthusiasts have praised the project as being one of the best crypto games on the market thanks to its committed team and strong concept.
The Tamadoge game is built around a tailor-made Metaverse world commonly referred to as the Tamaverse. In this virtual land, players are able to train NFT-based pets. In order to rank up a pet, the player must interact with it and provide it with food, toys, and cosmetics, all of which are available from the in-game store.
When a player improves the ranking of their pet, they will receive Dogepoints. The more points a player has, the higher they will rank on the in-game leaderboard. As the highest-rated players will receive the greatest share of the rewards pool, there is a huge amount of incentive for people to level up their pets.
Synergizing perfectly with the leveling system, 5% of the revenue generated from the in-game store is burned. This means that by improving their pets by purchasing items from the store, a player also reduces the total supply of TAMA, helping to further boost their earnings.
Following one of the best presales of 2022, and having raised $19M, the TAMA token was recently listed on the OKX centralized exchange (CEX) and the OKX DEX (for US residents). To celebrate this achievement, the team has launched a $1 million competition with 100,000 prizes up for grabs. Just register with OKX, trade TAMA/USDT, and complete a few social actions to win $10 sent directly to a crypto wallet.
Tamadoge is one of the best crypto games available right now. The project has been enjoying huge demand and with the release of the Tamaverse and Tamadoge pets both slated for Q4 2022, we could see TAMA explode sooner rather than later. Additionally, it's also considered a better alternative to the best crypto faucets in 2023.
Join the Tamadoge Telegram to stay informed about the project's latest updates.
5. Battle Infinity - Popular P2E DeFi Ecosystem Rewarding its Supporters
Battle Infinity (IBAT) is a new crypto project that has been making waves in the industry thanks to its unique ecosystem comprising a fantasy sports platform, an NFT marketplace, a decentralized exchange, a staking platform, a collection of some of the best NFT games, and even a Metaverse arena.
The project has been performing well in recent months. After selling out its 16,500 BNB presale, beating expectations by 65-days, the IBAT token went on to climb by around 400% compared to its presale price after getting listed on PancakeSwap. With statistics like these, IBAT could be the best crypto to buy right now.,
Following the release of the IBAT staking platform, there has been a lot of focus on the Battle Infinity ecosystem, and for good reason. Out of all the crypto tokens on the market, IBAT is one of the top in terms of potential growth. As the project's core features begin to release, we could see the token skyrocket.
To reward its supporters, Battle Infinity has been hosting giveaways on the IBAT Telegram channel. The prizes are typically worth between $10 to $500 and can usually be won by completely specific social actions (e.g. following the IBAT Twitter, sharing a post, etc). With new draws being periodically announced, it's worth following the Telegram closely to maximize the chances of winning.
Battle Infinity is an extremely interesting project that has the potential to grow exponentially in the coming months. The release of the project's fantasy sports league as well as its other primary features will likely cause demand for the IBAT token to boom so it's worth watching Battle Infinity closely and keeping an eye on the project's Telegram in order to not miss the next best crypto giveaway.
6. Lucky Block - NFT Competition Platform Hosting both Paid And Free Prize Draws
Next on our list of the best crypto giveaways is Lucky Block (LBLOCK), a crypto-powered platform created to provide a fair and simple way for people to enter NFT-based competitions with huge prizes.
Lucky Block has created a simple-to-use platform that allows anyone to enter a competition by purchasing an NFT from Launchpad.xyz. Each prize draw is linked to a specific NFT, with the price and available quantity of each proportional to the potential jackpot. Some of the most exciting prizes include $1 million in Bitcoin, a house, and a luxury vehicle.
Even after a competition has been concluded, Lucky Block NFT still provides its owner with the ability to earn free crypto rewards every single day. This is a huge bonus and ensures that the collection remains valuable for the long term rather than being solely used to enter the prize draws.
In addition to the platform's paid competitions, Lucky Block also gives back to its fans by hosting free crypto giveaways. The last giveaway hosted by Lucky Block had a grand prize of $2,500 and less than 2,500 entries, meaning participants had a far higher chance of winning compared to other giveaways.
Lucky Block is in an interesting spot. Anticipation has been building surrounding the launch of the LBLOCK burn program (September 30th, 2022) and with the V1 to V2 token bridge that launched soon after (October 3rd, 2022), the price of LBLOCK could skyrocket. We've got a great Lucky Block price prediction article for investors interested in LBLOCK.
7. Binance - Leading Exchange Hosting a Giveaway for Binance Card Users
The world's largest centralized exchange (by volume), Binance has a penchant for hosting some of the best crypto giveaways out there. Almost every few days, it seems that Binance has launched another competition, ranging in style from crypto airdrops to online lottery-style competitions. With Binance hosting crypto giveaways so frequently, it's worth keeping an eye on its socials.
We mentioned, Binance tends to host frequent free crypto giveaways. The exchange is currently rewarding users that order a Binance card with a 5 BUSD voucher. Even existing card holders can win a small kickback for transacting using the card. Furthermore, one lucky entrant will win a voucher for an entire Bitcoin, making the competition potentially rather lucrative.
With Binance being a favorite trading platform among crypto enthusiasts, there's no real downside to joining in on the giveaways hosted by the exchange as many investors already have an account with the platform.
8. KuCoin - Win Crypto by Creating KuCoin-Related Memes
KuCoin is another popular exchange that frequently rewards its users by hosting exclusive competitions with various prizes. The exchange has a huge user base consisting of more than 10 million investors and traders around the globe. As such, to ensure that each competition is fair, KuCoin will often host region-specific competitions reducing the difficulty of winning.
Out of all of the platforms we've looked at, KuCoin hosts perhaps the greatest quantity of giveaways. Currently, there are three active competitions. One rewards people for staking crypto on the exchange, another rewards users for trying futures trading, and the final KuCoin prize draw allows people to earn crypto by creating memes related to the exchange.
While the competitions KuCoin hosts tend to have more specific entry requirements than most, the platform more than makes up for this with the sheer quantity of prize draws it hosts. New competitions are typically announced on the news section of KuCoin or on the company's socials so it's worth keeping up to date with more.
9. Crypto.com - $10,000 Ethereum Giveaway for Anyone Trading ETH
In addition to being home to some of the best play-to-earn games on the market, Crypto.com also hosts some of the best crypto giveaways in the industry. The exchange, which provides hundreds of the best altcoins is well known for rewarding its users through a variety of means, most commonly, staking and cashback rewards.
The most recent prize draw hosted by Crypto.com is related to the highly anticipated Ethereum merge. in order to support the upgrade of Ethereum, Crypto.com launched a trading competition with a sizable $10,000 prize pool. With so many investors and traders already buying and selling ETH because of the merge, this competition could be fairly passive for some people.
Overall, Crypto.com is up there with the world's best-known centralized exchanges, and with the platform hosting a myriad of prize draws it's easy to see why. For investors looking to stock up on new cryptocurrency projects while having the chance to win some awesome prizes, Crypto.com is worthy of consideration.
10. Coinbase - Win Crypto By Learning and Completing a Quick Quiz
Coinbase is commonly regarded as being one of the best crypto exchanges on the market for beginners. It makes learning to buy and sell crypto incredibly simple and thanks to its strict vetting process for new additions to the platform, it also improves the safety of cryptocurrency.
Coinbase provides its users with a few ways to earn free crypto. Perhaps the most famous is the program that allows Coinbase users to earn rewards simply by learning about an asset and answering a few quick questions, easily completable within five minutes. Furthermore, Coinbase has a great referral program that rewards people with $10 for introducing new people to the platform.
For beginners looking for a simple way to earn free crypto, Coinbase is an excellent choice. Its learning program makes getting rewards educational and fun, a winning combination. As such, it could be worth checking out the exchange, even if just to get a few bonuses.
11. CEX.io - 100% Free Solana Giveaway Worth $3000
In order to avoid fake giveaways or crypto giveaway scams, it's advisable to only enter a competition if it originates from a trusted source. Therefore, for investors looking for the best crypto giveaway, we've opted to include another well-known exchange on our list. CEX.io was founded in 2013 and has more than x million users spread across the planet.
The CEX.io Solana giveaway is accessible for anyone staking SOL on the exchange. In order to gain additional entries to this online lottery-style competition, a user can complete a number of social actions including leaving a review on the play store, following CEX.io on Twitter, and tagging three friends in a post related to the prize draw.
For anyone looking to find the best crypto giveaway, CEX.io hosts some of the industry's most frequent prize draws making it a solid choice. While the exchange isn't as well known as some of the others on our list, it's one of the longest-running platforms on the market and shouldn't be overlooked by those looking for crypto competitions to the trying to find cryptos with the most upside potential.
How do Crypto Giveaways Work?
While the concept of the best crypto giveaway is simple, each competition tends to have slightly different prerequisites and potential prizes. As such, it can be a touch confusing to decipher how crypto giveaways work. Luckily, when the concept is explained clearly, it's far easier to understand.
One of the most common ways a crypto giveaway works is by rewarding users for engaging with the brand on social media. It's common for an entity in the crypto space to want to boost social engagement so these prize draws benefit both parties. There is a huge range of potential social actions that could be required but a couple of the most common include following an account or liking a post.
Another way it's possible to enter the best crypto giveaway is by engaging in trading-related activities on a certain platform. The most common trading activity that an exchange will incentivize is futures (leveraged) trading. However, trading-based draws aren't limited to futures. Some platforms will offer rewards for spot trading or even staking coins.
Overall, there is a multitude of different competition out there. However, they will all typically involve the entrant completing some sort of action beneficial to the host of the giveaway. As such, looking out for competitions that offer huge prizes with seemingly no incentive to the host and best avoided as they can end up being fake crypto giveaways.
How to Enter a Free Crypto Giveaway
In order to make it simple for interested parties to enter the best crypto giveaway, we've created this simple guide detailing the entire process.
Wall Street Memes is providing a large airdrop of $50,000 worth of $WSM tokens as a giveaway to those who can help the project reach its presale target. To enter this giveaway.
Buy WSM tokens on presale
Join the platform's Discord.
Conclusion
There is no reason not to love a good crypto giveaway. During this guide, we've taken a look at eight of the hottest giveaways available to participate in, discussed how the best crypto giveaways work, and explained how an investor can take part in the best crypto giveaway. However, a particular project stood out and was worthy of mention again.
One of the top giveaways is being conducted by Wall Street Memes, a new meme cryptocurrency. Those who enter the $WSM presale and follow the platform on social media can stand a chance to win up to $50,000 worth of $WSM tokens.
FAQs

What is a giveaway crypto?
In crypto, a giveaway is simply an event hosted by an entity within the crypto space with the goal of rewarding users. It's common for giveaways to require the entrant to complete various quick actions in order to claim their prize.
Can you get cryptocurrency for free?
Yes, in contrast to what some investors will have people believe, it's entirely possible to earn free crypto. Wall Street Memes is offering $50,000 in tokens for investors who participate in its presale.
Which crypto apps give free coins?
The majority of the best crypto apps will offer some way to earn free coins. While Binance and KuCoin are both perfect examples, Coinbase's program that rewards users with crypto for learning about various assets is perhaps the most famous.
What is the best crypto giveaway?
While we've taken a look at some create prize draws, Wall Street Memes & AiDoge have the best crypto giveaway. It gives investors opportunities to increase their chances of winning by providing multiple entries for task completion.

---