Best Crypto to Buy Today 19th January – KAVA, MEMAG, APT, FGHT, FXS, CCHG, AGIX, RIA, TARO, D2T
Disclosure: Crypto is a high-risk asset class. This article is provided for informational purposes and does not constitute investment advice. By using this website, you agree to our terms and conditions. We may utilise affiliate links within our content, and receive commission.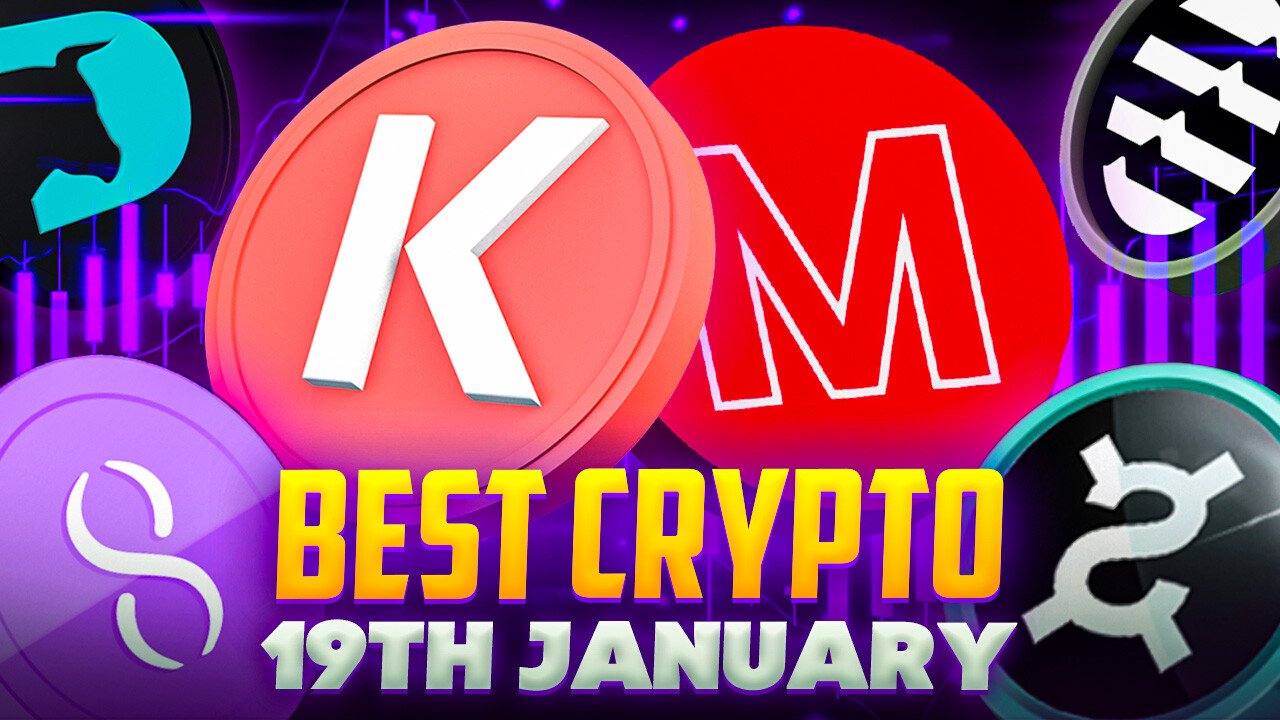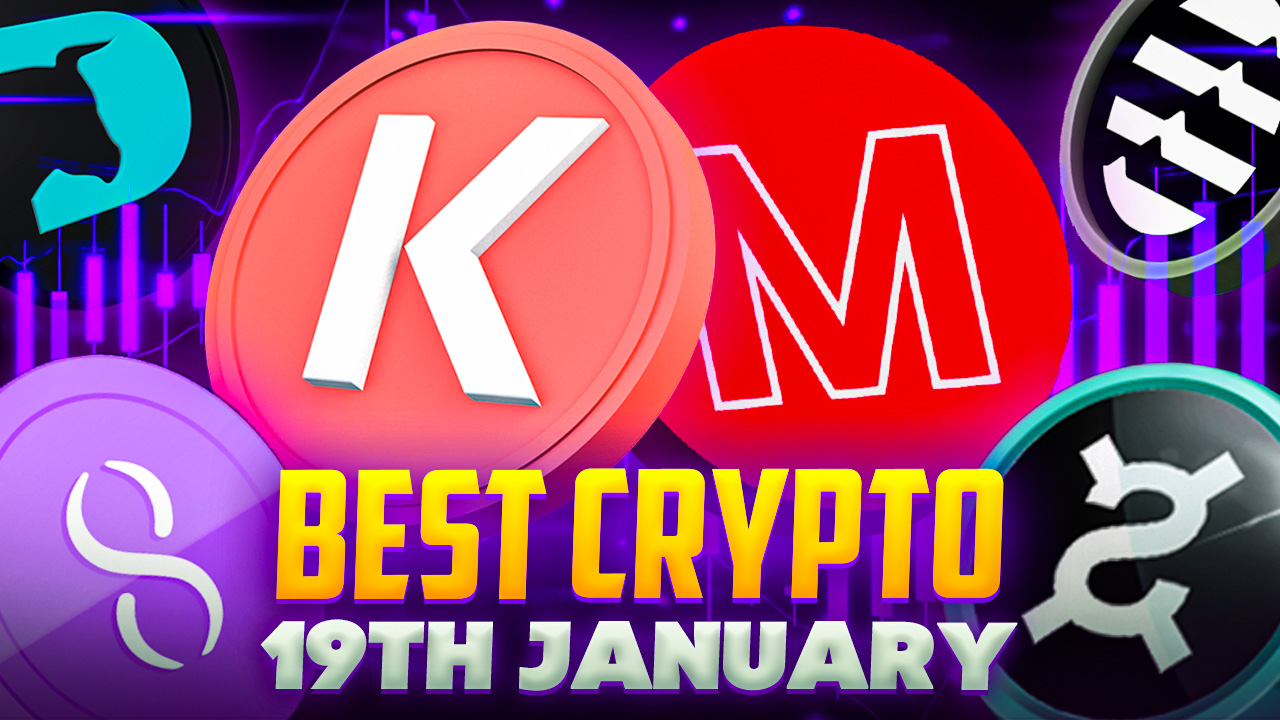 The cryptocurrency market has witnessed a 2.5% drop in the past 24 hours, with gains over the last week giving way to a slight correction. Still, with its total cap at roughly $997 billion, it remains up by 8% in a week and by 20% in a month.
And despite today's losses, some coins have bucked the overall trend to record gains. We therefore compile the best-performing tokens into this list of the best crypto to buy today, including a variety of presale tokens with strong fundamentals.
Kava (KAVA)
KAVA has reached $1.03 today, representing a 9% jump in the past 24 hours and a 38% gain in a week. It has also posted a 52% return in the last 30, with Coinbase announcing that it will be listing the layer-one token from today.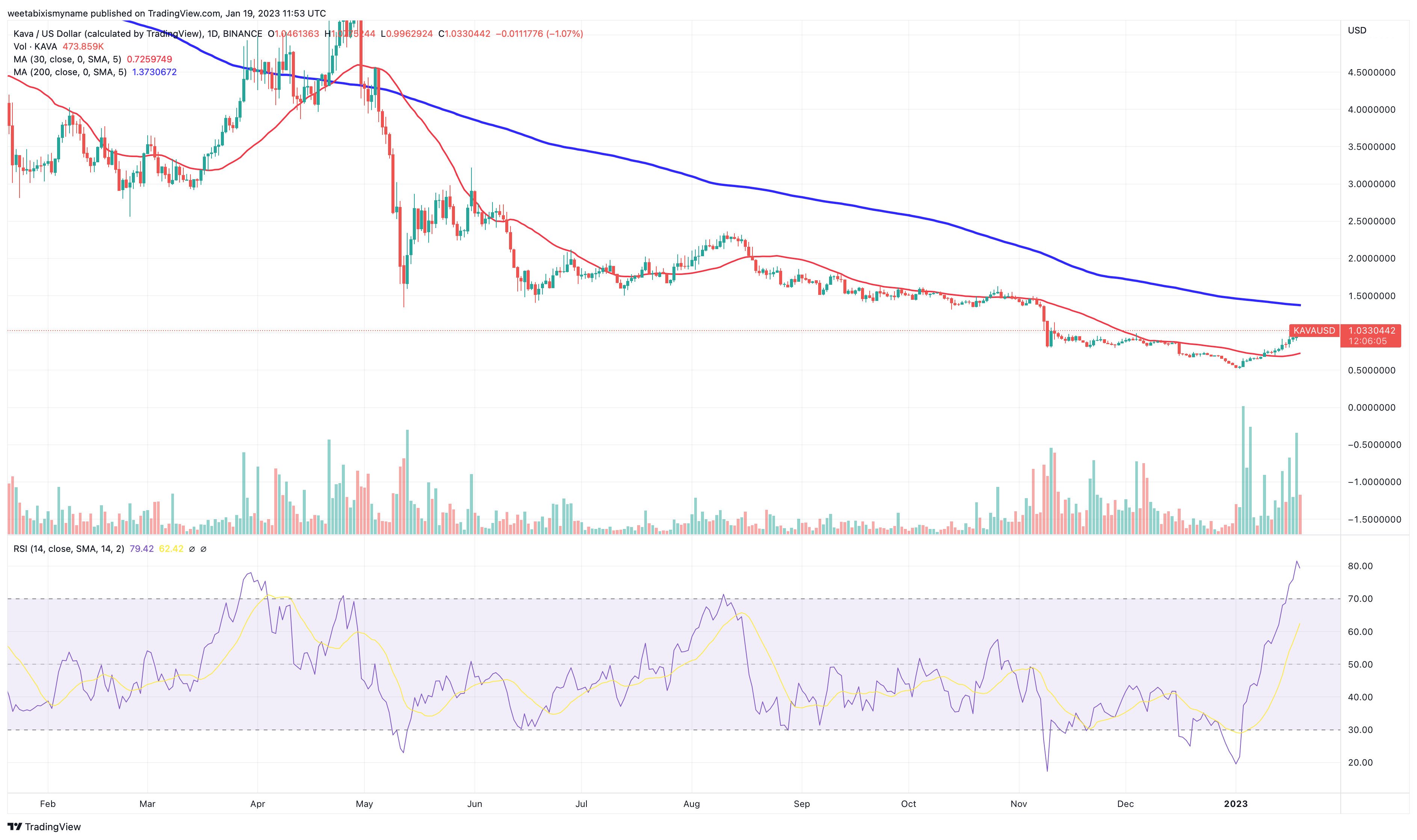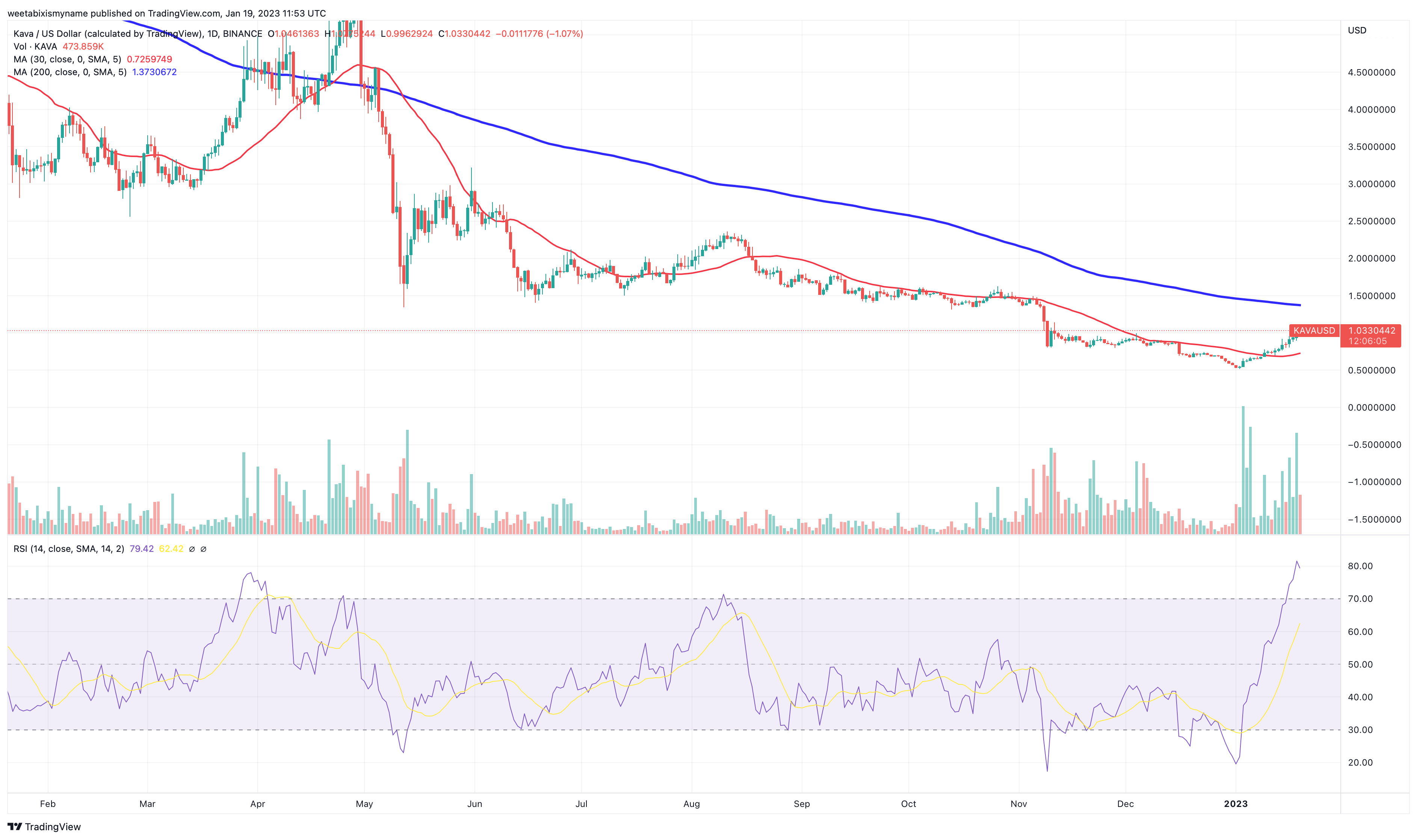 Yes, since Coinbase announced its KAVA listing, the latter's indicators have perked up massively. Its relative strength index (purple) has shot up to 80, while its 30-day average (red) has begun moving up towards its 200-day (blue), signalling a significant breakout rally.
📢 Huge news: Coinbase lists #KAVA pic.twitter.com/38g90z52eh

— Kava (@KAVA_CHAIN) January 18, 2023
Coinbase's listing of KAVA will begin today from 9:00am Pacific Time (5:00pm UTC), at which point expect some more volatility (which could be either good or bad). More generally, Coinbase's listing of the coin follows plenty of promising organic growth for Kava, its native platform.
The #KAVA ecosystem is relentlessly growing, bridging, and finding new ways to add value 💪 pic.twitter.com/sCBOyWOmBj

— Kava (@KAVA_CHAIN) January 13, 2023
As illustrated in the tweet above, Kava is steadily building out its ecosystem, with the proof-of-stake layer-one platform now the 13th biggest such platform in terms of total value locked in, and the 11th in terms of protocols launched.
Meta Masters Guild (MEMAG)
Meta Masters Guild has now raised over $650,000 in its presale, which is attracting a growing number of investors to its play-to-earn gaming platform.
🚀 The #MEMAGFAM is growing fast, and so is the value of our tokens! 🚀

💰 We have raised over $650K!! 🤯

Let's keep making $MEMAG a success! 💪 Get in on the action now before the price increases! 💰https://t.co/SBqVjX5mWn#mmg #memag #memagpresale pic.twitter.com/H0QvV27yQy

— Meta Masters Guild (@MEMAGgames) January 19, 2023
Due to launch its first game in Q3 2023, Meta Masters Guild is a mobile-focused gaming guild that will develop a range of Web3 and play-to-earn games. Its native token, MEMAG, will be used for governance purposes, as well as for staking and for purchasing items and NFTs.
The token sale will have a total of seven stages, with the second — and current — stage offering 1 MEMAG for $0.01.
Aptos (APT)
APT has gained by 2% in the past 24 hours, reaching $7.81. This represents a 47% gain in a week and an impressive 105% increase in the last 30 days, making the layer-one token one of the best-performing top-100 coins of the period.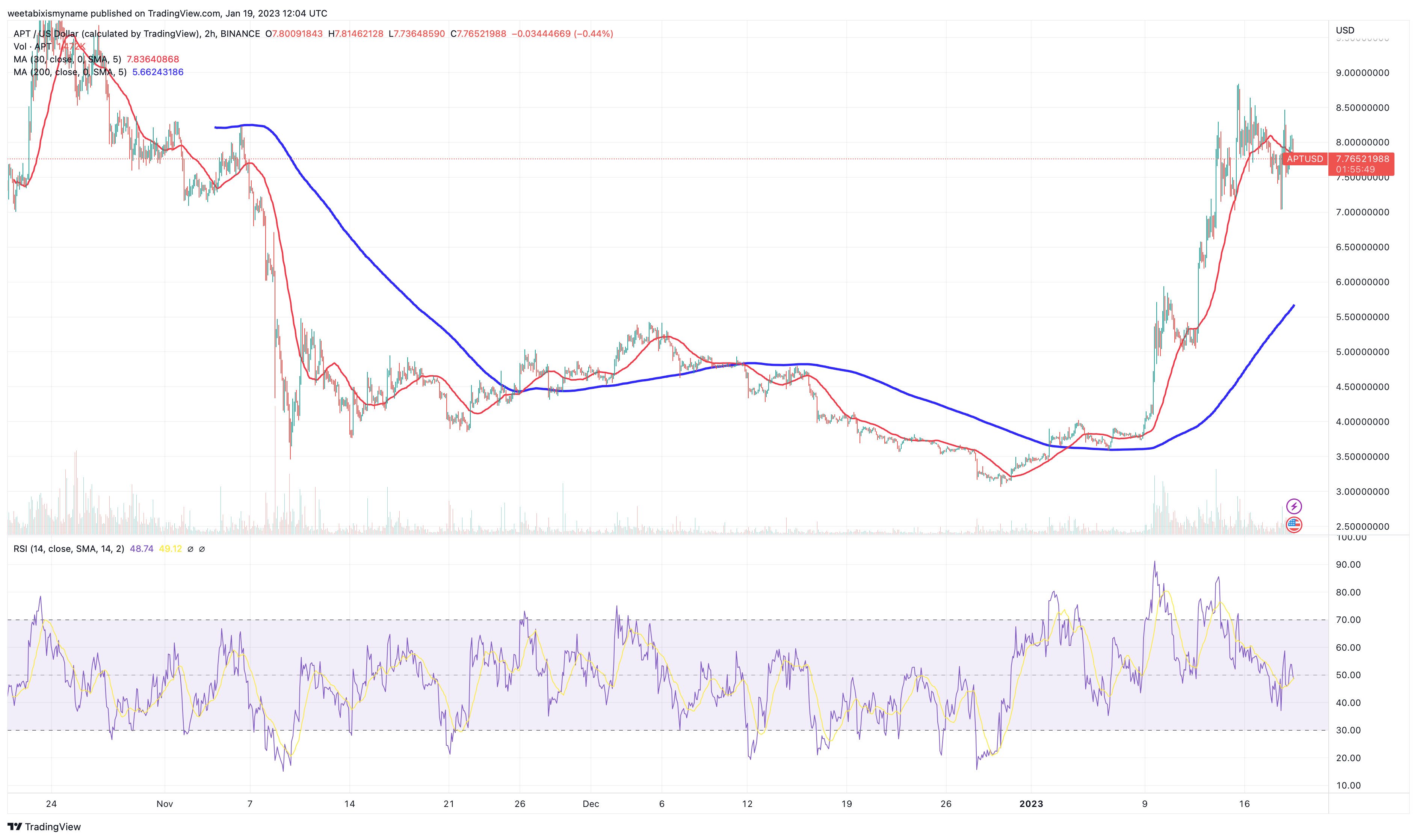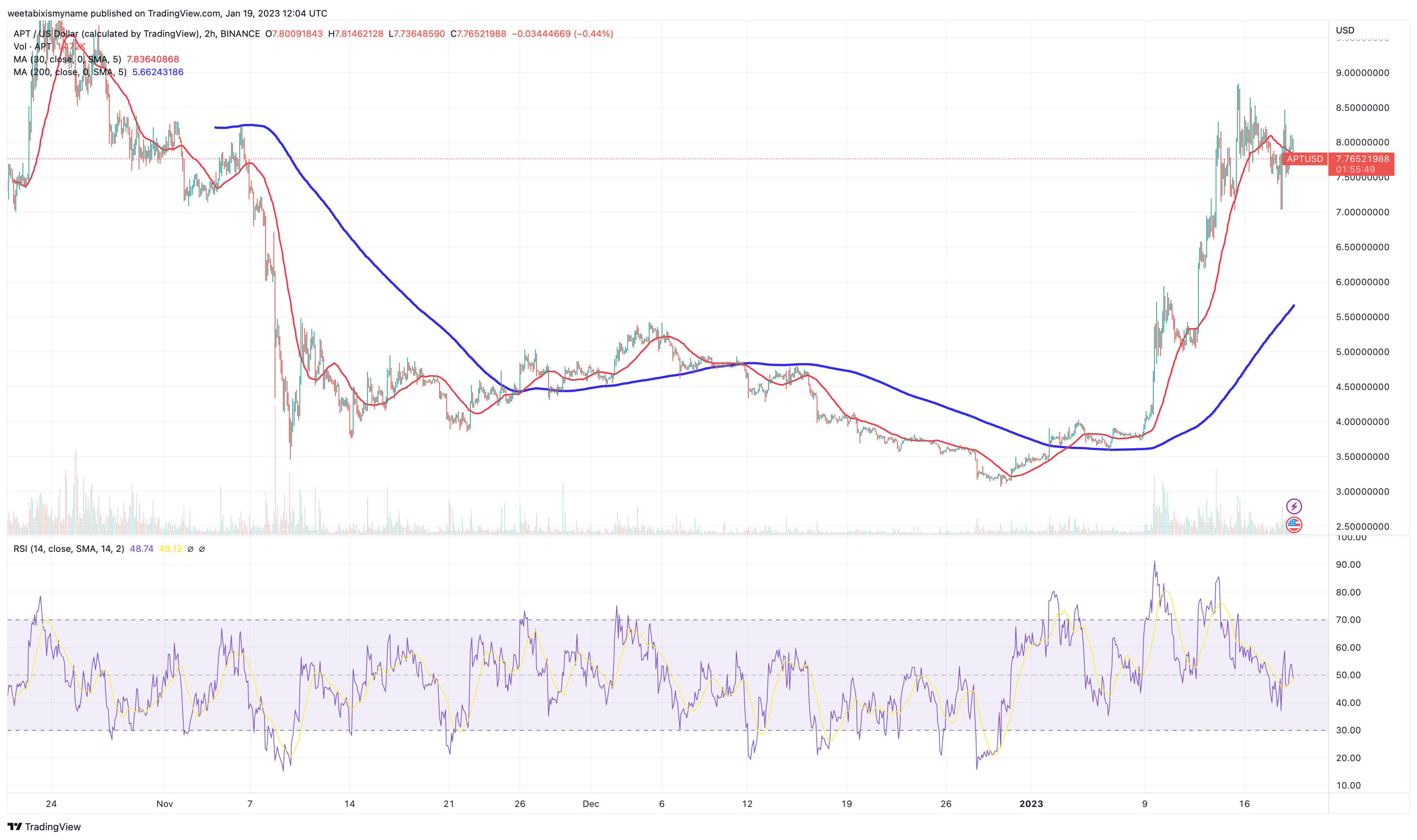 APT's indicators suggest that it may actually be due to correct downwards, given just how high its 30-day average is in relation to its longer term 200-day average. That said, its RSI has crept back up after sinking below 50, so it be able to maintain its momentum for a little while longer yet.
Born out of Meta's doomed digital currency project and using the same Move programming language that was created for Diem, Aptos was launched in October 2022, when it reached an all-time high of $13.73.
Mainnet has arrived.https://t.co/wZajVZMa5Q

— Aptos (@Aptos_Network) October 17, 2022
Given the pedigree behind the project, and given that Aptos has raised hundreds of millions of dollars in venture capital, many investors are banking on its long-term success. Of course, while the Move language makes Aptos highly scalable in theory, it has yet to attain a real critical mass in terms of usage, so it may be another few months before it returns to its current record high.
Fight Out (FGHT)
Fight Out (FGHT) is a move-to-earn platform that will mix real-life workouts with Web3 when it launches in the second quarter of the year. It will track and reward a much wider range of workouts than earlier M2E platforms, including boxing, weightlifting and yoga, while also offering a range of in-app and IRL courses at its own branded gyms.
Huge milestone #FightOutCrew! 👊

We have just raised over $3M in our stage 1 presale! 🔥

⏰ Only 5 days left until the stage 2 price starts increasing! ⏰

Don't miss out – Get up to a 50% bonus with $FGHT! https://t.co/uoCKFB3X3n pic.twitter.com/b44ZDKaHXt

— Fight Out (@FightOut_) January 18, 2023
Its token sale opened in December and has already raised over $3 million, with 1 FGHT currently selling at $0.0166. The sale is due to end on March 31, with exchange listings due from April 5, when the coin will potentially make some above-average returns for early investors.

Visit Fight Out Now
Frax Share (FXS)
FXS has is up by 1% today, reaching $9.04. This makes for a 61% rise in a week and an 80% surge in a month, meaning that FXS — a coin that's barely two years old — is one of the best-performing tokens in the market right now.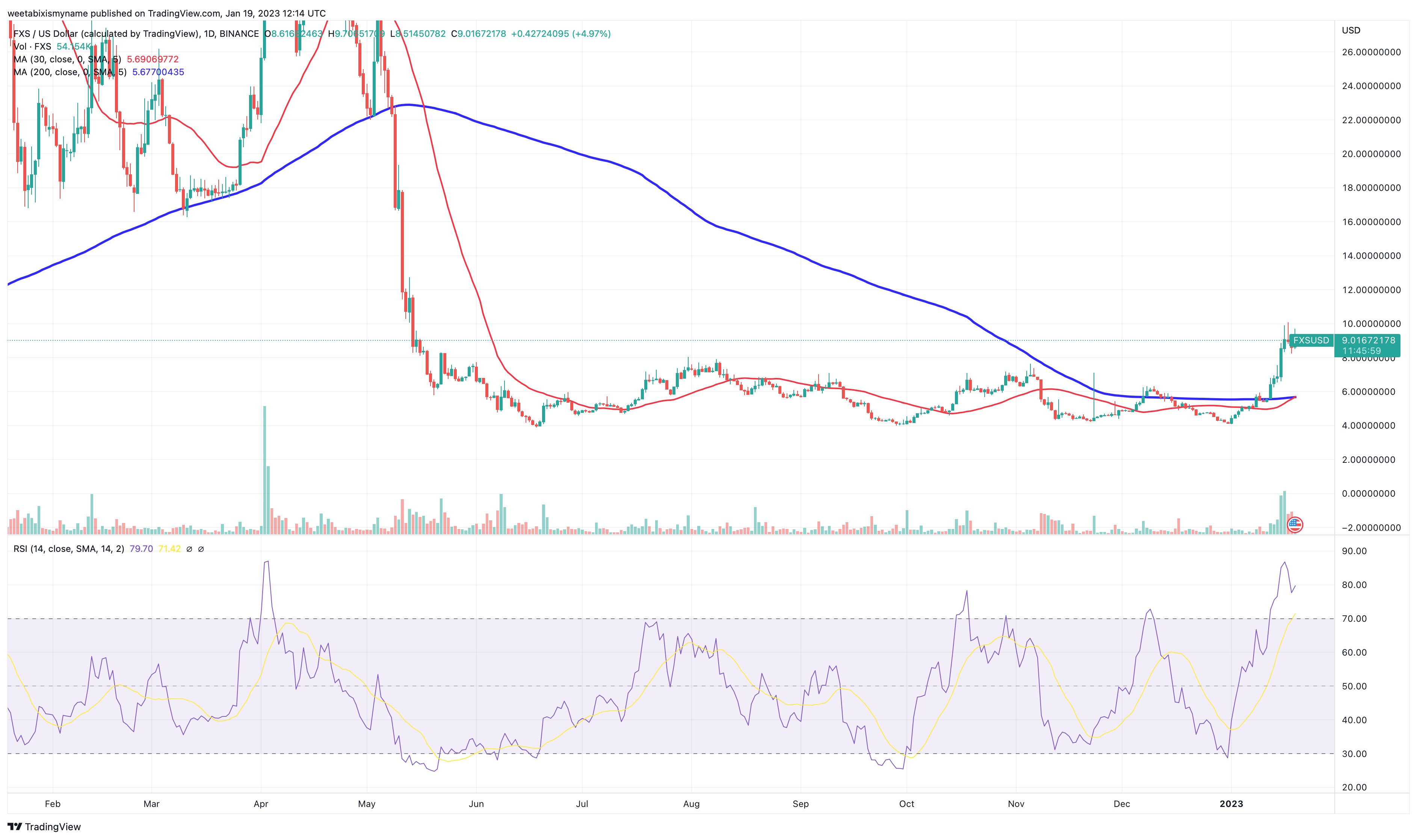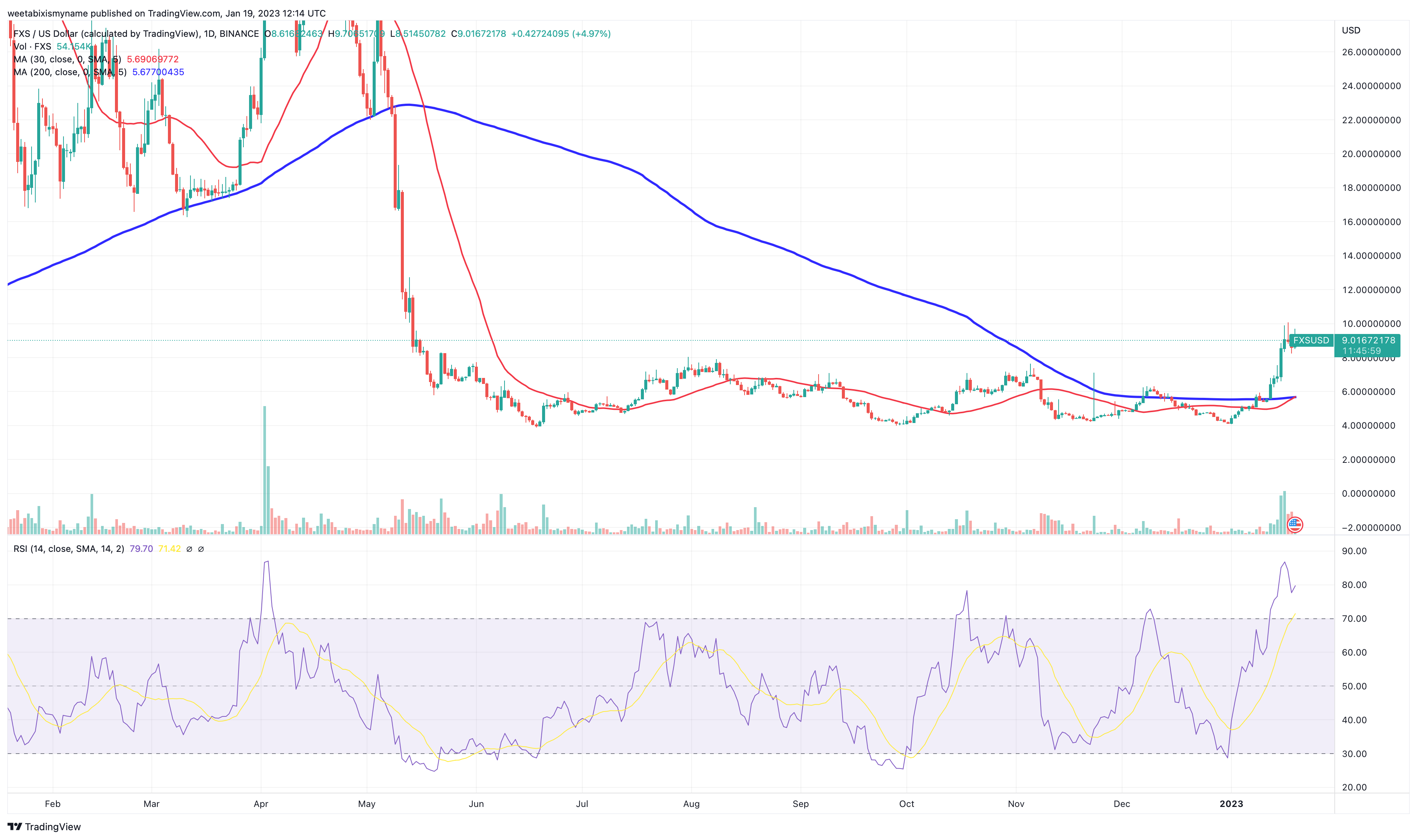 FXS' indicators signal a breakout rally, with its RSI continuing to rise above 80 again despite a slight dip in the past day or so. Likewise, its 30-day average is about to form a golden cross with its 200-day, again indicating a strong breakout.
¤ Frax Finance has been crushing it lately🔮

And with their growing ecosystem of DeFi products, $FXS has a TON of upside in 2023.

Here are 5 reasons why @fraxfinance will be a central player in DeFi this year and how you should be taking advantage of this 🧵 1/19 pic.twitter.com/epFMEgY4HF

— Thor⚡️Hartvigsen (@ThorHartvigsen) January 17, 2023
FXS is rising as a result of growth in adoption of native platform Frax Finance, a decentralized lending protocol that has witnessed more usage in the past few weeks owing to its ETH staking service. More specifically, the frxETH token users receive in return for ETH has become popular as a form of liquidity on (decentralized exchange) Curve.
In light of just how strong FXS's momentum is right now, it could easily break through the $10 barrier in the next few weeks, with the coin 78% down from its record high of $42.80.
C+Charge (CCHG)
Running on BNB Chain, C+Charge (CCHG) is a peer-to-peer payment network for electric vehicle (EV) charging stations. Aimed at ESG investors, it aims to use blockchain and crypto to democratize access to carbon credits, with its native CCHG set to be used within its network by EV owners to pay to charge their vehicles.
With the $CCHG token, you can:

🌱 Receive carbon credits
🌱 Use real-life utilities in every #EV charge
🌱 Be rewarded with our partners' incentives and free charges
🌱 Reduce carbon emissions

Join our presale now ⬇️https://t.co/ixe18bPqzI

— C+Charge (@C_Charge_Token) January 15, 2023
As part of its network and ecosystem, C+Charge will reward users with NFT-based carbon credits for charging their EVs at its stations, giving people an incentive to go green. It has also already signed partnershps with Flowcarbon and with Perfect Solutions Turkey, adding 20% of the EV chargers in Turkey to its network.
SingularityNET (AGIX)
Having had a very strong month, AGIX is actually down by 4.5% today, dropping to $0.198733. Even so, this is still a 137% rise in a week and a 337% surge in the last 30 days, with the coin benefitting massively from increased interest in artificial intelligence.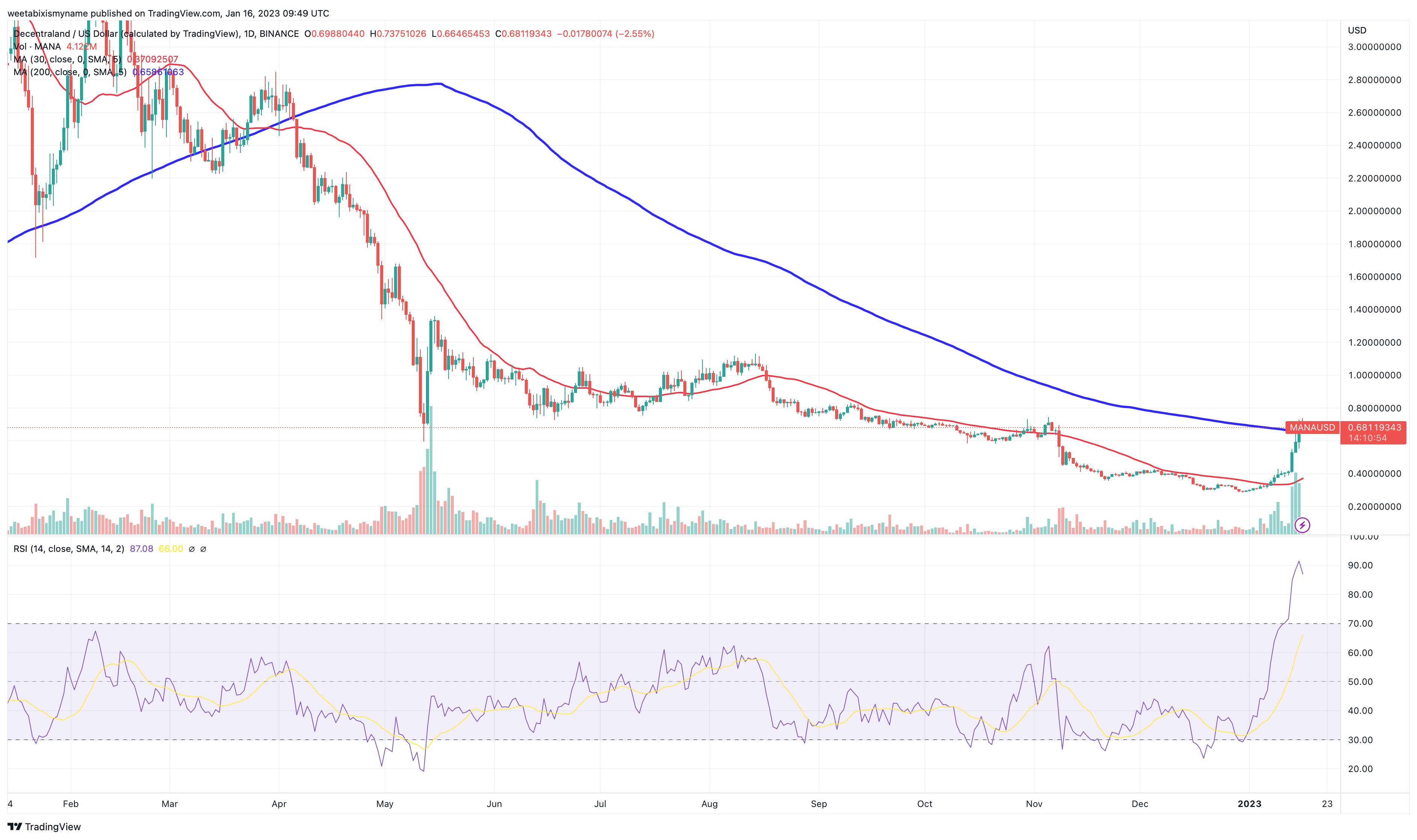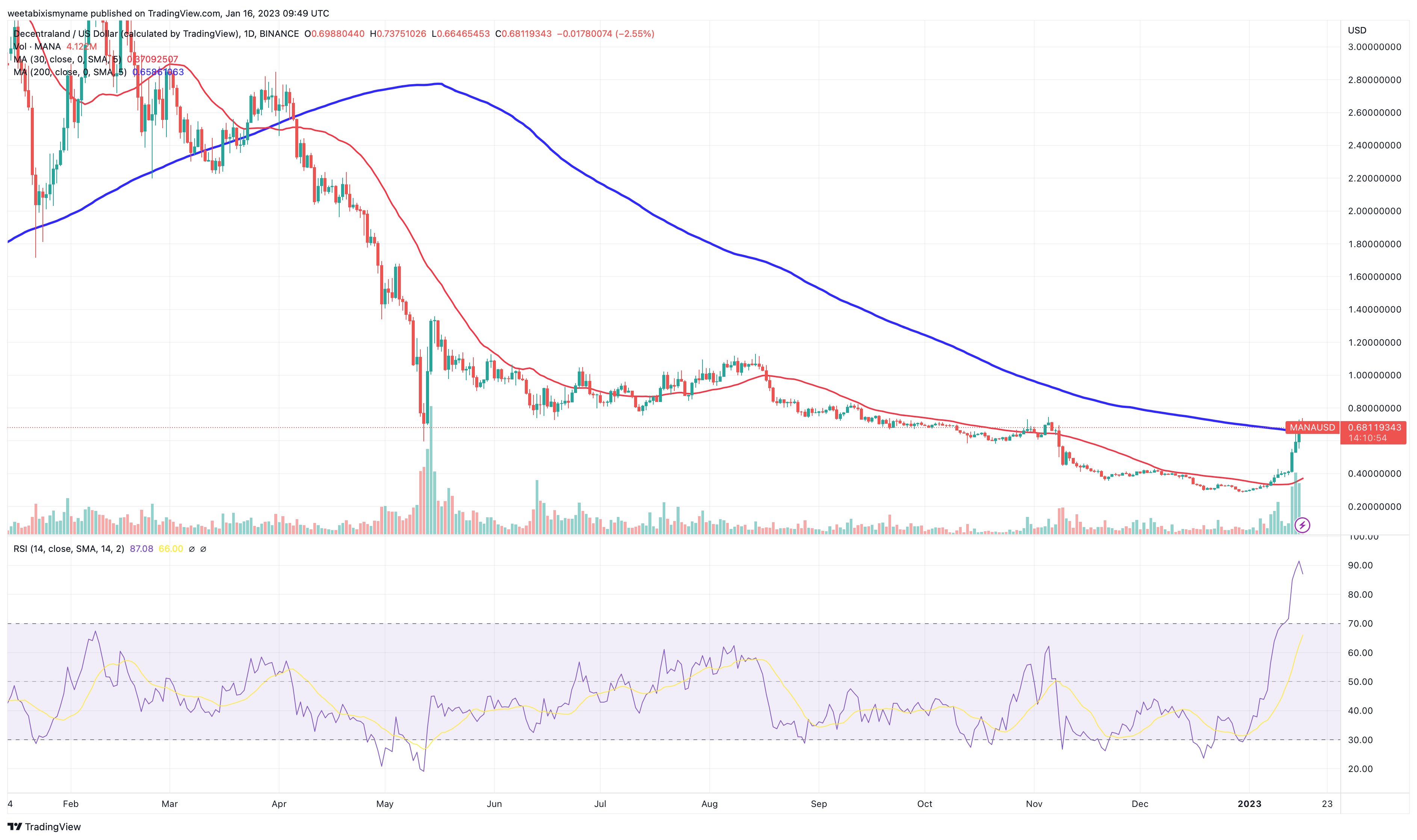 AGIX has been riding ever since the arrival of OpenAI's ChatGPT turned much of the investment world's attention to AI. Now, it seems that traders want a piece of every credible AI project and proposition in the market, with SingularityNET — a decentralized marketplace for AIs and AI services — being the main beneficiary within crypto.
https://www.twitter.com/AGIXSupportPage/status/1616030031641182208
Further gains for AGIX were stoked by the news that Microsoft would be investing $10 billion in OpenAI, the developer behind the wildly popular AI chatbot ChatGPT. And with AI technology now reaching a real level of maturity and usability, SingularityNET will likely witness considerable growth in the coming months, with obvious benefits for AGIX, which is used to pay for transactions and in relation to governance.
Calvaria (RIA)
Calvaria is a new play-to-earn battle card game that's now in the final stage of its token sale, having raised nearly $2.8 million so far. Only 7% of the available RIA coins remain, with the token due to list on such exchanges as LBANK Exchange and BKEX Global in the next few weeks.
Set to be playable on PC and smartphone, Calvaria interestingly doesn't require any cryptocurrency to play, although it does also include numerous play-to-earn elements. This makes it more accessible than pre-existing blockchain-based games, and could open it up to a much wider audience.
The game itself is due to launch in Q2 2023, with its world set in a mythical afterlife. Players will have the ability to earn and upgrade a wide ecosystem of collectible cards, which will also be used to battle with different factions in the game's universe.
RobotEra (TARO)
Running on the Ethereum blockchain, RobotEra is an exciting new Sandbox-style Metaverse, where players can participate in the creation of NFT-based land and buildings. An alpha version of its Metaverse galaxy is due by the close of Q2 2023, from which point forwards various new gameplay elements — including VR and AR features — will be introduced.
Get ready to join the #RobotEraArmy! 🔥

🌎✨ You can be the creator of a whole new world!

🤖 With no limits, you can earn income while creating your own continent and have fun!

Join now ⬇️
https://t.co/UJ3inomU89 pic.twitter.com/H5vmayPv4V

— RobotEra (@robotera_io) January 19, 2023
It launched the presale for its TARO token at the end of last year, and has currently raised over $700,000. Investors can participate by going to the RobotEra website and connecting their Wallet Connect cryptocurrency wallet to purchase TARO for either ETH or USDT.
At the moment, 1 TARO is selling for $0.020, although this will rise to $0.025 during the second phase of the sale, which is due to begin soon. There will be three stages in total, accounting for 15% of TARO's total maximum supply of 1.5 billion, with the biggest shares being set aside for its DAO-based treasury (33%) and for play-to-earn rewards for players (25%).
Dash 2 Trade (D2T)
Having listed on exchanges on January 11, D2T is down by 9% in 24 hours. At $0.01373992, it's also down by 62% in a week, although up by 9 since hitting an all-time low of $0.01277386 on January 15, indicating just how volatile newly listed coins can be.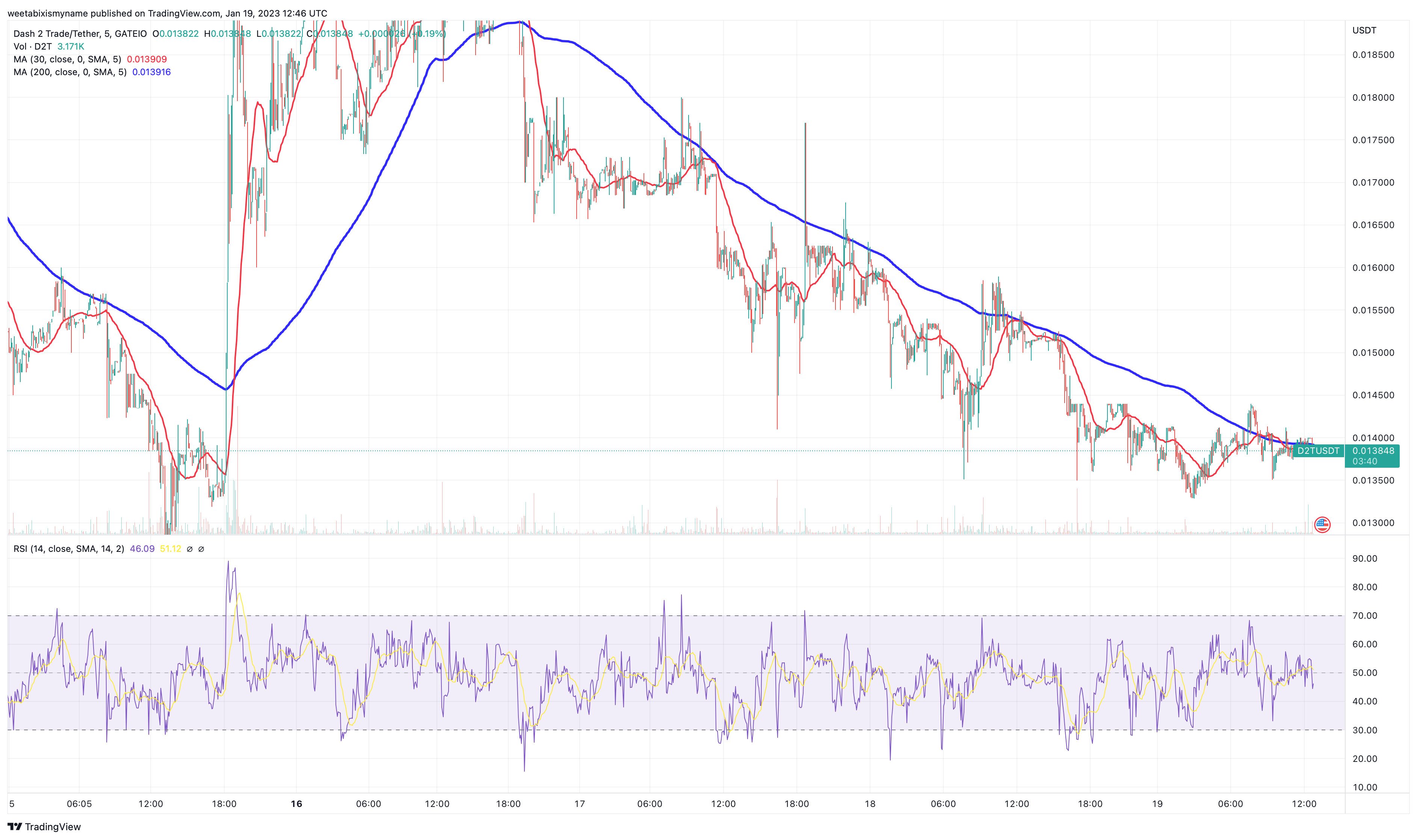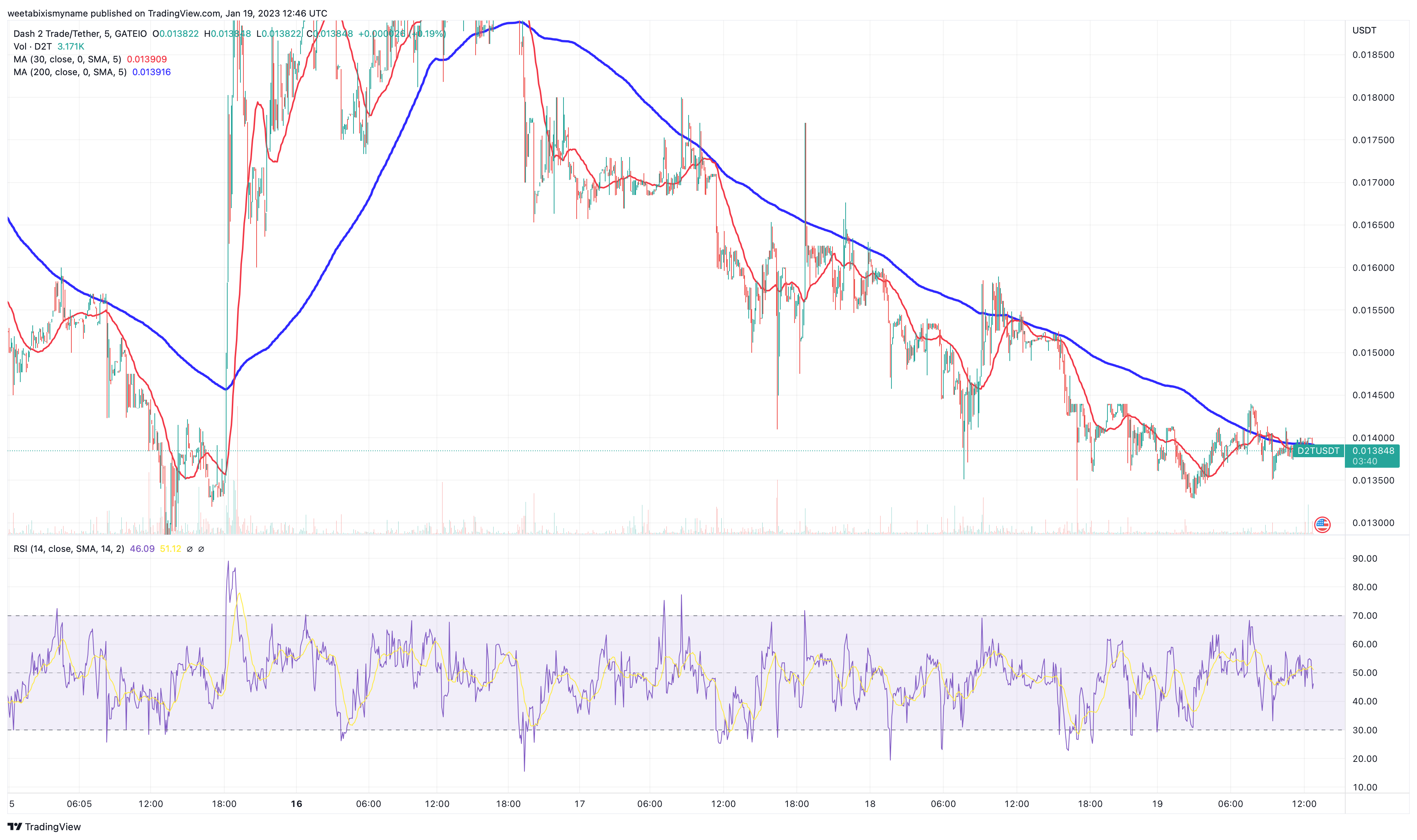 Dash 2 Trade is a trading intelligence platform that will launch by the end of this quarter. Its unique trading dashboard will provide real-time analytics and social trading data, giving investors all the resources and tools they could possibly need to inform and improve their trading.
✔️A trader's risk profile is key to building a strong framework that consistently makes profitable trades.

✔️It is D2T's goal to guide retail traders to take more effective approaches to the market.

Learn more ⬇️https://t.co/ExvBBjKIU6 pic.twitter.com/FLIYZx469g

— Dash 2 Trade (@dash2_trade) January 13, 2023
Having raised over $15 million in its sale, D2T has now listed on Gate.io, with BitMart, Changelly Pro, and LBANK Exchange also listing the coin.
---