Best Crypto to Buy Today 11th January – MEMAG, XRP, FGHT, SHIB, CCHG, BNB, RIA, MATIC, D2T
Disclosure: Crypto is a high-risk asset class. This article is provided for informational purposes and does not constitute investment advice. By using this website, you agree to our terms and conditions. We may utilise affiliate links within our content, and receive commission.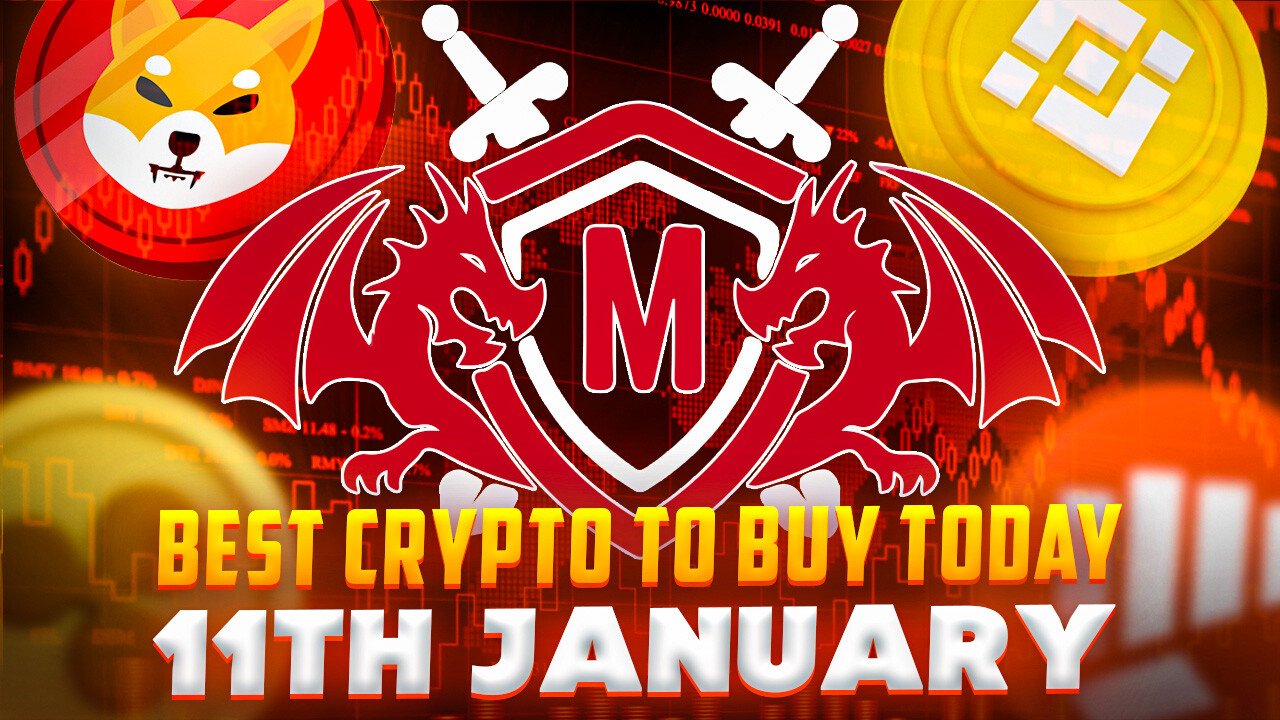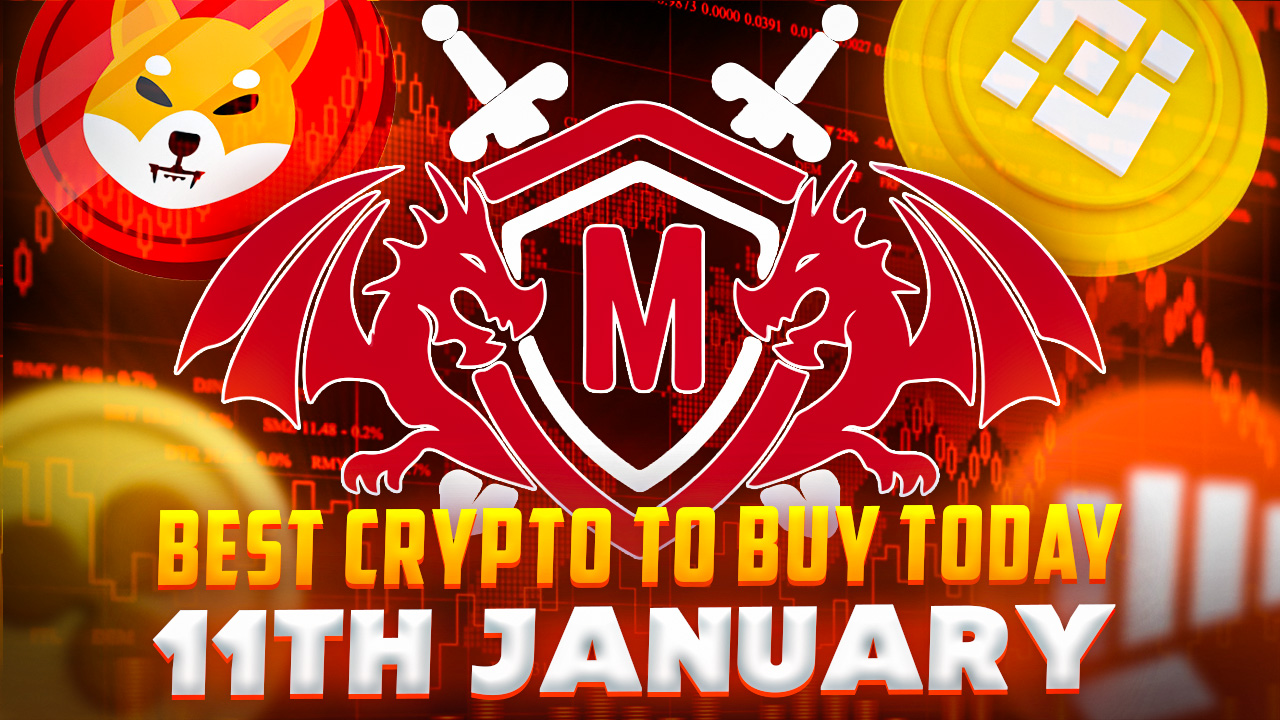 The cryptocurrency market has crept up by 0.5% in the past 24 hours, reaching a total cap of $894 billion. This means it has risen by around 6.5% in the past week, although it's mostly unchanged in the past month and still significantly down compared to this time last year.
However, while the market hasn't moved much in the past couple of days, several altcoins have posted some above-average gains. This articles collects them in a list of the best crypto to buy today, along with various presale tokens that boast strong fundamentals and promising roadmaps.
Meta Masters Guild (MEMAG)
Launching its presale today, Meta Masters Guild is a mobile-focused gaming guild that will develop a range of Web3 and play-to-earn games. Running on Ethereum, its games will feature playable NFTs, while also paying out rewards that can be exchanged for its native token, MEMAG, which in turn can be staked and traded.
Its sale will have a total of seven stages, with the first — and current — stage offering 1 MEMAG for $0.007. This price will incrementally rise to $0.023, meaning the earliest investors will see a 228.5% increase even before MEMAG lists.
Zhuri competes in the Meta Kart Championship for one reason; vengeance 🩸

After her family was slaughtered by the Meta overlords, she swore to avenge them ⚔️
#masterthemetaverse ⚡️ pic.twitter.com/xE9li2fbPa

— Meta Masters Guild (@MEMAGgames) October 3, 2022
With the platform due to launch its first game (Meta Kart Racers) in the second quarter of this year, Meta Masters Guild is likely to witness rapid growth. And if the wider market and global economy enters more favorable conditions, its native token could end up being one of the chief beneficiaries.
Visiting Meta Masters Guild Now
Ripple (XRP)
XRP has gained by 3.5% in the last 24 hours. At $0.363029, it has also risen by 5.5% in a week, but remains down by 5% in past month.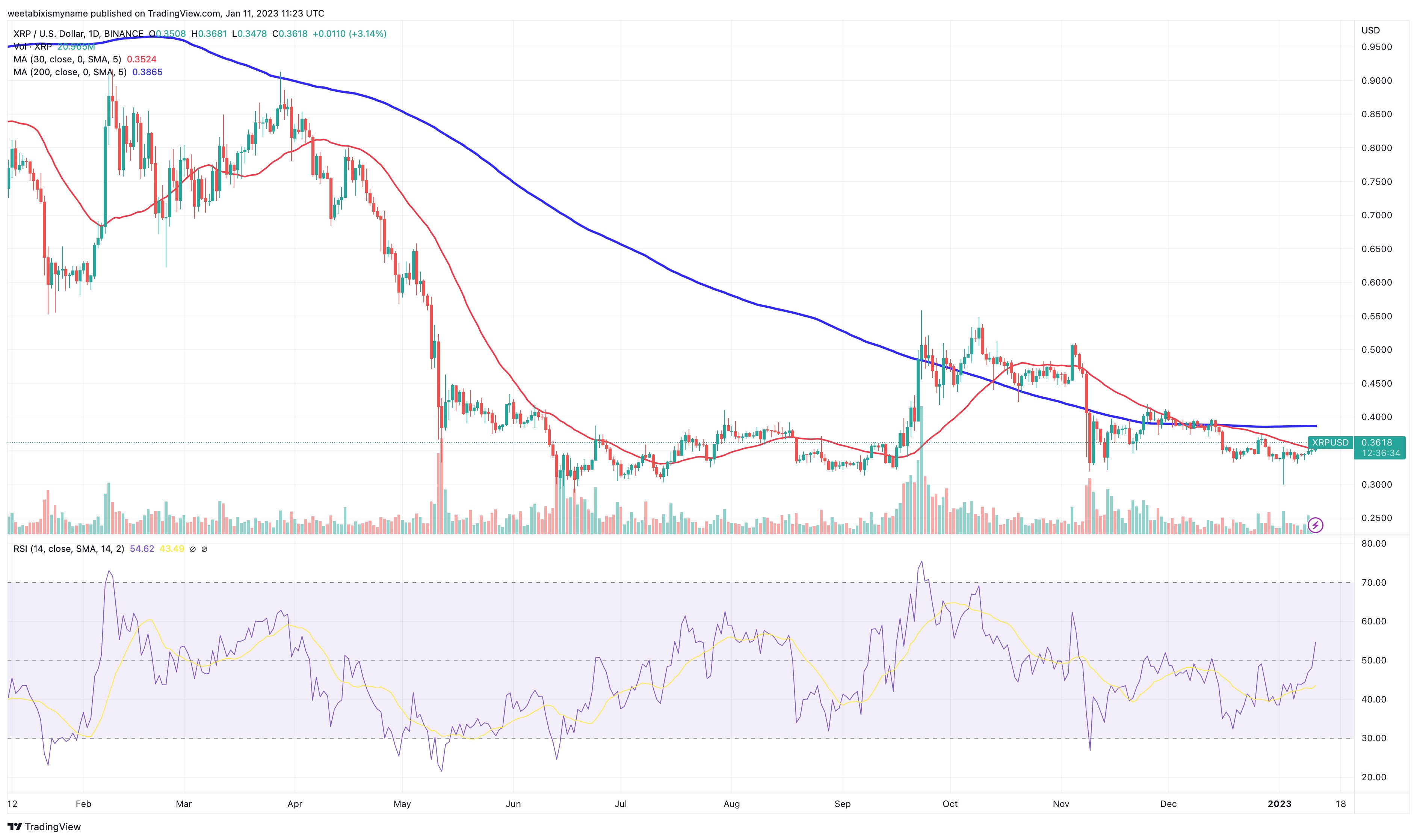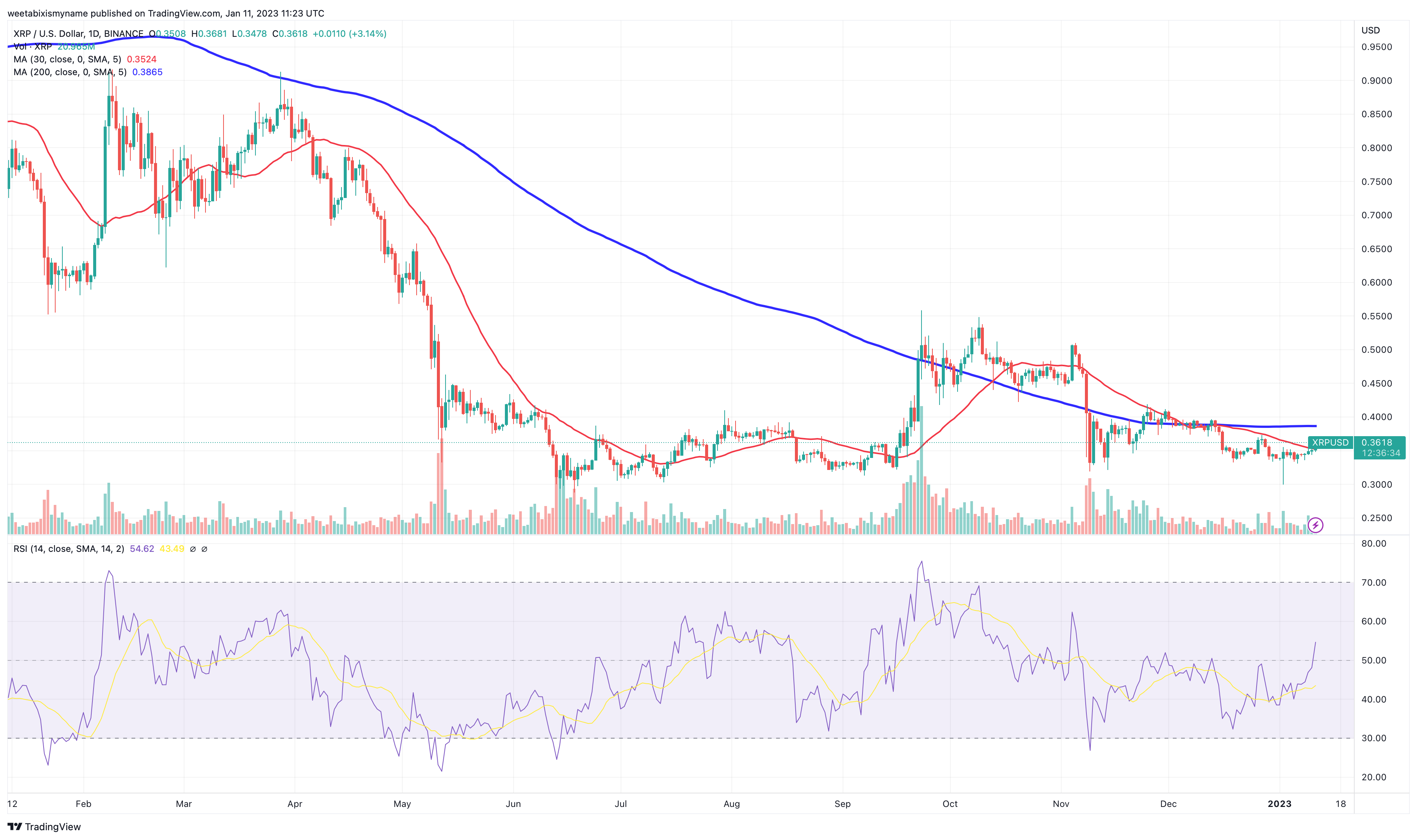 XRP's chart points to a change in fortunes, with the coin's relative strength index (purple) rise above 50 in the past few hours, having welcome the New Year at below 40. Likewise, it seems that its 30-day moving average (red) may have stopped falling relative to its 200-day (blue), and may be about to begin rising relative to the longer term indicator.
In terms of XRP's bigger picture, it's still waiting on the conclusion of Ripple's long-running legal battle with the SEC. This could potentially go either way, but Ripple has had a few small victories during the case, including several important decisions going in its favor (e.g. access to the 2018 Hinman emails).
BOOM! (And I don't use that term lightly)

The SEC's Motion to Strike the Fair Notice Defense is DENIED.

This is the one I've been waiting for.

NOW the SEC has something to lose. https://t.co/LcRpWysixn

— Jeremy Hogan (@attorneyjeremy1) March 11, 2022
Assuming that Ripple does secure some kind of favorable settlement or summary judgment, this would likely result in a massive rally for XRP. As such, the latter is one of the major cryptocurrencies to watch this year, and its successes may end up being a catalyst for the wider market.
Fight Out (FGHT)
Fight Out (FGHT) is a platform that aims to mix real-life workouts with Web3 and the metaverse. Based on Ethereum, it will track and reward a much wider range of workouts than earlier move-to-earn platforms, including boxing, weightlifting and yoga, while also offering a range of in-app and IRL courses at its own branded gyms.
https://www.twitter.com/FightOut_/status/1613128674793988098
Its token sale opened in December and has already raised over $2.8 million, with 1 FGHT currently selling at $0.0166. The sale is due to end by Q2 2022, which is when it will list for the first time on exchanges and when its app will launch.

Visit Fight Out Now
Shiba Inu (SHIB)
SHIB has dropped by 6% in the past day, falling to $0.00000896. This represents a 10% gain in a week, but a 1.5% fall in a month, with the meme token remaining down by 90% compared to the all-time high of $0.00008616 it set in October 2021.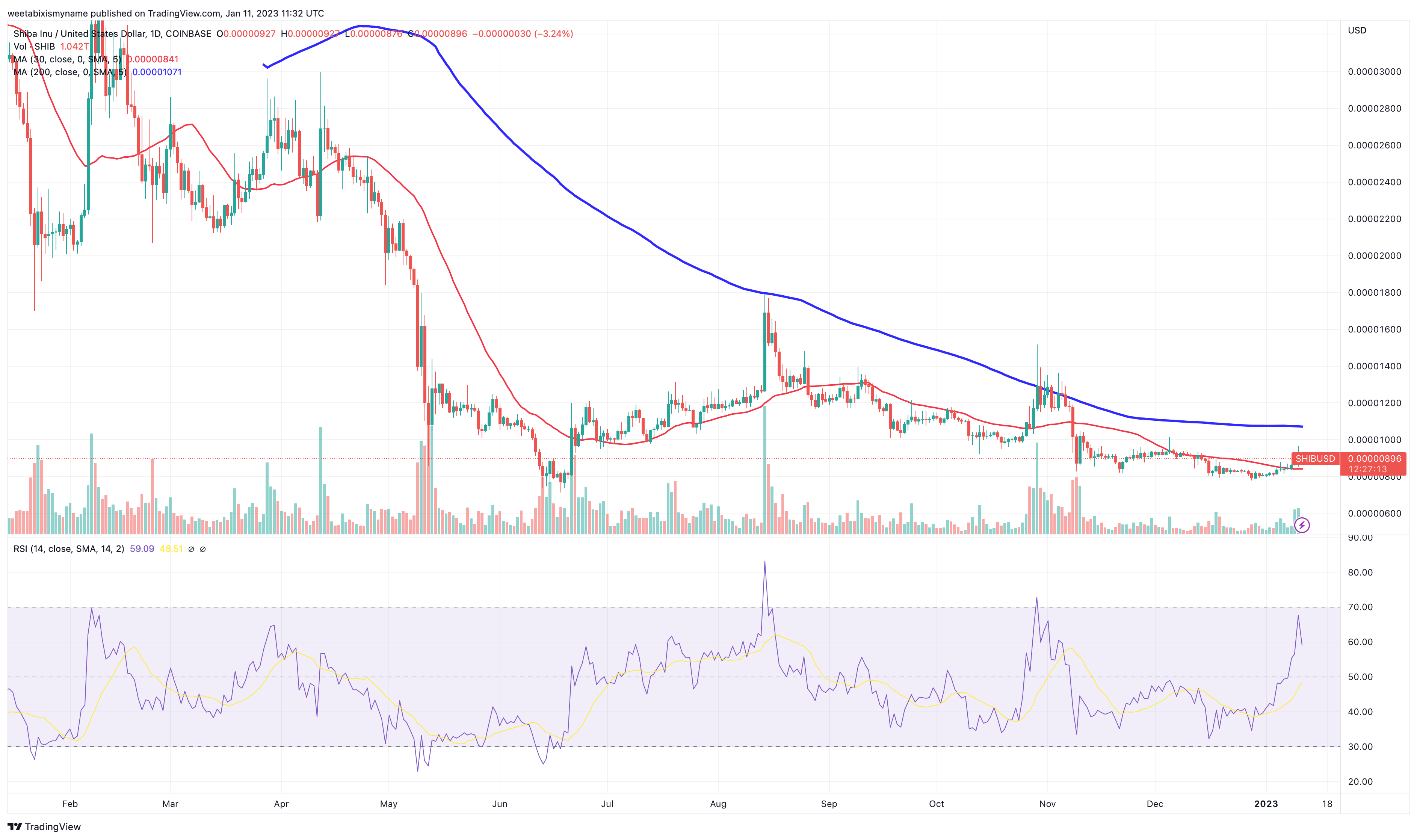 SHIB's indicators remain in a promising place, even if it's not guaranteed they'll continue rising. Its RSI has dipped to 60 after reaching 70 in the past few days, suggesting a possible correction, even if momentum remains relatively high.
At the same time, SHIB's 30-day moving average is well below its 200-day, something which signals that it could be in line for a big rally. This is in an expectation that has been strengthened by the upcoming arrival of the Shibarium Network, a layer-two solution for Shiba Inu that's due to launch its beta in the coming weeks.
Shibarium Update 🧵

As we approach the launch of the upcoming Shibarium Beta Network, we first would like to start by thanking the Shiba community for bringing such energy and excitement surrounding the upcoming phased introduction.

1/6 🧵

— Shibarium Network (@ShibariumNet) January 4, 2023
Not only will the layer-two network make SHIB much more attractive to use, but Shiba Inu is also in the process of developing its very own metaverse. This is due later in the year, but when it does come, expect further SHIB rallies.
C+Charge (CCHG)
Aiming to attract ESG investors, C+Charge (CCHG) is a peer-to-peer payment network for electric vehicle (EV) charging stations. Having begun its presale in December, it has the overarching aim of using blockchain and crypto to widen access to carbon credits, with its native CCHG set to be used within its network by EV owners to pay to charge their vehicles.
📈⚡The EV quantity in the US increased by 87.5% in the first half of 2022, while the growth in charging points is 31%

At C+Charge, we aim to accelerate the station's growth with a unique payment solution 📱

Join our presale and make an impact

👉🏼https://t.co/ixe18bPqzI pic.twitter.com/ejyH0MGkwG

— C+Charge (@C_Charge_Token) January 11, 2023
In addition, C+Charge will also reward users with NFT-based carbon credits for charging their EVs at its stations, giving people an incentive to go green. It has also already signed partnershps with Flowcarbon and with Perfect Solutions Turkey, adding 20% of the EV chargers in Turkey to its network.
BNB (BNB)
At $277.98, BNB has risen by 1% in the last 24 hours, while also gaining by 13% in the past week. On the other hand, the exchange utility token is down by 2% in a month, and by 60% since setting an ATH of $686 in May 2021.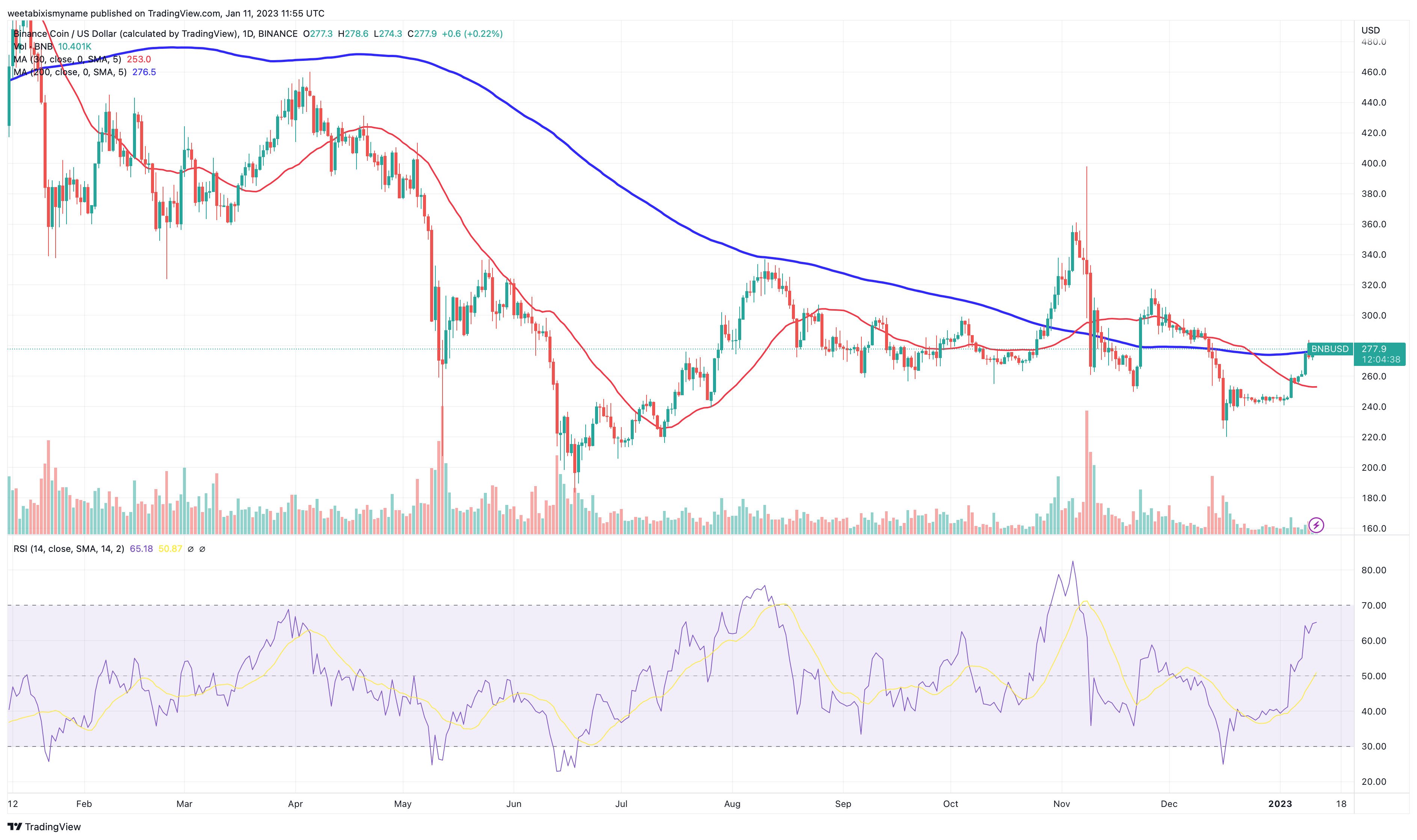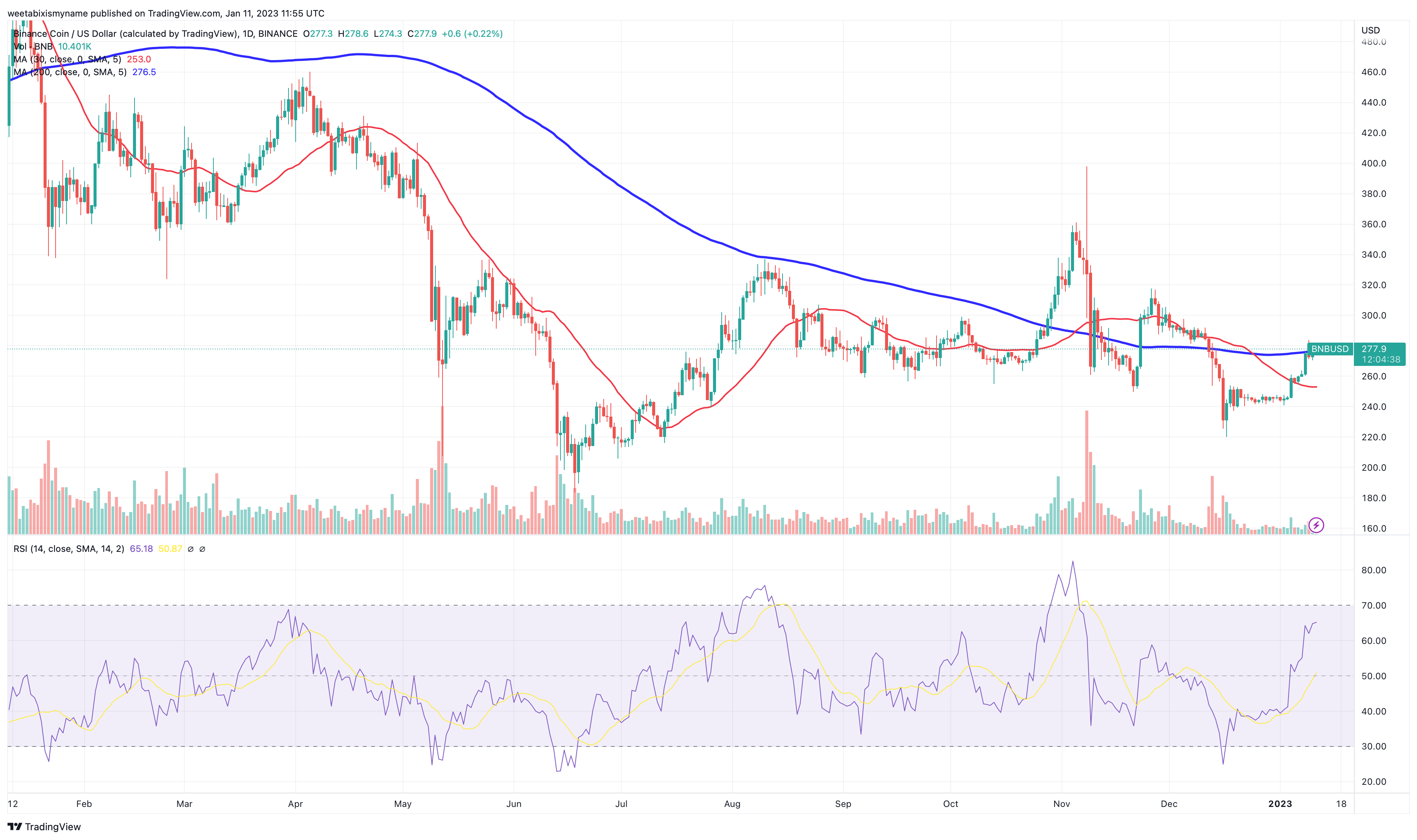 BNB's chart reveals a steady increase in momentum, potentially transforming into a breakout rally. Its RSI is closing in on 70, while its 30-day average has begun to turn upwards, with plenty of space for it to continue rising.
As mentioned above, what's interesting about BNB is that it has declined 'only' by 60% since its current ATH. This is significant insofar as big cryptocurrencies such as bitcoin and ethereum have fallen by larger percetanges since their respective record highs, indicating that BNB is better at preserving its value than other major tokens.
#BNB 22nd quaterly burn execution is coming soon 🚀

Burn reduces the BNB supply forever
Rising demand and reducing supply BNB leads to increase in price in long term but definitely increases the intrinsic value from day 1 of any burn
Price vs Value are both different
Hodl #BNB pic.twitter.com/qcBXaWjIRd

— dinshoo udit 😎 (@dinshoo12345) January 10, 2023
This is likely because it's Binance's native token, and with Binance remaining the biggest exchange in the industry, BNB will always have a strong use case. There's also the fact that BNB's price has been helped by its ongoing burns, with Binance planning to destroy a total of 100 million BNB (out of a max supply of 200 million).
Calvaria (RIA)
Having now raised over $2.7 million, Play-to-earn (P2E) battle card game Calvaria recently entered the final stage of its token sale. This means there are only 12% of the available RIA coins remaining, with the token due to list on exchanges in the next few weeks (LBANK Exchange and BKEX Global are among early supporters).
Next step in our partnership with KuCoin team is the @KuWallet integration! $RIA will be available there at launch, and KuWallet is supported right now on our ICO page: https://t.co/JekxLNMJgh where kuwallet users can purchase $RIA directly from the wallet!#calvariagang https://t.co/OqzmDd1yUE

— Calvaria: Duels of Eternity! ✨ (@CalvariaP2E) December 29, 2022
Available on PC and mobile app stores, Calvaria doesn't actually require cryptocurrency to play. This makes it more accessible — and potentially more popular — than pre-existing blockchain-based games, and could prove a gateway to crypto for many members of the lay pubic.
It's due to launch in Q2 2023, with its game world set in a mythical afterlife. Characters will be animated in full 3D, while players will have the ability to earn and upgrade the collectible cards used to battle with different factions in the game's universe.
With 58,000 Twitter followers, it already looks as though its amassing quite an audience. As such, it and its native token could end up having a big 2023.
Polygon (MATIC)
MATIC has climbed by 2% in the past 24 hours, reaching $0.859899, which also marks a 10% gain in a week. That said, the altcoin is still 3.5% down in a month and down by 70.5% compared to its record high of $2.92, set in December 2021.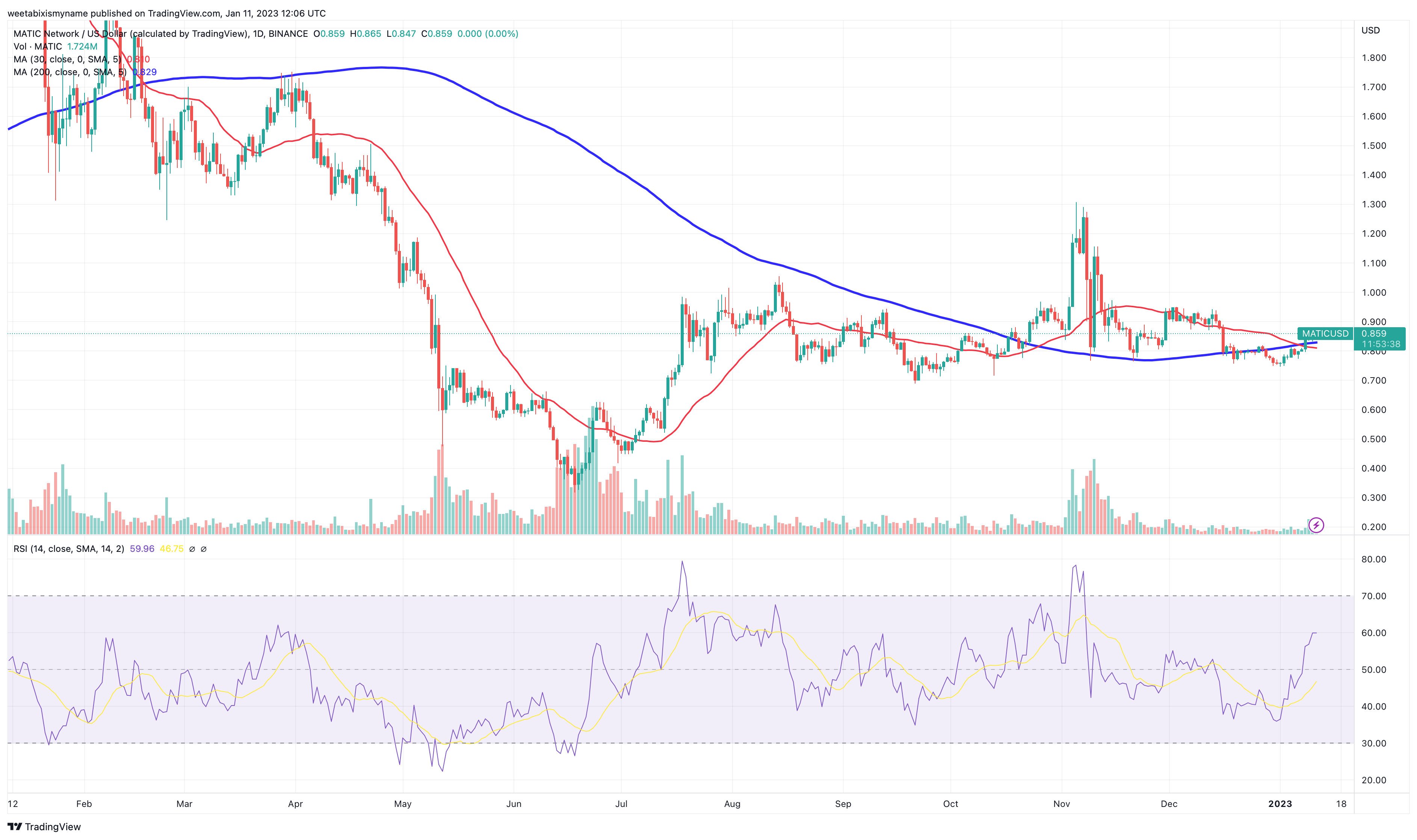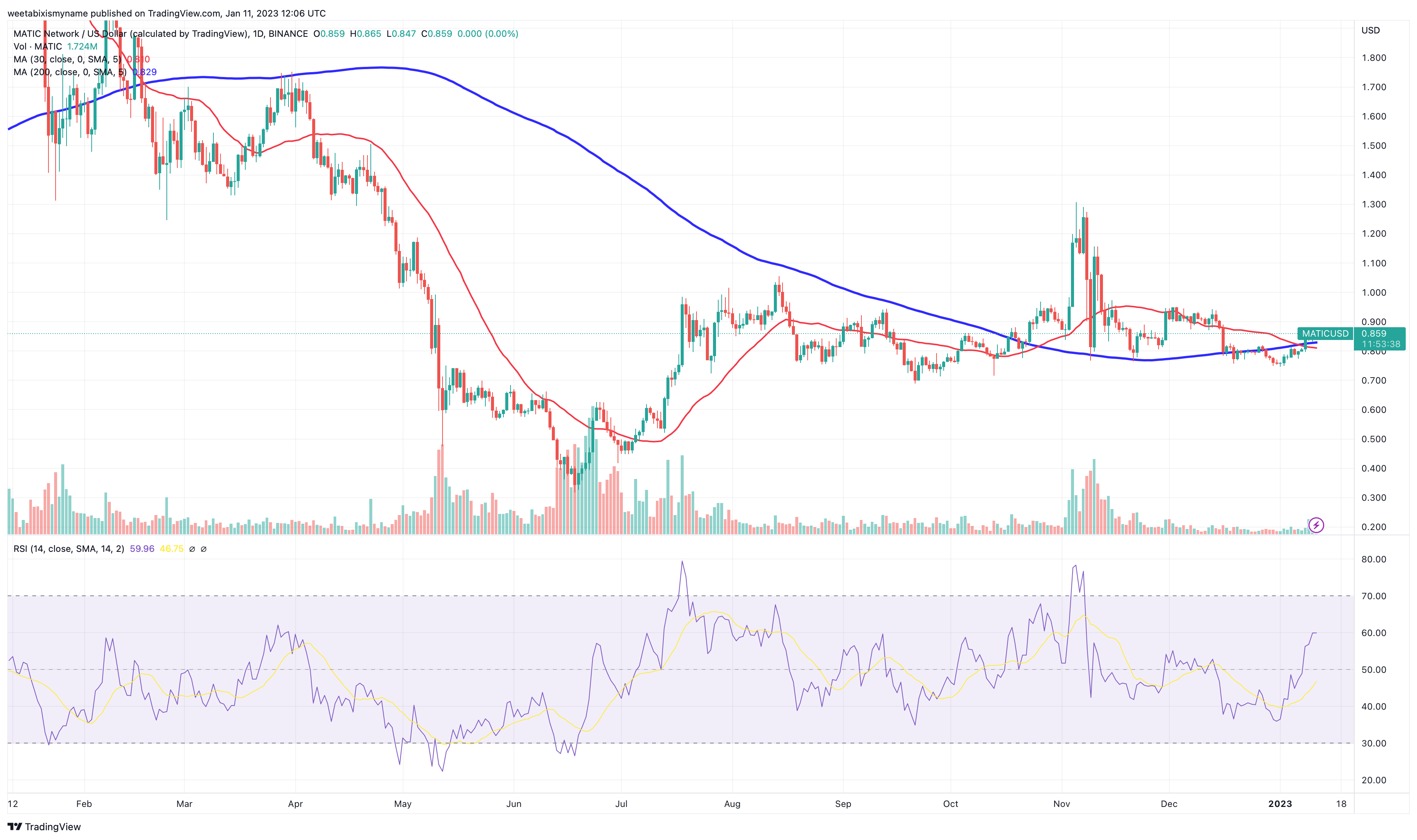 MATIC's chart is in an interesting position, with its RSI rising but its 30-day average only just having fallen below its 200-day. This could mean that it's due another rally very soon, although it has been due a large rally for several months now.
Regardless of when a significant bull rally arrives for MATIC, it remains one of the most fundamentally strong altcoins in the market. This is simply because Polygon is comfortably the biggest layer-two scaling solution for Ethereum, with a total value locked in of over $1 billion (which is more than many layer-one networks).
And with Polygon continuing to witness ongoing development and adoption, it's only a matter of time before MATIC begins troubling its ATH again.
---