Best Crypto to Buy Now October 23 – Fantom, Aave, THORChain
Disclosure: Crypto is a high-risk asset class. This article is provided for informational purposes and does not constitute investment advice. By using this website, you agree to our terms and conditions. We may utilise affiliate links within our content, and receive commission.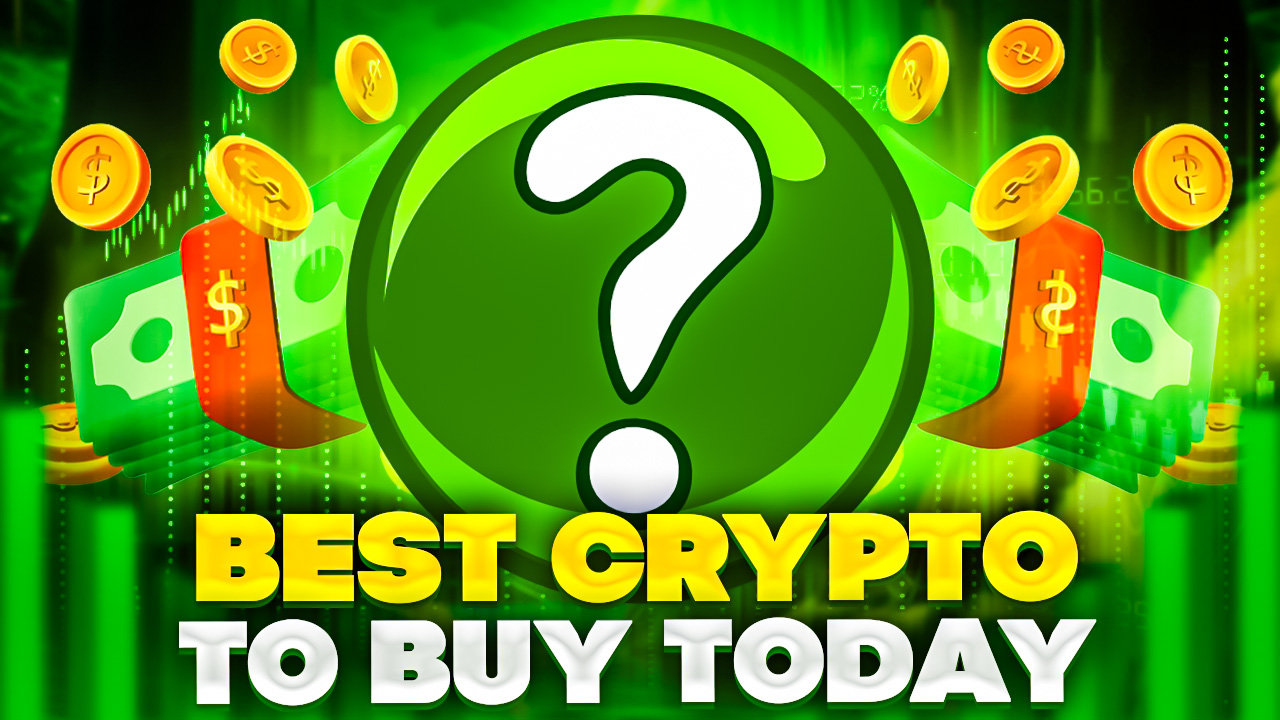 As the cryptocurrency market navigates the last week of October, attention is focusing on several digital assets showing promising trends. 
Among them, Fantom, Aave, and THORChain stand out for their promising fundamentals and/or bullish technical indicators. 
Here's everything you need to know about some of the best cryptos to buy now, along with some alternative, lower market cap cryptos to consider.
Fantom is exhibiting resilience after a security incident on October 17 involving a hack of the project's foundation wallet.
Despite the breach, Fantom's FTM price is currently witnessing a significant price appreciation from last week.
Aave's price is also trending upwards. AAVE rallied to hit a price milestone, surging above $80 for the first time since July 14.
This positive momentum suggests AAVE may be positioned for further growth in the DeFi sector.
Additionally, THORChain's price achieved a new 24-hour record of over 100,000 swaps on October 20–highlighting its growing usage.
THORChain's native cryptocurrency, RUNE, is currently climbing and has seen an increase of nearly 25% over the past week.
Meanwhile, cryptocurrency presales such as Bitcoin Minetrix and TG.Casino can also be attractive alternatives to investing in established cryptocurrencies if you're looking to get in on the ground floor of a project.
This article will dive deeper into the technical analysis and fundamentals behind why these projects are gaining traction as the best crypto to buy now.
Up next, a closer look at the charts, tokenomics, and developments propelling these projects.
Fantom FTM Price Prediction: Will it Surpass the 100-day EMA?
The Fantom (FTM) price has been one of the better-performing cryptocurrencies over the past few days. After finding support around $0.17 on October 19, the FTM price is rallying by over 21% to current levels around $0.22.
FTM price is currently attempting to break out above resistance between $0.21 and $0.23. This area aligns with the 100-day EMA at $0.22 and the Fib 0.382 retracement level at $0.23.
If the FTM price can close decisively above $0.23 for the next few days, it would mark the first breakout above the crucial 100-day EMA since May of this year.
Pushing above this level would likely act as a bullish catalyst that could see the FTM price extend higher toward the next resistance zone around $0.25.
The daily RSI for the FTM price is currently at 73, up from yesterday's reading of 67. This shows growing upside momentum as the RSI pushes further into overbought territory above 70.
The moving average convergence divergence (MACD) histogram is also trending higher above the zero line, underscoring building bullish momentum.
On the downside, the 50-day EMA at $0.20 should provide the first layer of strong support. As long as the FTM price holds above the 50-day EMA on a daily closing basis, the short-term uptrend remains intact.
However, a decisive breakback below $0.20 could signal a bearish continuation to the downside. In that scenario, the FTM price could decline back towards the recent swing low of around $0.17 before finding support.
For now, the path of least resistance appears higher but FTM needs to overcome resistance around $0.23 to maintain its upside momentum. A rejection at this level could lead to some consolidation between $0.20 and $0.23 over the following days.
AAVE Price Prediction: With a Surge Over 30%, Bulls Take Control of AAVE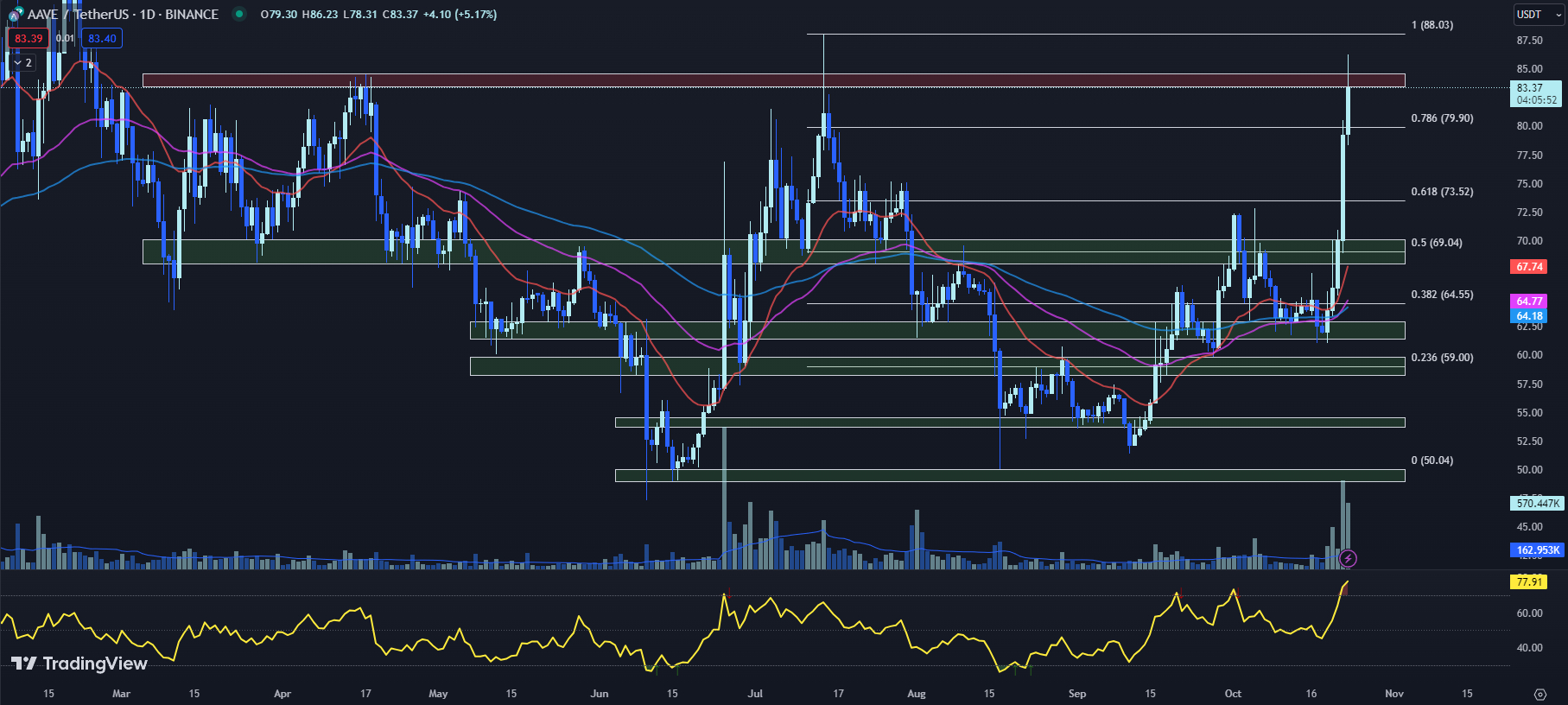 The AAVE price has also seen a dramatic turnaround over the past week, with the cryptocurrency surging over 30% after finding support between $61.46 and $62.97 on October 19. AAVE is currently trading at $83.37, up a notable 5.17% so far today.
Looking at the technical indicators, the AAVE price appears well-positioned for further gains in the near term. The 20-day EMA stands at $67.74, while the 50-day EMA is at $64.77.
With the faster 20-day EMA trending above the 50-day EMA, this creates a bullish alignment that often precedes additional upside.
The relative strength index (RSI) for AAVE is currently at 77.91, up from 75.6 yesterday. This shows the RSI continuing to climb further into overbought territory, reflecting the momentum behind the recent AAVE price surge.
However, with the RSI below 80, there still appears to be some room left for the rally to continue before becoming extremely overheated.
Additionally, the MACD histogram sits at 1.59, a widening gap from yesterday's 0.97 level. This expanding positive value indicates the bullish sentiment is gaining further traction and could help lift the AAVE price higher.
In looking at volume and market capitalization, the market cap for AAVE now stands at $1.22 billion following a 12.54% increase.
Meanwhile, the 24-hour trading volume has jumped 22.36% to $282.6 million. This rising interest adds credibility to the sustainability of this upside move.
With the AAVE price up over 5% today to $83.37, it is now attempting to break out above the Fib 0.786 level of $79.90. Pushing through this resistance could open the door towards challenging the horizontal resistance zone of $83.47 to $84.60.
On the downside, initial support comes in at the Fib level of $73.52. Further support sits between $67.99 and $70.12, which aligns with the 50 Fib level at $69.04. With the AAVE price consolidating above these key levels, the technical picture remains constructive for additional gains.
THORChain RUNE Price Prediction: Bullish Signs Emerge as Traders Anticipate Further Upside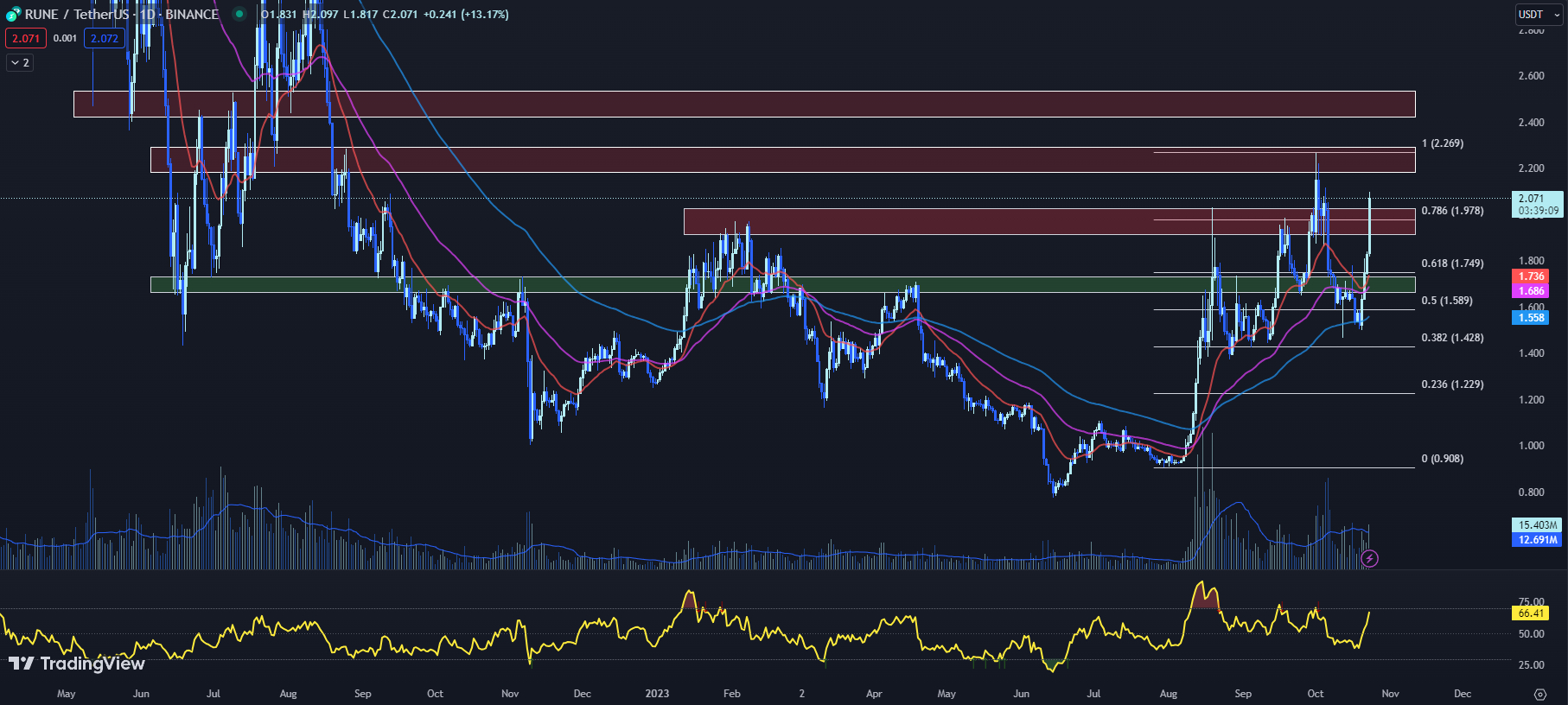 The RUNE price has seen a resurgence in bullish momentum over the past week, with the token rising nearly 25% from its October 20 lows.
After finding support at the 100-day EMA, RUNE appears positioned for a breakout as technical indicators turn bullish once again. The RUNE price currently trades around $2.07, up over 13% so far today.
This puts the token above immediate resistance at the $1.914 to $2.027 zone, which coincides with the key Fib 0.786 level of $1.978.
With the RUNE price now back above the 20-day EMA of $1.736, the path of least resistance appears to be to the upside.
The bulls will look to take out the next area of resistance between $2.184 and $2.291. This zone lines up with the local high of $2.267, which if broken, could signal a resumption of the uptrend.
The technical indicators support the bullish thesis for RUNE in the short term. The RSI now prints at 66.41 versus 57.10 yesterday. This shows bullish momentum is accelerating with plenty of room to run before overbought territory.
Additionally, the MACD histogram sits at 0.007, up from 0.031. This illustrates that while bearish momentum has waned, there is now a building bullish momentum that could propel the RUNE price higher.
With signs pointing to further upside, traders may look to buy on dips back towards the breakout point around $1.95. Initial support aligns at the Fib 0.618 level of $1.749 followed by the horizontal zone of $1.666 to $1.731.
As long as the RUNE price can hold above these levels, the path of least resistance appears to be higher in the short term. A daily close above $2.30 would reinforce the bullish outlook and could open the door for a retest of RUNE's YTD high.
The recent surge in well-known cryptocurrencies like Fantom, Aave, and THORChain has certainly captured investor attention. However, this increased focus often overshadows lower-market-cap alternatives that offer their own sets of opportunities. 
Investing in lesser-known tokens like those offered in crypto presales, such as Bitcoin Minetrix and Launchpad XYZ, allows investors to enter projects at an early stage. This early entry can result in price appreciation upon wider market trading, offering a distinct route for portfolio diversification. 
Up next, we examine how these alternative investments, particularly in the cloud mining and online gambling sectors, are attracting both retail and institutional investors.
Bitcoin Alternatives to Consider
Crypto presales provide an opportunity for investors to gain early access to new and promising crypto projects, often at a discounted token price before the assets are listed on exchanges.
By getting in early, investors stand to benefit from the potential price appreciation once the token is launched and traded more openly on the broader cryptocurrency market.
Two ongoing crypto presales worth looking into in 2023 are Bitcoin Minetrix and Launchpad XYZ.
Tokenizing Mining Credits: Bitcoin Minetrix's Game-Changing Approach Makes it Among Best Cryptos to Buy Now
The Bitcoin price recently started climbing again, with some experts predicting it could reach $135,000 or even $750,000.
Meanwhile, a new cloud mining project called Bitcoin Minetrix has raised over $2.1 million in its ongoing $BTCMTX token presale.
Bitcoin Minetrix seeks to redefine cloud mining by providing token holders with the opportunity to reap mining rewards, all without the need to manage hardware on their own.
The project utilizes blockchain technology to tokenize mining credits, distributing them to token holders based on their staked holdings.
This eliminates upfront payments and lock-in contracts associated with traditional cloud mining.
The presale is currently in stage three, with the token price set to increase in the coming days. Early contributors can benefit from the lowest pricing as Bitcoin's bull run continues.
Stakers can also earn up to 275% APY by locking their tokens during the presale.
The project launches right before Bitcoin's 2024 halving when block rewards will decrease.
However, experts predict Bitcoin's increasing scarcity and institutional adoption could outweigh the mining revenue reduction by driving the price higher.
With optimistic Bitcoin price targets up to $1 million, Bitcoin Minetrix could see exponential growth.
The project allows both retail and institutional investors to gain mining exposure without operational costs and risks.
As the crypto bull run picks up speed, Bitcoin Minetrix offers a way to earn staking rewards today while also gaining leverage on Bitcoin's growing price.
By combining staking and mining into one solution, it intends to provide the most direct path to capitalizing on Bitcoin's next boom.
Crypto Casinos on the Rise: TG.Casino Taps into the $250 Billion Online Gambling Market
Cryptocurrency integration in everyday finance has shone new light on platforms providing access to decentralized, transparent online betting.
Telegram crypto betting bots, such as TG.Casino, are streamlining access to demonstrably fair games while enabling anonymous crypto gambling for users.
This pioneering approach is stirring up investor interest, as demonstrated by TG.Casino's successful fundraising of over $1.4 million in its ongoing $TGC token presale.
The presale for TG.Casino's native token, $TGC, is structured around a dynamic "price ladder" that increases incrementally as milestones are met.
The current price is $0.1375 after starting at $0.125, with 57% of the next goal of $2.5 million achieved so far. As the price ratchets up over time, early buyers get the best deal.
According to the project's website, $TGC holders receive a portion of platform profits through buybacks and staking rewards up to 362% APY.
A 25% cashback on net losses also incentivizes using $TGC for wagering. This model has proven effective for other gambling coins like Rollbit's $RLB token, which briefly reached a $700 million market cap this year.
The global online gambling market is estimated to be worth over $250 billion, with crypto casinos claiming an increasing share.
Dune Analytics data shows Ethereum gambling sites broke 50,000 cumulative users this year compared to just 5,000 in January.
The ease of access and anonymity of crypto casinos are attracting users from traditional platforms.
As the world's largest messaging platform, Telegram is the perfect gateway for drawing new users into Web3 gambling.
TG.Casino eliminates the need for complicated crypto wallet setups or exchange signups. Users can simply interact with the bot interface to place provably fair bets.
With presale prices starting at just $0.125 per $TGC token compared to Rollbit's peak of over $15, TG.Casino has ample room for explosive growth if it achieves similar success.
As Telegram expands its reach into Web3 platforms, the seamless experience offered by TG.Casino's crypto gambling bot could propel adoption among the messaging app's vast user base.
Crypto investors keen on getting a head start in one-of-a-kind crypto initiatives will find the current $TGC presale an attractive opportunity.
Disclaimer: Crypto is a high-risk asset class. This article is provided for informational purposes and does not constitute investment advice. You could lose all of your capital.
---