Best Crypto to Buy Now at ICO Before Exchange Listing – 31 March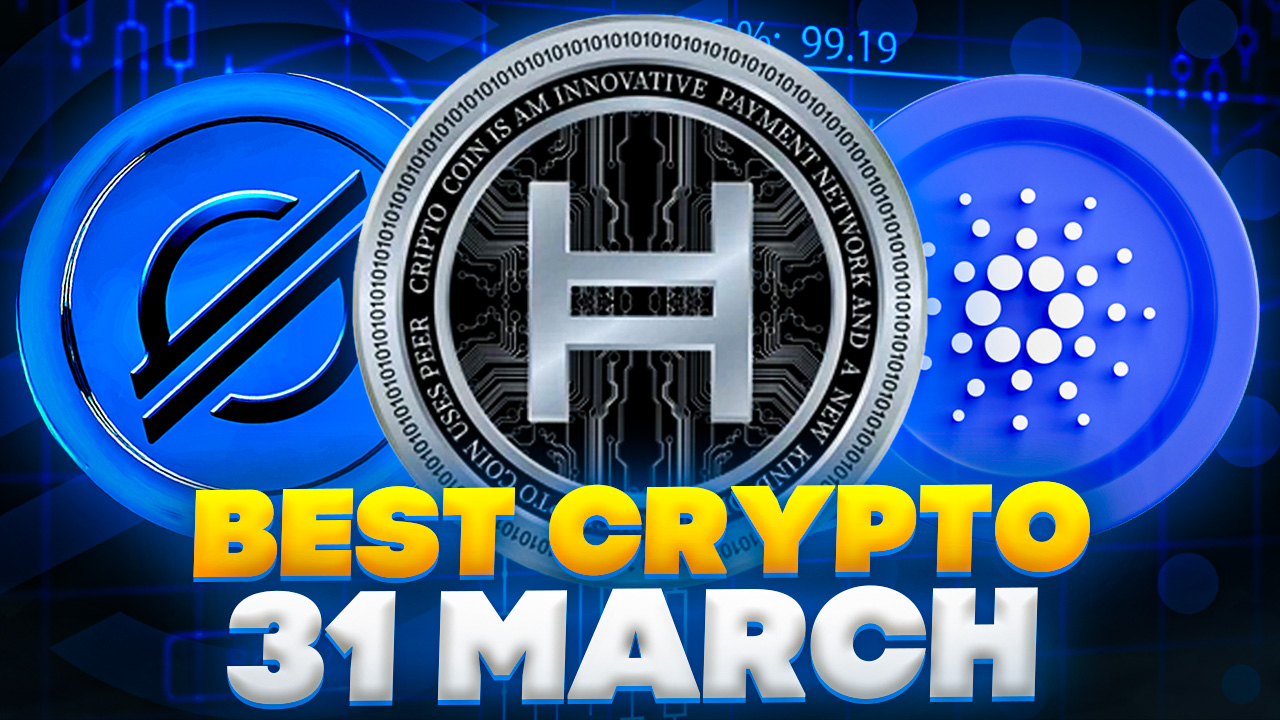 Bitcoin's price has continue dto rebound today from recent setbacks, reaching an intra-day high of $28,650 as market participants anticipate a robust monthly finish.
This positive momentum was accompanied by favorable macroeconomic indicators from the US, particularly the February Personal Consumption Expenditures (PCE) index, as headline PCE rose 5.0% annually leading February and core PCE 4.6%, slightly better than expectations.
As April arrives with a wave of renewed enthusiasm in the cryptocurrency market, many are keen to discover the best cryptos to buy now.
In response to the PCE figures, the White House released an official statement, highlighting the nation's progress in combating inflation.
The statement further emphasized that annual inflation has declined by almost 30 percent since the summer, set against a backdrop of low job losses and consistent economic expansion.
As inflation remains persistent but does not seem to be causing alarm in the markets, there is growing speculation that the Federal Reserve may hold off on further interest rate hikes in May.
Data from the CME Group's FedWatch Tool supports this notion, indicating a potential pause in rate hikes.
In light of these expectations, risk assets experienced an uptick in trading.
Both the S&P 500 and the Nasdaq Composite Index recorded gains of approximately 0.87% and 1.16% as of writing.
The sentiment surrounding Bitcoin was similarly optimistic, dispelling concerns among certain market participants who had cautioned about a substantial pullback around the time of the monthly closing.
Bitcoin and Ethereum are trading at $28,412 and $1,828, respectively, with gains of 1.42% and 2.04% so far today.
Overall, the cryptocurrency market is showing signs of recovery, with Bitcoin leading the way.
As traders and investors look forward to a strong monthly close, the market remains hopeful that Bitcoin's upward trajectory will continue, potentially paving the way for the digital asset to reach new heights in the near future.
In addition to capitalizing on the strong market performance during the current bullish sentiment, another lucrative approach to generating returns in the cryptocurrency market is by investing in presales.
Presales offer the opportunity to acquire new tokens before they are listed on exchanges, potentially leading to substantial gains if the project succeeds.
Similar to traditional investments, it's essential to conduct both fundamental and technical analysis when evaluating presales and trending cryptocurrencies.
With this in mind, a mix of trending coins and a presale cryptocurrency projects that are some of the best cryptos to buy now include FGHT, HBAR, LHINU, XLM, ADA, and ECOTERRA.
A Knockout Punch for the Ages: Fight Out's Presale Delivers a Winning Blow
Fight Out, a gaming platform that operates within the metaverse and utilizes a play-to-earn (P2E) model, has effectively raised over $6.1 million through its presale.
The presale is scheduled to come to an end at 00:00 UTC on April 1st.
Fight Out offers a unique experience that combines competition, rewards, and betting on in-app and external events.
Users can compete with friends, join massive multiplayer pool events, or simply earn rewards for participating in the "train-to-earn" model.
The platform also introduces a novel approach to betting on sporting events, allowing users to create their own matches and act as bookmakers.
Virtual fights, such as a rematch between Jake Paul and Tommy Fury or competitions between community members, can be set up, with real-time data feeds influencing the performance of fantasy fighters.
The innovative integration of combat sports into the gaming world is just beginning, and Fight Out is at the forefront of this development. Its blend of real and virtual worlds sets it apart and positions it for success.
Holders and stakers of $FGHT tokens are entitled to a membership to Fight Out's fight metaverse.
Those who participate in the presale by staking tokens will also receive a preloaded amount of $FGHT in their accounts, providing them with a head start in the Fight Out ecosystem.
They will gain early access to Fight Out's rewards and experiences as well, which include exclusive content that showcases famous sports figures, including British boxing star Savannah Marshall, UFC combatants Amanda Ribas and Taila Santos, as well as Tremayne Dortch, a renowned competitor on American Ninja Warrior.
In five days, on April 5, the $FGHT token will be listed on seven prominent exchanges, including XT.com, LBank, BKEX, Changelly Pro, BitForex, DigiFinex, and Uniswap.
Those interested in acquiring the $FGHT token have a limited time frame—just a few hours left—to buy it at a reduced price of $0.0333.
A substantial bonus of 67% additional FGHT tokens is available to those who make significant investments and commit to long-term staking, but this offer is exclusive to the presale period participants.
As the final bell rings on the presale and the trading commences, it's a race against the clock for investors to make their move on one of the best cryptos to buy now.
Hedera (HBAR)
The year 2023 has been marked by significant progress for the Hedera (HBAR) network, which has made noteworthy strides in the world of cryptocurrency.
Despite the turmoil caused by the FTX collapse, the HBAR network has continued to forge ahead, launching innovative products based on its Hashgraph technology.
Recently, the HBAR Foundation, which serves as Hedera's developmental branch, disclosed that Fresh Supply Co (FSCO) is in the process of shifting its complete operations away from Mastercard's proprietary blockchain and onto the publicly accessible Hedera network.
FSCO, a prominent player in the realm of supply chain administration and an associate of Commonwealth Bank, formerly held the distinction of being the most important user of Mastercard Provenance.
Mastercard's solution employs blockchain technology to enhance transparency and efficiency in intricate supply chain processes.
At present, HBAR is trading at $0.0713, with a market capitalization of $1.94 billion. The token is seeing a 9.86% increase so far today.
The 20-day EMA is at $0.0640, while the 50-day EMA is slightly higher at $0.0654. Interestingly, the 100-day EMA is also at $0.0640, indicating a consolidation phase.
The RSI is currently at 58.67, suggesting that HBAR is approaching overbought territory but has not yet crossed the threshold.
This indicates that there is still room for upward momentum.
HBAR is currently trading at $0.0713, and it faces immediate resistance in the range of $0.0828 to $0.0841.
If HBAR can break through this resistance, it may continue its upward trajectory.
On the downside, HBAR has immediate support in the range of $0.0630 to $0.0650. If the price falls below this support, it may experience further downward pressure.
Casting for Cash: Love Hate Inu's Vote-To-Earn Innovation Make It One of the Best Cryptos to Buy Now
Meme coin Love Hate INU ($LHINU) has successfully raised more than $2.7 million as it draws closer to completing the third stage in its series of eight presale stages.
As the clock ticks down with fewer than four days left, potential investors are encouraged to make their move before the token's price escalates from $0.000095 to $0.000105 in the fourth phase.
Setting itself apart from similar meme tokens, Love Hate Inu aspires to bring about a transformation in the domain of public opinion polling and surveys by leveraging blockchain technology and the allure of meme tokens.
This approach situates Love Hate Inu on a trajectory for considerable expansion, comparable to the remarkable ascent of Shiba Inu since its inception in 2020.
Despite being new to the crypto space, Love Hate Inu has already garnered a following of over 32,400 individuals on Twitter.
While the meme token's playful aesthetics contribute to its appeal, the underlying technology holds the potential to shake up the $3.2 billion survey market.
The platform empowers both brands and consumers to generate polls, with brands offering incentives for participation in the form of digital and physical rewards.
Additionally, Love Hate Inu incorporates non-fungible token (NFT) technology to provide digital discount coupons.
Tokens are available for purchase using ETH, BNB, or USDT, and there is no vesting period imposed on presale participants.
Stellar (XLM)
XLM, the Stellar blockchain's cryptocurrency, defied the recent market downturn.
The recent upswing in the XLM price is linked to a series of on-chain advancements. In a recent announcement on Twitter, Circle, and Stellar jointly revealed that USDC is currently available through the CoinMe digital crypto wallet.
This development considerably broadens the influence of both entities and underscores the benefits of the Stellar network, potentially leading to a positive impact on XLM's value.
Adding fuel to the positive trajectory, Stellar has forged a link with the Polkadot ecosystem by utilizing the Pendulum parachain, which is being hailed as the ultimate connector between traditional fiat currencies and decentralized finance (DeFi).
Stellar (XLM) has been exhibiting a bullish trend as a result, and technical indicators suggest that this momentum may continue.
Notably, the 20-day EMA is currently positioned at $0.0937, surpassing both the 50-day EMA ($0.0899) and the 100-day EMA ($0.0896).
This configuration indicates that the short-term trend is bullish, with the 20-day EMA serving as a supportive base.
The fact that the 20-day EMA exceeds the longer-term EMAs also implies that the recent bullish momentum has the potential to persist.
In addition to the EMAs, the RSI is currently registering at 72.50, placing it firmly in overbought territory.
Although this may prompt caution among some traders, it simultaneously signifies robust buying pressure.
Therefore, traders should remain vigilant and monitor the RSI for any indications of a reversal.
However, as it stands, the elevated RSI value bolsters the bullish case.
As for the current market activity, XLM is trading at $0.1092, achieving a gain of 2.63% so far today.
The cryptocurrency is facing immediate resistance within the range of $0.1155 to $0.1167.
Should XLM break above this resistance range, it could signal further upside potential.
Conversely, on the downside, the immediate potential support lies at the psychological level of $0.1.
Traders should keep a close eye on this level, as a break below it could herald a trend reversal.
Empowering Freelancers: DeeLance's Web3 Vision for Worldwide Collaboration
A new player in the decentralized digital currency arena, DeeLance, is introducing a platform that empowers individuals from all corners of the world to engage in productive collaboration.
Acting as a central point for freelance endeavors and talent discovery, DeeLance harnesses the power of Web3 technology to redefine the relationship between independent workers and their potential clients.
A standout feature of DeeLance is its focus on non-fungible tokens (NFTs)—distinct digital assets that are authenticated and protected by blockchain technology.
In the DeeLance ecosystem, NFTs represent a broad array of items, including digital art, subscription services, written materials, music, royalty payments, and more.
The platform implements a pioneering method by transforming freelance initiatives into NFTs, thus allowing secure transfer of ownership entitlements to those who hire.
This strategy effectively addresses common challenges in the online freelancing world, such as copyright violations and deceptive payments, while building confidence between freelancers and their clients.
The DeeLance ecosystem encompasses streamlined business procedures, transparency, timely payments, ownership, secure escrow services, and minimal fees.
DeeLance recently began the presale of its own DLANCE token, hosted on the Ethereum blockchain.
The token, with a total issuance of 1 billion, provides utility within the ecosystem and is priced at $0.025 USDT.
The platform's forward-thinking approach to freelancing, combined with presale opportunities and a $100K giveaway, positions DeeLance as one of the best cryptos to buy now.
Cardano (ADA)
The price of Cardano (ADA) has increased by 7.84% so far today and is currently trading at $0.4056.
The upward price movement has brought ADA within striking distance of the $0.42 psychological resistance level, which may pose challenges for further gains in the short term.
The technical indicators still reflect a positive momentum and buying opportunity for ADA.
The 20-day, 50-day, and 100-day EMAs of ADA are $0.3602, $0.3554, and $0.3549 respectively, all indicating upward-sloping EMAs and potential support for the current price levels.
The RSI of ADA is 64.24, showcasing that the recent price surge has not made ADA overbought in the short term.
There is more room for the RSI to move up before ADA becomes overbought and due for a price correction.
While $0.42 may act as the immediate resistance, potential support for ADA could be found at the $0.35 level, representing a pullback of around 13% from the current price.
As long as key moving averages and support levels hold firm, ADA remains primed for further gains from current levels as the medium-term uptrend remains intact according to the technicals.
ecoterra's GameFi Approach to Climate Solutions
ecoterra has launched a cutting-edge GameFi framework that employs blockchain technology to tackle the issue of climate change.
The initiative brings forth a unique Recycle-to-Earn (Recycle2Earn) scheme that encourages eco-friendly behavior by granting ecoterra tokens as rewards for recycling activities.
The ecoterra platform consists of four key components: the Recycle2Earn application, a marketplace dedicated to recycled goods, a carbon offset trading platform, and a profile that tracks and documents environmental contributions.
The user-friendly app functions as the primary access point for participants to interact with the ecosystem.
Within the app, users have the opportunity to accumulate ecoterra tokens by engaging in environmentally responsible practices, such as recycling.
Each item eligible for recycling is associated with a specific quantity of ecoterra tokens, which users can ascertain through the app.
The recycled goods marketplace allows both individuals and companies to obtain recycled products, including plastics, glass, and aluminum, by using ecoterra tokens as a means of payment.
Through the Carbon Offset Marketplace, individuals have the capability to counteract their carbon emissions by obtaining officially recognized carbon offsets, subsequently playing a role in decreasing their overall carbon footprint.
The Impact Trackable Profile empowers users to observe and publicize their positive contributions to the environment within the ecosystem, positioning themselves as frontrunners in the battle to mitigate climate change.
ecoterra has simplified the procedure for obtaining rewards via recycling.
Users adhere to three straightforward steps: scanning the barcode of products eligible for recycling to ascertain potential rewards, depositing the items at a nearby Reverse Vending Machine (RVM), and submitting the RVM receipt to claim their rewards.
ecoterra has commenced the presale of its native token, which is designated as the chief currency for transactions and rewards within the ecosystem.
The initial phase of the presale sets the price of the ecoterra token at $0.01, with subsequent phases seeing incremental price hikes.
By incorporating GameFi elements and blockchain technology, the project is well-positioned as one of the best cryptos to buy now as it makes significant contributions to worldwide environmental issues.
---