BALD Coin Hits $70M Market Cap In 24 Hrs - What's The Next Base Chain Crypto To Explode?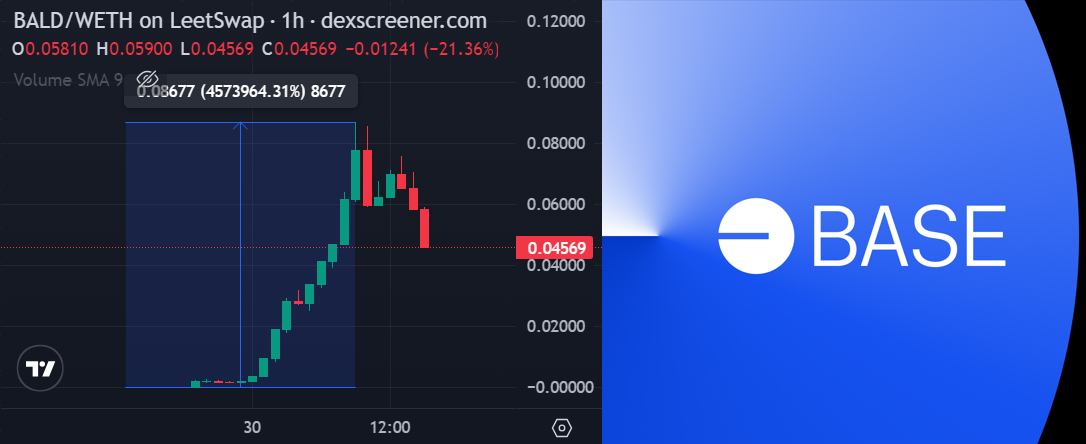 New coin 'BALD' launched this weekend on Coinbase's new chain, Base - and exploded to as high as a $70 million market cap in less than 24 hours, on LeetSwap decentralized exchange.
Since its July 29 listing at 21:00 UTC, $BALD token rose over 4 million percent, before a correction.
What is BALD Coin?
Not yet having a website or CoinMarketCap description, information on BALD coin is hard to come by - other than it being described as a meme coin and a reference to Coinbase CEO Brian Armstrong's bald head.
Rumors of connections to Coinbase insiders are also already rife, with some traders even speculating the $BALD deployer is Brian Armstrong himself.
$BALD token has an enormous amount of liquidity, currently $30 million.
Now one of the most talked about new coins on crypto Twitter, some wallet addresses have been tracked investing as little as 0.5 ETH in $BALD and profiting upwards of $1 million.
View the latest BALD price chart on DEXScreener.
What is The Base Blockchain?
Read Coinbase's introduction to the Base network here, its 'secure, low-cost, developer-friendly Ethereum Layer 2 network' built on Optimism.
The Base network's official Twitter handle is @BuildonBase.
Approximately $47 million has been bridged to the Base chain, which is currently a one-way bridge - holders of $BALD and other Base coins can't yet realize their gains. The bridge back to the Ethereum mainnet is set to open August 9.
Next Cryptocurrency to Explode
Some veteran crypto Twitter accounts have recommended not to buy BALD token at its current market cap, including @TheFlowHorse (formerly Cantering Clark) and @MacroCRG.
Other new Base chain coins - or those rumored to have Base devs - that have been tipped as the next cryptos to explode include $BRIAN, $HAIRY and $OPTISM.
An ERC-20 token, HAIRY coin was listed on Uniswap at 14:00 UTC on July 30 and is currently up over 1,000% since its launch.
View the HAIRY price chart on DEXTools.
We've reviewed many new cryptocurrency projects here at CryptoNews, that may have more upside potential than $BALD, given its explosive move and already high market cap.
Disclaimer: Crypto is a high-risk asset class. This article is provided for informational purposes and does not constitute investment advice. You could lose all of your capital.
---