Augur's REP Token Surges 170% on High Trading Volume
The native token of the Augur prediction market – REP – has surged across all exchanges since reaching a low of around USD 5.60 per token last Sunday. It jumped by 47% in the last 24 hours (UTC 07:47 AM.)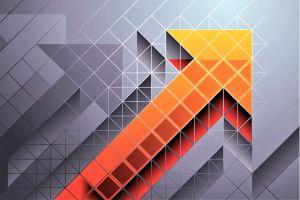 Also, as of press time, REP is up more than 170% since its Sunday low, with trading volumes also picking up significantly in the last two days.
REP price chart: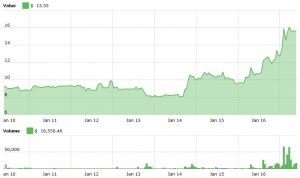 Although it is hard to pinpoint one specific reason for the most recent price increase, a few developments that have not been widely reported so far stand out as interesting.
One of these is the launch of a new prediction market built on top of Augur, 0x, and Ethereum known as Veil, on Tuesday this week. According to an update from the Veil team, this new market aims to "bring Augur mainstream," by representing all of their new markets as Augur markets on the Ethereum blockchain.
Veil further plans to improve on the user experience of the prediction market by using the 0x platform to speed up trading, and getting users paid faster.
Venture fund is bullish
Another possible explanation can be found in an article published on January 14 by venture fund 1confirmation, a fund that says it is backed by high-profile investors like Peter Thiel, Marc Andreessen, and Mark Cuban.
In the article, 1confirmation revealed that it is holding REP tokens, and that it considers it a good long-term investment.
The number of active users on the Augur platform is currently quite small, partly due to the fact that many consider the platform too difficult to use. However, 1confirmation argues that there is a small but diverse community that cares a lot about the product, and that the user experience will improve over time. In this regard, the fund considers the work done by Veil to be key in improving the usability of the Augur platform.
Users and volume comparison: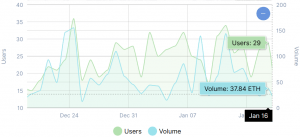 ---