Arbitrum Price Prediction as $200 Million Trading Volume Shoots ARB Up 9% – Are Whales Buying?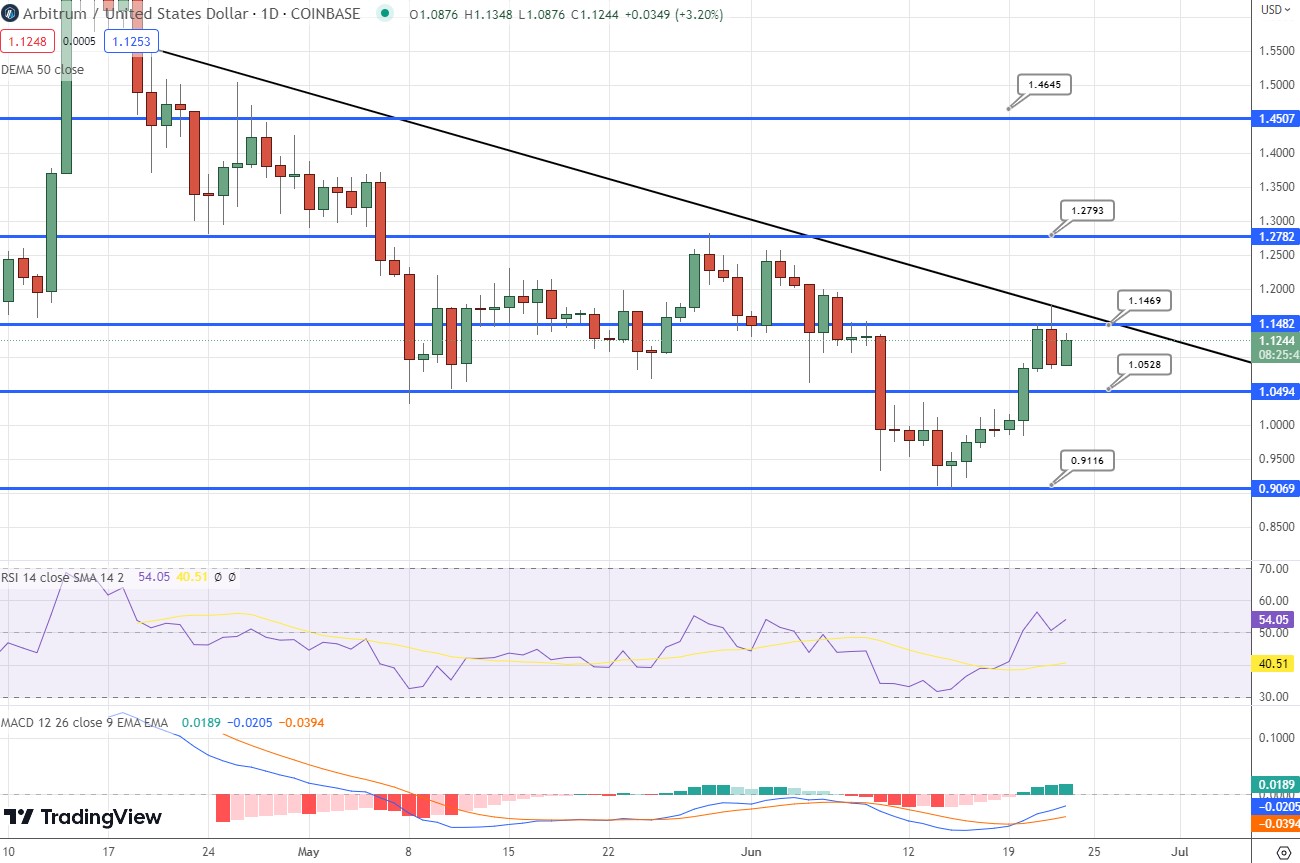 Arbitrum (ARB) coin, the leading Layer 2 scaling solution for Ethereum, has been experiencing a surge in popularity and investor interest.
In the past week, its value has significantly increased from $0.9411 to $1.1691, with a current settling point around $1.1250.
One contributing factor to Arbitrum's success is the introduction of Arbitrum Orbit, a revolutionary tool that empowers Layer 3 networks and brings new possibilities to the ecosystem.
This upward trend in the value of Arbitrum reflects the growing confidence among investors in its ability to improve the scalability of the Ethereum network.
Arbitrum (ARB) Gains Momentum as a Leading Ethereum Layer 2 Scaling Solution
Arbitrum (ARB) has been experiencing significant traction among investors, resulting in a notable increase in value over the past week.
Starting at $0.9411, its value rose to $1.1691 before settling around $1.1225, demonstrating a sustained upward trend.
The rising value of Arbitrum (ARB) reflects the growing interest and confidence in its role as a leading Layer 2 scaling solution for Ethereum.
Its innovative technology and capacity to enhance Ethereum's scalability have captured the attention of cryptocurrency enthusiasts and investors alike.
Furthermore, Arbitrum continues solidifying its market position by introducing Arbitrum Orbit, a groundbreaking tool that empowers Layer 3 networks and brings exciting possibilities to the ecosystem.
Arbitrum Orbit: Revolutionizing Ethereum with Layer 3 Networks
Arbitrum Orbit is an exciting and innovative solution designed to address the scalability and efficiency challenges faced by the Ethereum blockchain.
While Layer 2 protocols have already made significant strides in accelerating transactions and reducing costs on Ethereum, Arbitrum Orbit takes it a step further.
Introducing the groundbreaking concept of Layer-3 networks, it brings a paradigm shift to the system's efficiency.
With the implementation of this tool, Ethereum's capacity to process a high volume of transactions quickly and at a lower cost is significantly enhanced.
This remarkable technological advancement is driving the popularity and increasing the value of the Arbitrum coin in the cryptocurrency market.
Cryptocurrency Market Rises on Bitcoin ETF Filings and Investor Confidence
The global cryptocurrency market is currently experiencing an upward trend, driven mainly by the introduction of multiple Bitcoin exchange-traded fund (ETF) filings, spearheaded by BlackRock.
This recent development has significantly boosted investor confidence in digital assets, leading Bitcoin (BTC) to surpass the $30,000 mark for the first time since April. Additionally, Ethereum (ETH) has climbed above $1,900.
In addition to these prominent cryptocurrencies, altcoins such as Arbitrum (ARB), Dogecoin (DOGE), Ripple (XRP), Litecoin (LTC), and Solana (SOL) have also observed significant gains.
Consequently, the positive performance of the overall crypto market has played a pivotal role in driving the prices of the Arbitrum (ARB) coin.
Arbitrum (ARB) Price
Currently priced at $1.1300, with a 24-hour trading volume of $2 million, Arbitrum's price has experienced a slight decrease of less than 1% in the previous 24 hours.
On the technical front, we observe a slightly bullish trend when examining the daily timeframe of ARB/USD.
The price has bounced above the $0.9116 level and successfully surpassed the range of $1.0511 to $1.1700.
However, the current challenge for ARB is encountering strong resistance at the $1.1700 level, which aligns with a downward trend line visible on the daily chart.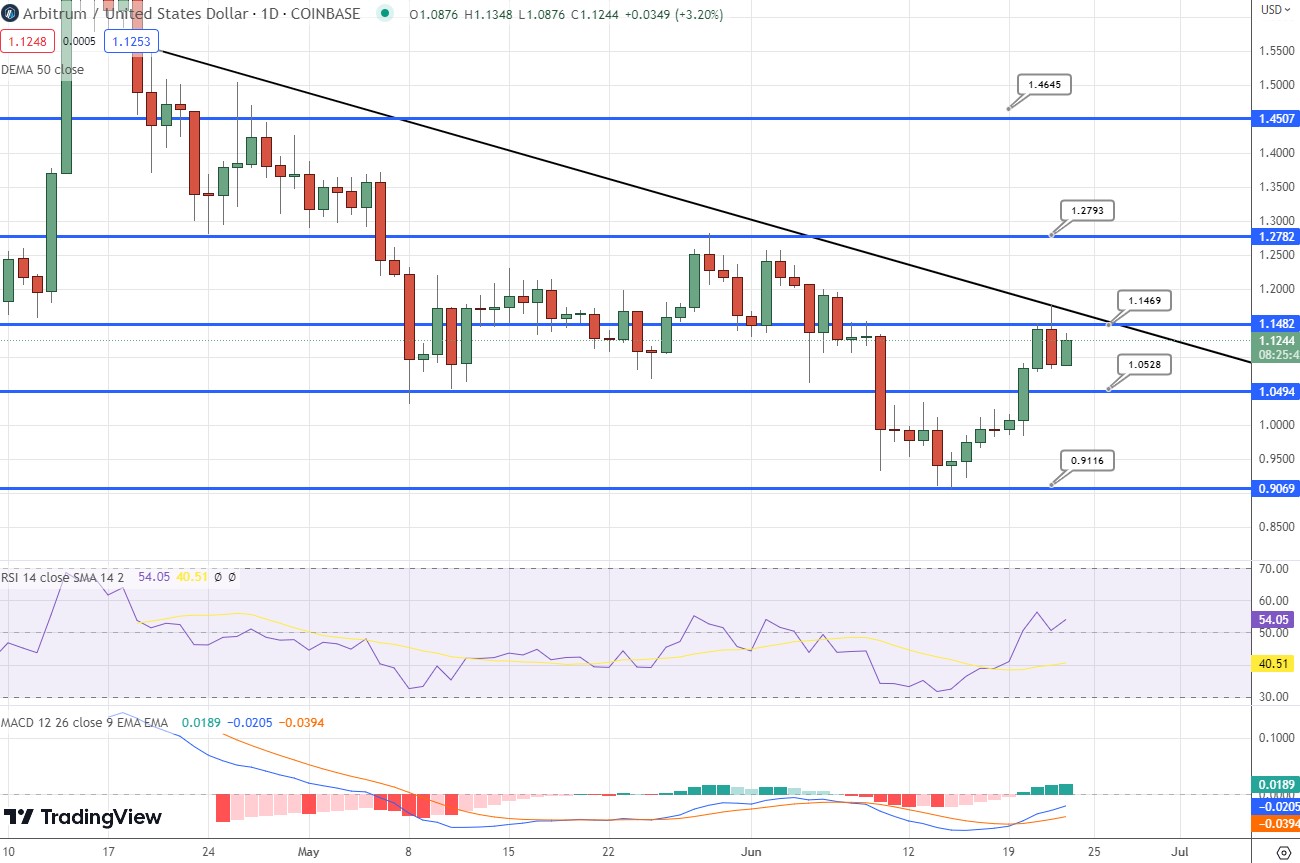 The Relative Strength Index (RSI) and Moving Average Convergence Divergence (MACD) indicators currently indicate buying strength, suggesting that the likelihood of a bullish breakout remains high.
If ARB breaks above the $1.1700 level, it may continue its upward trend toward the $1.2795 level.
In the event of a significant breakthrough, the next target could potentially be around $1.4500.
Alternatively, if there is a reversal, support levels can be found around $1.0520, with further support expected near $1 or $0.90.
Put simply, a successful break above the $1.0511 to $1.1700 range will open the possibility of further upward movement, with a potential target of $1.2795 and even $1.4500 in the future.
However, it is important to consider potential support levels at $1.0520, $1, and $0.90 in case of a reversal.
---