Aptos Price Prediction as APT Pumps Up 37% in 24 Hours – Is Aptos the New Solana?
Disclosure: Crypto is a high-risk asset class. This article is provided for informational purposes and does not constitute investment advice. By using this website, you agree to our terms and conditions. We may utilise affiliate links within our content, and receive commission.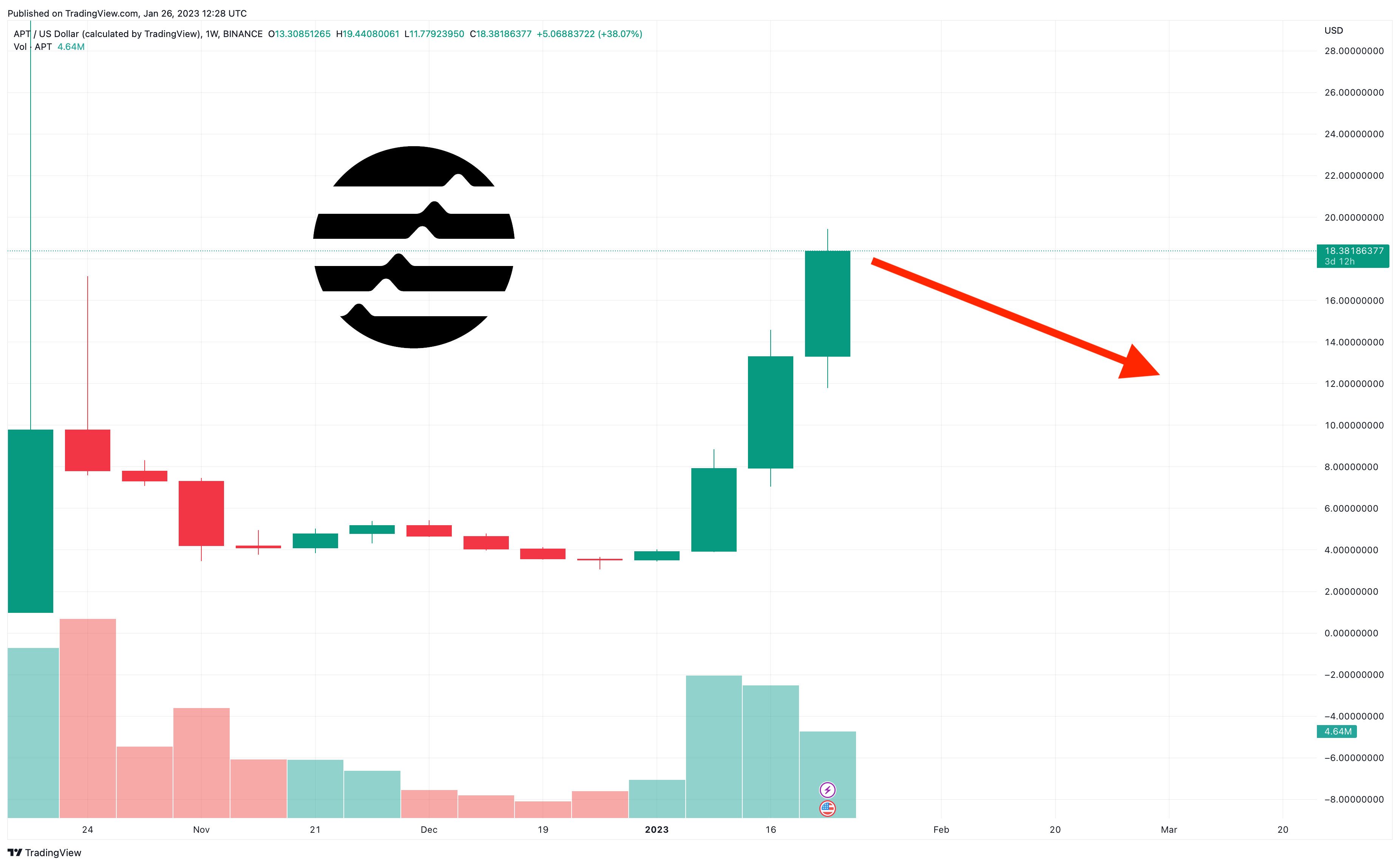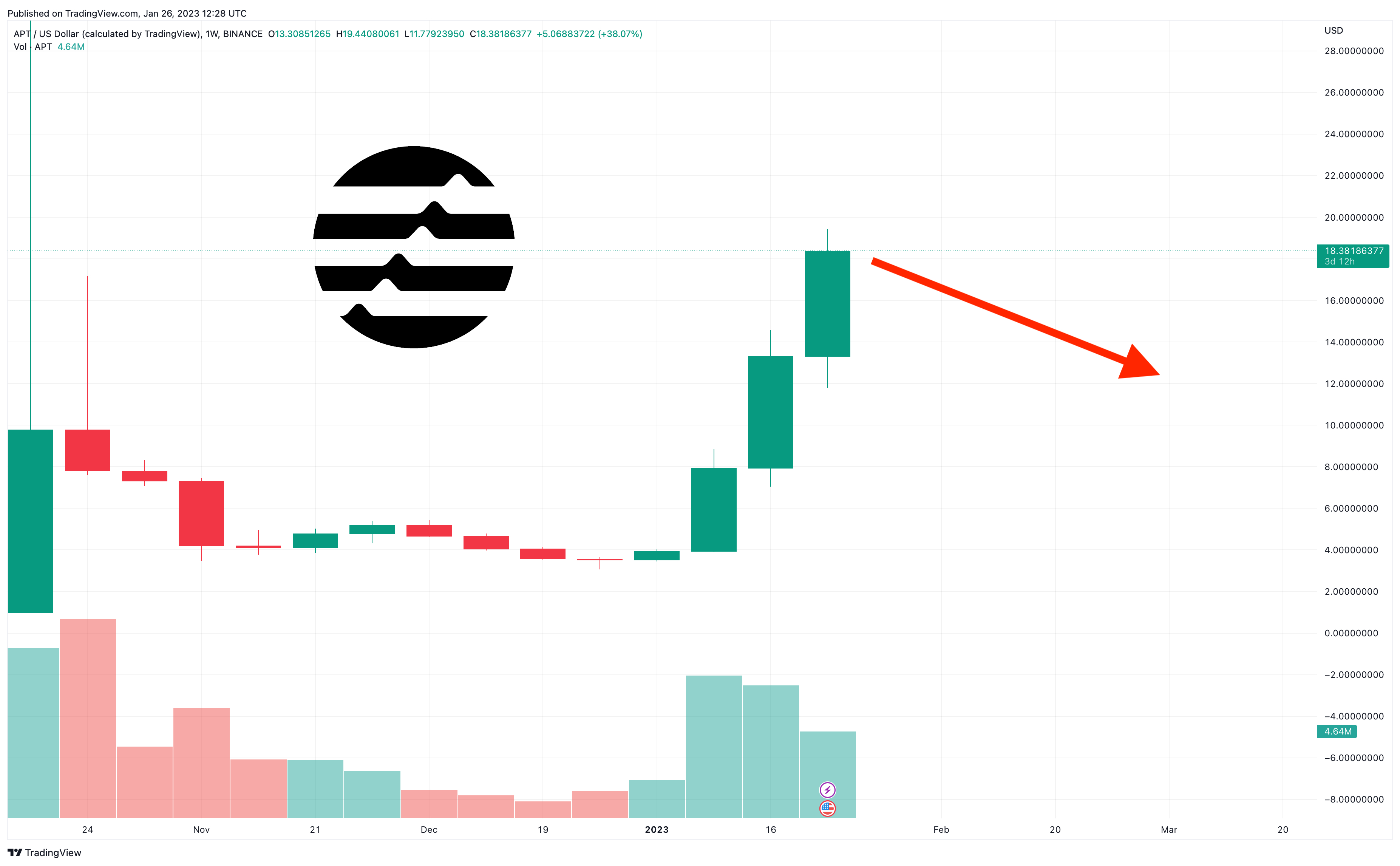 The Aptos price has jumped to $18.44 today, with the layer-one cryptocurrency rising by as much as 37% within the past 24 hours. Its current level also means that it has gained 141% in a week and by 400% in the last 30 days, as Aptos looks set to become the biggest layer-one network in the cryptocurrency ecosystem after Ethereum and BNB Chain.
Indeed, with Aptos exceeding Solana in terms of its fully diluted valuation, some observers have been declaring that the newer project has already begun "flipping" its older rival. However, with little underlying Aptos besides venture capital and a Facebook-related pedigree, it still has a long way to go before the utility it offers rivals those of bigger, more established chains.
Aptos Price Prediction as APT Pumps Up 37% in 24 Hours – Is Aptos the New Solana?
Based on its chart and indicators, APT is definitely enjoying a big breakout right now. Its 30-day moving average (red) has shot well above its 200-day average (blue), and while you might suppose it's due to come down anytime soon, we've been saying this for several days now, without APT actually falling (yet).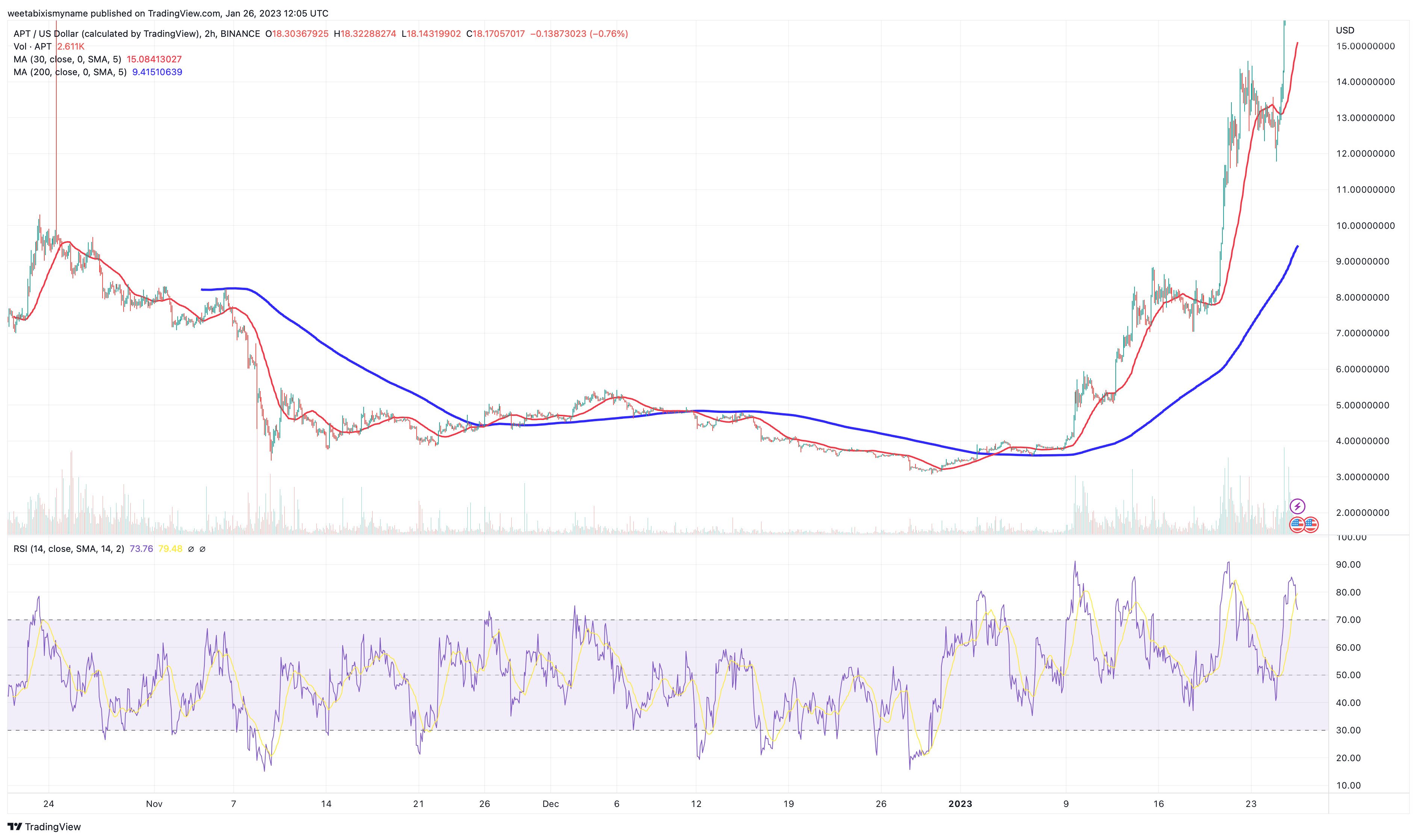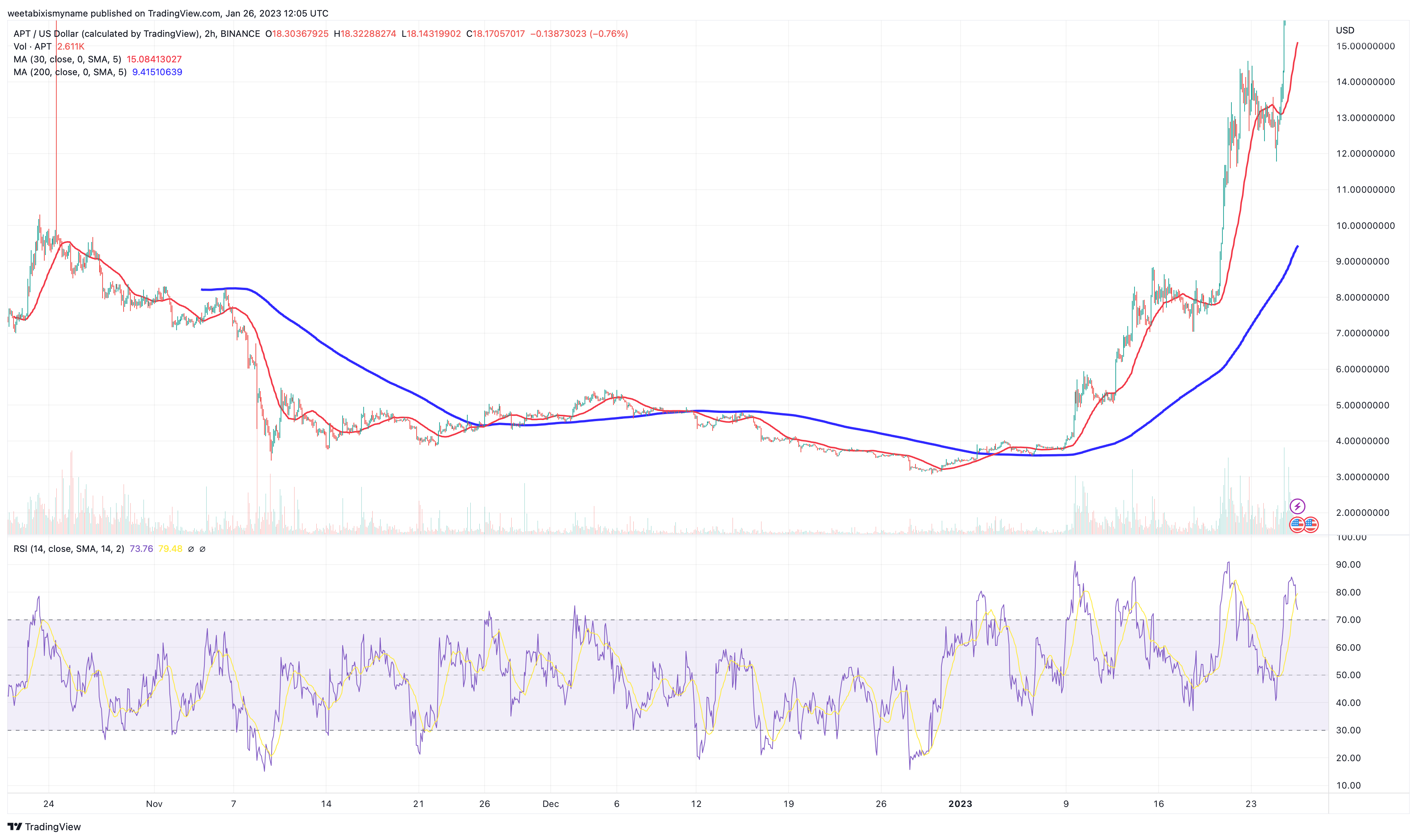 Similarly, APT's relative strength index (purple) has surged to 80 in recent days, although a dip down to 73 could suggest that its rally is on the brink of running out of steam. Of course, with a 37% rise today, it doesn't seem to have lost any momentum just yet.
Mainnet has arrived.https://t.co/wZajVZMa5Q

— Aptos (@Aptos_Network) October 17, 2022
Launched in October, Aptos is a layer-one blockchain that has small but growing number of projects building on top of it, including PancakeSwap (which is its biggest dapp). It emerged out of Facebook's ill-fated Diem/Libra digital currency project, using the same Rust-based Move programming language, something which (in theory) makes it faster than many of its rivals.
Given that it stems from Facebook/Meta, venture capital has been eager to back the project, with Aptos raising hundreds of millions of dollars in venture capital in the past few months. This, arguably more than anything else, has created strong expectations surrounding Aptos, with APT rising in a similar manner that other layer-ones (e.g. Solana and Avalanche) did when they first emerged.
One week. Who's coming?

Stop One of the #AptosWorldTour 🇰🇷

See you soon, Seoul! pic.twitter.com/GACcKTecU4

— Aptos (@Aptos_Network) January 26, 2023
In recent weeks, the Aptos team have taken the effort to engage and grow their community, hosting the first AptosMoveMonday on January 9, when founders fielded questions and provided a number of announcements. This includes the AptosWorldTour, as well as various conferences and developer meet-ups.
Given its recent price rises, some have begun claiming that Aptos has begun flipping Solana, as well as other layer-one blockchains. However, a look at its actual performance suggests that such claims are more about hype than anything else.
Is @Aptos_Network #APT flipping @solana #Solana 😼

Wdyt Fam ?

— TDT – The Degenerate Table (@thedtable) January 25, 2023
For example, Aptos' developers launched the network with the claim that it can process 100,000 transactions per second. However, its launch witnessed around four TPS, with this figure rising to 27 TPS in the following days, far short of its theoretical ceiling.
CONT//

• Aptos, on the other hand, has a current TPS of 8 and a MC of $2 Billion. Not particularly a competitor yet

• Both blockchains will coexist, but Aptos may offer something better in the future

🎯 Solana TRUMPS Aptos in terms of TPS and MC

— Erik 🏛️ (@ErikOnChain) January 23, 2023
Aptos has also drawn criticism insofar as APT has a highly centralized token distribution. Around 80% of its total supply of one billion tokens is currently staked, indicating that the bulk of its supply is going to insiders.
At the same time, its total value locked in is still very small, standing at $58.7 million. By contrast, Solana's TVL is $283 million, even after all of the drama that followed the FTX collapse (FTX had been a big backer and holder of SOL).
Aptos now has a higher FDV than Solana…

Whilst being an order of magnitude lower on every conceivable metric pic.twitter.com/aBnsxMPLPH

— Sol Beach Bum | X🔥💃🏻 (@SolBeachBum) January 22, 2023
In light of all this, it would be premature to declare that Aptos is the 'new Solana.' Although given by its recent gains, it may be only a matter of time before it truly does flip its competitor.
Should I Buy Aptos Now?
Given that APT has been rallying for several weeks now, it may be due to fall in the very near future (this is what its indicators suggest).
However, there are other coins in the market that are arguably more promising in terms of potential price action over the coming weeks. As such, we've reviewed the top 15 cryptocurrencies for 2023, as analyzed by the CryptoNews Industry Talk team.

The list is updated weekly with new altcoins and ICO projects.
Disclaimer: The Industry Talk section features insights by crypto industry players and is not a part of the editorial content of Cryptonews.com.
---