Amp Price up 34% to $0.007674 – Why the Pump And Should You Buy This Crypto Now?
Disclosure: Crypto is a high-risk asset class. This article is provided for informational purposes and does not constitute investment advice. By using this website, you agree to our terms and conditions. We may utilise affiliate links within our content, and receive commission.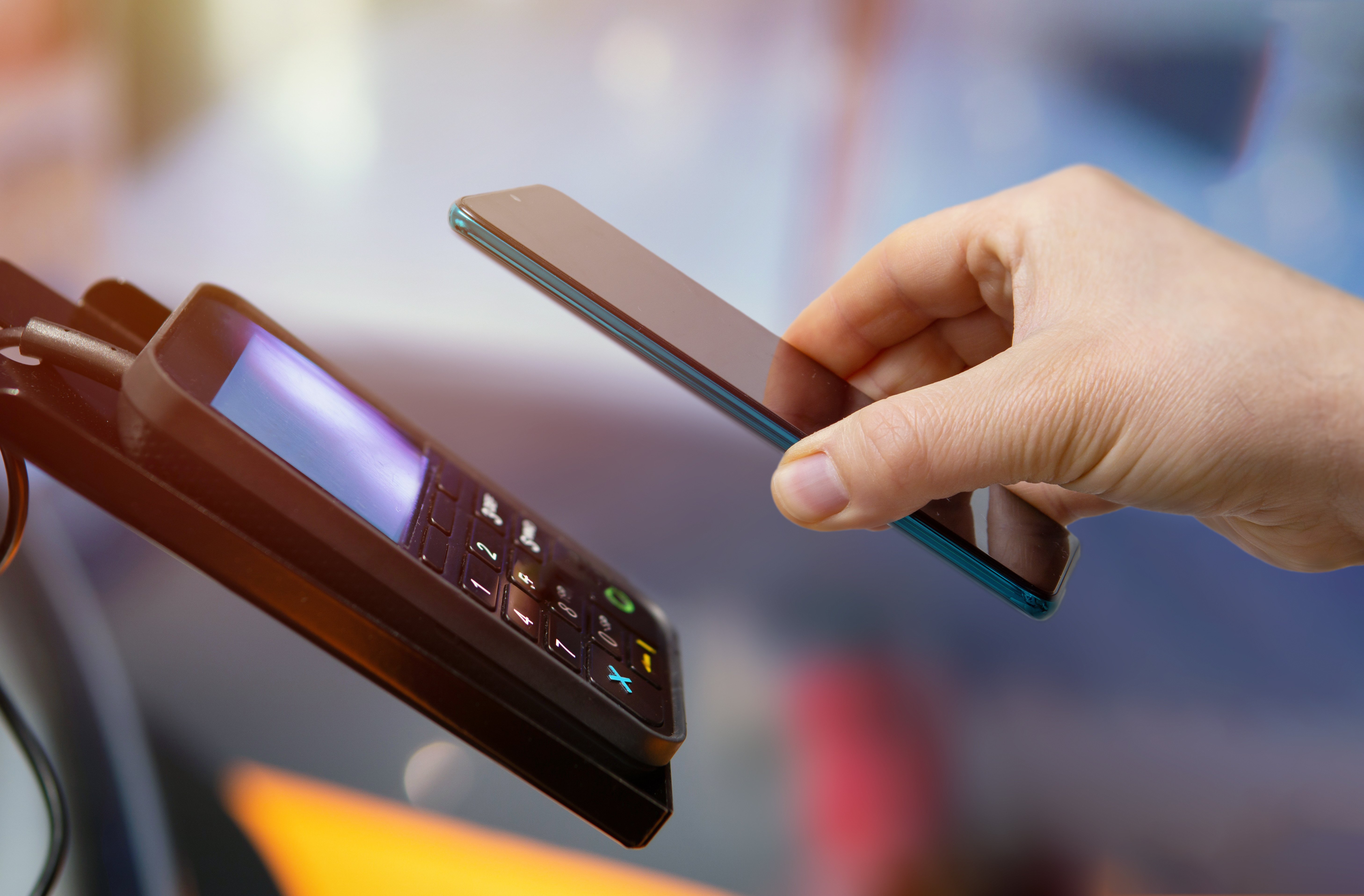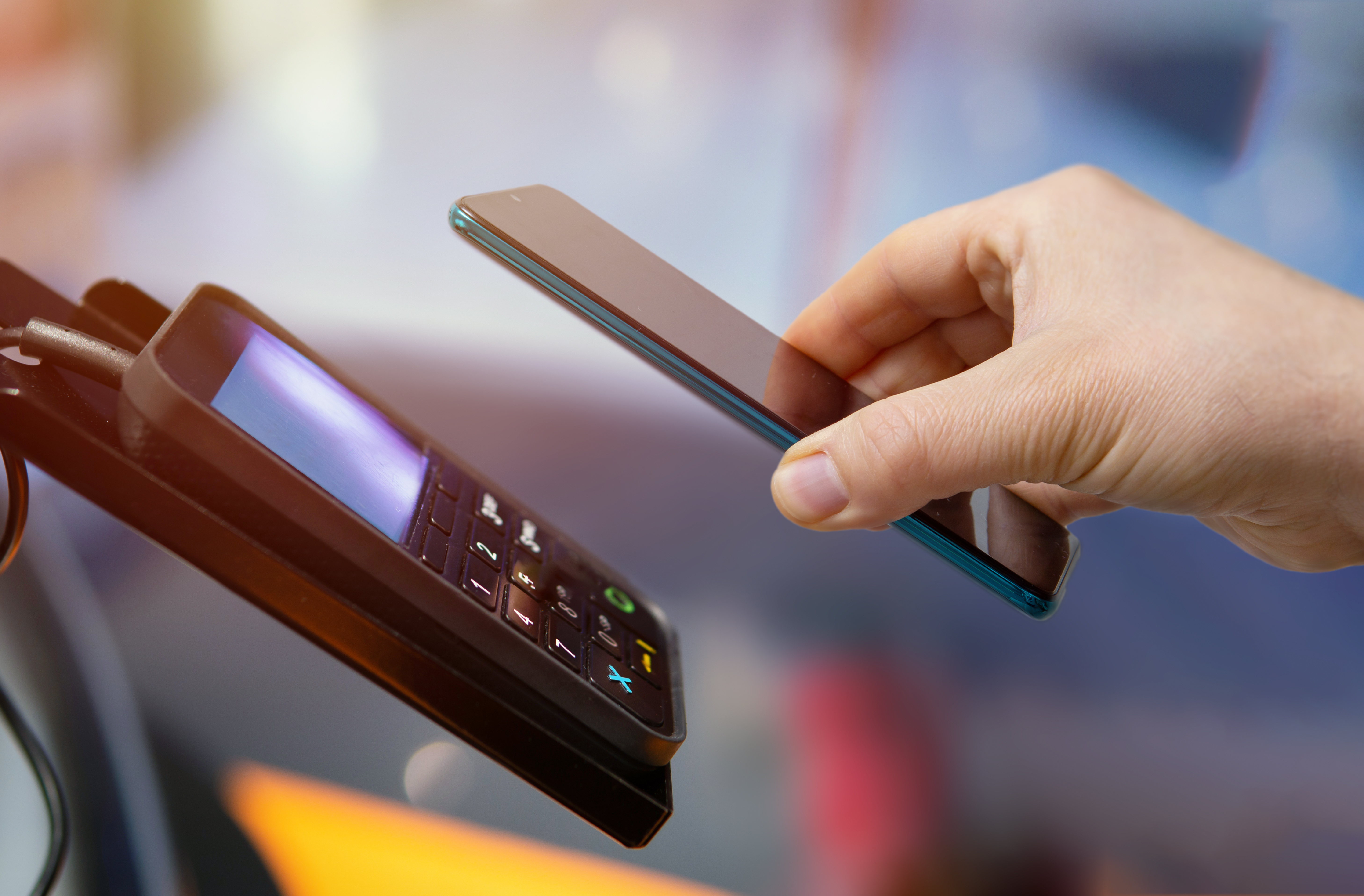 Amp price (AMP) is red hot today, making it the standout performer in Sunday crypto trading action, up 34% at $0.00763.
The Amp crypto asset will be known to many as the platform that hosts the Flexa instant crypto payments app, which in turn powers the SPEDN app.
Amp unique selling point – instant collateral
Using SPEDN you can spend 25 or more crypto at physical stores, with Chipotle among them. Indeed, it was Chipotle's clever "buy the dip" marketing campaign around accepting crypto payments earlier this year that put Amp, and the Flexa network that runs on top of it, on the map.
The unique selling point of Amp is that it provides instant verifiable collateral to users of its base layer.
That is extremely useful for payment networks such as Flexa that provide consumers with a way of spending their crypto and merchants a way of accepting the value held in those assets.
Flexa instantly converts from crypto to fiat, so the merchant never has to handle the crypto, and therefore does not assume the risk burden of the price changing in a direction that could lead to losses.
However, the Amp price was severely impacted after it was delisted by Binance.US following the SEC's mention of the coin as an unlisted security.
Amp price – what is behind the pump in the price?
Although there is no solid news Flexa founder Tyler Spalding is speaking at Messari's Mainnet event on 22 September.
👀Looks who's speaking at #Mainnet2022👀@trspalding, the Co-Founder of @FlexaHQ will be on stage Sept 21-23 in NYC for the agenda-setting summit of the year!

Don't wait to get your tickets 👉 https://t.co/cau8lLg7so pic.twitter.com/kjChKoF7o1

— Messari (@MessariCrypto) August 23, 2022
Some in the community are expecting an announcement to be forthcoming on the status of payments being made direct on apps as opposed to the point of sale service that is now being used by more than 41,000 merchants in the US and Canada.
Flexa adoption is probably being helped by there being no need of any extra hardware or complicated software upgrades.
The greater the volume going through Flexa, the more rewards there are for stakers from the fee charged on each transaction – stakers are the ones providing the assets for collateral pools via Flexa Capacity.
On the announcement side, a poster on Reddit 17 hours ago speculates that going by the average flow of announcement frequency, the project is well over due to make some. This adds weight to the theory that an appearance at Mainnet by founder Spalding could be highly significant.
The reddit post by MaazLife is entitled: "If You Thought Flexa Wasn't Getting Things Done Take A Step Back And Look At This", and includes a handy list of milestone announcements.
The post is intended as an answer to critics who say that the full rollout of Flexa Payments has still not begun since the product was introduced on 27 April this year.
Also, it should be noted that the Amp governance proposal in March this year to distribute 1% of the fixed total supply to the developers of Flexa-enabled application is yet to be rolled out, so that may be imminent. Such a move could dramatically and rapidly increase the adoption of Flexa.
AMP has a circulating supply of 42.23 billion and a total supply of 100 billion, according to Coinmarketcap.
Staking AMP towards a variety of crypto assets currently earns an APY of between 6 and 10%, depending on the collateral pool. Tezos pool pays the best APY at the moment, of 9.76%
Another variable to consider is the possibility that the far bigger growth potential for AMP could be from institutional and pro traders accessing its collateral pools.
Is Chicago trading giant Jump going to use AMP?
Persistent rumors that Chicago trading giant Jump might be interested are not backed by hard evidence.
However, those hopes are inferred from the fact that Jump is. backer of high scalable industrial-scale crypto trading platform Pyth, which runs on the Solana blockchain and by the existence of a wormhole bridge that connects AMP, which is an ERC20 token, to Solana.
But there are only 5 addresses associated with Amp on Solana and zero current supply, according to community admin Nami that Cryptonews reached out to earlier today on the official Discord for Flexa and Amp payments.
Nevertheless, other evidence of a link comes directly from Jump itself, where under featured projects we note that Amp is included among the 23 cited.
Amp Price – is Coinbase confusing the issue?
It could be that Coinbase is adding to the hopes – and confusion – on the Solana/Jump angle because of its misleading statement in its profile of Amp, in which it says, in answer to the question which blockchain network hosts AMP, that "Amp (AMP) is hosted on the Solana blockchain."


Does the Amp price pump have legs?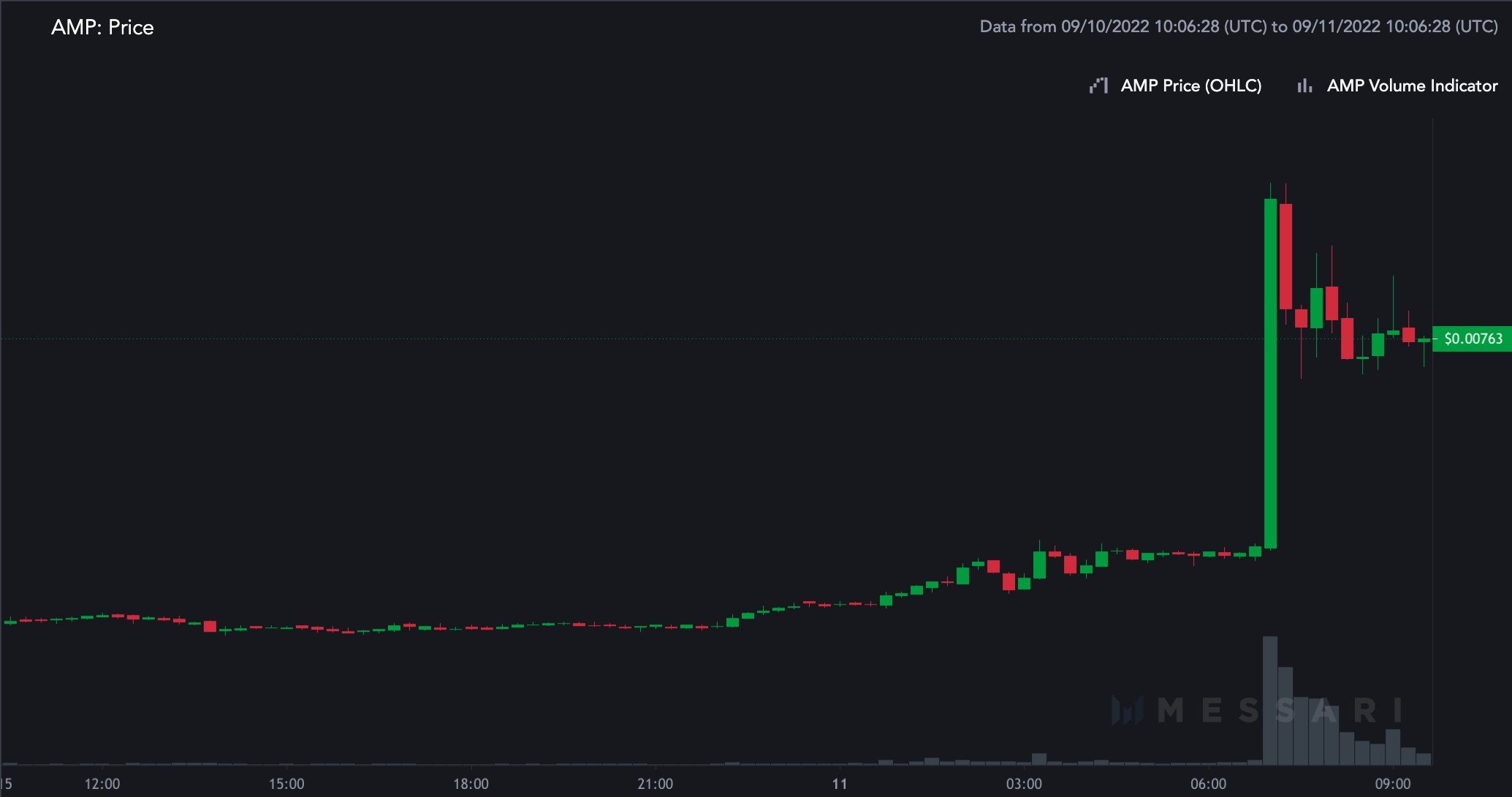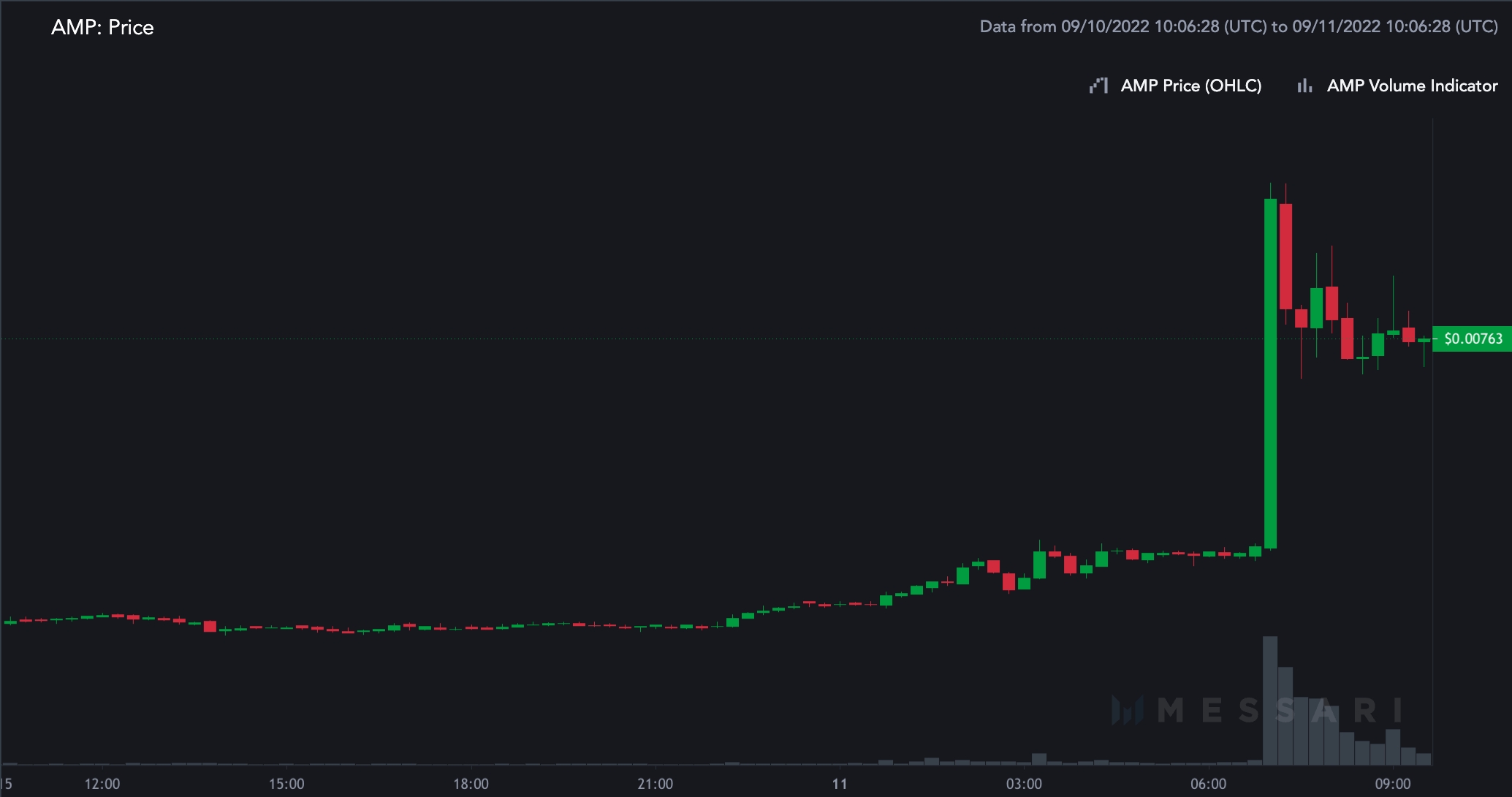 Since trading at its all-time high $0.011, the token has fallen 93% which has also led to it falling out of the coinmarketcap top 100, an important achievement for a crypto asset. Amp is currently ranked 109 on CMC.
Its climb back into the top 100 could help the price to maintain its new-found momentum as this will give it greater visibility in an ecosystem that numbers 20,000 assets, according to CMC data.
Jumping into the market after such a sharp upturn holds dangers for day traders.
However, if you are taking a longer view and focused on the fundamentals, there is much to be liked about this project.
An entry at current beaten down price levels could be profitable for serious investors as opposed to those hunting for speculative short-term returns.
Even if there is profit-taking on some of today's strong gains and the pump proves to be narrowly based, upcoming news flow could quickly turn any such reversal around for this DeFi coin.
AMP could be one of the best cryptocurrency to buy right now for outsized returns. And if you're looking for another possible ten bagger, Tamadoge is worth a look.
---