After Raising USD 4bn EOS Developer Can't Stop Looking for More
Block.one, the company behind the EOS cryptocurrency, announced on Monday that it has closed a "strategic investment round," in which it secured investments from two high-profile investors; Peter Thiel and Jihan Wu's Bitmain.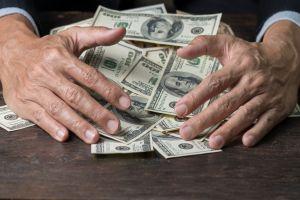 Other investors in the same round include Louis Bacon, and Alan Howard. The press release did not specify the amount of the investment, structure of the deal, and whether the raised capital stays within the company or goes into the pockets of the founders.
"As Block.one prepares to announce its future plans, we're excited to welcome key strategic investors aligned with our values of creating a more secure and connected world," said Block.one CEO Brendan Blumer.
This round follows an earlier round led by Christian Angermayer, Lansdowne Investment Company Ltd, and Galaxy Digital's Mike Novogratz, according to the press release from Block.one.
The new investment round undeniably raises some eyebrows given the fact that EOS just recently concluded the largest initial coin offering (ICO) in history, raising more than USD 4 billion. To put that number into context, Ethereum, the number two cryptocurrency by market capitalization, raised around USD 18 million during its initial token sale in 2014.
EOS price chart: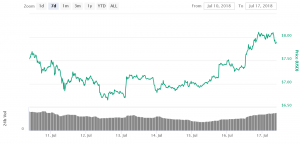 Also, the investment round follows Block.one's recent announcement that former CFO of Commonwealth Bank of Australia, Rob Jesudason, has been appointed company Group President and former Jefferies Asia CEO, Mike Alexander, will lead Block.one's EOS VC arm.
Peter Thiel is an American billionaire who made his fortune as the co-founder of PayPal, an online payments system operator, together with a famous investor Elon Musk back in 1999. He is a well-known bitcoin bull, but has previously expressed some scepticism towards other cryptocurrencies.
Bitmain is a multinational semiconductor company and one of the world's largest bitcoin mining hardware maker. It was recently reported to be valued at USD 12 billion. The company was co-founded by Jihan Wu, widely regarded as a top influencer in the crypto space.
According to the press release, Wu praised Block.one for supporting mainstream adoption of blockchain technology, saying "the EOSIO protocol is a great example of blockchain innovation. Its performance and scalability can meet the needs of demanding consumer applications and will pave the way for mainstream blockchain adoption."
However, not everyone is so excited about the project. After a number of delays and teething problems, the EOS mainnet wen live in June. Its launch benefitted from the biggest ICO of all time, but despite aiming to build the world's leading platform for decentralised applications (Dapps), it's been criticised from some quarters for its centralised governance structure, for the early presence of bugs on its system, and for having a voting process that's too complicated for the layperson to understand.
_____
Here is how Block.one team present the project:
---