EOS Mainnet Launched - At What Cost
The EOS mainnet was finally launched, after a year-long initial coin offering (ICO) that raised USD 4 billion and more subsequent troubles that pushed the launch date beyond June 2nd. As anticipated, candidates for the role of validators or "block producers" (EOS's equivalent of miners) located all over the world voted "Go" to launch the mainnet.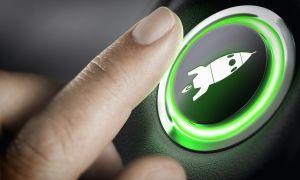 EOS, developed by Block.one, is a relatively new project in the blockchain space that aims to radically improve on what is on the market today. The platform will allow developers to build decentralized applications (dapps) through smart contracts. Such platforms already existed, but EOS promised to be a more scalable solution.
EOS has been on the receiving end of many complaints and ridicules since its very inception, from the person standing behind it and his previous antics, to glaring security issues pointed out mere days before the supposed launch.
The security issues were argued to be a possibility for delaying the mainnet launch, which the EOS team categorically rejected, saying that they were either fixed or would be very soon, and that there would be no delay. They followed that up with an announcement of a bug bounty program, where one ethical hacker claims to have made USD 120,000 finding issues with the EOS code.
Decentralization, or a possible lack thereof, is another problem EOS faces: the consensus algorithm sees 21 validators making vital decisions and even having the power to "print" new EOS tokens. The social media consensus is, "This is hardly democratic, let alone decentralized."
Following these problems and not enough good news to offset them, the community is vary of what the actual launch of the mainnet will bring. The cryptoverse will be following EOS closely - if only to see what they will do with USD 4 billion raised without a properly working product.
EOS price chart: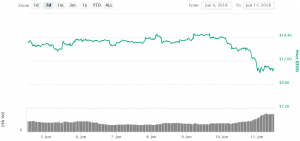 "The EOS dream will not come true until it fixes its centralization problems," in an email to Weiss Ratings, a veteran firm dedicated to analyzing investments, subscribers said Juan M. Villaverde, an econometrician and mathematician devoted to the analysis of cryptocurrencies since 2012.
"What's ironic is that Block.one's motto has always been "Decentralize Everything." And indeed, EOS founder Dan Larimer is often quoted as saying that his main goal in life is to create "free market systems to secure life, liberty and property." Unfortunately, however, Block.one's motto and Larimer's goal are in sharp contrast to the reality of what EOS is today," Villaverde said.
According to him, the EOS community has got to come together and ensure the decentralization needed to let EOS' true potential shine through.
Villaverde suggested that the community needs to:
Get rid of the 30-votes-per-token scheme
Allow for more than 21 block producers
Cap the voting power of large token holders to no more than 2.5% of the total token supply
Large token holders need to identify themselves
However, he concludes that as Ethereum and Bitcoin run into speed and governance bottlenecks, "we think EOS has a solid chance of advancing public distributed ledger technology to new levels."
"If the bad breadth persists, downgrades are likely," Villaverde warned. EOS currently has an overall Weiss Rating of "B-."
---