9Gag Memeland New Web3 Token $MEME Explodes on Binance Launchpool – Could Meme Kombat Be Next As Presale Hammers Past $850K Raised?
Disclosure: Crypto is a high-risk asset class. This article is provided for informational purposes and does not constitute investment advice. By using this website, you agree to our terms and conditions. We may utilise affiliate links within our content, and receive commission.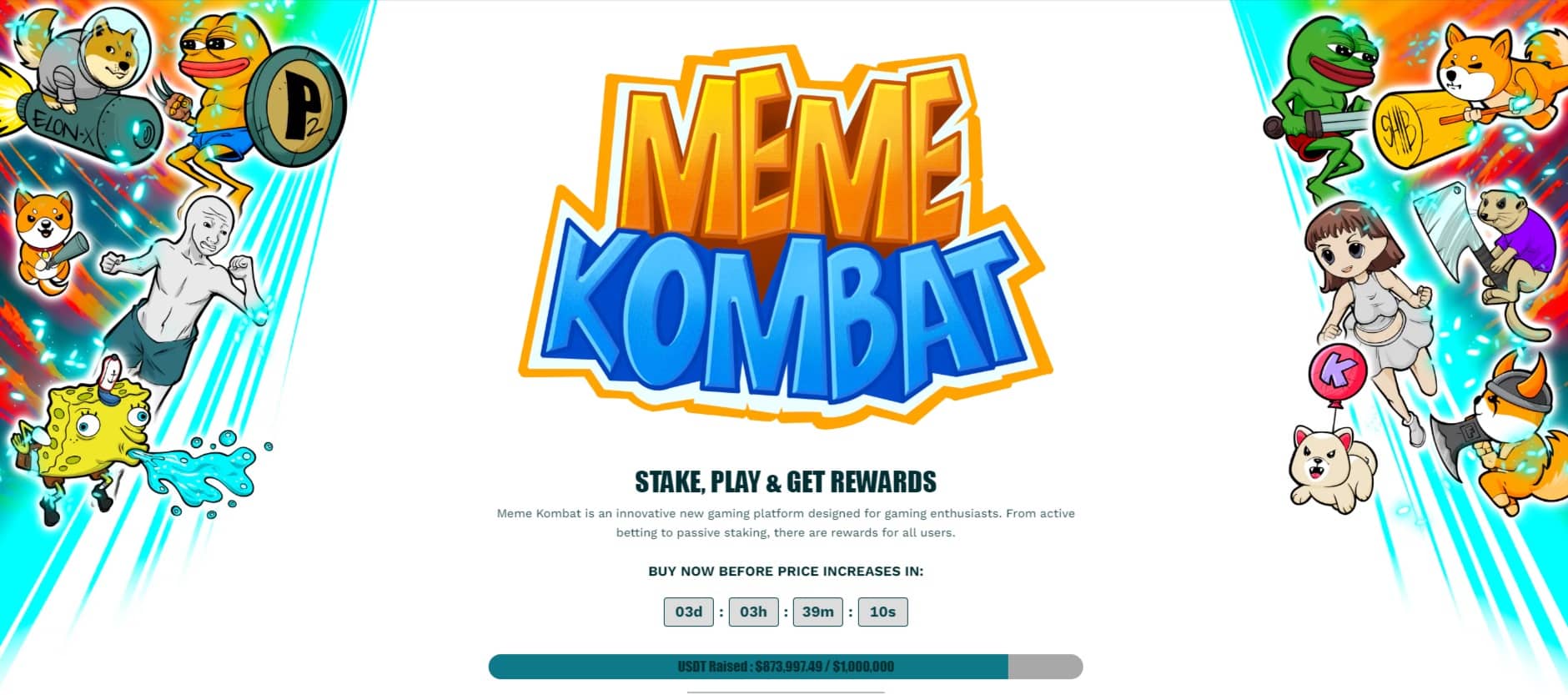 Monday, October 30th, 2023 – Memecoin ($MEME), the new token behind 9Gag's Memeland Web3 project, has raised $10m in a skyrocket fire sale, ahead of a huge Binance Launchpool listing – now smart money is asking: could Meme Kombat (MK) be next?
Memecoin's resounding success in fire sale has seen 11% of its overall supply of 69,000,000,000 tokens allocated, with an impressive $10m raised in a 42-minute sell-out move.

Now listed on Binance Launchpool, $MEME appears poised for success. Binance has announced a special liquidity farming offer that will see an additional 1,380,000,000 tokens distributed (18% of supply).
New #Binance Launchpool: $MEME@memecoin is the native ecosystem token of @Memeland, the independent Web3 venture studio by 9GAG.

Learn more 👇https://t.co/FwAX23jXhL

— Binance (@binance) October 27, 2023
$MEME is set to become the backbone of 9Gag's new Memeland Web3 project, which promises to blend an NFT marketplace seamlessly with Metaverse and GameFi offerings.
Yet, amid the Memeland hype, many speculate that another emerging presale – Meme Kombat – could be next.
As $MEME Hysteria Sweeps Crypto Markets – Meme Kombat's $MK Presale Hammers Past $800k Raised

Meme Kombat ($MK) aims to shake up the exploding GameFi sector with a new offering that will see rival crypto communities pitted against each other in high-octane staking battles.
Betting big on the tribalism of meme coin holders, the surging $MK presale has now leaped to $873,749 raised of its initial $1,000,000 Stage 1 funding target.
With just 13% of the Stage 1 supply remaining, investors are racing to claim their slice of the pie at an early-bird cost of $0.1667 per $MK token.
Don't miss out, as the $MK token price is tipped to surge +10% to $0.183 per token in the Stage 2 funding round.
Is the crypto market up enough for us to say WAGMI?

Well who cares… WAGMI frens🙌 pic.twitter.com/idsBDoLHYx

— Meme Kombat (@Meme_Kombat) October 28, 2023
But How Do Meme Kombat's Automated Wager Battles Work?

Leveraging the power of blockchain, Meme Kombat is an innovation in GameFi with new Automated Battles, where meme coins come to life, clashing in an arena built using next-generation AI integrations.
The verifiably unpredictable nature of these battles, dictated on-chain, ensures a fair and transparent gaming experience, keeping players on the edge of their seats as rival communities rally in support of their beloved memes.
Meme Kombat's Season 1 delivers 11 battle-ready meme characters: Milady, Baby Doge, Doge, Floki, Kishu, Mong, Pepe, Pepe2, Shiba, Sponge and Wojak (and more tipped for Season 2 later this year!).
By becoming an $MK token holder, you avoid being sidelined with FOMO by becoming an active participant, staking your tokens and wagering on battle outcomes, with victorious communities winning lucrative prizes and additional tokens.
Meme Kombat's ecosystem introduces a plethora of mechanisms for player involvement, from direct betting on meme battle wagers, to PvP and PvGame functionality – with all outcomes transparently settled via immutable blockchain smart contracts.
Capitalize on Your Meme Expertise As Meme Kombat Delivers High-APY Returns For Retail Investors Via Staking and Wagering

Yet, Meme Kombat isn't just a GameFi gimmick; it's an opportunity for serious returns, as the Meme Kombat platform provides $MK holders high-APY staking at 112%.
With 30% of the token supply allocated for battle and staking rewards, support and engagement in the Meme Kombat ecosystem translates into tangible rewards, giving the dynamic battle-style game-play a pivotal role in the ecosystem's growth and sustainability.
The platform is a haven for those looking to maximize their earnings through strategic wagering.
Coy meme coin traders will be able to make significant gains, as the Meme Kombat platform delivers definitive answers to age-old rivalries such as Dogecoin vs Shiba Inu.
Meme Kombat empowers the retail investor with various betting options and live betting features, based on insightful analysis and each individual player's knowledge of the meme coin arena.
You can keep up with developments at Meme Kombat on X (formerly Twitter) and Telegram.
Meme Kombat's Unstoppable Viral Marketing Could Signal Future Binance Interest Like Memeland

As Meme Kombat revolutionizes the meme coin arena, capturing hearts and wallets with its unparalleled viral marketing and unique gaming experience, $MK's rapidly growing presale volume is likely to catch the attention of Binance following the success of 9Gag's $MEME.
Indeed, everywhere you look in the crypto space, Meme Kombat is there – featured on top-tier crypto news outlets like Cointelegraph, Coinpedia, and BeInCrypto, and even making waves on gaming sites like Game is Hard.
YouTube's crypto elite have taken notice too, with Joe Parys placing Meme Kombat in his 'Top 5 Meme Crypto Coins for 2024 and Beyond,' and with a 382,000-strong subscriber base, that's no small feat.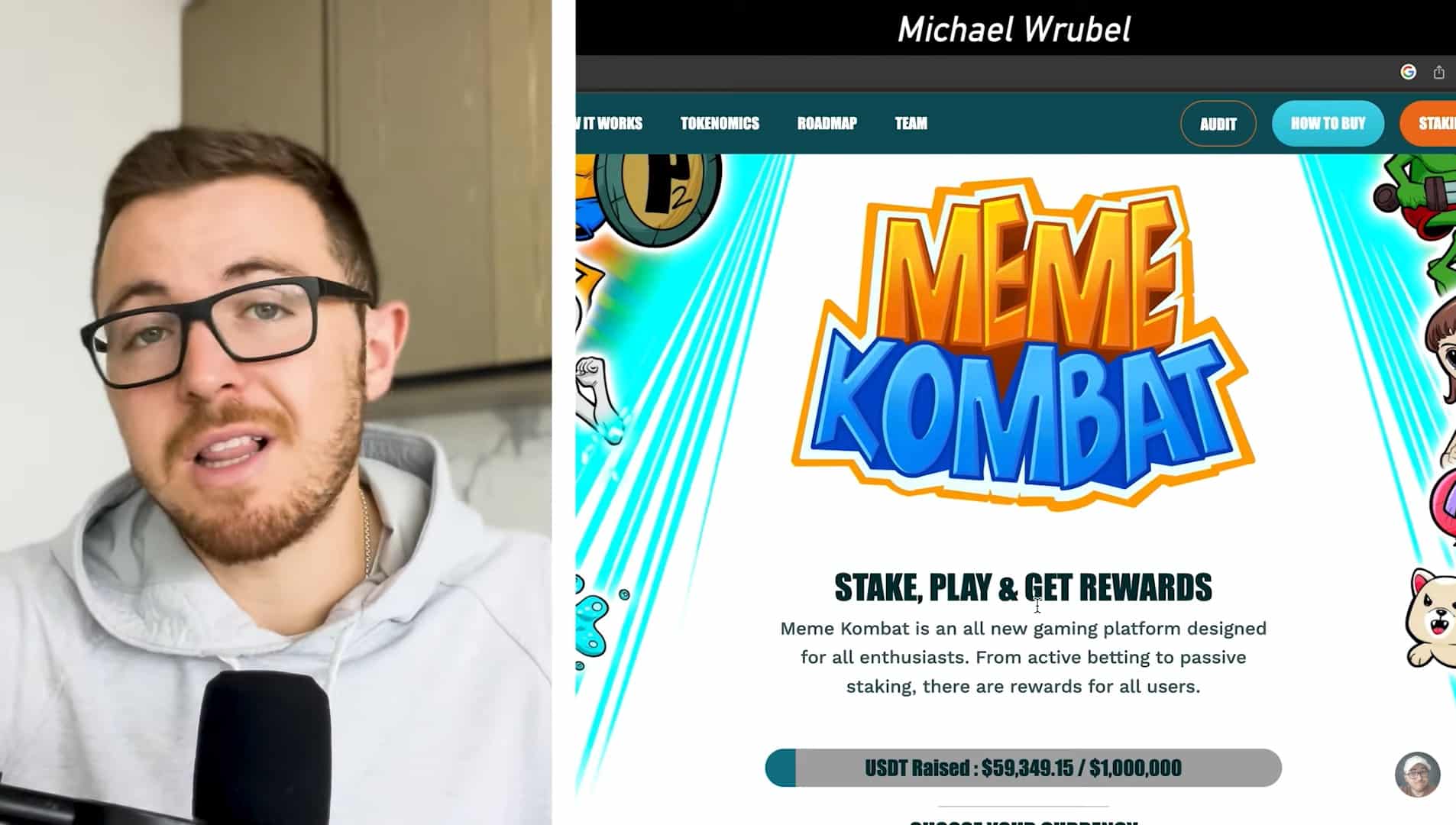 Michael Wrubel and the No Bs Crypto channel are also on board, highlighting Meme Kombat's potential to not just participate in the market, but to dominate and innovate.
And it's not just talk; presale reviewer JacobCryptoBury has invested $1,000 of his own money, showcasing his belief in Meme Kombat's potential for 100x returns for presale buyers.
So, as we look ahead to the future, the Meme Kombat roadmap promises continuous upgrades, community engagement, and expansion plans.
The platform is preparing for 11 meme characters to battle it out in Season 1, and has a strong marketing strategy poised to propel Meme Kombat to viral success. Its growth potential, a possible Binance Launchpool listing (like Memeland) and yield-earning attributes, make this new ecosystem an immense opportunity.
Don't miss out on the next big thing in GameFi, stake your claim in the Meme Kombat arena, earn passive rewards, and become a part of a community revolutionizing the crypto world.
Disclaimer: Crypto is a high-risk asset class. This article is provided for informational purposes and does not constitute investment advice. You could lose all of your capital.
---