Three Reasons Why Valiu Picked Bitcoin Over Stablecoins in Venezuela
In an attempt to help Venezuelans to store their savings in a more stable currency, Colombia-based fintech, Valiu, decided to indirectly use Bitcoin (BTC) rather than one of the many available stablecoins. There are three reasons why BTC has won in this case.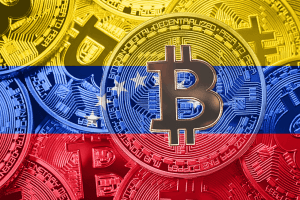 "Liquidity, business model, and regulatory advantages," Sid Ramesh, an advisor to Valiu, an app that allows Venezuela migrants in Columbia to send money back to their home country, named the reasons in an interview with Cryptonews.com.
He was unwilling to expand on the regulatory benefits of Valiu's synthetic dollar-based system, but he did explain the importance of liquidity for their concept to work.
"Liquidity is key here," said Ramesh. "BTC is the only liquid asset in our jurisdiction. If stablecoins catch on in [Latin America], we'll use them as settlement."
Of course, Valiu's synthetic dollar could be seen as a sort of crypto-collateralized stablecoin in its own right. But according to Ramesh, Valiu's setup does not come with the same sorts of problems that may soon be found with more traditional stablecoins.
"We will thrive even in a negative interest rate world with interest revenues since it's a function of the BTC futures curve," said the advisor.
"Stablecoin issuers who depend on interest revenues from US treasuries will have to explore new business models whereas our yields are a function of the low-risk premiums available on the BTC derivatives market (basis trades, yield on the perpetual funding rate, etc.)."
As reported by Cryptonews.com, those stablecoins which rely on such rates and yields for their revenues are now in a serious bind and they will have to adapt if they want to survive the Coronavirus-prompted recession.
Although Valiu uses cryptocurrency in the backend, this is hidden from the user. Let's take a closer look at how Valiu's synthetic US dollar works behind the scenes also.
How Valiu uses Bitcoin
Last week, Valiu announced that it has developed a dollar savings account for their app. The app uses BTC derivatives to create a synthetic version of the US dollar, and the goal is to allow Venezuelans to store their savings in a more stable currency.
"In the most simplistic form, Valiu hedges BTC to the dollar by shorting 1x on BTC futures to obtain synthetic exposure," Ramesh explained. "The underlying profit and loss stays constant in USD value but changes for the BTC value depending on the moves in the market."
According to Ramesh, Valiu is effectively issuing USD depository receipts to its users.
"The hedging and risk strategies we've developed enable us to net risk across [forex] pairs in [Colombian Peso] or [Venezuelan Bolívar] as well as BTC/USD in derivative markets," he added.
For those who are aware of the mobile crypto app Abra, these underlying mechanisms may sound similar. In the past, Abra used synthetic assets created through the use of Bitcoin multisignature addresses as the underlying source of value for the assets held in the app by its users. However, Valiu is still quite different from how Abra's synthetic assets worked.
"Unlike Abra's model which had 'multi-sig' enabled exposure, the BTC collateral [used in Valiu] currently sits on custodial venues," explained Ramesh.
"Abra is 'non-custodial', and we're not. We're exploring other mechanisms such as proof-of-reserves and non-custodial backing to ensure Valiu becomes a full-reserve backed financial institution that's trust minimized and transparent of our solvency."
Valiu also doesn't allow users to interact with BTC directly.
"It's completely abstracted out from the user experience and we don't plan on exposing crypto to the end-user anytime soon," said Ramesh.
Currently, Valiu allows synthetic dollars to be redeemed for Colombian pesos or Venezuelan bolivars. The company has more than 30,000 on ramps and off ramps in Colombia, where physical cash, debit cards, credit cards, and bank transfers can all be used as payment methods.
Users who are receiving synthetic dollars in Venezuela can withdraw them into one of nine different banks; however, the idea is Venezuelans will use the synthetic dollars as a savings account of sorts and only withdraw bolivars to their bank account when absolutely necessary for spending (in an effort to avoid exposure to the highly inflationary bolivar).
____
Learn more:
Venezuelans Use Bitcoin as Gateway to Buy Foreign Fiat - Research
Bitcoin Is Not Just a Dollar Gateway in Argentina
---