'They Said It's a Dead-end': Crypto Startups Tell How to Deal With SEC
"There's inevitably an education on both the staff's side and the company's side." "Overall, we feel that the SEC is truly invested in finding a way to enable blockchain tech to flourish in the U.S."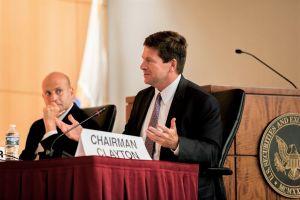 Blockstack and Props are the two first representatives of the crypto industry that managed to get an approval for their token sales from the U.S. Securities and Exchange Commission (SEC). Both journeys were a lengthy, challenging and costly process that ended successfully this past July.
Talking to Cryptonews.com, both companies shed a bit more light on the whole process and what it means to be a pioneer in this nascent industry. Of course, they couldn't disclose all the details, but what we've got might still help those knocking at the SEC's door.
Same as Props, Blockstack, a developer of a decentralized computing network, got its permission to conduct a token sale under the SEC's regulation A+. This regulation is "an exemption from registration for public offerings," allowing companies to raise up to USD 50 million in a 12-month period without a need to "register or qualify their offerings with state securities regulators."
Muneeb Ali, Co-founder and CEO of Blockstack, said that they began talking with the SEC over a year ago, while the whole process cost them USD 1.8 million in legal, accounting and other fees.
"We had an initial conversation with the [SEC] staff in the summer of 2018, and filed the initial draft of our circular in September of 2018. From then onward, the SEC would provide feedback mainly via comment letters to which we would reply and iterate on the offering circular," Ali told Cryptonews.com.
This dialogue with the SEC was extremely important, the CEO stressed.
"We spoke frequently with the staff of the SEC regarding our offering and open questions. It was an iterative process in which we proposed how to address issues for which there were no established answers, and the staff would provide their feedback," he said.
'Speak early and often'
What were the obstacles?
"There was little precedent on which we could rely, and we had to spend considerable time analyzing both legal and accounting questions for which there were no quick or easy answers," according to Ali.
However, the SEC was performing similar analyses of their own, as they weren't going to rely only on what Blockstack was offering.
What is Blockstack's advice to other firms looking to gain regulatory approval?
"Speak early and often with the staff of the SEC. There's inevitably an education on both the staff's side and the company's side. Due to the nature of a digital token, no two look exactly the same, and so there's a learning curve on the part of the SEC in understanding the nature of the token and the related project," the CEO said.
He also stressed that those who are looking to get an approval from the SEC need to think about the myriad questions that the Commission might have and prepare answers, so the market regulator would understand the nature of their project.
Writing a playbook
Meanwhile, Props, an open-source project intended to tokenize the digital economy, started by YouNow, a live streaming app with 46 million users, had a similar experience.
The company deliberated for a very long time, wondering what would be the best path for bringing the Props Token to life in a compliant way, according to Yonatan Sela, Co-founder of Props.
"On the one hand, the SEC began saying that nearly all tokens are securities, but on the other hand there was no clarity that another path is possible - we knew that no crypto token had been qualified under Reg A+ before, and many told us that this is a dead-end," he said.
Yet, after consulting with several law firms and industry experts for months, the team decided to go down the Reg A+ route.
"We prepared for quite some time together with our legal advisors and put together an Offering Circular that we submitted to the SEC. So in practice - we simply followed the SEC's protocol and gave the SEC a lot of information to work with to kick things off," said Sela.
According to him, it has been both rewarding and very challenging - founders basically had to write the playbook for how a utility token can fit into the Reg A+ framework.
"This was a first for everybody involved - including the SEC. Overall, we feel that the SEC is truly invested in finding a way to enable blockchain tech to flourish in the U.S. At the same time, they are committed to following the U.S.'s rules and regulations, which were designed long before crypto tokens and networks came into existence," Sela told Cryptonews.com.
Props recognized that the SEC was interested in working with the company to find reasonable solutions that will enable their token to fulfill its intended purpose.
"I am not a lawyer and this is not legal advice, but as an entrepreneur living and working in the U.S., ensuring compliance with U.S. regulations is a necessity. There are smart, knowledgeable and reasonable professionals working at the SEC. Talk to them, and try to find solutions to your specific case," added Sela, reminding other firms dealing with the SEC to "stay optimistic."
The SEC did not respond to our request for comment.
---